Display
The Xiaomi Mi 5s Plus features a 5.7" IPS display of 1080p resolution, probably the same utilized by the first Mi Note. A density of 386ppi is more than respectable and leaves the Snapdragon 821 chip with power to spare on tasks and productivity, so we don't mind the lack of Quad HD resolution.
Unfortunately, Xiaomi didn't mention any specific glass protection for the screen. The Mi 5s Plus acquired lots of prominent scratches on top of its display just in the week we had it for a review. We suggest that you apply a screen protector on it as soon as you take the phone out of its box.
Other than that, the screen offers great viewing angles and there is hardly any color shift or contrast loss when looking the Mi 5s Plus display at an angle.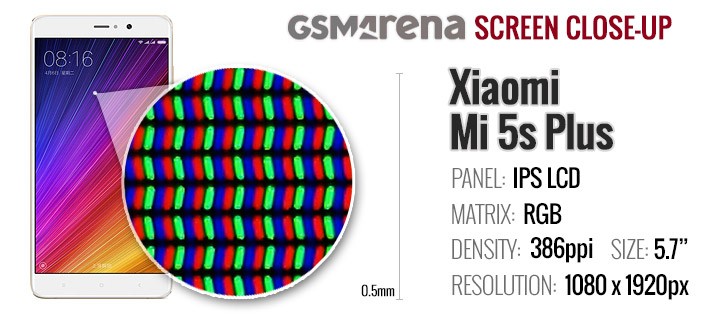 Xiaomi claims the screen will provide up to 550 nits of max brightness. Our test results confirmed and even exceeded the claim for maximum brightness as we measured 630nits worth of luminance.
The minimum display brightness is 1 nit, which means the screen should be perfectly suitable for late-night reading in a dark room. The screen's contrast ratio is excellent as well at 1448:1, once again exceeding the promised contrast ratio of 1300:1.
Display test
100% brightness
Black, cd/m2
White, cd/m2
Contrast ratio
Xiaomi Mi 5s
0.51
660
1294
Xiaomi Mi 5s Plus
0.44
637
1448
Xiaomi Mi 5
0.51
628
1227
Xiaomi Mi Note
0.43
626
1453
Xiaomi Redmi Note 4
0.38
439
1158
Apple iPhone 7 Plus
0.41
573
1398
Apple iPhone 7 Plus (max auto)
0.50
681
1362
Samsung Galaxy S7 edge
0.00
392
∞
Samsung Galaxy S7 edge max auto
0.00
610
∞
Samsung Galaxy S6 edge+
-
410
∞
Samsung Galaxy S6 edge+ max auto
-
540
-
Google Pixel XL
0
432
∞
OnePlus 3
0.00
433
∞
Sony Xperia XZ
0.37
502
1349
Sony Xperia XZ (max auto)
0.46
608
1336
When it comes to color rendering, the Mi 5s Plus has an excellent color rendering with an average DeltaE of 3.3 and a maximum deviation of 7.9 in the blue color. If all colors stay below 4, the screen is considered to be of perfect calibration level accuracy and the Mi 5s Plus almost achieves that, only the blues jumped over the 4.0 threshold.
Note that we did our color test in Standard (constant) screen mode. If you opt for the Auto one, you will get punchier colors at the expense of color calibration.
Finally, the screen of the Xiaomi Mi 5s Plus performed just average in our sunlight legibility test. It wasn't able to reproduce the Mi 5s high score even though it offers a superb maximum brightness.
Sunlight contrast ratio
Samsung Galaxy S6 edge+
4.615
Samsung Galaxy S7 edge
4.439
OnePlus 3
4.424
Samsung Galaxy S7
4.376
HTC One A9
4.274
Samsung Galaxy Note7
4.247
Samsung Galaxy A3
4.241
Google Pixel XL
4.164
ZTE Axon 7
4.154
Samsung Galaxy S6 edge
4.124
Samsung Galaxy Note5
4.09
Huawei Nexus 6P
4.019
OnePlus X
3.983
Vivo Xplay5 Elite
3.983
Apple iPhone 7
3.964
Oppo R7s
3.964
Huawei P9 Plus
3.956
Samsung Galaxy A7 (2016)
3.918
Samsung Galaxy C5
3.911
Samsung Galaxy C7
3.896
Samsung Galaxy A5
3.895
Samsung Galaxy J7 outdoor
3.879
Samsung Galaxy J2 outdoor
3.873
Samsung Galaxy A8
3.859
Samsung Galaxy A9 (2016)
3.817
Motorola Moto X (2014)
3.816
Samsung Galaxy J7 (2016) outdoor mode
3.802
LG V20 Max auto
3.798
Xiaomi Redmi Pro
3.798
Sony Xperia XZ
3.795
Samsung Galaxy A5 (2016)
3.789
Apple iPhone 6s
3.783
Meizu Pro 5
3.781
Microsoft Lumia 650
3.772
Samsung Galaxy J7 (2016)
3.756
Oppo F1 Plus
3.709
Vivo X5Pro
3.706
Sony Xperia X Compact
3.694
Apple iPhone SE
3.681
Samsung Galaxy A7
3.679
Meizu PRO 6
3.659
BlackBerry Priv
3.645
Apple iPhone 7 Plus
3.588
Apple iPhone 6s Plus
3.53
Samsung Galaxy J3 (2016) outdoor mode
3.523
Samsung Galaxy J3 (2016)
3.523
Acer Jade Primo
3.521
Microsoft Lumia 950
3.512
Oppo R7 Plus
3.499
nubia Z11
3.466
Samsung Galaxy J7
3.422
Meizu MX5
3.416
LG V20
3.402
Oppo R7
3.32
Xiaomi Mi 5s
3.276
Xiaomi Mi 5
3.24
Samsung Galaxy J2
3.235
Sony Xperia X Performance
3.234
Motorola Moto X Play
3.222
Huawei P9
3.195
Lenovo Vibe Shot
3.113
Motorola Moto X Force
3.105
LG Nexus 5X
3.092
Huawei Mate S
3.073
Microsoft Lumia 640 XL
3.065
Sony Xperia X
2.989
Samsung Galaxy Note
2.97
Huawei Mate 8
2.949
Xiaomi Redmi 3S
2.913
Sony Xperia XA Ultra
2.906
LG G5
2.905
HTC One S
2.901
Xiaomi Mi 5s Plus
2.884
Sony Xperia Z5
2.876
Microsoft Lumia 550
2.851
Xiaomi Redmi 3 Pro
2.803
Sony Xperia Z5 compact
2.784
LG V10
2.744
Xiaomi Redmi 3
2.735
Sony Xperia M5
2.69
Huawei P9 Lite
2.679
Vivo V3Max
2.659
Xiaomi Mi 4i
2.641
Sony Xperia XA
2.609
Xiaomi Mi 4c
2.574
LeEco Le Max 2
2.567
Microsoft Lumia 640
2.563
Lenovo Moto G4
2.544
Oppo F1
2.528
Sony Xperia Z5 Premium
2.525
Huawei Honor 7 Lite / Honor 5c
2.506
Sony Xperia M4 Aqua
2.503
Oppo F1s
2.481
Motorola Moto G
2.477
Lenovo Vibe K5 Plus
2.473
Huawei G8
2.471
Huawei nova
2.467
Sony Xperia Z
2.462
Lenovo Vibe K5
2.459
Huawei Honor 7
2.406
Sony Xperia E5
2.386
ZUK Z1 by Lenovo
2.382
HTC 10
2.378
Samsung Galaxy J5 (2016)
2.378
Huawei nova plus
2.329
HTC One E9+
2.305
Alcatel One Touch Hero
2.272
Apple iPhone 4S
2.269
Lenovo Vibe K4 Note
2.254
Sony Xperia C5 Ultra
2.253
Xiaomi Redmi Note 3 (MediaTek)
2.249
Sony Xperia C4 Dual
2.235
Xiaomi Mi Note
2.234
Motorola Moto G (2014)
2.233
LG Nexus 5
2.228
Huawei P8
2.196
Huawei Honor 6
2.169
Xiaomi Redmi Note 2
2.166
OnePlus Two
2.165
HTC One X
2.158
LG Aka
2.145
Xiaomi Redmi Note 4
2.145
Archos 50 Diamond
2.134
Xiaomi Redmi Note
2.119
Xiaomi Mi 4S
2.095
Acer Liquid X2
2.084
Huawei P8lite
2.078
Moto G 3rd gen max manual
2.026
Xiaomi Mi Max
1.996
Sony Xperia E4g
1.972
OnePlus One
1.961
Meizu m3 note
1.923
Meizu m2 note
1.892
BlackBerry Leap
1.892
HTC Butterfly
1.873
ZTE Nubia Z9 mini
1.759
Sony Xperia U
1.758
Asus Zenfone Selfie
1.68
Motorola Moto E (2nd Gen)
1.675
ZTE Nubia Z9
1.659
Jolla Jolla
1.605
Motorola Moto E
1.545
Sony Xperia M
1.473
Xiaomi Redmi 2
1.311
HTC Desire C
1.3
Sony Xperia C
1.283
Meizu MX
1.221
Sony Xperia E
1.215
Battery life
The Xiaomi Mi 5s Plus is powered by a 3,800mAh battery, which seems enough for a phablet. It's also 600mAh beefier than the one inside the Mi 5s.
We ran our battery test, and the Xiaomi Mi 5s Plus scored a 104h rating, which means you can count on the battery to last almost four and a half days if you do an hour each of calling, web browsing and video playback a day.
The phone outed consistently good scores across all battery tests, including single and dual SIM standby.
If you want to use the phone with two SIM cards, you'll end up with a 96h rating, or four days.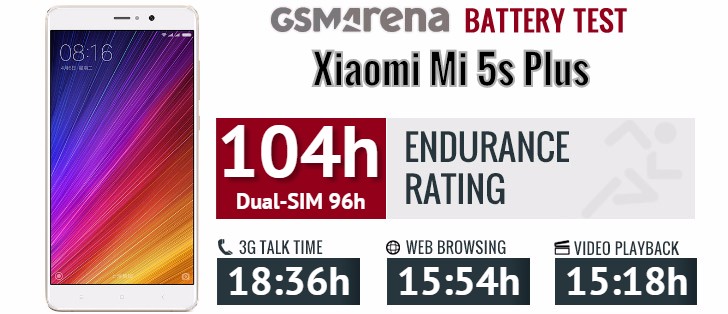 The battery testing procedure is described in detail in case you're interested in the nitty-gritties. You can also check out our complete battery test table, where you can see how all of the smartphones we've tested will compare under your own typical use.
Connectivity
The Xiaomi Mi 5s Plus supports 8 LTE bands, quad-band GSM and quad-band 3G connectivity with HSPA support. You can tap to an LTE network on either SIM, but once you do, the second one will be limited to 3G or GSM connectivity. You can even have both registered on 3G networks, when 4G is not available.
The rest of the connectivity features include single-band Wi-Fi a/b/g/n/ac support and Wi-Fi Direct. There is also support for Bluetooth 4.2, NFC, GPS with GLONASS and Beidou.
There is no FM radio support.
Xiaomi Mi 5s Plus comes with USB Type-C port. Media transfer mode is supported for accessing the phone's built-in memory over a USB connection. The port also supports USB On-the-go for connecting USB peripherals such as pen drives, keyboards or USB hard drives, but you'll need to buy a proper adapter for that.
Wireless screen mirroring is available via the Miracast protocol.
The IR blaster is located on the top and coupled with the right software, it can be used to operate almost any remotely controlled home appliance, turning the Xiaomi Mi 5s Plus into a universal remote. Xiaomi provides its MiRemote app right out of the box.