Display
The Xiaomi Mi 4c features a similar 5" Full HD IPS display to the one we saw on the Mi 4i. It has 441ppi for pleasantly sharp screen contents. Unfortunately, the glass covering the display isn't scratch-resistant or at least it's not quoted as one so you'd have to take extra care not to scratch it accidentally.
Taking a closer look at it under our digital microscope reveals a standard RGB arrangement of the sub-pixels that make up the Xiaomi Mi 4i LCD panel.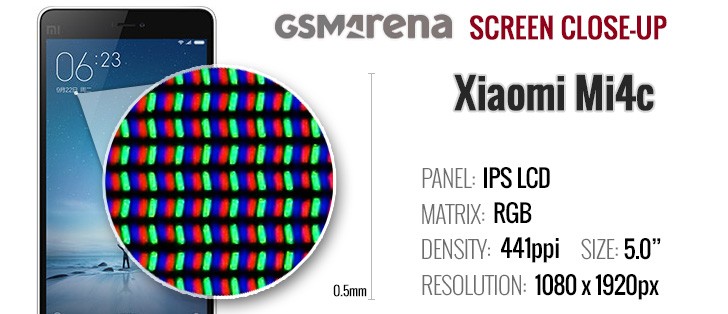 The maximum display brightness of the Xiaomi Mi 4c (450nits) may not turn any heads, but when it comes to contrast ratio, it scored some great results in terms of contrast (1609:1). The amazing result can be attributed to the deep black levels, which are frankly, class leading for an LCD unit. These results are quite rare for an LCD and we've only see the Lenovo K3 Note perform similarly. Perhaps the two units come from the same panel manufacturer.
Color rendering on the Mi 4c is only fairly accurate (Avg deltaE 6.6 for the primary colors plus black and white), with white being not as accurate as we would expect. With a deltaE of 12.2, it's on the colder bluish side, but you would hardly notice that unless you get some sort of a reference to compare it side by side.
As usual, display colors are a matter of personal taste and perception so if you don't need calibrated color output, you will probably be quite happy with the color rendition on the Xiaomi Mi 4c.
There are is an option to tune the color rendering towards a cooler or warmer white point, but playing with the slider didn't improve the color rendering accuracy at all.
A great point about the Xiaomi Mi 4c display is the amazingly minimum brightness level of only 0.8nits of white, which would allow you to read comfortably without any eyestrain even in pitch dark.
Display test
50% brightness
100% brightness
Black, cd/m2
White, cd/m2
Contrast ratio
Black, cd/m2
White, cd/m2
Contrast ratio
Xiaomi Mi 4
0.17
164
940
0.73
679
929
Xiaomi Mi 4i
0.15
161
1063
0.51
542
1055
Xiaomi Redmi Note 2
0.17
162
953
0.492
467.00
953
Xiaomi Mi 4c
0.08
121
1613
0.28
452
1609
Xiaomi Redmi 2
0.30
273
943
0.58
561
974
Sony Xperia M5
0.08
110
1392
0.63
527
839
Sony Xperia Z3
-
-
-
0.65
866
1333
Samsung Galaxy A5
0.00
191
∞
0.00
398
∞
Meizu m1 note
-
-
-
0.65
562
867
The sunlight legibility is about the same as on the Mi 4i and the Xiaomi Mi 4c's screen performs very well outdoors. You will be able to comfortably see what's happening on the screen even on the brightest day.
Xiaomi has also included a display tech for boosting the brightness of darker areas of your screen to make them more visible when there's bright light source present. It's similar to what Sony has been doing with its flagships lately only here it works throughout the interface and not just in the gallery.
Sunlight contrast ratio
Nokia 808 PureView
4.698
Samsung Galaxy S6 edge+
4.615
Samsung Galaxy E7
4.485
Samsung Galaxy A3
4.241
Samsung Galaxy S6
4.124
Samsung Galaxy S6 edge
4.124
Samsung Galaxy Note5
4.09
Samsung Galaxy Note 4
4.033
Apple iPhone 5
3.997
Samsung Galaxy Note 3
3.997
Samsung Galaxy A5
3.895
Samsung Galaxy J7 outdoor
3.879
Samsung Galaxy A8
3.859
Apple iPhone 6
3.838
Motorola Moto X (2014)
3.816
Samsung Galaxy Note Edge
3.799
Apple iPhone 6s
3.783
Vivo X5Pro
3.706
Samsung Galaxy A7
3.679
Oppo R5
3.678
Samsung Galaxy K zoom
3.675
Nokia Lumia 930
3.567
Apple iPhone 5s
3.565
Samsung Galaxy S5
3.549
Nokia Lumia 735
3.547
Motorola Nexus 6
3.543
Apple iPhone 6s Plus
3.53
Alcatel Idol X+
3.527
Apple iPhone 5c
3.512
Samsung Galaxy Alpha
3.509
Oppo R7 Plus
3.499
Samsung Galaxy Note 3 Neo
3.487
vivo X5Max
3.472
LG G Flex2
3.465
YotaPhone 2
3.453
Samsung Galaxy J7
3.422
Motorola RAZR MAXX
3.42
Samsung I9300 Galaxy S III
3.419
Meizu MX5
3.416
Samsung Galaxy S5 Active
3.406
Nokia Lumia 925
3.402
Gionee Elife S5.5
3.386
Samsung I9505 Galaxy S4
3.352
Oppo R7
3.32
Samsung Omnia W
3.301
Motorola Moto X Play
3.222
Samsung Galaxy S5 mini
3.174
Samsung I9000 Galaxy S
3.155
Samsung Ativ S
3.129
Samsung I9190 Galaxy S4 mini
3.127
Samsung Galaxy S4 zoom
3.118
Nokia N9
3.069
Microsoft Lumia 640 XL
3.065
Apple iPhone 6 Plus
3.023
Samsung Galaxy Note
2.97
Samsung Galaxy Premier
2.958
Sony Xperia Z1
2.95
HTC One S
2.901
Lenovo S90 Sisley
2.892
Sony Xperia Z5
2.876
Samsung I8730 Galaxy Express
2.861
BlackBerry Q10
2.856
Samsung I9100 Galaxy S II
2.832
Sony Xperia Z3+
2.824
HTC Desire Eye
2.815
Gionee Elife S5.1
2.812
Samsung Galaxy S II Plus
2.801
BlackBerry Z30
2.79
Sony Xperia Z5 compact
2.784
Meizu MX4 Pro
2.765
Sony Xperia M5
2.69
Sony Xperia ZR
2.672
Huawei Ascend P1
2.655
Xiaomi Mi 4i
2.641
Sony Xperia Z3
2.618
Sony Xperia Z3 Compact
2.616
Sony Xperia T3
2.609
BlackBerry Passport
2.595
Xiaomi Mi 4c
2.574
Microsoft Lumia 640
2.563
Nokia Lumia 900
2.562
Motorola Moto G 4G
2.546
HTC One Max
2.537
Nokia Lumia 720
2.512
HTC One
2.504
Sony Xperia M4 Aqua
2.503
Motorola Moto G
2.477
vivo Xshot
2.465
Sony Xperia Z
2.462
Xiaomi Mi 4
2.424
Samsung Galaxy S III mini
2.422
Lenovo Vibe Z2 Pro
2.416
LG G Flex
2.407
Huawei Honor 7
2.406
ZUK Z1 by Lenovo
2.382
HTC Desire 820
2.372
HTC One (M8)
2.371
Motorola RAZR i
2.366
Meizu MX4
2.366
Meizu m1 note
2.362
Sony Xperia ZL
2.352
HTC One M9
2.334
LG G4
2.317
Samsung Galaxy Note II
2.307
HTC One E9+
2.305
HTC One (M8) for Windows
2.291
Oppo R1x
2.281
Oppo Find 7a
2.279
Alcatel One Touch Hero
2.272
Apple iPhone 4S
2.269
HTC Desire 600 dual sim
2.262
Sony Xperia C5 Ultra
2.253
Nokia Asha 311
2.25
Sony Xperia C4 Dual
2.235
Xiaomi Mi Note
2.234
Motorola Moto G (2014)
2.233
LG Nexus 5
2.228
Huawei P8
2.196
Nokia Lumia 820
2.193
HTC One (E8)
2.185
Oppo N3
2.181
Nokia Lumia 920
2.17
Huawei Honor 6
2.169
Xiaomi Redmi Note 2
2.166
OnePlus Two
2.165
HTC One X
2.158
Asus Zenfone 2 ZE551ML
2.149
LG Aka
2.145
Nokia N8
2.144
Nokia Lumia 620
2.142
Archos 50 Diamond
2.134
Nokia 515
2.134
HTC Desire 500
2.129
Sony Xperia C3 Dual
2.12
Xiaomi Redmi Note
2.119
Sony Xperia acro S
2.119
Nokia Lumia 1020
2.103
Oppo Find 5
2.088
Huawei P8lite
2.078
Sony Xperia SL
2.078
Nokia Lumia 630
2.056
BlackBerry Z10
2.051
Moto G 3rd gen max manual
2.026
Huawei Ascend Mate7
2.024
Samsung I9295 Galaxy S4 Active
2.022
Apple iPhone 4
2.016
HTC One mini
2.003
Xiaomi Mi 3
2.001
Huawei Ascend P7
1.992
LG G2
1.976
Sony Xperia E4g
1.972
OnePlus One
1.961
Oppo R819
1.957
Sony Ericsson Xperia ray
1.955
Lenovo Vibe X2
1.952
Sony Xperia Z2
1.944
Sony Xperia E3
1.943
Nokia Lumia 1320
1.941
HTC One mini 2
1.94
Samsung Galaxy Camera
1.938
Samsung Galaxy Grand Prime
1.935
Sony Xperia J
1.932
Acer CloudMobile S500
1.931
ZTE Blade S6
1.927
LG Nexus 4
1.926
LG G Pro 2
1.922
Samsung Galaxy Mega 6.3
1.913
Nokia Asha 308
1.911
HTC Butterfly 2
1.905
Sony Xperia T
1.894
Meizu m2 note
1.892
BlackBerry Leap
1.892
Nokia Lumia 830
1.887
HTC Desire X
1.878
HTC Windows Phone 8X
1.873
HTC Butterfly
1.873
HTC Butterfly S
1.867
Huawei Ascend P6
1.865
Huawei Ascend Mate
1.845
LG G2 mini
1.838
LG G3
1.82
Nokia Lumia 1520
1.813
HTC Desire 616 dual sim
1.797
Sony Xperia V
1.792
HTC Desire 816
1.783
Sony Xperia Z1 Compact
1.772
HTC Desire 700 dual sim
1.769
ZTE Nubia Z9 mini
1.759
Sony Xperia U
1.758
Meizu MX3
1.754
LG Optimus G
1.753
Sony Xperia T2 Ultra
1.74
Sony Xperia Z3 Tablet Compact
1.735
Acer Liquid Jade S
1.734
Sony Xperia SP
1.733
Oppo Find 7
1.691
LG Optimus 4X HD
1.691
HTC One V
1.685
BlackBerry Q5
1.682
LG Optimus Vu
1.68
Motorola Moto E (2nd Gen)
1.675
Xiaomi Mi Pad 7.9
1.672
LG Optimus GJ
1.666
ZTE Nubia Z9
1.659
LG Optimus 3D Max
1.658
HTC Desire V
1.646
Samsung Galaxy Xcover 2
1.632
Samsung Galaxy Ace 3
1.622
Microsoft Lumia 532
1.615
Jolla Jolla
1.605
Microsoft Lumia 435
1.598
Sony Xperia Z Ultra
1.578
Sony Xperia go
1.577
Samsung Galaxy Ace 2 I8160
1.566
Samsung Galaxy Core
1.563
LG Optimus G Pro
1.552
Motorola Moto E
1.545
LG Optimus 3D
1.542
Nokia Asha 302
1.537
Samsung Galaxy Core Prime
1.507
BlackBerry Curve 9320
1.488
Sony Xperia M
1.473
Oppo N1
1.47
Sony Xperia E4
1.467
Meizu MX 4-core
1.462
Nokia Lumia 610
1.432
Samsung Galaxy S Duos
1.4
Sony Xperia M2
1.393
Microsoft Lumia 535
1.393
Samsung Galaxy Grand Neo
1.393
Samsung Galaxy Grand 2
1.38
Sony Xperia E1
1.372
Nokia Lumia 625
1.371
Gigabyte GSmart G1355
1.361
Sony Xperia L
1.351
Samsung Galaxy Mega 5.8
1.35
Xiaomi Redmi 1S
1.35
HTC Desire 510
1.34
Sony Xperia M2 Aqua
1.331
Sony Xperia miro
1.324
Samsung I9082 Galaxy Grand
1.321
Samsung I8530 Galaxy Beam
1.315
Xiaomi Redmi 2
1.311
HTC Desire C
1.3
Nokia X
1.291
Sony Xperia C
1.283
Nokia Asha 503
1.281
Nokia Asha 501
1.27
LG Optimus L7
1.269
Nokia Lumia 510
1.268
Samsung Galaxy Fame
1.245
LG Optimus L9
1.227
Meizu MX
1.221
Samsung Galaxy Young
1.22
Sony Xperia E
1.215
Nokia XL
1.204
Sony Xperia E dual
1.203
Asus Memo Pad 7 ME176C
1.198
Samsung Galaxy Pocket
1.18
Nokia Asha 305
1.178
Nokia Asha 306
1.175
Sony Xperia neo L
1.169
Sony Xperia tipo
1.166
Nokia Lumia 520
1.161
Samsung S6802 Galaxy Ace Duos
1.148
Samsung Galaxy mini 2
1.114
Battery life
Xiaomi has put a 3,080mAh battery inside the Mi 4c, a solid capacity for a 5" device. In our battery test the Xiaomi Mi 4c scored a 52h rating, which means you can count on a little over two days if you do an hour each of calling, browsing and video playback a day. While the phone does well in the three separate tests its standby endurance is disappointing at about four and a half days.
Opting for using the device with two SIM cards will cost you one day of standby down to just three and a half days. So the dual-SIM endurance rating is 45 hours, which is far from OK.
Such usage pattern is of course entirely artificial, but we've established it so our battery results are comparable across devices.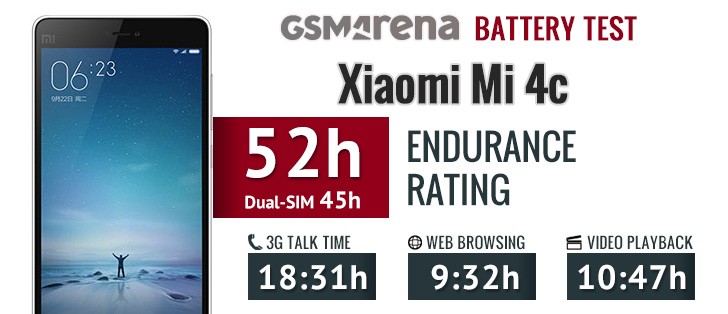 Xiaomi didn't spare money and is providing a proper fast charger within the retail box, so you will be able to charge your battery blazing fast.
Our proprietary score also includes a standby battery draw test, which is not featured in our battery test scorecard but is calculated in the total endurance rating. Our battery testing procedure is described in detail in case you want to learn more about it.
Connectivity
The Xiaomi Mi 4c supports 7 LTE bands and you can tap to an LTE network on either SIM, but the other will default to a GSM band. The Mi 4c also offers quad-band GSM connectivity and tri-band 3G connectivity with HSPA support.
The rest of the wireless connectivity features include dual-band Wi-Fi a/b/g/n/ac support and Wi-Fi Direct. There is also support for Bluetooth 4.1, GPS and GLONASS. Wireless screen mirroring is available via the Miracast protocol. There is no FM radio though, only internet radio is avaialble.
The IR blaster is located on the top and coupled with the right software, you can use it to operate remotely pretty much any IR controlled home appliance, turning the Xiaomi Mi 4c into a universal remote. Xiaomi provides its own MiRemote app, which supports a plethora of devices and you can turn your Mi 4c of this dream remote right out of the box.
The Mi 4c is Xiaomi's the very first device to support USB Type-C - it's a new reversible connector for USB that builds on top of USB 3.1. The cable supplied with the phone ends on a USB 2.0 reversible plug though.
That's important to note for two reasons. The first one being speed - USB 3.1 Type-C cables can go up to 10Gbps, but the Mi 4c is limited to USB 2.0 speeds (480Mbps). The second thing is that Type-C connectors are meant to go on both ends of the cable since the standard allows for functionality to go both ways - that's data transfer and even charging.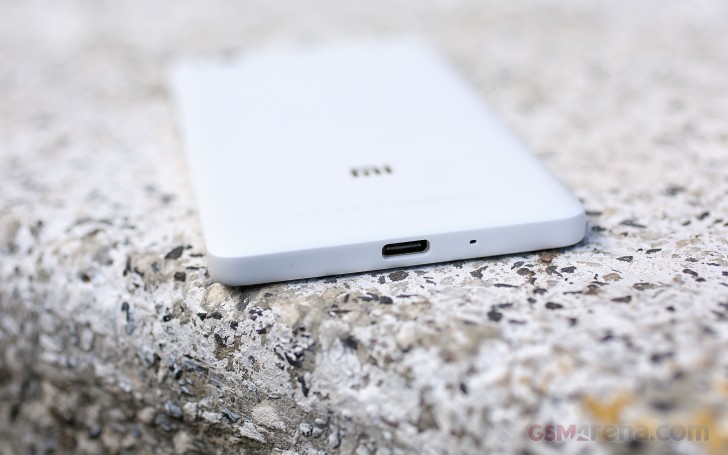 Android 6.0 Marshmallow is going to add official support for USB Type-C connectors and then you should be able to charge connected peripherals. That's still not possible at this time though.
If you'd like to use USB OTG and USB Host functions, you'll have to buy a third-party microUSB adapter.