Display
The Xiaomi Mi 4 features a similar 5" Full HD IPS display to the one we saw on the Mi 3. It has a pixel density of 441ppi, which places it among the best. This time around, the glass covering the display lacks any protection and it might be a good idea to apply a screen protector.


The 5" IPS display Xiaomi Mi 4
Taking a closer look at it under our digital microscope reveals a standard RGB arrangement of the sub-pixels that make up the Xiaomi Mi 4 LCD panel, much like on the Mi 3.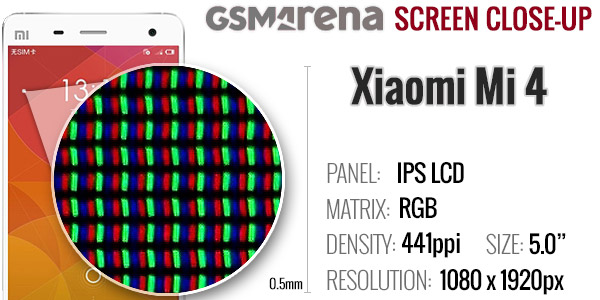 The display on the Xiaomi Mi 4 has a higher maximum brightness level compared to the one on Xiaomi Mi 3, while retaining the same good contrast and colors. Also compared to the Mi 3, the Mi 4 screen backlight is much more uniform and you can't easily tell the main source of backlight as you could on the Mi 3.
Subjectively, the Mi 4's display tends to produce cooler images, while the colors on the Mi 3 are warmer. Xiaomi is providing options for color temperature and saturation, so you can tweak the display to your liking.
Display test
50% brightness
100% brightness
Black, cd/m2
White, cd/m2
Contrast ratio
Black, cd/m2
White, cd/m2
Contrast ratio
Xiaomi Mi 3
0.18
142
809
0.61
557
907
Xiaomi Mi 4
0.17
164
940
0.73
679
929
Samsung Galaxy S5
0
274
∞
0
529
∞
Samsung I9505 Galaxy S4
0
201
∞
0
404
∞
LG G2
0.1
149
1522
0.45
667
1495
LG G3
0.14
109
763
0.72
570
789
Sony Xperia Z2
-
-
-
0.41
488
1195
Sony Xperia Z1
-
-
-
0.38
580
1513
Apple iPhone 5s
0.14
163
1145
0.49
596
1219
HTC One (M8)
0.2
245
1219
0.46
577
1256
HTC One (E8)
0.2
250
1268
0.51
615
1208
The sunlight legibility has been improved as well and the Xiaomi Mi 4's display performs admirably outdoors and you will be able to see what's happening on the screen even on the brightest day.
Sunlight contrast ratio
Sony Xperia E
1.215
Xiaomi Mi 4
2.424
Samsung I9000 Galaxy S
3.155
Samsung Galaxy S5 mini
3.174
Nokia N9
3.069
Samsung Galaxy Alpha
3.509
Samsung Galaxy Note
2.97
Samsung Omnia W
3.301
Samsung Galaxy K zoom
3.675
HTC One S
2.901
Gionee Elife S5.5
3.386
Alcatel Idol X+
3.527
Samsung Galaxy S5
3.549
Samsung Galaxy Note 3 Neo
3.487
Motorola Moto G
2.477
BlackBerry Z30
2.79
Samsung I9300 Galaxy S III
3.419
HTC One Max
2.537
Samsung Galaxy Note 3
3.997
Apple iPhone 5s
3.565
Apple iPhone 5c
3.512
Sony Xperia Z1
2.95
Nokia 808 PureView
4.698
Huawei Ascend P1
2.655
Sony Xperia ZR
2.672
Samsung Galaxy S4 zoom
3.118
Nokia Lumia 900
2.562
BlackBerry Q10
2.856
Samsung I9190 Galaxy S4 mini
3.127
Nokia Lumia 925
3.402
Samsung I9100 Galaxy S II
2.832
Samsung I9505 Galaxy S4
3.352
Nokia Lumia 720
2.512
HTC One
2.504
Samsung I8730 Galaxy Express
2.861
Sony Xperia Z
2.462
Samsung Galaxy S II Plus
2.801
Motorola RAZR MAXX
3.42
Samsung Galaxy Premier
2.958
Samsung Ativ S
3.129
Apple iPhone 5
3.997
Huawei Ascend P6
1.865
Nokia Asha 311
2.25
Apple iPhone 4S
2.269
Oppo Find 7a
2.279
HTC One (M8)
2.371
Motorola RAZR i
2.366
Samsung Galaxy S III mini
2.422
Alcatel One Touch Hero
2.272
LG G Flex
2.407
HTC Desire 600 dual sim
2.262
Sony Xperia ZL
2.352
Samsung Galaxy Note II
2.307
Sony Xperia Z Ultra
1.578
Apple iPhone 4
2.016
HTC One (E8)
2.185
Nokia Lumia 820
2.193
HTC One X
2.158
Nokia Lumia 630
2.056
Nokia Lumia 920
2.17
Sony Xperia acro S
2.119
Sony Xperia SL
2.078
Nokia N8
2.144
Nokia 515
2.134
LG Nexus 5
2.228
HTC Desire 500
2.129
Nokia Lumia 1020
2.103
Oppo Find 5
2.088
Samsung I9295 Galaxy S4 Active
2.022
BlackBerry Z10
2.051
Nokia Lumia 620
2.142
Meizu MX3
1.754
HTC Windows Phone 8X
1.873
Xiaomi Mi 3
2.001
Sony Xperia T
1.894
Sony Xperia J
1.932
HTC One mini 2
1.94
Acer CloudMobile S500
1.931
Sony Xperia Z2
1.944
Huawei Ascend P7
1.992
LG Nexus 4
1.926
LG G Pro 2
1.922
Nokia Lumia 1320
1.941
Nokia Asha 308
1.911
Samsung Galaxy Camera
1.938
Samsung Galaxy Mega 6.3
1.913
Sony Ericsson Xperia ray
1.955
HTC Butterfly
1.873
LG G2
1.976
HTC Desire X
1.878
Oppo R819
1.957
HTC One mini
2.003
Sony Xperia SP
1.733
Samsung Galaxy Mega 5.8
1.35
Huawei Ascend Mate
1.845
LG Optimus 3D
1.542
Samsung Galaxy S Duos
1.4
BlackBerry Q5
1.682
Samsung Galaxy Xcover 2
1.632
HTC Desire 616 dual sim
1.797
LG Optimus GJ
1.666
BlackBerry Curve 9320
1.488
Oppo Find 7
1.691
Sony Xperia L
1.351
HTC Butterfly S
1.867
Samsung Galaxy Core
1.563
Sony Xperia M
1.473
LG Optimus Vu
1.68
Motorola Moto E
1.545
Nokia Lumia 610
1.432
Nokia Lumia 625
1.371
Sony Xperia U
1.758
LG G3
1.82
Sony Xperia V
1.792
Sony Xperia M2
1.393
LG Optimus 3D Max
1.658
LG Optimus G Pro
1.552
Samsung Galaxy Ace 2 I8160
1.566
HTC Desire 816
1.783
Samsung Galaxy Ace 3
1.622
Sony Xperia go
1.577
Oppo N1
1.47
Sony Xperia T2 Ultra
1.74
HTC One V
1.685
LG G2 mini
1.838
Nokia Lumia 1520
1.813
Jolla Jolla
1.605
LG Optimus 4X HD
1.691
Sony Xperia E1
1.372
Sony Xperia Z1 Compact
1.772
Gigabyte GSmart G1355
1.361
LG Optimus G
1.753
HTC Desire 700 dual sim
1.769
Samsung Galaxy Grand Neo
1.393
Meizu MX 4-core
1.462
Samsung Galaxy Grand 2
1.38
HTC Desire V
1.646
Nokia Asha 302
1.537
LG Optimus L7
1.269
Nokia X
1.291
Sony Xperia miro
1.324
Samsung I9082 Galaxy Grand
1.321
HTC Desire C
1.3
Samsung I8530 Galaxy Beam
1.315
LG Optimus L9
1.227
Sony Xperia neo L
1.169
Nokia Lumia 510
1.268
Samsung Galaxy Fame
1.245
Nokia Asha 305
1.178
Samsung Galaxy Young
1.22
Nokia Asha 503
1.281
Samsung Galaxy Pocket
1.18
Nokia XL
1.204
Sony Xperia C
1.283
Nokia Asha 306
1.175
Meizu MX
1.221
Nokia Asha 501
1.27
Sony Xperia E dual
1.203
Sony Xperia tipo
1.166
Nokia Lumia 520
1.161
Samsung S6802 Galaxy Ace Duos
1.148
Samsung Galaxy mini 2
1.114
The high-sensitivity mode for Glove use is available here much like on the Mi 3, but you probably shouldn't leave that turned on if you don't need it, because it may drain your battery faster.
Finally, there is a way to prevent accidental screen unlocks, while the phone is in your pocket. If enabled, you won't be able to unlock the screen while something is covering the proximity sensor. Again, that would probably take its toll on the battery life.
Controls
The Xiaomi Mi 4's controls are pretty much the same as what we found on its Mi 3 predecessor. Almost the entire front is occupied by the 5" display, but its bezels have gotten a lot thinner. Above the screen we find the earpiece, with a couple of sensors and the 8MP selfie camera around.




The 5" display • looking above and below the screen
Xiaomi once again has decided to keep the capacitive controls instead of wasting precious screen real estate. The trio yet again uses the older arrangement with Menu, Home and Back keys.
The microSIM slot is alone on the right and you will need a SIM ejector to pop it out. The right side of the Xiaomi Mi 4 has the metal volume rocker and power/lock key.





The microSIM slot on the left • the volume rocker and the power/lock key on the right
As usual, the 3.5mm audio jack is on the top and an IR blaster keeps it company. You have a choice of apps that you can install to make use of the Infrared port for controlling various home appliances such as TVs, media players, air conditioners, etc.
The bottom of the Mi 4 has the microUSB port and a rather big grille hiding the primary microphone and the loudspeaker.





A peek at the top and bottom of the Xiaomi Mi 4
The Xiaomi Mi 4's rear features the 13MP camera lens with F1.8 aperture, which uses the latest generation of Sony sensors. There is a single-LED flash beside it.



The 13MP Sony camera is on the back
The 3,080 mAh battery hides beneath the plastic rear cover. To get to it you need a small suction cup to pull the cover open. The battery beneath it however is not user-replaceable. It's glued to the the phone and we didn't dare put a pressure on removing it in our review unit.
There is no microSD card slot on the Xiaomi Mi 4 either.
Battery life test
Xiaomi has put a 3,080mAh battery inside the Mi 4, a solid enough unit for a 5" device. We ran our battery test and the Xiaomi Mi 4 scored a 68h rating, which means you can count on the battery to last just short of 3 days if you do an hour each of calling, browsing the web and video playback a day.
The Xiaomi Mi 3 was almost there too with a rating of 66h.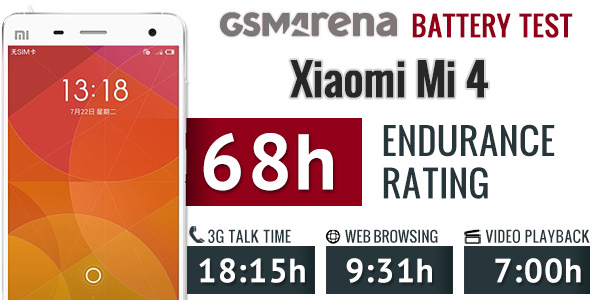 Perhaps this is the right place to mention that we didn't like how hot the Xiaomi Mi 4 became with the charger plugged in.
For a more detailed breakdown of the Xiaomi Mi 4 battery performance check out our blogpost.
Our proprietary score also includes a standby battery draw test, which is not featured in our battery test scorecard but is calculated in the total endurance rating.
Our battery testing procedure is described in detail in case you want to learn more about it.
Connectivity
The Xiaomi Mi 4 runs on the capable Snapdragon 801 chipset which is LTE-enabled, unlike the one on the Mi 3. The Mi 4 also offers quad-band GSM connectivity and quad-band 3G connectivity with HSPA support.
The rest of the connectivity features include dual-band Wi-Fi a/b/g/n/ac support and Wi-Fi Direct. There is also support for Bluetooth 4.0, GPS and GLONASS, plus an FM radio.
The IR blaster is located on the top and coupled with the right software, you can use it to operate pretty much any IR remotely controlled home appliance, turning the Xiaomi Mi 4 into a universal remote.
Unlike the Mi 3, there is no NFC connectivity on the Mi 4. It seems the company thinks there are too few users actually using the feature.
A microUSB 2.0 port handles charging and data connections. Media transfer mode is supported for accessing the phone's built-in memory and microSD card over a USB connection.
The microUSB port also supports USB On-the-go for connecting USB peripherals such as pen drives, keyboards or real USB hard drives.
Wireless screen mirroring is available via the Miracast protocol.