Unboxing the Xiaomi Mi 3
Xiaomi Mi 3 comes in a pretty much standard box, made out of recycled paper. Inside we find a basic set of accessories - a microUSB, a 1A wall plug and a SIM ejector pin.
XiaomiShop.com, the provider of our review unit, throws in a bunch of freebies in every box and ours came with a screen protector, a fancy flip case, an EU adapter, a USB car charger plug, and a small capacitive stylus that conveniently plugs into the 3.5mm audio jack.


The accessories XiaomiShop throws in for free
Xiaomi Mi 3 360-degree spin
Xiaomi Mi 3 spreads at 144 x 73.6 x 8.1 mm and weighs about 145g. This is exactly the same footprint as Sony Xperia Z1's, but lighter. Unfortunately this means the Xiaomi Mi 3 also has rather big screen bezels.
Design and build quality
The Xiaomi Mi 3 features a stylish polycarbonate chassis that wraps around the sides of the device a lot like some Nokia Lumia phone do. While this makes the 3050mAh battery inaccessible, the rounded edges mean the device is a pleasure to hold. We've always liked Nokia's choice of materials for its top Lumia models and we are glad to see the polycarbonate working out for another brand.
The rear side finish promises no nasty fingerprint smudges. The pitch black front contributes to the overall classy feeling and is very easy to clean. You can barely see where the IPS display ends and the frame begins.
Xiaomi Mi 3 was designed to look and feel like the flagship device it is. You will easily pick it up when put in whatever lineup of devices no matter it doesn't bet on any iconic elements as some of its competitors. It is likeable and beautiful, thoughtfully designed with usability and style in mind.
Handling the Xiaomi Mi 3 is as pleasurable as it can get - the polycarbonate unibody is solid and provides great grip thanks to its matte surface. The Mi 3 is just 8mm thin, but its wide footprint doesn't allow you to forget it's in your pocket.
Display
The Xiaomi Mi 3 features a 5" Full HD IPS display with a pixel density of 441ppi, which places it among the best in-class. It's covered by Gorilla Glass 3 for protection against scratches and cracks from pressure.


The 5" IPS display Xiaomi Mi 3
Here is the display matrix of the Xiaomi Mi 3 shot from upclose. Taking a closer look at it under our digital microscope reveals a standard RGB arrangement of the sub-pixels that make up the Xiaomi Mi 3 LCD panel, not that we've expected anything else.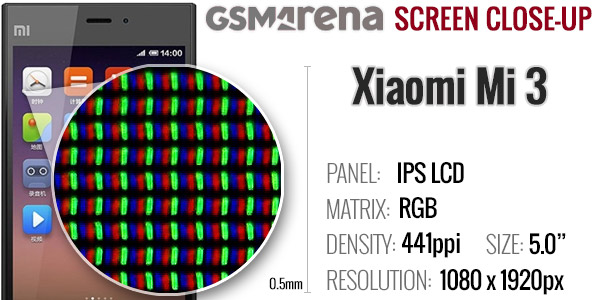 The display on the Xiaomi Mi 3 is bright enough at 100% with good contrast and colors. Unfortunately dropping the brightness reduces the contrast and the screen becomes dim very soon, which makes us believe 50% of the brightness scrubber is way below 50% of the actual brightness.
Unfortunately, the brightness of the screen is uneven with the backlight source being pretty visible at the top of the screen. When you have a white page opened on the screen you can easily notice the gradual brightness falloff from top to bottom. On the positive side, that's only visible with a full-on white or gray screen - in any other case it's as good as invisible.
Display test
50% brightness
100% brightness
Black, cd/m2
White, cd/m2
Contrast ratio
Black, cd/m2
White, cd/m2
Contrast ratio
Xiaomi Mi 3
0.18
142
809
0.61
557
907
LG G2
0.1
149
1522
0.45
667
1495
Samsung I9505 Galaxy S4
0
201
∞
0
404
∞
Sony Xperia Z1
-
-
-
0.38
580
1513
Huawei Ascend P7
0.13
101
807
0.79
668
843
Oppo Find 7a
0.33
280
842
0.68
580
852
Sony Xperia Z2
-
-
-
0.41
488
1195
Gionee Elife S5.5
0
178
∞
0
330
∞
The sunlight legibility isn't great, but the Xiaomi Mi 3's display is still usable outside and you will be able to see what's happening on the screen.
Sunlight contrast ratio
Samsung I9505 Galaxy S4
3.352
Apple iPhone 4
2.016
Samsung I9000 Galaxy S
3.155
Samsung Galaxy S5 mini
3.174
Nokia N9
3.069
Apple iPhone 4S
2.269
Samsung Galaxy Note
2.97
Samsung Omnia W
3.301
Samsung Galaxy Alpha
3.509
HTC One S
2.901
HTC One X
2.158
HTC One (E8)
2.185
Samsung Galaxy K zoom
3.675
Gionee Elife S5.5
3.386
Nokia N8
2.144
Nokia Lumia 630
2.056
Samsung I9300 Galaxy S III
3.419
Oppo Find 7a
2.279
Alcatel Idol X+
3.527
Samsung Galaxy S5
3.549
HTC One (M8)
2.371
Samsung Galaxy Note 3 Neo
3.487
Nokia 808 PureView
4.698
Huawei Ascend P1
2.655
Alcatel One Touch Hero
2.272
LG G Flex
2.407
Nokia Lumia 900
2.562
Motorola Moto G
2.477
Nokia 515
2.134
LG Nexus 5
2.228
BlackBerry Z30
2.79
HTC One Max
2.537
Samsung Galaxy Note 3
3.997
HTC Desire 500
2.129
Apple iPhone 5s
3.565
Apple iPhone 5c
3.512
Sony Xperia Z1
2.95
Motorola RAZR MAXX
3.42
HTC Desire 600 dual sim
2.262
Samsung Galaxy Note II
2.307
Sony Xperia acro S
2.119
Nokia Asha 311
2.25
Sony Xperia ZR
2.672
Nokia Lumia 1020
2.103
Apple iPhone 5
3.997
Samsung Galaxy S4 zoom
3.118
Motorola RAZR i
2.366
Samsung Galaxy S III mini
2.422
Sony Xperia SL
2.078
Samsung I9295 Galaxy S4 Active
2.022
BlackBerry Q10
2.856
Samsung I9190 Galaxy S4 mini
3.127
Samsung Ativ S
3.129
Nokia Lumia 925
3.402
Sony Xperia ZL
2.352
Samsung Galaxy Premier
2.958
Nokia Lumia 820
2.193
Samsung I9100 Galaxy S II
2.832
Nokia Lumia 720
2.512
Nokia Lumia 920
2.17
HTC One
2.504
Samsung I8730 Galaxy Express
2.861
BlackBerry Z10
2.051
Nokia Lumia 620
2.142
Sony Xperia Z
2.462
Oppo Find 5
2.088
Samsung Galaxy S II Plus
2.801
Sony Xperia go
1.577
Xiaomi Mi 3
2.001
HTC One mini
2.003
Samsung I8530 Galaxy Beam
1.315
Sony Xperia V
1.792
HTC Butterfly
1.873
Nokia Asha 308
1.911
HTC Desire 616 dual sim
1.797
LG G3
1.82
HTC One mini 2
1.94
LG Nexus 4
1.926
Acer CloudMobile S500
1.931
Sony Ericsson Xperia ray
1.955
Sony Xperia J
1.932
Sony Xperia Z2
1.944
HTC Desire X
1.878
Huawei Ascend P7
1.992
LG G2 mini
1.838
Samsung Galaxy Mega 6.3
1.913
HTC Windows Phone 8X
1.873
LG G Pro 2
1.922
Nokia Lumia 1320
1.941
Nokia Lumia 1520
1.813
LG G2
1.976
HTC Butterfly S
1.867
Oppo R819
1.957
Huawei Ascend P6
1.865
Huawei Ascend Mate
1.845
Samsung Galaxy Camera
1.938
Sony Xperia T
1.894
Sony Xperia Z1 Compact
1.772
BlackBerry Q5
1.682
HTC One V
1.685
Oppo Find 7
1.691
HTC Desire 816
1.783
Sony Xperia T2 Ultra
1.74
Sony Xperia SP
1.733
Sony Xperia U
1.758
HTC Desire 700 dual sim
1.769
LG Optimus G
1.753
LG Optimus 4X HD
1.691
Meizu MX3
1.754
Samsung Galaxy Grand 2
1.38
Samsung Galaxy S Duos
1.4
LG Optimus 3D
1.542
Samsung Galaxy Xcover 2
1.632
Nokia Asha 302
1.537
LG Optimus GJ
1.666
Motorola Moto E
1.545
LG Optimus G Pro
1.552
Meizu MX 4-core
1.462
Samsung Galaxy Ace 2 I8160
1.566
Samsung Galaxy Ace 3
1.622
HTC Desire V
1.646
Oppo N1
1.47
BlackBerry Curve 9320
1.488
LG Optimus Vu
1.68
Sony Xperia Z Ultra
1.578
LG Optimus 3D Max
1.658
Jolla Jolla
1.605
Samsung Galaxy Core
1.563
Sony Xperia M
1.473
Nokia Lumia 610
1.432
Sony Xperia C
1.283
Nokia Lumia 510
1.268
Nokia Asha 501
1.27
Samsung Galaxy Grand Neo
1.393
Gigabyte GSmart G1355
1.361
Nokia Lumia 625
1.371
Sony Xperia miro
1.324
Samsung I9082 Galaxy Grand
1.321
Nokia X
1.291
Sony Xperia E1
1.372
Sony Xperia M2
1.393
LG Optimus L7
1.269
Sony Xperia L
1.351
HTC Desire C
1.3
Samsung Galaxy Mega 5.8
1.35
Nokia Asha 503
1.281
Samsung Galaxy Young
1.22
Sony Xperia E
1.215
Meizu MX
1.221
LG Optimus L9
1.227
Samsung Galaxy Fame
1.245
Nokia XL
1.204
Sony Xperia E dual
1.203
Samsung Galaxy Pocket
1.18
Nokia Asha 305
1.178
Nokia Asha 306
1.175
Sony Xperia neo L
1.169
Sony Xperia tipo
1.166
Nokia Lumia 520
1.161
Samsung S6802 Galaxy Ace Duos
1.148
Samsung Galaxy mini 2
1.114
Xiaomi is providing options for color temperature and saturation. Glove mode is available too, but you probably shouldn't leave that turned on if you don't need it because it may drain your battery faster.
Finally there is an option to prevent accidental unlocks of your screen, while the phone is in your pocket. If enabled, you won't be able to unlock the scren while something is covering the proximity sensor. Again, that would take its toll on the battery life.