Impressively specced triple camera, under-utilized display
The Mi 11 Ultra comes with some serious imaging hardware - it's got the most advanced camera system on a Xiaomi phone and possibly any phone, if your priorities align with Xiaomi's choices on this one.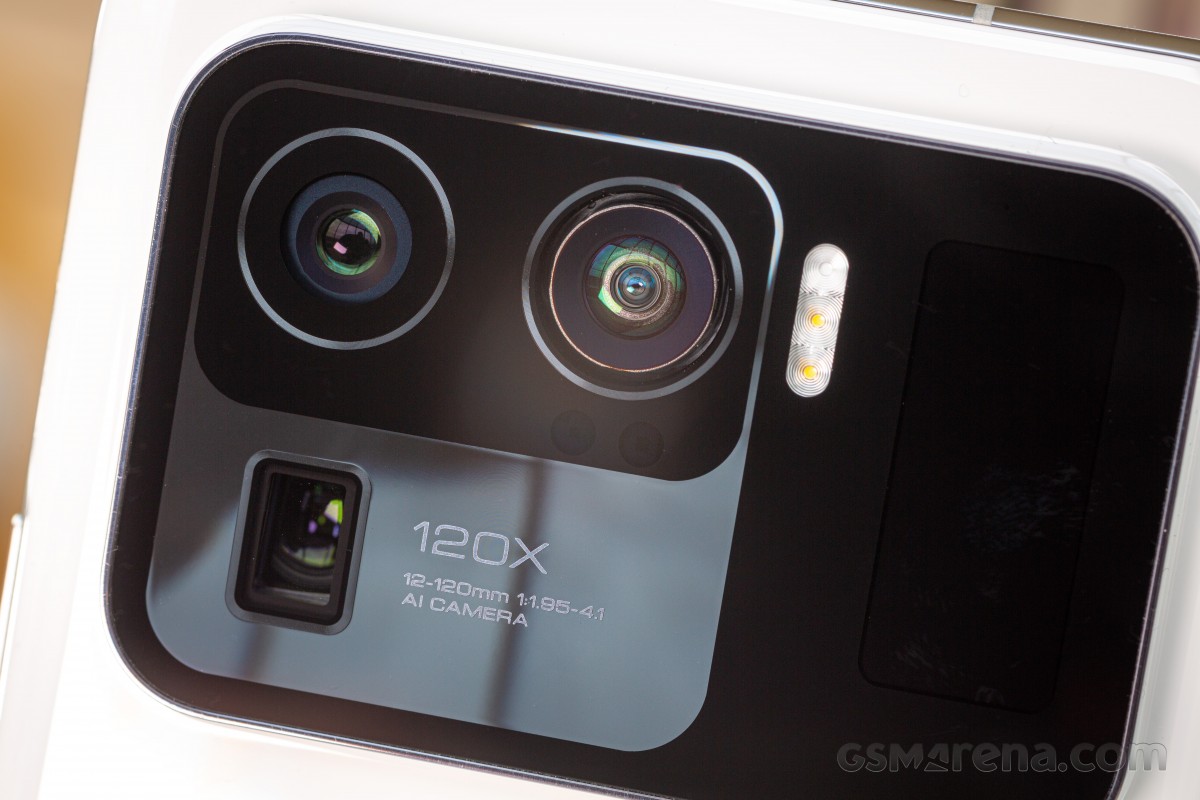 The primary camera marks the debut of Samsung's latest high-end sensor, the GN2. Thanks to this substantial 1/1.12" imager, the Mi 11 Ultra dethrones the Nokia 808 PureView for biggest sensor on a smartphone (finally), though depending on where you stand, that title may still be held by the Panasonic Lumix LC1.
The GN2 has 8160x6120px (or 50MP) and each of them with a size of 1.4µm. A Tetrapixel color filter array on top (or Quad Bayer in Sony speak) means you get 4-in-1 binning, huge 2.8µm resultant pixels, and 12.5MP images by default. The sensor has bi-directional Dual Pixel autofocus so it can detect changes in patterns both horizontally and vertically, something we first saw on the Find X2 Pro (omni-directional AF Oppo called it, and in this context omni- is indeed bi-).
The lens that sits in front of the GN2 has 8 elements and an equivalent focal length of 24mm. The aperture is f/1.95 and that may sound like a little too dim next to the f/1.8 lenses of the Galaxy S21 Ultra, Oppo Find X3 Pro, and OnePlus 9 Pro but 1) making a faster lens for this large sensor would have likely pushed physical dimensions beyond what is already a questionable state, and 2) depth of field with a brighter lens on a sensor of these proportions would be impractically thin. What Xiaomi did manage to fit after all is optical stabilization, so that's nice.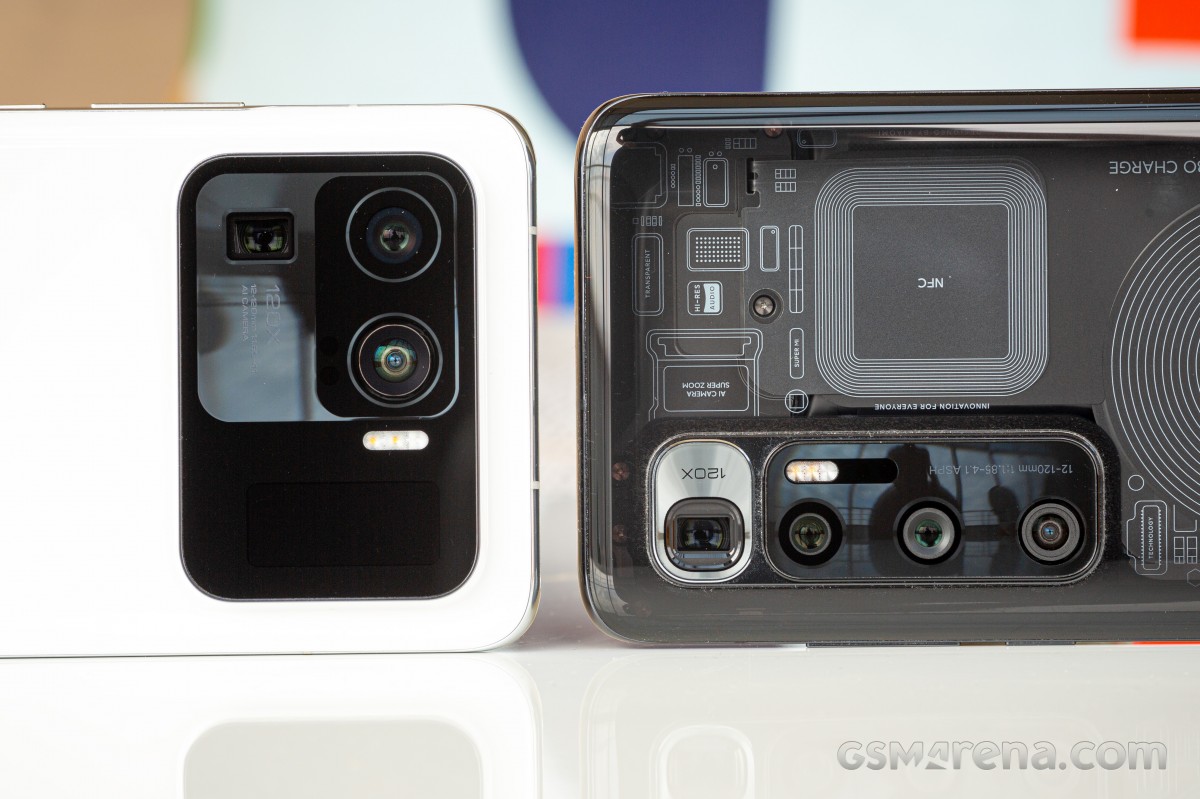 The telephoto has been carried over from the Mi 10 Ultra, but for a customer outside of China it's as good as new - the old model never made it outside of its home country. It's a lot like the original Galaxy S20 Ultra's tele cam, which Samsung ultimately gave up on, only better. You get a 48MP Type 1/2" Sony IMX586 sensor with a Quad Bayer filter and 12MP binned photos. The lens is a 5x zoom stabilized periscope with an f/4.1 aperture. The Galaxy's aperture was a slightly brighter f/3.5, but its focal length was shorter at around 103mm, next to the Mi's 120mm equivalent.
Then there's another of them IMX586s, this one paired with an ultrawide lens. It's one of the ultrawide-est ones out there, with Xiaomi promising a 128-degree field of view. It's in fact so wide that the software distortion correction doesn't quite result in straight lines, but more on that later. The specs say the aperture on this is f/2.2, and it also has autofocus - of course the ultrawide has autofocus at this level.
The auxiliary bits around here include a laser autofocus emitter/receiver combo and a triple LED flash. But it's the extra display that's the star of the show. A tiny 1.1-inch OLED, lifted off a Mi Band 5, it offers a ton of potential despite its somewhat ill-suited 21:9 aspect. Sadly, a lot of potential remains wasted at this point, and we hope Xiaomi addresses this with a firmware update. What do we mean by that?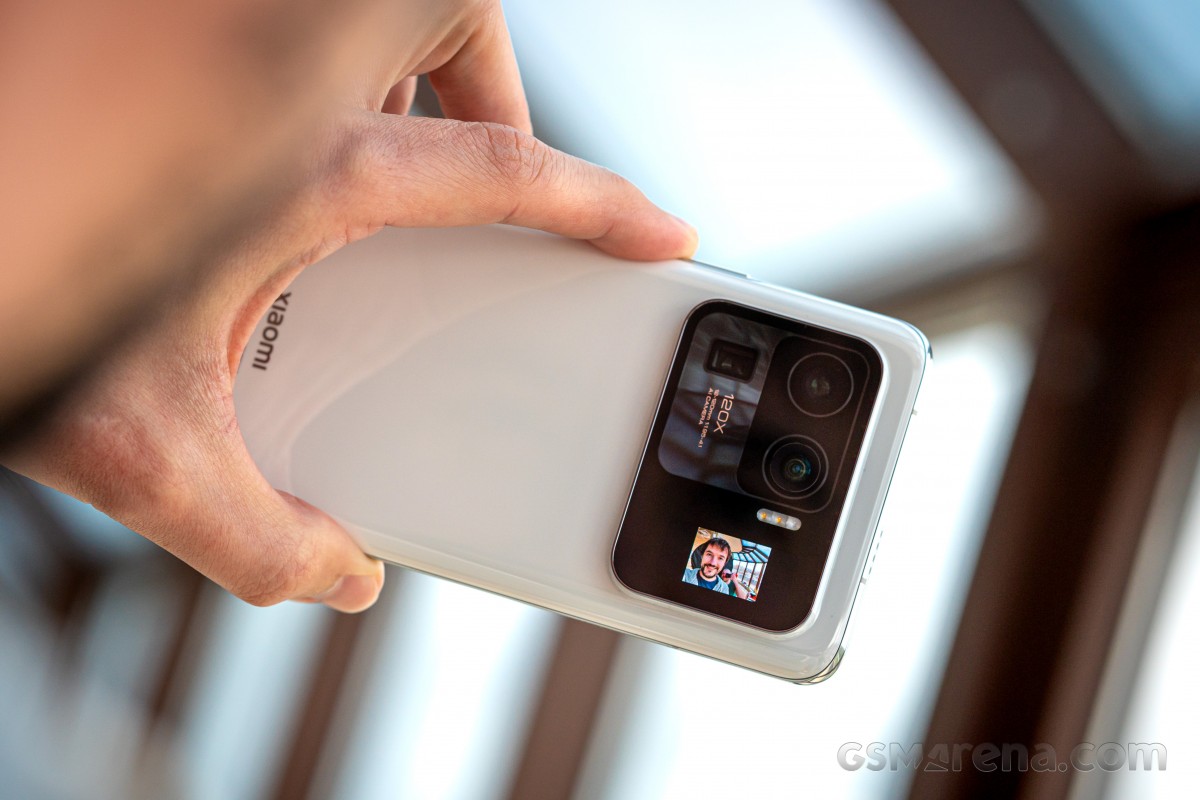 At the time of reviewing, in the context of camera use, the tiny display is only accessible in Photo mode. So you can take photos of yourself and company with the rear cameras, or have the people you're taking a picture of see a live preview. It takes a few taps too many to get there, but once you're used to it, it shouldn't be too much of a drag. So far so good. However, the display can't be enabled outside of Photo mode. So that's a no for Portrait mode and no for video recording. Why? WHY?
Update, 19 July 2022: The MIUI 13 update on the Mi 11 Ultra brought about a handful of software improvements and one of them addresses the rear display operation. It is now available across all modes, including Video and Portrait.
Under-utilized as it may be, the rear screen will do a decent job for framing your rear camera selfies, but you can still find a selfie camera on the front as well. It's the same one we saw on last year's model lineup and the Mi 11 we had more recently - it uses a 20MP Samsung S5K3T2 1/3.4" sensor with 0.8µm pixels and Quad Bayer color filter, and outputs at the nominal 20MP resolution. Xiaomi specifies an f/2.2 aperture but omits the focal length. Autofocus isn't available for selfies but that's fine.
Camera app
The camera app is a rather straightforward implementation, though it does have its quirks. First things first, basic operation for changing modes works with side swipes as expected, and you can also tap on the modes that you can see to switch to those directly. Up and down swipes don't work for switching between the front and rear cameras, only the toggle next to the shutter release does that.
You can add, remove, and rearrange modes in the main rolodex by going to the More tab and navigating to the edit button, and you can access that from the settings menu as well. The unused modes will still be in that More tab, but you can switch to a (less intuitive) pull-out pane that's summoned from a line next to the shutter release.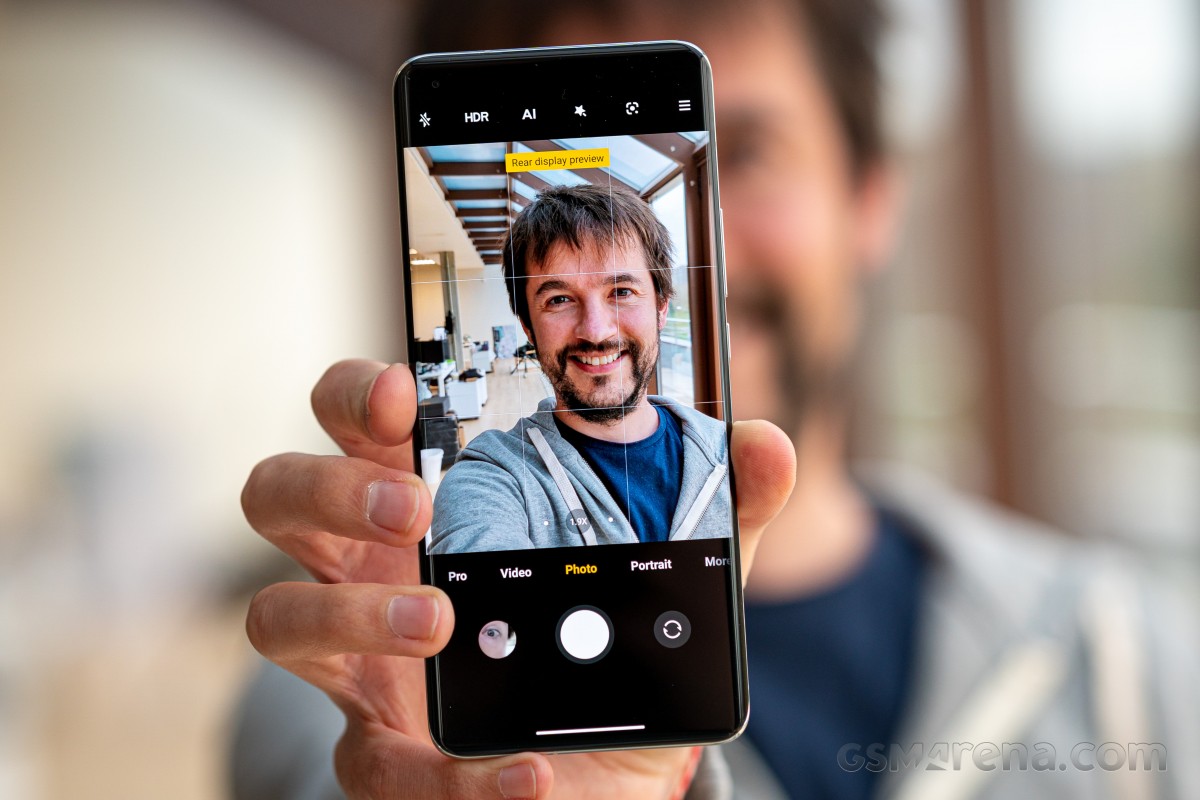 You activate the rear display (only in Photo mode, remember) by tapping the hamburger menu at the far end and then the rear display button. Inside that menu you'll also find additional options, including the Macro mode (why here?!), plus the shortcut to the settings. What you won't find is an option to set the output resolution for any of the cameras (not that we particularly care).
Update, 19 July 2022: After the MIUI 13 update, there is a dedicated toggle right there in the corner of the viewfinder, so enabling the rear display requires a single tap.
Next to that burger menu, you have a flash mode switch, an HDR switch, an AI toggle, shortcut to Google Lens, and a magic wand with beauty effects and filters.
On the near end, you have the camera zoom switch that operates in one of two fashions. The first one is simply tapping on one of the three dots that represent the ultra-wide, primary, and 5x zoom options. Or you can tap on the active magnification and reveal even more zoom modes - 2x, 10x, and 120x (because why stop at a sensible digital zoom magnification).
There's a nicely capable Pro mode, where you can tweak the shooting parameters yourself. You get to pick one of 4 white balance presets or dial in the light temperature with a slider, there's a manual focusing slider (with peaking as an option), and shutter speed (1/4000s to 30s) and ISO control with range depending on which camera you're using. That's right, best of all, you can access each of the three cams in Pro mode.
Long Exposure mode is available, and it has different presets - moving crowd, neon trails, oil painting, light painting, starry sky, and star trails.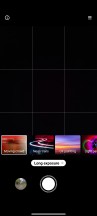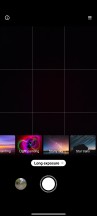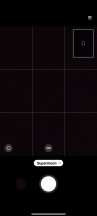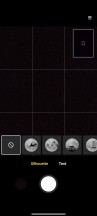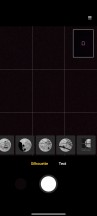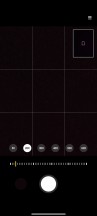 Long Exposure • Long Exposure • Supermoon
Supermoon is available, too, and it uses between 5x and 60x digital zoom from the main camera and then touches up the blurry moonshot with AI moon patterns to give you a better-looking one. You can also apply some textures like airplanes, birds, trees, or hanging mountaineers. If this particular reviewer had a say in this, Supermoon mode would not exist.
Night mode is available on all three cameras. A sort of an auto Night mode is a new option that hides under 'Enhance image quality' within settings, and it is enabled by default. It works like on the iPhones - the phone decides whether to use Night Mode or not. We only found it to work on the main camera and it would display a pop-up with the projected duration of the shot, something you don't get in the actual Night mode. Xiaomi does not offer exposure settings for either Night Modes.
Finally, the Movie Effects mode reveals the special Hollywood modes that Xiaomi is so loud about - they include Magic Zoom, Slow Shutter, Time Freeze, Night time-lapse, and Parallel world. We covered those in detail on the vanilla Mi 11.
The Mi 11 Ultra has the Dual video mode renamed to Multicam and it gives you a grid of what all the cameras are seeing, front and rear (with added 2x and 10x magnifications), of which you choose 2 for side-by-side recording. That's another missed opportunity to utilize the rear display.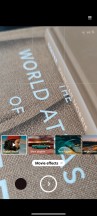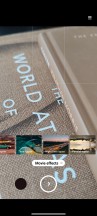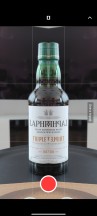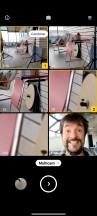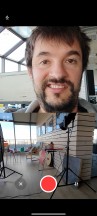 Movie effects • Movie effects • Parallel world • Multicam • Multicam