A 6.55-inch 90Hz OLED screen
One of the most interesting features of the Mi 11 Lite is the 6.55-inch OLED screen. It is of the traditional 1080p resolution and offers a 90Hz refresh rate, but it also supports 10-bit color - meaning it can show up to 1 billion colors.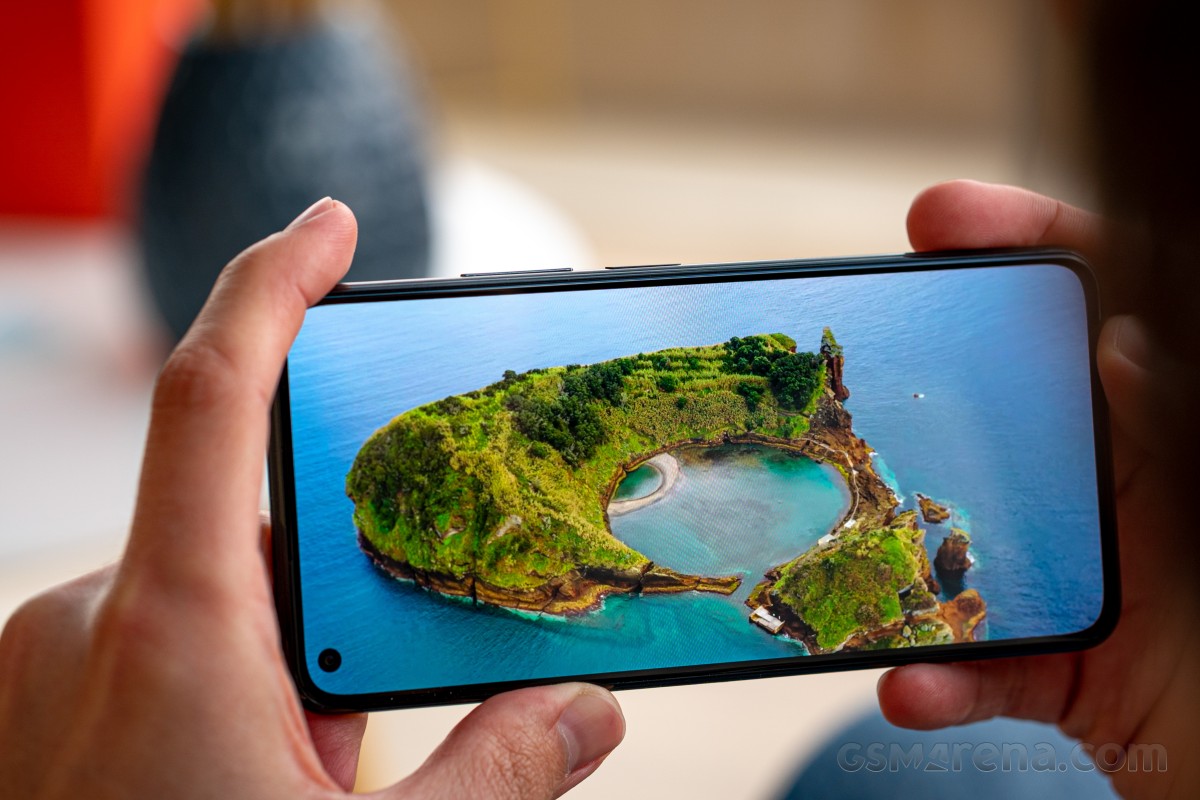 The Mi 11 Lite and its 5G version screens have a lot in common - same size and 402ppi sharpness, same small cutout, 10-bit color support, HDR10-capable. There is also a 90Hz refresh rate and 240Hz touch sampling.
It seems the Mi 11 Lite's a bit inferior, though. While the 5G offers HDR10+, the 4G model maxes out at HDR10 (not that it's such a drama, of course). And the 5G has Gorilla Glass 6 protection, while the 4G here comes with Gorilla Glass 5. Potato potahto.
Update, April 21: Today our Mi 11 Lite 4G received an update, which brought the MIUI version to 12.0.8. It contained bug fixes and stability improvements, some UI and camera tweaks, but it also offered a shortcut to download Widevine L1 certificate found in Settings -> Password and Security -> Fingerprint Unlock -> Fingerprint payments. And there it is - Widevine L1. Tap on it, hit download, clear Netflix and Prime caches and now they can stream Full HD HDR10 content. What?!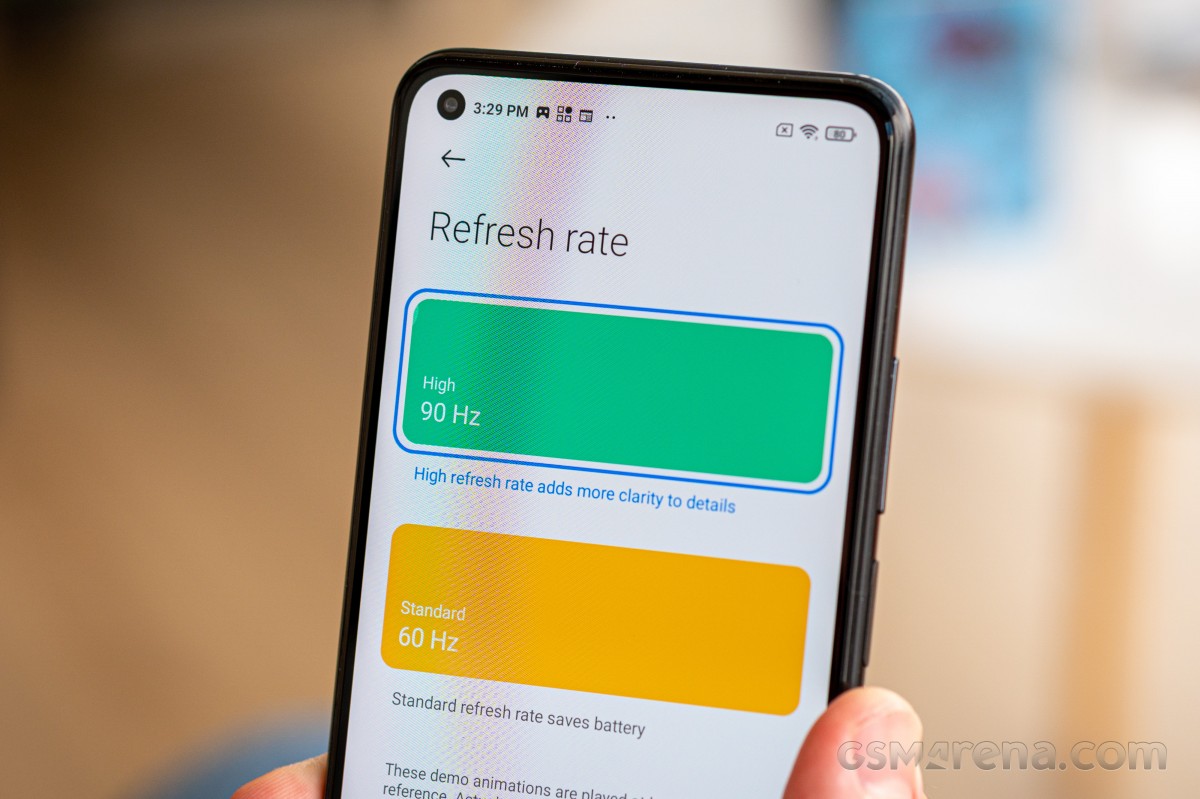 The screen supports standard 60Hz and high 90Hz refresh rates. If you opt for 90Hz, it usually reverts back to 60Hz when you stop touching or scrolling, or when you are playing videos (YouTube, Mi Video, Netflix, Amazon).
Not all HRR-compatible games recognize the Mi 11 Lite's display as such when set on 90Hz. But it doesn't really matter - unlike the Mi Lite 5G, the 4G model's Snapdragon chip can't even reach 60fps in many of the popular games, let alone 90fps. But more on that - later.
Xiaomi states a maximum auto-brightness of 800 nits (high-brightness mode), and manual of 500 nits (typical) for the Mi 11 Lite screen. Our measurements captured similar numbers. We registered 826 nits brightness when the High Brightness Mode triggers, say, under bright sunlight, while the maximum brightness at the end of the scrubber is about 480 nits.
The minimum brightness at point white is 2.8 nits!
Display test
100% brightness
Black,cd/m2
White,cd/m2
Contrast ratio
Xiaomi Mi 11 Lite 4G
0
476
∞
Xiaomi Mi 11 Lite 4G (Max Auto)
0
826
∞
Xiaomi Mi 11 Lite 5G
0
514
∞
Xiaomi Mi 11 Lite 5G (Max Auto)
0
846
∞
Xiaomi Redmi Note 10 Pro
0
457
∞
Xiaomi Redmi Note 10 Pro (Max Auto)
0
725
∞
Xiaomi Mi 11
0
498
∞
Xiaomi Mi 11 (Max Auto)
0
926
∞
Poco F3
0
511
∞
Poco F3 (Max Auto)
0
716
∞
Poco X3 Pro
0.327
458
1401:1
Poco X3 Pro (Max Auto)
0.4
534
1335:1
Realme 8 Pro
0
454
∞
Realme 8 Pro (Max Auto)
0
627
∞
Realme 7 Pro
0
459
∞
Realme 7 Pro (Max Auto)
0
585
∞
Realme 7
0.31
457
1474:1
Realme 7 (Max Auto)
0.374
526
1406:1
Samsung Galaxy A52
0
386
∞
Samsung Galaxy A52 (Max Auto)
0
794
∞
Samsung Galaxy A42 5G
0
395
∞
Samsung Galaxy A42 5G (Max Auto)
0
570
∞
Samsung Galaxy A32
0
393
∞
Samsung Galaxy A32 (Max Auto)
0
814
∞
OnePlus Nord
0
323
∞
OnePlus Nord (Max Auto)
0
756
∞
Just like many other Xiaomi phones, the Mi 11 Lite offers three predefined Color presets - Auto, Saturated, Original - each representing a specific color space. Unlike the Mi 11 Lite 5G, though, the 4G version lacks Advanced Settings.
The Auto option is tuned to reproduce DCI-P3, and we found it to be fairly accurate - the only deviation being the slightly bluish white and gray hues. Only in this Auto mode you can tweak the Color Temperature by yourself or choose from a couple of presets. You can fix the bluish colors by choosing Warm from the Color Temperature presets.
Saturated makes for a bit punchier colors on top of Auto. Standard is perfectly accurate to sRGB with average deltaE of 0.9.
The Mi 11 Lite currently doesn't support MEMC or other AI upscale or smoothing enhancements.
Battery life
The Xiaomi Mi 11 Lite is powered by a relatively large 4,250mAh battery for such a compact and lightweight phone. This model doesn't support 5G and uses a more popular X15 LTE modem by Qualcomm. So, we don't know what exactly to expect, but we have never been let down by a mid-range Xiaomi so far.
We are happy to share with you some very good battery scores. The 4G model can last north of 11 hours when smooth browsing with 90Hz, or you can watch videos for more than 14 hours. Video playback always uses 60Hz.
Combined with the 24 hours of 3G talk and the frugal standby consumption, the Mi 11 Lite scored an excellent final endurance rating of 100 hours.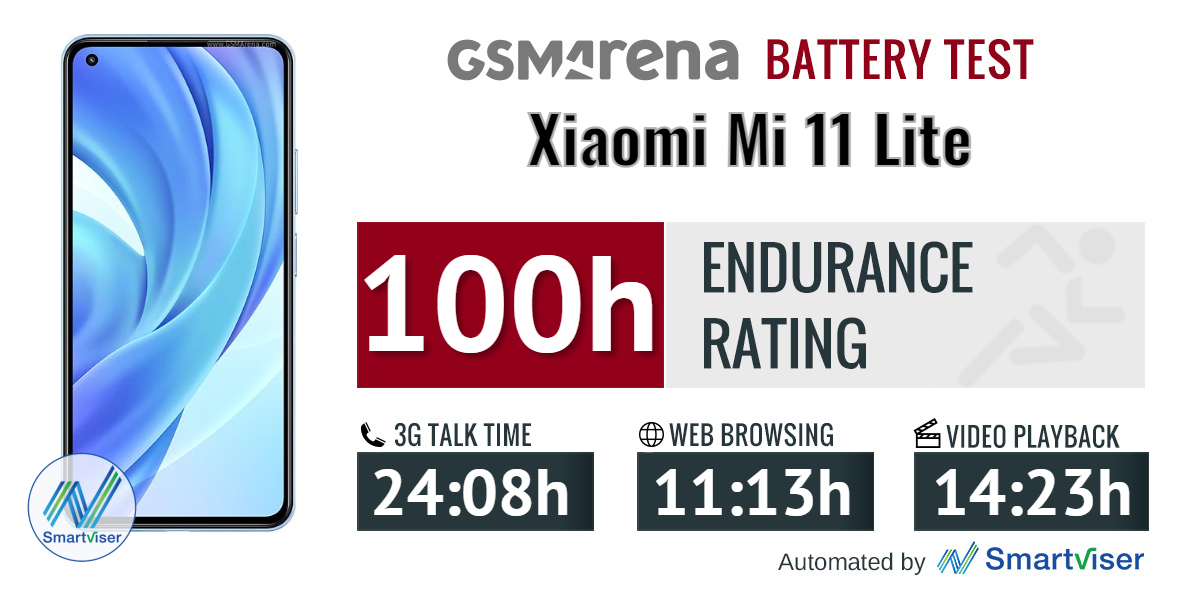 Our battery tests were automated thanks to SmartViser, using its viSerDevice app. The endurance rating denotes how long the battery charge will last you if you use the device for an hour of telephony, web browsing, and video playback daily. More details can be found here.
All test results shown are achieved under the highest screen refresh rate mode. You can adjust the endurance rating formula manually so it matches better your own usage in our all-time battery test results chart where you can also find all phones we've tested.
Charging speed
The Xiaomi Mi 11 Lite, just like the Mi 11 Lite 5G, supports 33W fast charging and has the same 4,250mAh battery to recharge. The phone is bundled with the said power adapter and appropriate cable.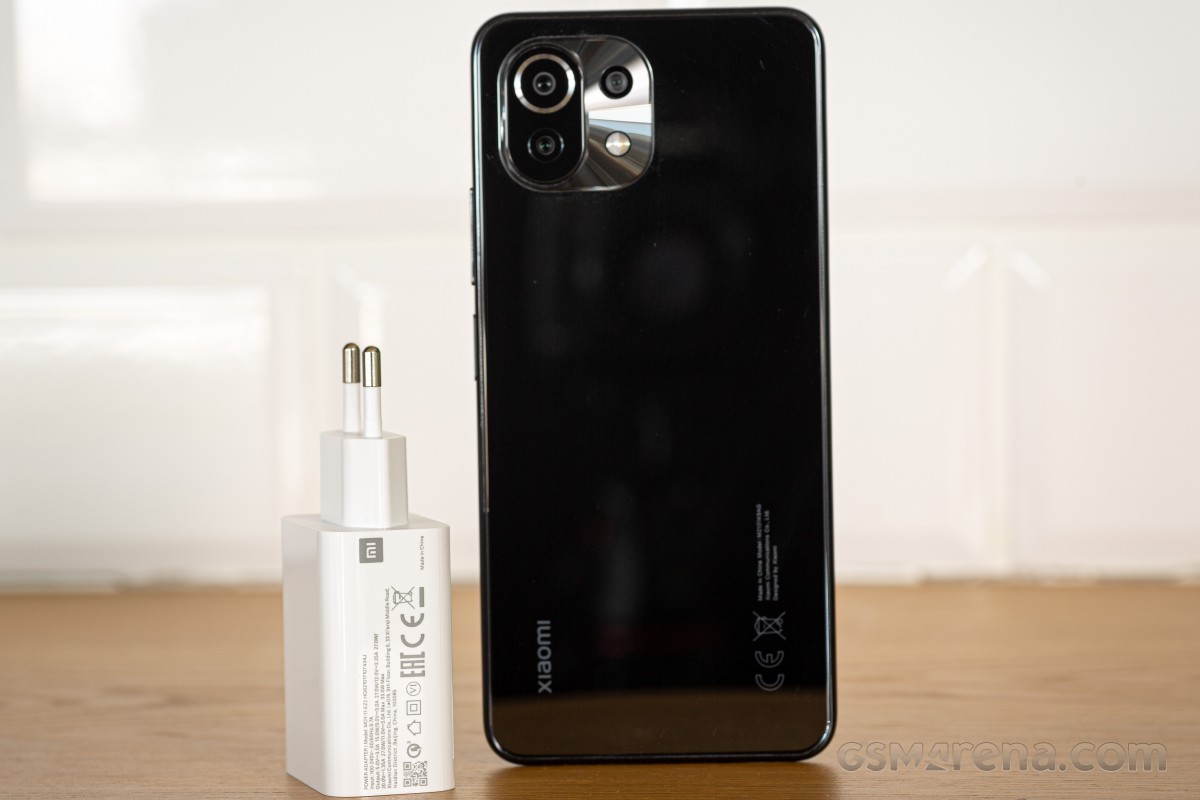 The provided charger refills 58% of the Mi 11 Lite's dead battery in 30 minutes - that seems like plenty enough and it's in line with what we got from the 5G version of the model.
30min charging test (from 0%)
Realme 7 Pro
94%
Realme 8 Pro
88%
Xiaomi Mi 11
83%
Poco F3
67%
OnePlus Nord
60%
Xiaomi Mi 11 Lite 5G
58%
Xiaomi Mi 11 Lite 4G
58%
Realme 7
58%
Samsung Galaxy A52 (25W)
52%
Xiaomi Redmi Note 10 Pro
50%
Poco X3 Pro
50%
Xiaomi Redmi Note 9S
37%
Samsung Galaxy A52
34%
Samsung Galaxy A42 5G
27%
A full charge requires a bit more than an hour, or 64 minutes to be specific. That's quite fast, but let's not forget the Mi 11 Lite has a 4,250mAh battery to recharge, while a lot of the devices in our chart use 5,000mAh cells.
Time to full charge (from 0%)
Realme 7 Pro
0:37h
Realme 8 Pro
0:38h
Xiaomi Mi 11
0:50h
Poco F3
0:56h
Xiaomi Mi 11 Lite 5G
1:04h
Xiaomi Mi 11 Lite 4G
1:04h
Realme 7
1:05h
OnePlus Nord
1:05h
Poco X3 Pro
1:08h
Xiaomi Redmi Note 10 Pro
1:21h
Samsung Galaxy A52 (25W)
1:30h
Xiaomi Redmi Note 9S
1:45h
Samsung Galaxy A42 5G
2:01h
Samsung Galaxy A52
2:03h
Stereo speakers
The Xiaomi Mi 11 Lite offers a hybrid stereo speaker setup - it has one dedicated speaker at the bottom, while the front-facing earpiece acts as the second.
We played some songs and videos through the speakers, and their loudness and the output seem pleasantly balanced. Sure, the earpiece is a bit quieter - found by muting the bottom speaker - but thanks to its front-facing direction, the balance is restored.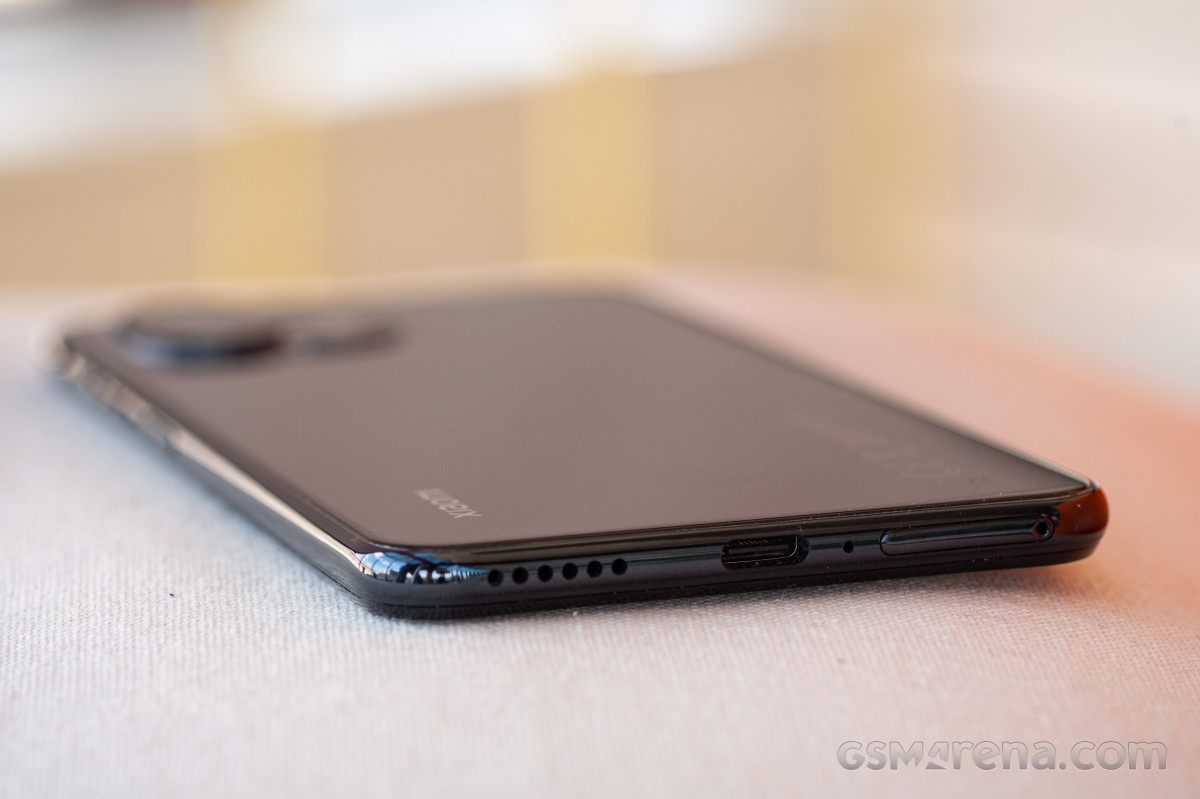 The Mi 11 Lite scored a Very Good loudness in our speaker test and sounds just like the 5G model. It offers well-presented mid-tones, and we heard some good vocals, but the setup is lacking a bit in the high tones. The bass is almost non-existent, but it's a phone, not a portable stereo.
Use the Playback controls to listen to the phone sample recordings (best use headphones). We measure the average loudness of the speakers in LUFS. A lower absolute value means a louder sound. A look at the frequency response chart will tell you how far off the ideal "0db" flat line is the reproduction of the bass, treble, and mid frequencies. You can add more phones to compare how they differ. The scores and ratings are not comparable with our older loudspeaker test. Learn more about how we test here.