Android 11 and MIUI 12
The Mi 11 is the first Xiaomi smartphone we meet that boots Android 11 with MIUI 12 out of the box. The MIUI 12 launcher has been around for a while, and even if it uses a newer Android 11 base, you can't really tell that as it skins everything thoroughly. The only new Android 11 feature we actually used was the integrated FPS counter.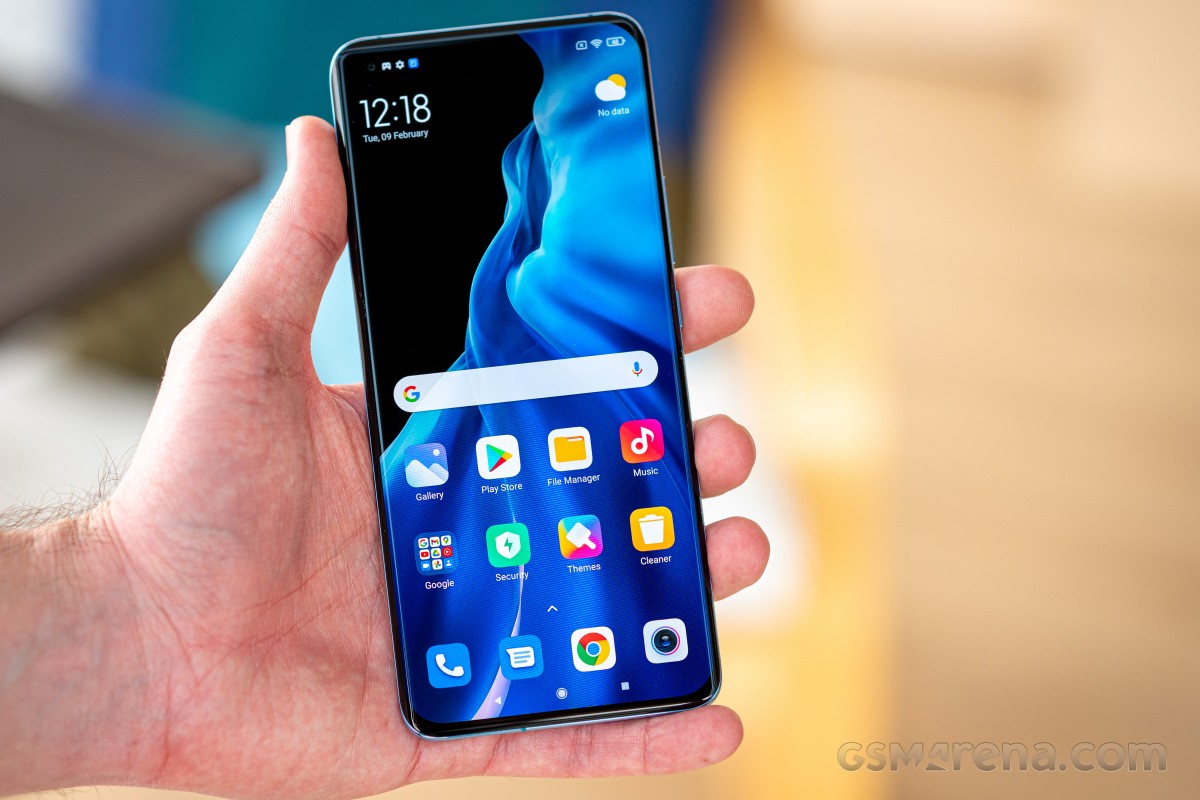 The high-end phones running on MIUI 12 support these cool Super Wallpapers. Long story short - this is a dynamic wallpaper that zooms each time you pass a certain screen.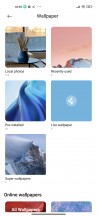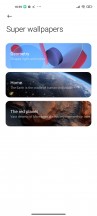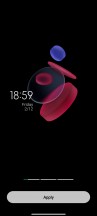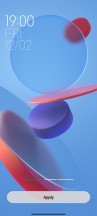 Wallpapers • Wallpapers • Super Wallpapers • Geometry
The Super Wallpapers are not something groundbreaking, but they provide one very coherent visual experience that is a feast for the eyes and, in the meantime - connects the parts of MIUI in a subtle yet striking way.
There are three Super Wallpapers available, and you cannot download more at this time - Home (Earth), The Red Planet (Mars), and Geometry.
The Mi 11 supports Always-on display, and you can schedule it or leave it on/off all the time. MIUI 12 brings a ton of new AOD themes you can choose from and make it yours. You can customize many of those. The Always-on display also supports breathing light - the curved edges of the display will flash with colors upon new notifications.
You unlock the screen via the under-display fingerprint scanner. The reader is easy to set up, pretty fast, but the accuracy is not ideal. 2D Face Unlock is available, too, but it is far less secure than the fingerprint option.
The homescreens are business as usual - they are populated with shortcuts, folders, and widgets. The leftmost pane, if enabled, is Google's Discover.
MIUI 12 offers an app drawer, and it automatically organizes your apps into categories. The first is All, meaning it contains all apps. Then follow Communication, Entertainment, Photography, Tools, New, and Business. You can edit these categories or even disable them altogether.
You can disable the app drawer entirely if that's not your thing.
Another interesting feature is the Notification shade split into Notification Center and Control Center. Indeed, this is precisely what the iPhones do, and you even summon them in the same fashion - pull down from the left part of the screen for the Notification Center, pull down from the right for the Control Center.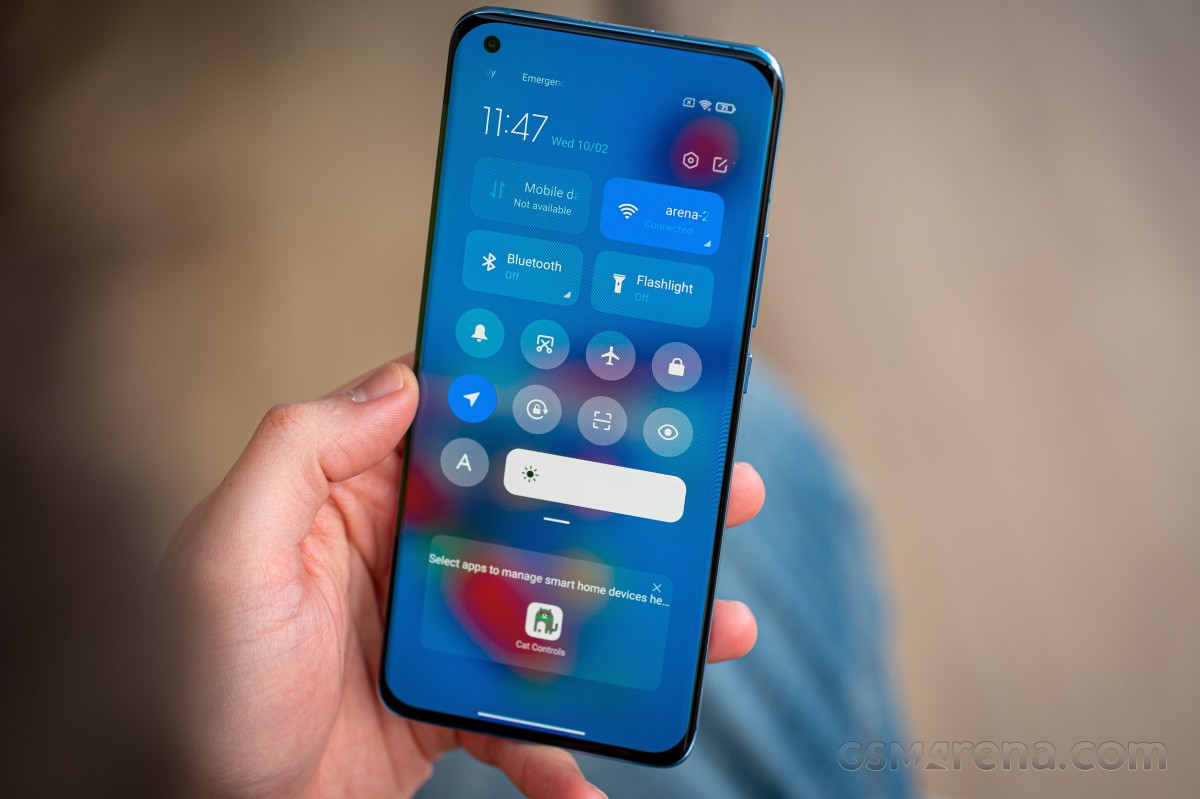 If you are not fond of this new split - you can disable the Control Center, and the shade will revert to its normal looks and operation.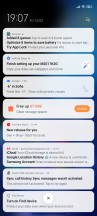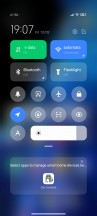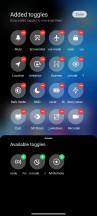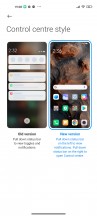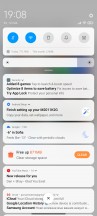 Notification Center • Control Center • Control Center • Options • The old Notification Shade
The task switcher has not changed much. It shows all of your recent apps in two columns. Tap and hold on a card for the split-screen shortcut, or just swipe it left or right to close it. There is a new Floating Windows button on top, a new option offered by MIUI 12. You can put any app in a floating state, but you only have one floating window at a time.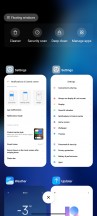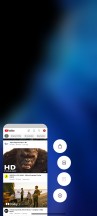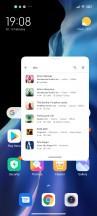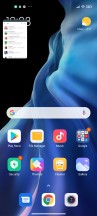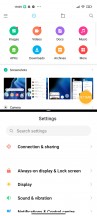 Task Switcher • Options • Floating Windows • Floating app • Split screen
Themes are a huge part of MIUI, and they are available on MIUI 12, too. You can download new ones from the Themes store, and they can change wallpapers, ringtones, system icons, system fonts, and even the always-on display style.
Xiaomi enhanced MIUI 12 with a couple of additional privacy options. Now, when sharing stuff, like photos and videos, you can opt to remove location info and/or other metadata (incl. device info) and thus protect your privacy better. Neat.
MIUI also offers a Security app. It can scan your phone for malware, manage your blacklist, manage or restrict your data usage, configure battery behavior, and free up some RAM. It can also manage the permissions of your installed apps and allows you to define the battery behavior of selected apps, and applies restrictions only to the apps you choose.
MIUI 12 packs proprietary Gallery, Music, and Video player. In some regions, the music and video apps may include paid streaming options. Mi Remote for the IR blaster is available, too.
MIUI 12 also enhances the Notes app with even more Task checklists and subtask options.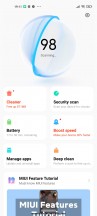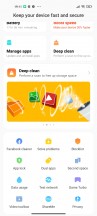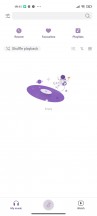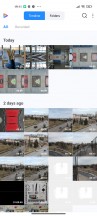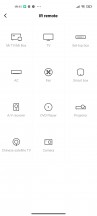 Security • Security • Music • Video • Mi Remote
Update, Sept. 7 Xiaomi has promised to add heart-rate measurements via the in-screen fingerprint scanner with a firmware update post launch. We can now confirm the feature is live on the Mi 11. You can find it in Settings - Special Features, and it works as expected. We are not sure how accurate it is, though.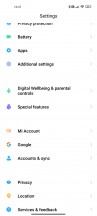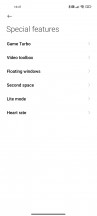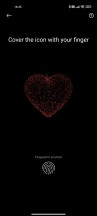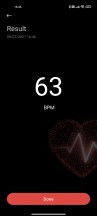 Heart rate via the fingerprint scanner
MIUI 12 supports Dark Mode, too, and you can even force it on wallpapers or restrict its application on incompatible individual apps.
MIUI 12 is fully optimized to work on HRR displays, and it looks gorgeous on the Mi 11. Everything is smooth and fast; animations are unobtrusive yet impressive, the attention to detail is simply excellent. We did enjoy working with MIUI on the Mi 11's 120Hz for sure.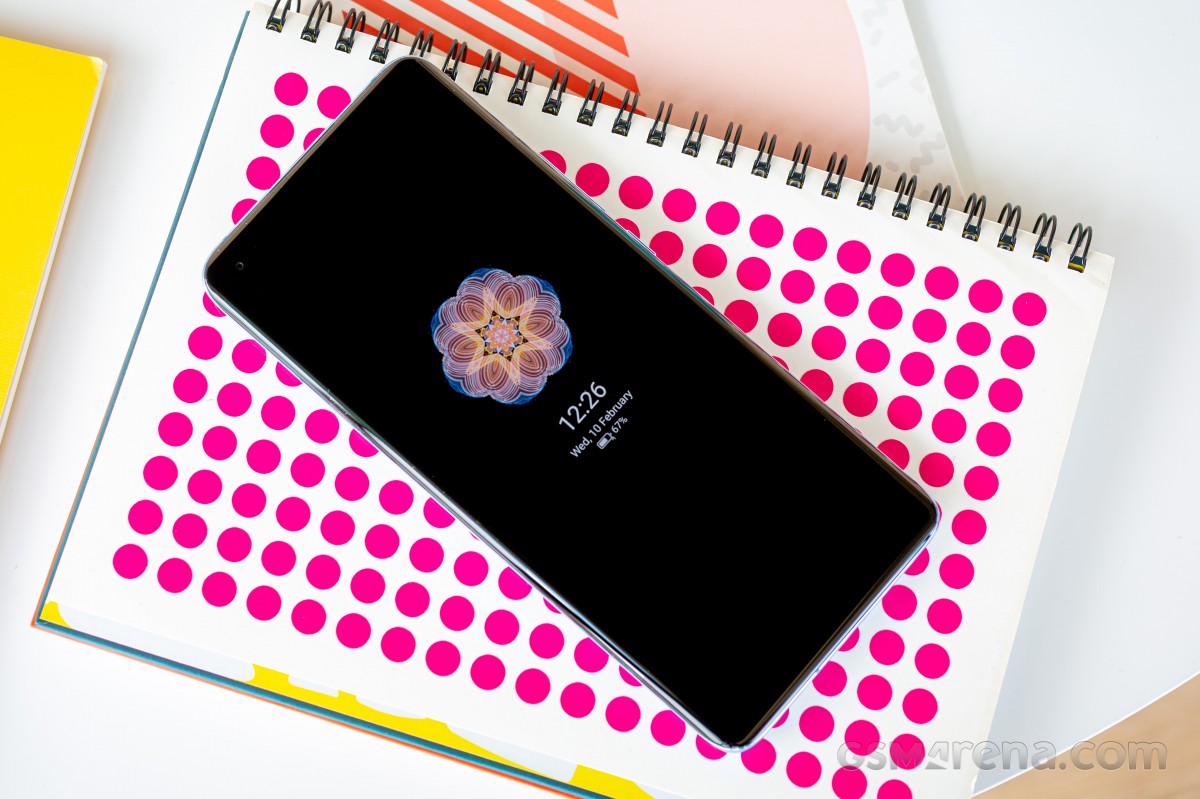 Some MIUI ROMs include ads in the default apps, it is a well-known thing. The international ROM version of this Mi 11 unit had no ads, and we checked thoroughly. And it better be; it's an expensive flagship you would pay handsomely for, so we expect no such thing.
Performance and benchmarks
The Xiaomi Mi 11 was the first announced smartphone with the new Snapdragon 888 chipset by Qualcomm, and it is the first one we get to test in our office. The new SoC is manufactured by Samsung on a 5nm fabrication line. Indeed, Qualcomm has switched from TSMC to Samsung for its latest beast.
The Snapdragon 888 contains an improved eight-core tri-cluster processor that should deliver up to 25% better performance over the SD865 CPU and better power efficiency. Headlining these eight cores is Kryo 680 Prime @ 2.84GHz based on the ARM's top Cortex-X1 design. Next up is a trio of Kryo 680 Gold @ 2.42GHz based on regular Cortex-A78. Finally, we have four Kryo 680 Silver @ 1.8GHz based on Cortex-A55 for more mundane tasks, and they take the total core count to eight.
The chip comes with a new GPU, and that's Adreno 660 GPU, which should offer a 35% performance increase over the Adreno 650 inside the SD865 and Mi 10. It supports OpenGL ES 3.2, Vulcan 1.1, and a new Variable rate shading technology.
The SD888 also comes with a new Hexagon 780 DSP with a sixth-gen AI engine. There is also a new ISP and a new integrated X60 5G/LTE modem. Wi-Fi 6 is supported, there is native support for UFS 3.1, and also a new QuickCharge 5 option.
Xiaomi Mi 11 uses 128GB or 256GB UFS 3.1 storage, non-expandable, and can be bought with 8GB or 12GB of LPDDR5 RAM.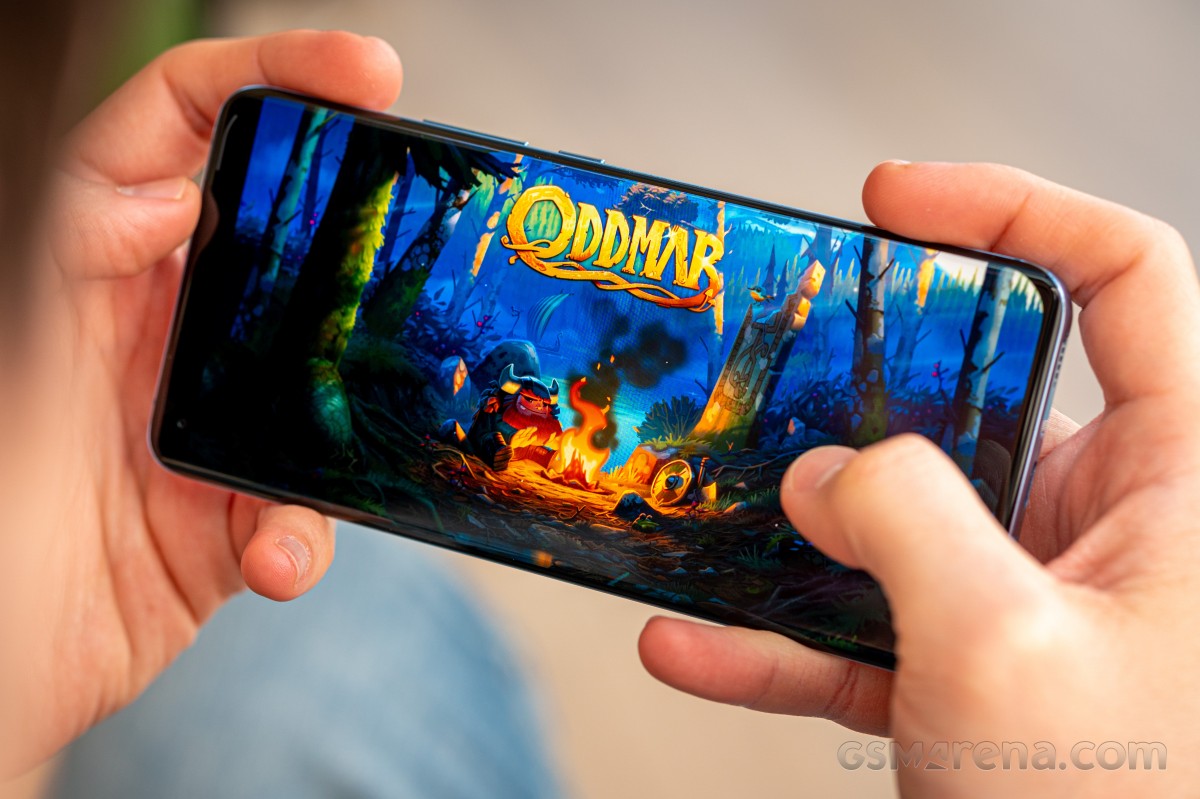 And now it's time to run some tests!
Well, the new Snapdragon 888 is indeed the most powerful Android chipset to date. The new Prime core delivers a bit over 20% increase over the one inside the SD865 chip (Mi 10, Mi 10 Ultra). It is also a bit more powerful by the Cortex-A77 core inside the latest Kirin chip, but that's to be expected, since the Kryo 680 Prime is based on the Cortex-X1, which on the other hand is based on an improved Cortex-A78 design.
GeekBench 5 (single-core)
Higher is better
Samsung Galaxy S21 Ultra 5G (Snapdragon)
1109
Samsung Galaxy S21 Ultra 5G
1107
Xiaomi Mi 11
1085
Huawei Mate 40 Pro (perf. mode)
1020
OnePlus 8 Pro (120Hz, 1440p)
902
Xiaomi Mi 10 Ultra
901
Sony Xperia 1 II
897
Xiaomi Mi 10 5G
895
The multi-core performance hasn't seen much improvement, though. The SD888 chip is on par with its SD865 predecessor and the most current Exynos chip by Samsung. Huawei's Kirin came on top.
GeekBench 5 (multi-core)
Higher is better
Huawei Mate 40 Pro (perf. mode)
3704
Samsung Galaxy S21 Ultra 5G
3518
Xiaomi Mi 11
3489
OnePlus 8 Pro (120Hz, 1440p)
3374
Xiaomi Mi 10 5G
3322
Sony Xperia 1 II
3318
Xiaomi Mi 10 Ultra
3248
Samsung Galaxy S21 Ultra 5G (Snapdragon)
3244
The raw performance of the new Adreno 660 GPU seems quite promising. It indeed delivers between 30% (GFX ES 3.0) and 35% (GFX ES 3.1 Car) increase over the SD865 inside the Mi 10.
GFX Manhattan ES 3.0 (offscreen 1080p)
Higher is better
Samsung Galaxy S21 Ultra 5G
166
Xiaomi Mi 11
155
Samsung Galaxy S21 Ultra 5G (Snapdragon)
142
Huawei Mate 40 Pro (perf. mode)
141
Xiaomi Mi 10 Ultra
125
OnePlus 8 Pro (120Hz, 1440p)
123
Sony Xperia 1 II
120
Xiaomi Mi 10 5G
119
GFX Car Chase ES 3.1 (offscreen 1080p)
Higher is better
Xiaomi Mi 11
67
Samsung Galaxy S21 Ultra 5G (Snapdragon)
66
Samsung Galaxy S21 Ultra 5G
64
Huawei Mate 40 Pro (perf. mode)
64
Xiaomi Mi 10 Ultra
51
Sony Xperia 1 II
51
OnePlus 8 Pro (120Hz, 1440p)
51
Xiaomi Mi 10 5G
50
When it comes to running onscreen tests, any 1080p phone with a flagship SoC will beat the Mi 11 and its SD888. Yet, you can clearly see the Mi 11 offers 35% better performance compared to the OnePlus 8 Pro with an SD865 and a 1440p screen, so once again - Qualcomm has kept its word.
GFX Car Chase ES 3.1 (onscreen)
Higher is better
Xiaomi Mi 10 Ultra
46
Huawei Mate 40 Pro (perf. mode)
43
Xiaomi Mi 10 5G
42
Sony Xperia 1 II
39
Xiaomi Mi 11
33
Samsung Galaxy S21 Ultra 5G
33
Samsung Galaxy S21 Ultra 5G (Snapdragon)
33
OnePlus 8 Pro (120Hz, 1440p)
24
And finally, it's time to see the compound AnTuTu score. The Mi 11 scored an outstanding number, that's bested only by Huawei's Mate 40 Pro, and it was possible due to its performance mode.
AnTuTu 8
Higher is better
Huawei Mate 40 Pro (perf. mode)
686835
Xiaomi Mi 11
668722
Samsung Galaxy S21 Ultra 5G (Snapdragon)
657273
Samsung Galaxy S21 Ultra 5G
657150
Xiaomi Mi 10 Ultra
638497
Xiaomi Mi 10 5G
578056
OnePlus 8 Pro (120Hz, 1440p)
573276
Sony Xperia 1 II
534701
First, let's start by saying that there is no better chip for Android on the market - meaning the Mi 11 is running on the fastest hardware currently available. There are equals, sure, such as the latest Exynos or Kirin chips, but the Mi 11 has what it takes to aces games and whatever tasks you can come up with during the next at least two years.
When running games or regular apps, the phone gets warm, but not unpleasantly hot. It relies on a single vapor-chamber solution, a rather thin one as per the teardown videos, but appropriate, nevertheless. We didn't notice any hiccups when playing high-profile games. Even if some throttling had occurred, we couldn't tell.
And we are telling you this because the Mi 11 fails the 3D Mark Wild Life stress test at around the 12-14 out of 20 cycles. It overheats, a message pops up, and everything stops. And by then, the Mi 11 gets uncomfortably hot, and it is hard to keep it in your hand. We do all of our tests at room temperature, about 22˚C.
The heating issue is probably a complex one - the Mi 11 is a super thin phone with everything important crammed around the top part, behind the high-end and probably warm screen. And the thin vapor-chamber probably isn't enough to keep the chip cool enough during such stress tests.
We aren't saying this behavior is normal - no, it should not happen. We just want to say that the regular user will probably never see this message. But if you are a power user - this is something you need to keep in mind when buying the phone.
Long story short, the Mi 11 delivers flagship performance when it matters and will continue to do so in the future. But if you plan on running stress tests and consecutive benchmark tests, prepare to be disappointed.