One of the best quad-camera setups on the market
On the back of the Mi 10 Ultra you will find a quad-camera setup with an ultra-wide, wide (primary), 2x tele, and 5x telephoto snappers. The camera system is similar to the Mi 10 Pro's, it just uses better image sensors and supposedly - lenses of higher quality. For selfies, you once again rely on a single front camera.
Let's go through some technical bits now.
The main camera is based around a new 48MP OV48C 1/1.32" sensor by OmniVision. It has 1.2µm pixels and a Quad Bayer color filter, which means it is going to output 12MP images by default. The sensor is paired with an 8-element lens that is stabilized and has an f/1.85 aperture. It covers an 82-degree field-of-view, which in our world equates to a 25mm in 35mm equivalent.
This new OV48C sensor can do on-chip single-frame HDR processing. Basically, pixels are grouped into three categories: short, medium and long exposure. Then those are merged into an HDR signal as the sensor reads out the image line by line.
Another thing this camera is capable of doing - 8K videos capturing at 24fps.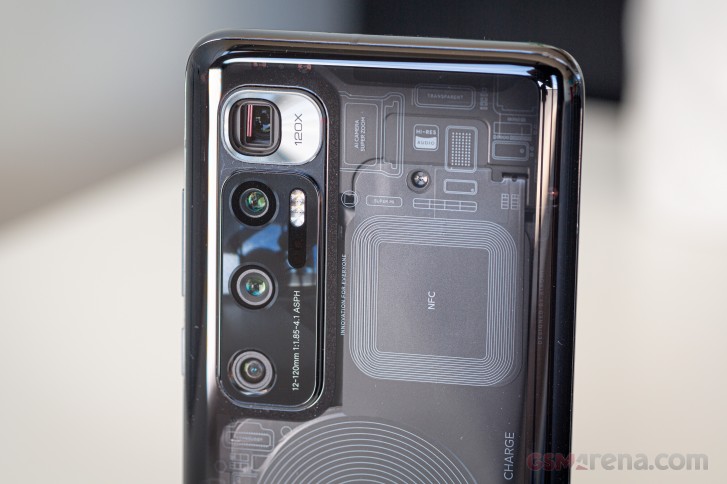 Next up is the telephoto camera - the first of two. It is identical to the one on the Mi 10 Pro - a 12MP Samsung ISOCELL Fast S5K2L7 1/2.55"sensor with 1.4µm pixels, dual-pixel autofocus, and bright f/2.0 50mm lens - pretty nice specs for a zoom camera. There is no OIS, but Dual Pixel PDAF is available.
The second telephoto camera is something Xiaomi is proud of making as it pushes the envelope of what periscope-based cameras are capable of. This one is the first to offer a high-res large sensor, the first one with 8K video capture, and also allegedly, the first one to use a D-cut lens.
So, the long-range camera employs a Sony IMX586 1/2.32"-type sensor with 0.8µm pixels and f/4.1 120mm lens. Both OIS and Dual Pixel PDAF are available for this shooter. The sensor was too large for the periscope and it would have made it too thick to fit into the frame of the phone. That's why Xiaomi had to use a D-cut lens to slim it down. D-cut lenses make optical image stabilization more difficult, however, so it took several iterations until the engineers got it just right.
Finally, the Mi 10 Ultra has the same 20MP camera for ultra-wide shots as the Mi 10 Pro. It uses Sony IMX350 1/2.78" sensor with 1.0µm pixels behind 12mm f/2.2 lens. PDAF is available, unlike the bulk of the ultrawides out there. This means it can also do closeup photos and videos.
The ultrawide-angle lens has a 128° field of view. It uses a 7P lens again to minimize distortion, especially around the edges of the image (it also minimizes vignetting).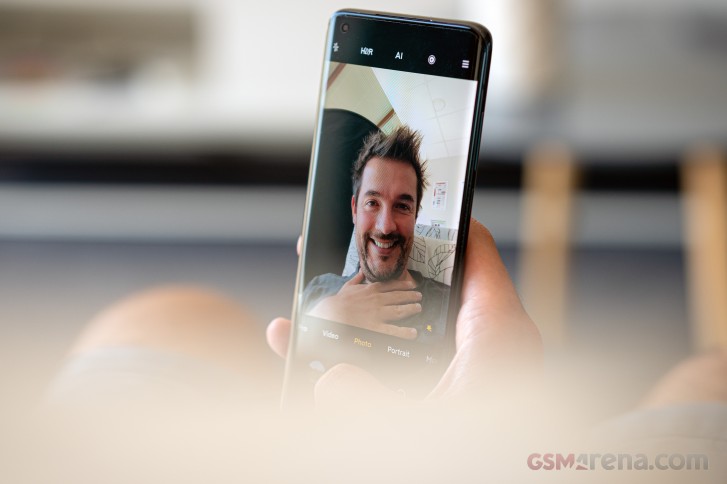 Over on the front, the Mi 10 Ultra has a 20MP camera for selfies, same as on the Mi 10 Pro - it uses Samsung's ISOCELL Slim S5K3T2 1/3.4" sensor with 0.8µm pixels and Quad-Bayer color filter. It still spits images at the nominal 20MP resolution, so you should not expect great levels of detail. Xiaomi specifies an f/2.3 aperture but omits the focal length. Autofocus isn't available for selfies.
Camera app
The camera app is a rather straightforward implementation. You swipe from side to side to change modes, and you can also tap on the ones that you can see to switch to those directly, though they don't all show up in one screen. Up and down swipes don't work for switching between the front and rear cameras, only the toggle next to the shutter release does that.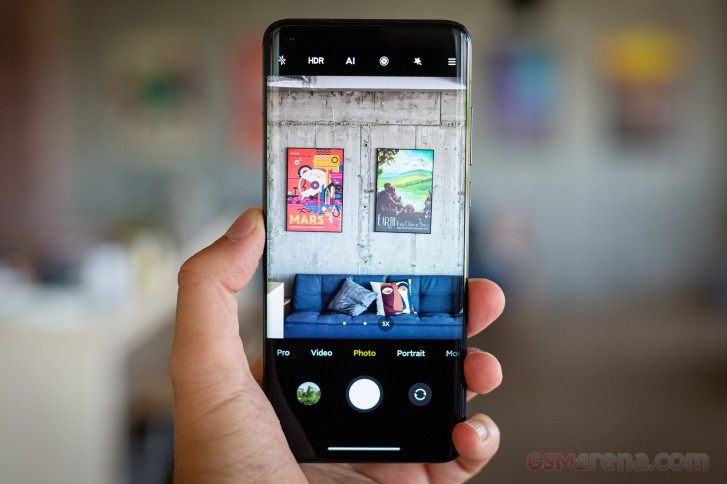 On the near end, you have the camera zoom switch that operates in one of two fashions. The first one is simply tapping on one of the three dots that represent the ultra-wide, primary, and 5x zoom snappers.
Or you can tap on the active magnification and reveal even more zoom modes - 2x, 10, and 120x, while still leaving out the macro mode. It seems Xiaomi wanted to use the 2x snapper for portraits only and left it out of the viewfinder - something we wholeheartedly disagree with and find it way inconvenient to tap the dot to reveal more dots in order to get to the 2x telephoto. It was a big issue for us.
On the opposite end of the viewfinder, you have a flash mode switch, an HDR switch, an AI toggle, Live Photo enabler, and a magic wand with beauty effects and filters. Behind a hamburger menu, you'll find some more options including the Macro mode, plus the shortcut to the settings. What you won't find is an option to set the output resolution for any of the cameras.
There's a nicely capable Pro mode, where you can tweak the shooting parameters yourself. You get to pick one of 4 white balance presets or dial in the light temperature with a slider, there's a manual focusing slider (arbitrary units 0-100), and shutter speed and ISO control with ranges depending on which camera you're using. That's right, best of all, you can access each of the five cams in Pro mode. There's also a focus peaking toggle up top, as well as a metering mode selector. All four cameras support a maximum shutter speed of 30 seconds.
Night Mode is available, too, but it works only on the primary and ultrawide cameras.