90Hz OLED screen
The Xiaomi Mi 10 Pro 5G has a 6.67" curved OLED with rounded corners. It is one of its key selling points because of the 90fps refresh rate. High refresh rates are our favorite feature this year and you really have to see the difference they bring in person to appreciate it.
The screen resolution, however, is not as striking as it's the most common nowadays - 1080p+ or 2,340 x 1,080 pixels (386ppi). Xiaomi could have done better in this respect as even last year's OnePlus 7T Pro had a QHD screen with a high refresh rate in the same size.
The screen is protected by Gorilla Glass 5, but the maker is also shipping the phone with a thin protective film.
The Mi 10 Pro supports HDR10+, and its Widevine DRM level is L1, meaning you will be able to fully enjoy HDR videos in maximum resolution across all popular streaming services.
Xiaomi promises 500 nits of brightness in manual mode and up to 800 in auto. Well, as it usually happens with Xiaomi's screens, the promised figures have been exceeded. Indeed, the panel has an excellent brightness of 510 nits in our testing. And it can go as high as 860 nits in bright light if you leave it on Auto!
The minimum brightness of this OLED display is mere 2 nits - yet another excellent result - as it allows you a comfortable experience when using the phone in complete darkness.
Display test
100% brightness
Black,cd/m2
White,cd/m2
Contrast ratio
Xiaomi Mi 10 Pro
0
510
∞
Xiaomi Mi 10 Pro (Max Auto)
0
858
∞
Xiaomi Mi 9
0
428
∞
Xiaomi Mi 9 (Max Auto)
0
620
∞
Xiaomi Mi 9T
0
449
∞
Xiaomi Mi 9T (Max Auto)
0
646
∞
Xiaomi K20 Pro/Mi 9T Pro
0
453
∞
Xiaomi K20 Pro/Mi 9T Pro (Max Auto)
0
643
∞
Samsung Galaxy S20 Ultra 5G
0
398
∞
Samsung Galaxy S20 Ultra 5G (Max Auto)
0
894
∞
Huawei P40 Pro
0
425
∞
Huawei P40 Pro (Max Auto)
0
531
∞
Apple iPhone 11 Pro Max
0
820
∞
Xiaomi Mi Note 10
0
427
∞
Xiaomi Mi Note 10 (Max Auto)
0
597
∞
Realme X50 Pro 5G
0
525
∞
Realme X50 Pro 5G (Max Auto)
0
635
∞
LG V60 ThinQ 5G
0
511
∞
LG V60 ThinQ 5G (Max Auto)
0
622
∞
Sony Xperia 1
0
391
∞
Sony Xperia 1 (Max Auto)
0
665
∞
Oppo Find X2 Pro
0
536
∞
Oppo Find X2 Pro (Max Auto)
0
871
∞
Xiaomi offers three different Color scheme settings - Auto, Original, Saturated - each one representing a specific color space.
The Auto option fully covers the DCI-P3 color space, and we measured an average deltaE of 3.5. In each mode, you can choose the color temperature (default, warm, cool), and the deltaE of 3.5, which we measured, was taken at the default preset. Choosing warm will offer an even more accurate presentation with an average deltaE of 2.6, and it also fixes the otherwise bluish white point.
The Original setting corresponds to sRGB, and we also recorded an average deltaE of 1.7 for the color accuracy, meaning it's an excellent one.
Finally, the Saturated makes the colors pop and they are no longer as accurate to DCI-P3.
Battery life and charging
The Xiaomi Mi 10 Pro is powered by a 4,500 mAh battery - 13% larger than the Mi 9 Pro's 4,000 mAh cell and 37% larger than the Mi 9's 3,300 battery. The Mi 10 Pro supports 50W fast charging based on USB Power Delivery, but it ships with a 65W brick - meaning you will be overequipped. Xiaomi says it is their universal charger for laptops and smartphones. The phone also supports QuckCharge4+.
The Mi 10 Pro also supports 30W wireless fast charging via Xiaomi's proprietary wireless chargers.
The 65W charger refills about 77% of the dead battery in 30 mins, while it takes about 50 mins for the full charge.
The Mi 10 Pro scored an excellent endurance rating of 101 hours and had great times when it comes to making calls, browsing the web and watching videos. The standby consumption a bit more efficient than the average for this type of chip and modem - meaning we observed frugal standby battery draw and hence the high endurance rating.
Our battery test was done on the default screen mode of 90Hz. Switching to 60Hz gave us about 1 hour of web and 2 hours of video playback more than the 90Hz mode, which is not a huge difference. Those new scores increase the endurance rating up to 105h.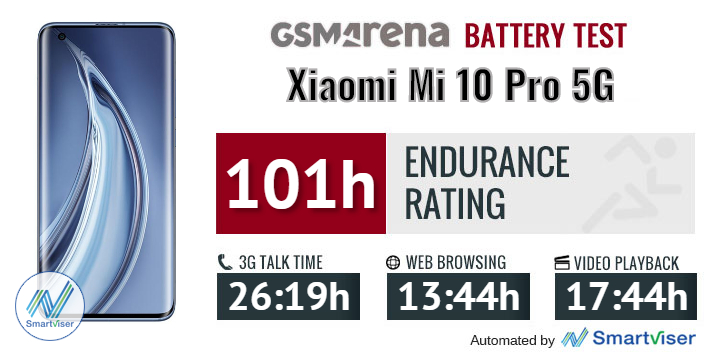 Our battery tests were automated thanks to SmartViser, using its viSerDevice app. The endurance rating above denotes how long a single battery charge will last you if you use the Xiaomi Mi 10 Pro 5G for an hour each of telephony, web browsing, and video playback daily. We've established this usage pattern so that our battery results are comparable across devices in the most common day-to-day tasks. The battery testing procedure is described in detail in case you're interested in the nitty-gritty. You can check out our complete battery test table, where you can see how all of the smartphones we've tested will compare under your own typical use.
Stereo speakers pack a punch
The Xiaomi Mi 10 Pro boasts two dedicated speakers on its top and bottom. This time around the earpiece is just an earpiece and isn't a substitute for a speaker.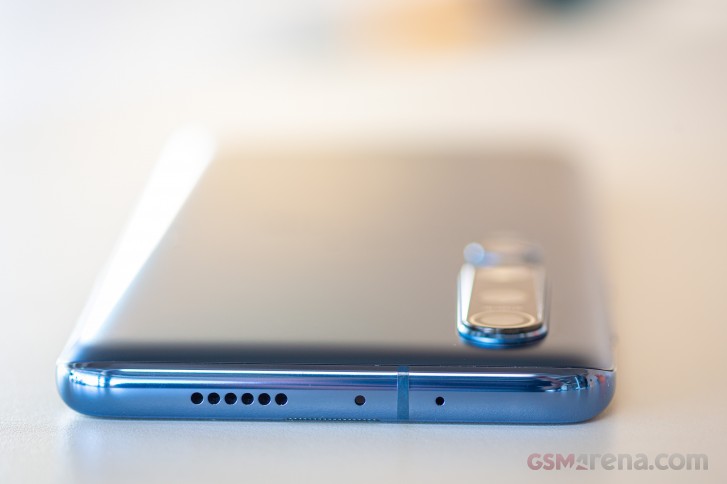 Thanks to the full-blown speakers on both sides, the Mi 10 Pro offers Very Good loudness. But the loudness only does not even begin to tell the whole story.
Subjectively, the Xiaomi Mi 10 Pro has the best speakers we've tested so far in our new speaker quality test. They are perfectly balanced, provide deep and clean bass, excellent vocals, and great treble reproduction.
Use the Playback controls to listen to the phone sample recordings (best use headphones). We measure the average loudness of the speakers in LUFS. A lower absolute value means a louder sound. A look at the frequency response chart will tell you how far off the ideal "0db" flat line is the reproduction of the bass, treble, and mid frequencies. You can add more phones to compare how they differ. The scores and ratings are not comparable with our older loudspeaker test. Learn more about how we test here.