A large 90Hz display
One of the best things about the Xiaomi Mi 10 is that it gets the excellent panel of its bigger brother. It is a 6.67-inch, Super AMOLED unit, which can definitely stand its own in terms of quality compared to the competition.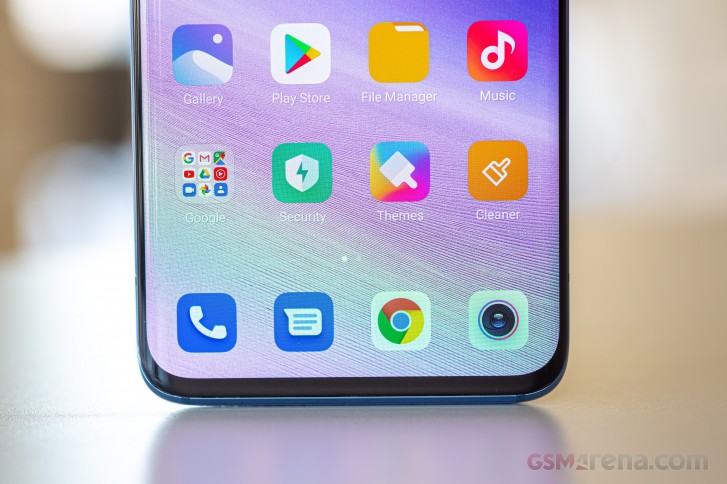 Unfortunately, it's only FullHD+ in resolution (2,340 x 1,080 px). But, that still works out to a perfectly sharp 386ppi, or so. We find it more than adequate at this screen size. Plus, the lower resolution does theoretically mean better power efficiency. Though, granted, on an OLED, not too much.
The other potential point of scrutiny for the Mi 10's panel is the 90Hz refresh rate. While it is still great to have anything above 60Hz, current flagships are already raising the bar to 120Hz.
Display test
100% brightness
Black,cd/m2
White,cd/m2
Contrast ratio
Samsung Galaxy S20 Ultra 5G (Max Auto)
0
894
∞
Oppo Find X2 Pro (Max Auto)
0
871
∞
Xiaomi Mi 10 Pro (Max Auto)
0
858
∞
Xiaomi Mi 10 5G (Max Auto)
0
854
∞
Apple iPhone 11 Pro Max
0
820
∞
Sony Xperia 1 (Max Auto)
0
665
∞
Xiaomi Mi 9T (Max Auto)
0
646
∞
Xiaomi K20 Pro/Mi 9T Pro (Max Auto)
0
643
∞
Realme X50 Pro 5G (Max Auto)
0
635
∞
LG V60 ThinQ 5G (Max Auto)
0
622
∞
Xiaomi Mi 9 (Max Auto)
0
620
∞
Xiaomi Mi Note 10 (Max Auto)
0
597
∞
Oppo Find X2 Pro
0
536
∞
Huawei P40 Pro (Max Auto)
0
531
∞
Realme X50 Pro 5G
0
525
∞
Xiaomi Mi 10 5G
0
522
∞
LG V60 ThinQ 5G
0
511
∞
Xiaomi Mi 10 Pro
0
510
∞
Xiaomi K20 Pro/Mi 9T Pro
0
453
∞
Xiaomi Mi 9T
0
449
∞
Xiaomi Mi 9
0
428
∞
Xiaomi Mi Note 10
0
427
∞
Huawei P40 Pro
0
425
∞
Samsung Galaxy S20 Ultra 5G
0
398
∞
Sony Xperia 1
0
391
∞
Starting with our typical brightness test, we can see that the Mi 10 5G holds its own at a respectable 522 nits. When faced with a bright light, it reached the whopping 854 nits. This is definitely a flagship-grade performance.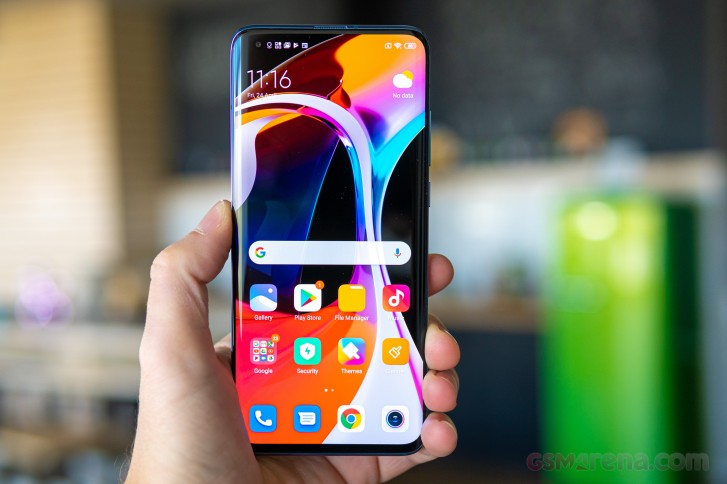 Out of the box, the Mi 10 uses an "Auto" mode, which tries its best to adapt the colors and brightness to the ambient lighting conditions.
Beyond "Auto", the main display menu also has "Saturated" and "Original color" profiles. Like its name suggests, Saturated mode boosts colors to make for a more "OLED" feel and give everything an extra "pop". Unlike Auto mode, this one does not try to automatically adapt its parameters based on external lighting conditions.
The 'Original Color' mode resulted in the most accurate colors, compared to the DCI-P3 color space. It returned an average deltaE of just 1.7 and a max of 3, which is considered a perfectly calibrated display.
Beyond these three main presents, the Color scheme menu in settings also has warm and cool presets, a custom white point dial and an Advanced section with four more color gamut presets and all of the individual sliders your heart desires. So many options that these are utterly overwhelming.
For the sake of thoroughness, we did carry out some further testing using the color gamut presets in the Advanced section and we couldn't get as good results as with the "Original Color," so we would consider all of these an overkill for regular users, and we just made a note to give Xiaomi extra points for customizability in this department.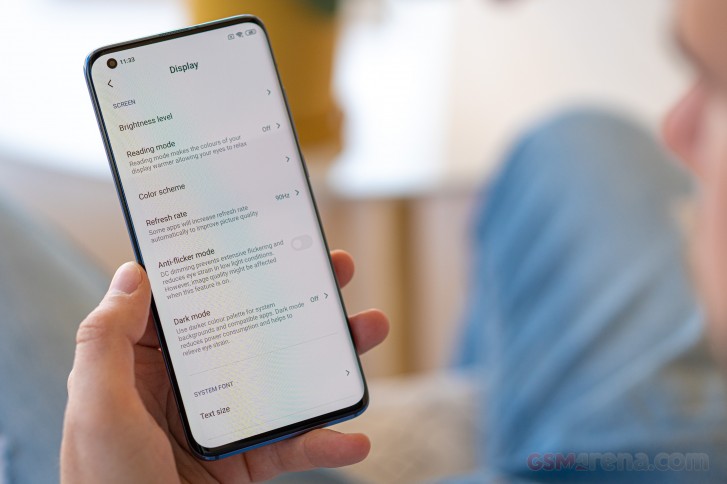 Back to the real world then and more tangible things users can actually appreciate - just like its Pro sibling, the regular Mi 10 is certified for HDR10+ and covers Widevine L1 DRM. Meaning, you can enjoy all the HDR content, at maximum resolution from any streaming service you want and actually have a great experience while doing so. It truly is a stunning panel. We didn't really say much about the 90Hz aspect of it quite yet. Read on in the battery section, since Xiaomi's particular implementation deserves some praise.
Battery life and charging
The Mi 10 Pro didn't really skimp on the battery department with its 4,500 mAh pack. The vanilla Mi 10 managed to cram an even bigger 4780 mAh battery inside the same body. We can only imagine that this is due to some space savings from things like the downgraded camera setup. Nevertheless, we appreciate it.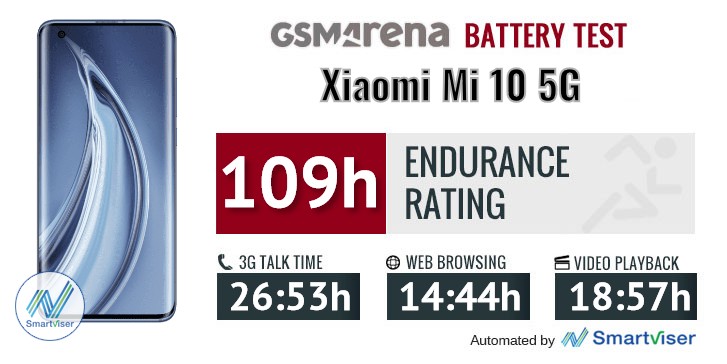 We'll jump straight to the endurance numbers. The main set of scores is with the display running at its native 90Hz.
Looking at the Mi 10 Pro for comparison, as our closest point of reference, we find a pretty consistent set of results. Xiaomi has kept things rather nice and predictable, with a few minutes of talk time and about 40 hours of standby extra, afforded to the vanilla Mi 10, thanks to its slightly bigger battery. The web browsing and video playback figures on the Mi 10 also both see a consistent and slight bump up, compared to the Pro.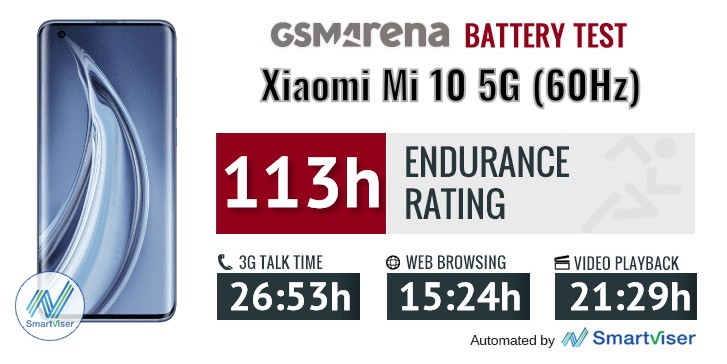 Here we have the same tests on the Mi 10, with its display at 60Hz.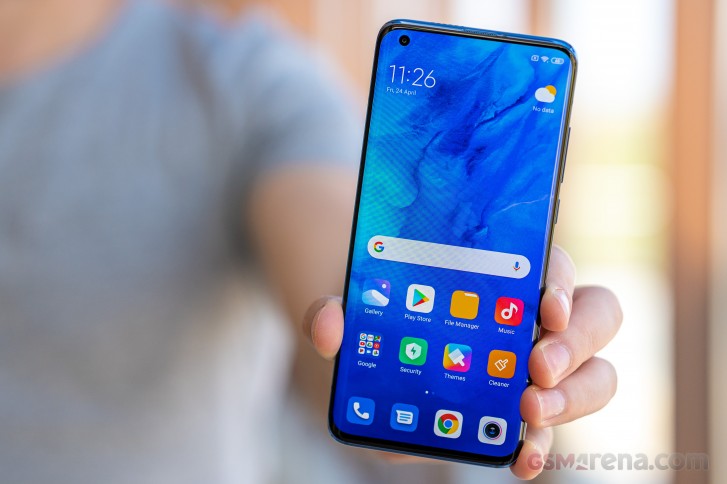 Our battery tests were automated thanks to SmartViser, using its viSerDevice app. The endurance rating above denotes how long a single battery charge will last you if you use the Xiaomi Mi 10 5G for an hour each of telephony, web browsing, and video playback daily. We've established this usage pattern so that our battery results are comparable across devices in the most common day-to-day tasks. The battery testing procedure is described in detail in case you're interested in the nitty-gritty. You can check out our complete battery test table, where you can see how all of the smartphones we've tested will compare under your own typical use.
With the increase in high refresh rate panel popularity, the topic of dynamic refresh rate adjustments is becoming more and more relevant. And it makes sense because if you think about it, lowering the screen refresh rate when 90Hz is not needed conserves both system resources and battery.
We've developed our own software tool to keep track of the current framerate while using the phone in various tasks and we have been observing vastly different behavior from one Android manufacturer to the other.
By the looks of it, MIUI appears to be relying on app id identification to decide whether it should run an app at 60Hz or use the full 90Hz and it prefers to err on the side of caution meaning it lowers the refresh rate only in certain know apps.
What this means, in practice, is that when we have the Mi 10 in 90Hz mode and then open specific apps, like YouTube, Netflix or the default system video player, it automatically switches to 60Hz, without the user ever noticing. Other manufacturers, like OnePlus seem to be using even smarter tricks for this automatic switching, like detecting any full-screen video player, which still allows the UI in apps like YouTube to be rendered at high refresh rate. This doesn't mean MIUI's approach is better or worse - it's just different in a way that's worth noting.

Automatic refresh rate adjustment
As the keen-eyed among you might have noticed, this goes against the difference in video endurance in out battery test. We were initially puzzled by this as well, but the thing that is happening is that our custom battery testing tool is not recognized by MIUI as a video player and the phone maintains 90Hz refresh rate throughout the test - which is wasteful, since you can't make use of the extra refresh rate with a 30fps video - but still in line with what you can expect with many third-party apps.
The dynamic aspect of high refresh rates is a fascinating new subject and we intend to keep exploring it in the future. For the time being, it is more than enough for users to be aware that high refresh rate behaves rather differently from phone to phone and potentially, from app to app.
It also makes sense to be aware of when high refresh rate makes sense and manually toggling it on and off, accordingly. There is definitely some battery endurance to be gained in the process.
Complementing the excellent performance, in terms of battery endurance on the Mi 10, we also get decent charging speed. Sure, it's not exactly on the same level as its Pro sibling, but 30W via PD are still plenty and delivered in a modern and versatile way. In practice, our Mi 10 review unit managed to go from a flat battery to 20% in 10 minutes, then 53% at the half hour mark and 91% at the end of an hour. A full charge took us around 72 minutes. Not too shabby.
Impressive stereo loudspeaker setup
One of the standout assets the Mi 10 Pro has is definitely its amazing stereo speaker setup. Hot on the heels of being rather impressed by those, we went into our new loudspeaker tests with the vanilla Mi 10 with high hopes. And we definitely weren't disappointed.
Use the Playback controls to listen to the phone sample recordings (best use headphones). We measure the average loudness of the speakers in LUFS. A lower absolute value means a louder sound. A look at the frequency response chart will tell you how far off the ideal "0db" flat line is the reproduction of the bass, treble, and mid frequencies. You can add more phones to compare how they differ. The scores and ratings are not comparable with our older loudspeaker test. Learn more about how we test here.
Not only do the speakers on the two phones look, understandably, identical on the outside, but they sound and behave very, very similarly as well. So much so, in fact, that we can't really say for sure whether there is a difference in the speaker modules or perhaps the DAC or other IC's driving them, between the Mi 10 Pro and the regular Mi 10. The latter is a tad quieter, though really not by much. And if we had to compare the two on a really nitpicky level, perhaps the Mi 10 Pro has a bit of a richer soundstage.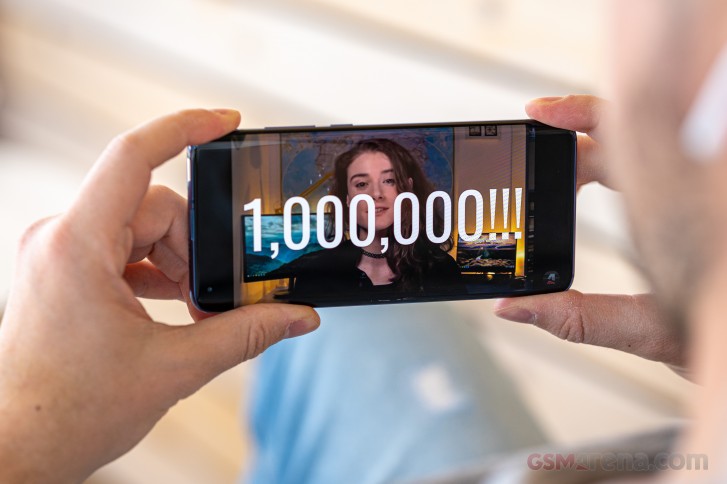 But that's just us reaching really hard for peak audiophile scrutiny, and loudspeakers are rarely about that. In real-world terms, the Mi 10 sounds amazing, and it's a neck above your average handset in this department. Honestly, the only bit we are not overly excited about is the positioning of the two speaker grills as it makes them relatively easy to cover-up while holding the phone horizontally.
Audio output quality
We've recently discontinued our audio output quality test.
The reason for that is that most phones were already excellent in this regard and whatever difference there was, it was marginal and probably indistinguishable to anything but lab equipment.