Flagship gaming display but with a punch-hole
The Black Shark 4 may not be a true flagship gaming handset given its Snapdragon 870 chipset, but the display sure does make this argument partially valid. It's no different from the Snapdragon 888-powered Pro version of the phone. A 6.67-inch OLED panel has been used, featuring a 1080 x 2400px resolution in a 20:9 aspect ratio. Xiaomi advertises 105% DCI-P3 color gamut coverage and 500 nits maximum brightness. Arguably the most important feature, however, is the 144Hz refresh rate and the unrivaled 720Hz touch response, which is quite possibly the lowest touch delay on the market.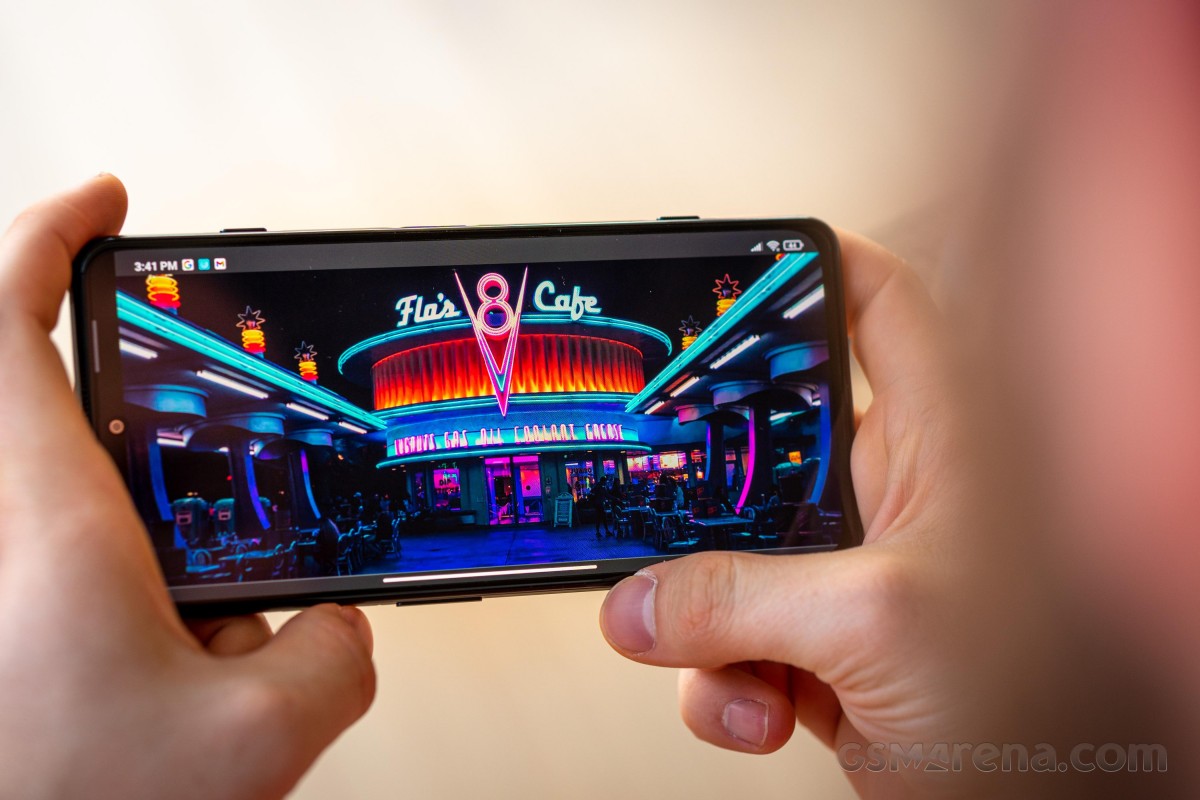 We ran the usual tests and found that the maximum brightness is indeed pretty close to the advertised one - 498 nits. Setting brightness control to automatic, though, will boost the brightness in outdoor conditions up to 694 nits. We can definitely say that using the phone outdoors was no issue for us.
Display test
100% brightness
Black,cd/m2
White,cd/m2
Contrast ratio
Xiaomi Black Shark 4
0
498
∞
Xiaomi Black Shark 4 (Max Auto)
0
694
∞
OnePlus 9
0
450
∞
OnePlus 9 (Max Auto)
0
821
∞
nubia Red Magic 6
0
444
∞
Asus ROG Phone 5
0
492
∞
Asus ROG Phone 5 (Max Auto)
0
806
∞
Motorola Moto G100
0.349
498
1427:1
Motorola Moto G100 (Max Auto)
0.434
613
1412:1
vivo X60 Pro
0
472
∞
vivo X60 Pro (Max Auto)
0
818
∞
Color accuracy can be really good with the Standard mode, which shows dE2000 deviation of just 2.4. Even the default Saturated mode surprised us with good white and gray accuracy.
HRR control is another important aspect of the phone's display as it helps preserve battery while keeping things running smoothly. In menus and general apps, the display didn't go above 120Hz, even though the refresh rate was set to "Ultimate" (read 144Hz). The next step is 90 and then 60Hz if you prefer to do this manually.
Additionally, the refresh rate doesn't drop below 120Hz when you aren't interacting with the screen. All apps run at 120Hz, including Chrome. YouTube does trigger a response, though, lowering the refresh rate down to 60Hz, which is good because you don't need more than that for video playback. The same goes for the native video player.
Speaking of video playback, JoyUI 12.5 offers a so-called Video toolbox. Once enabled, you can slide out a small panel with a couple of tools like recording, screenshot and casting - standard stuff.
The interesting bits are the Styles and Picture tools. The first one applies some sort of filter so you can watch the video with a color preset of your choice while Picture gives you control over the MEMC feature and real-time sharpening. Keep in mind that the former may produce a smearing effect in some videos as it inserts black frames between each one to create the sensation of a smoother playback, but the important thing here, is that you can turn it on or off as you please.
Last, but not least, the display is HDR10+ certified but since we weren't able to install Netflix on the testing unit, we can only confirm that HDR support in YouTube is present.
Battery life
In our tests, the BlackShark 4 battery life wasn't jaw-dropping, but it was also not too bad for a 4,500 mAh battery. The standby and web browsing tests boosted the phone's overall endurance rating but the rather low talk time figures and video playback tests set the handset's overall battery performance to about average. At least when compared to other gaming devices.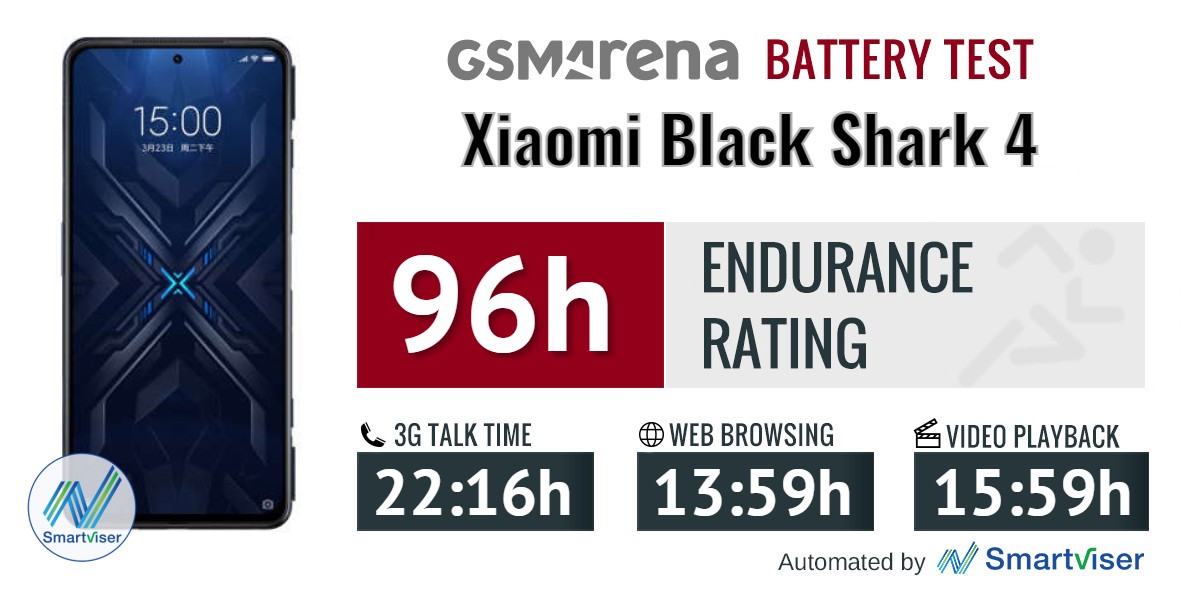 Our battery tests were automated thanks to SmartViser, using its viSerDevice app. The endurance rating denotes how long the battery charge will last you if you use the device for an hour of telephony, web browsing, and video playback daily. More details can be found here.
Video test carried out in 60Hz refresh rate mode. Web browsing test done at the display's highest refresh rate whenever possible. Refer to the respective reviews for specifics. To adjust the endurance rating formula to match your own usage - check out our all-time battery test results chart.
Charging speed
The phone uses a bulky 120W charging brick that comes inside the retail box, and when combined with the 4,500mAh battery, charging times are extremely short. We couldn't even run our 30-minute charging test because the battery charges from 0 to 100% in just 19 minutes. It's one of the fastest charging phones we've ever tested.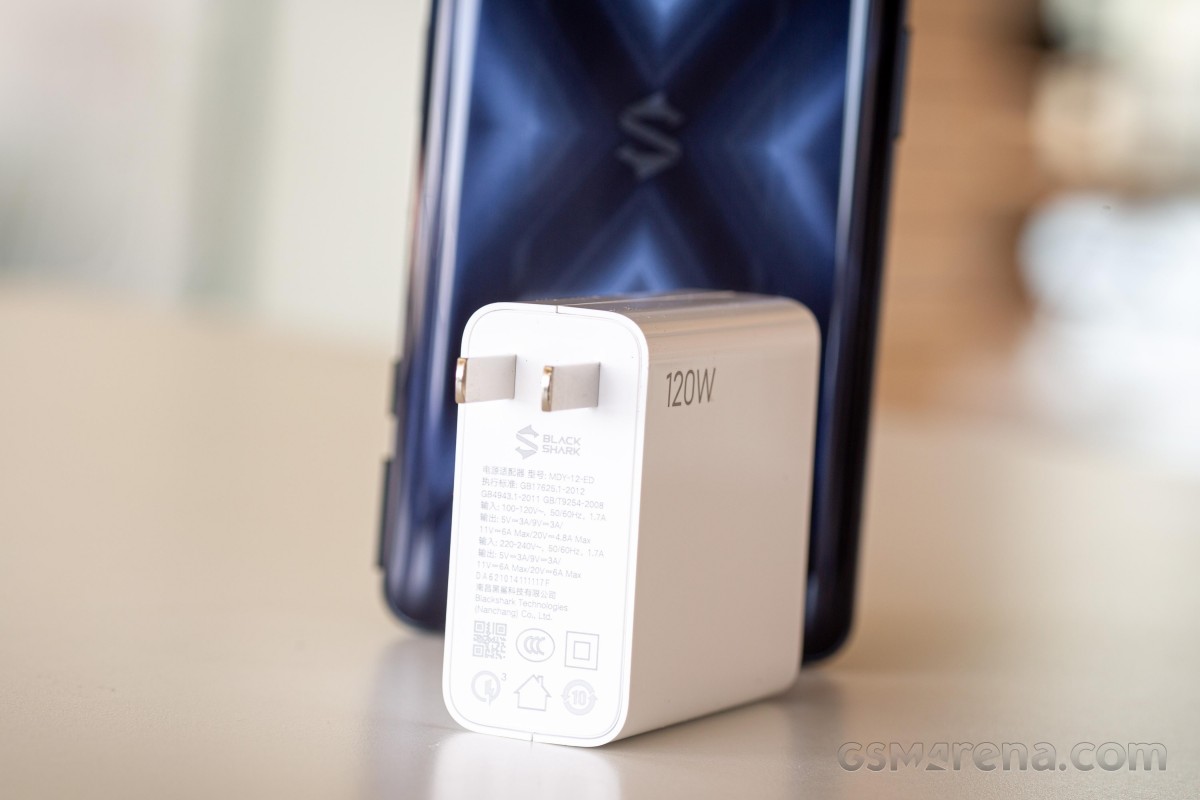 The downside is that the handset gets a bit too warm to our taste, which may potentially cause some faster battery deterioration over time. Then again, you probably won't leave the phone that long on the charger, as just 10 minutes would probably be enough to top-up your battery from a reasonable 20 or 30% charge.
30min charging test (from 0%)
Xiaomi Black Shark 4
100%
OnePlus 9
100%
Asus ROG Phone 5
70%
vivo X60 Pro
68%
nubia Red Magic 6
63%
Time to full charge (from 0%)
Xiaomi Black Shark 4
0:19h
OnePlus 9
0:29h
vivo X60 Pro
0:58h
nubia Red Magic 6
1:01h
Asus ROG Phone 5
1:05h
Speakers
The Black Shark 4 has two full-fledged speakers on each side. The top speaker is located on the side of the top frame and is symmetrical to the bottom-firing speaker.
With this arrangement, it's no wonder that sound comes out well-balanced with a clear punch, loud vocals and bass that would do the trick for most people. It's not amazing by any means, and even tracks that don't have a lot of bass in them sound flat. But overall, the speakers are great. Loudness, on the other hand, isn't stellar as it scored "Good" in our test.
Use the Playback controls to listen to the phone sample recordings (best use headphones). We measure the average loudness of the speakers in LUFS. A lower absolute value means a louder sound. A look at the frequency response chart will tell you how far off the ideal "0db" flat line is the reproduction of the bass, treble, and mid frequencies. You can add more phones to compare how they differ. The scores and ratings are not comparable with our older loudspeaker test. Learn more about how we test here.