Excellent curved OLED
The Xiaomi 13 Lite brings largely the same 6.55-inch OLED panel with 1080 x 2400px resolution, 120Hz refresh rate, 240Hz touch sampling rate and support for 12-bit color depth, although the Android system can't fully take advantage of all those shades of colors. For those who are sensitive to PWM, the screen adjusts its brightness at 1920Hz, which is conisdered not-as-aggressive PWM. More importantly, though, the display supports Dolby Vision and HDR10+ content.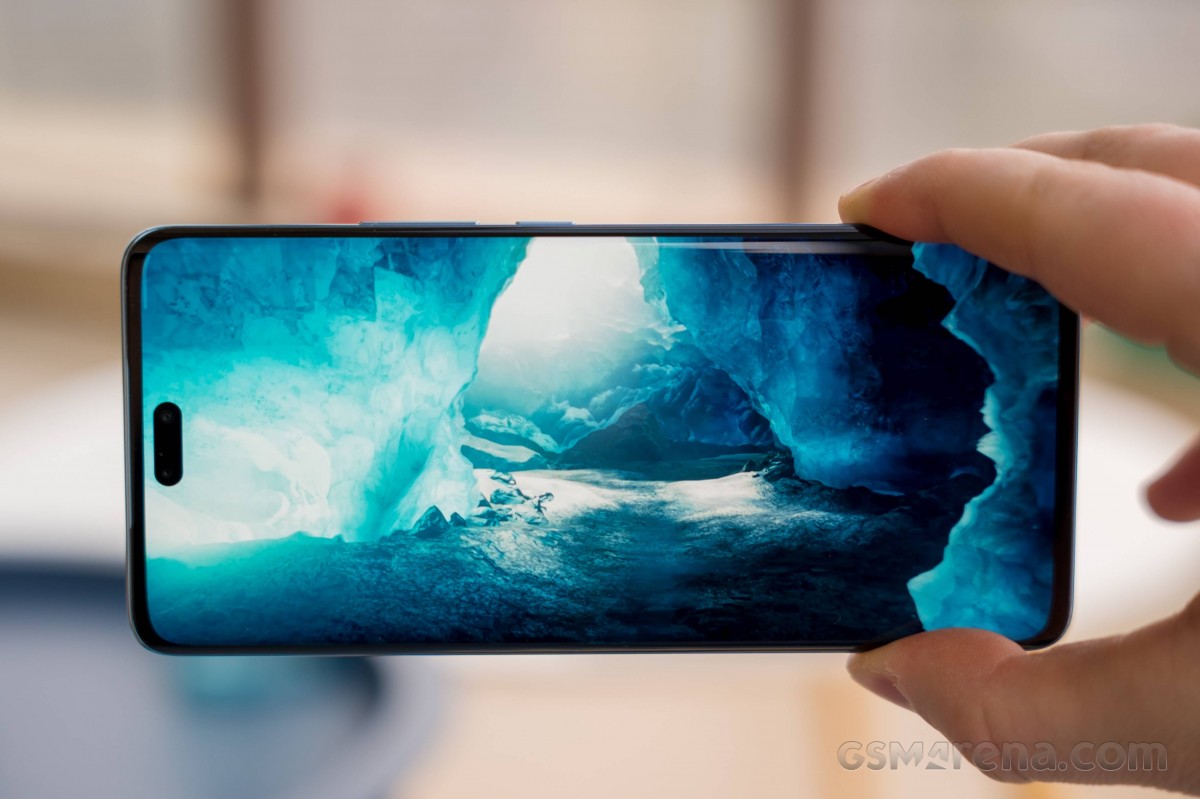 In our tests, the screen performed great and got really close to what the manufcaturer has advertised. In manual mode, the panel peaked at 512 nits while in auto mode, it got up to 938 nits. For the record, Xiaomi says the screen should peak at 500 and 1,000 nits, respectively. Either way, that's plenty bright and the display looks great in every environment imaginable.
Display test
100% brightness
Black,cd/m2
White,cd/m2
Contrast ratio
Xiaomi 13 Lite
0
512
∞
Xiaomi 13 Lite (Max Auto)
0
938
∞
Xiaomi 12 Lite (Max Auto)
0
824
∞
Xiaomi 12 Lite
0
507
∞
Samsung Galaxy A53 5G
0
427
∞
Samsung Galaxy A53 5G (Max Auto)
0
830
∞
Realme GT2
0
517
∞
Realme GT2 (Max Auto)
0
846
∞
Google Pixel 6a
0
505
∞
Google Pixel 6a (Max Auto)
0
876
∞
Honor Magic5 Lite
0
531
∞
Honor Magic5 Lite (Max Auto)
0
864
∞
OnePlus Nord 2T
0
449
∞
OnePlus Nord 2T (Max Auto)
0
636
∞
Color accuracy in the default color mode isn't great but the Original color preset produced insanely low average dE2000 of just 0.5. Maximum one was merely 1.7. Probably one of the best scores we've seen against the sRGB color space.
HRR control
Refresh rate control is pretty straightforward - leaving the display at idle will lower refresh rate to 60Hz and so will video player apps. Pretty much all apps we've tested ran at 120Hz. That's in case you leave the refresh rate mode to Default. You can choose to limit that to 60Hz if you so wish.
Battery life
Supposedly, the Xiaomi 13 Lite should have a better endurance due to its larger 4,500 mAh battery and more efficient Snapdragon 7 Gen 1 SoC based on the 4nm node. However, we were surprised to fine out that the 13 Lite falls behind not only the competitoin but when put against its predecessor. We see a small, but noticeable decline in all test scenarios - sceen-on and screen-off. We are puzzled by the screen-on results, in particular.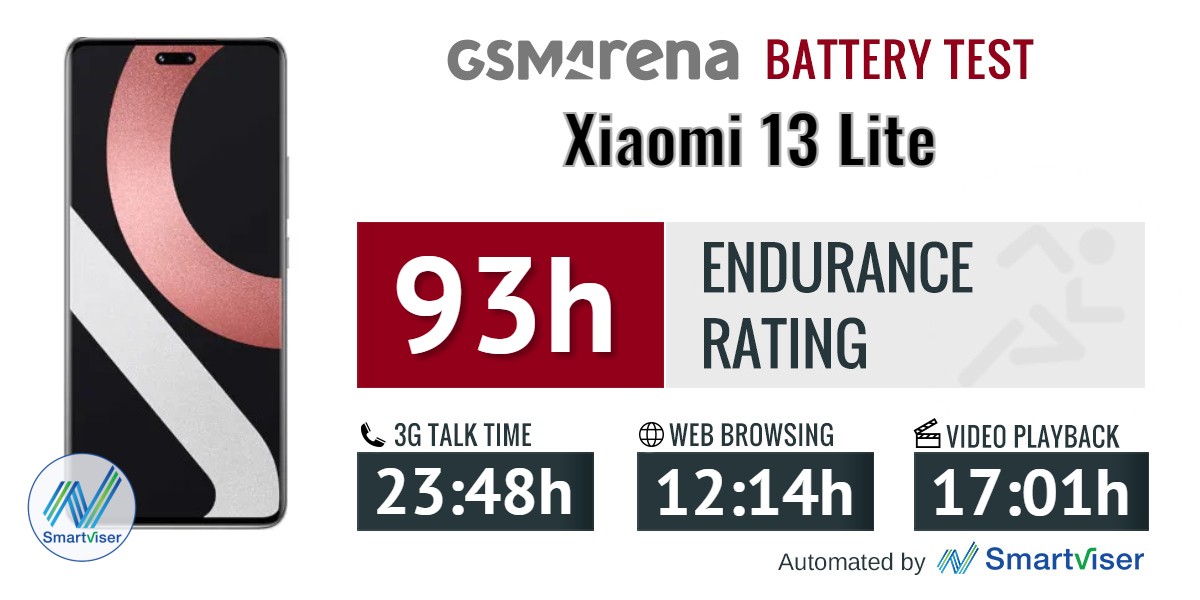 Our battery tests were automated thanks to SmartViser, using its viSerDevice app. The endurance rating denotes how long the battery charge will last you if you use the device for an hour of telephony, web browsing, and video playback daily. More details can be found here.
As you can see, most other competitors offer longer battery life and their overall endurance score reflect that. The biggest issue here, once again, are the screen-off runtimes that bring down the 13 LIte's overall score.
Video test carried out in 60Hz refresh rate mode. Web browsing test done at the display's highest refresh rate whenever possible. Refer to the respective reviews for specifics. To adjust the endurance rating formula to match your own usage patterns check out our all-time battery test results chart where you can also find all phones we've tested.
Charging speed
The Xiaomi 13 Lite has a competitive fast charging solution and the handset ships with the appropriate 67W charging brick. Additionally, the 13 Lite plays well with Power Delivery 3.0 chargers, so you will still get decently fast charging when using a non-Xiaomi plug.
The 13 Lite is second only to BBK's camp as Realme and OnePlus are famous for their fast charging protocols, so no surprises here. In the full charging test, the 13 Lite even beats the 12 Lite by 8 minutes, despite having a slightly bigger cell. Either way, you get more than 80% of the charge back in the first 30 minutes, which is excelent.
30min charging test (from 0%)
Higher is better
| | |
| --- | --- |
| Xiaomi 12T | 100% |
| OnePlus Nord 2T | 99% |
| Realme GT2 | 97% |
| Xiaomi 12 Lite | 84% |
| Xiaomi 13 Lite | 83% |
| Samsung Galaxy A53 5G | 45% |
| Google Pixel 6a | 42% |
* Tap/hover over the device names for more info
Time to full charge (from 0%)
Lower is better
| | |
| --- | --- |
| Xiaomi 12T | 0:23h |
| OnePlus Nord 2T | 0:32h |
| Realme GT2 | 0:40h |
| Xiaomi 13 Lite | 0:42h |
| Xiaomi 12 Lite | 0:50h |
| Samsung Galaxy A53 5G | 1:24h |
| Google Pixel 6a | 1:51h |
* Tap/hover over the device names for more info
Speaker
This year's Lite settles for a single, bottom-firing speaker, which is still Dolby Atmos-tuned but it's a considerable downgrade over the 12 Lite. Last year, the 12 Lite had a pair of stereo speakers that were also louder. The 13 Lite got only -28.5 LUFS, which is far from ideal.
Quality-wise, we are not impressed either. Tracks sound flat, but mostly clean with crisp highs and vocals, even at higher volumes. Turning off the Dolby Atmos tuning will make tracks sound fuller but muffle the vocals and highs. Overall, the audio setup isn't up to the snuff and we are really susrprised to see the stereo setup gone.
Use the Playback controls to listen to the phone sample recordings (best use headphones). We measure the average loudness of the speakers in LUFS. A lower absolute value means a louder sound. A look at the frequency response chart will tell you how far off the ideal "0db" flat line is the reproduction of the bass, treble, and mid frequencies. You can add more phones to compare how they differ. The scores and ratings are not comparable with our older loudspeaker test. Learn more about how we test here.