The usual 2+1 cameras on the back, but one of them is 200MP
The Xiaomi 12T Pro is equipped with a triple-camera system on its back, and it's a spec sheet that impresses and disappoints at the same time. The headliner is the 200MP primary camera, the big number making big promises. But then there's the unremarkable 8MP ultrawide, joined by an even less exciting 2MP macro unit. Let's unpack.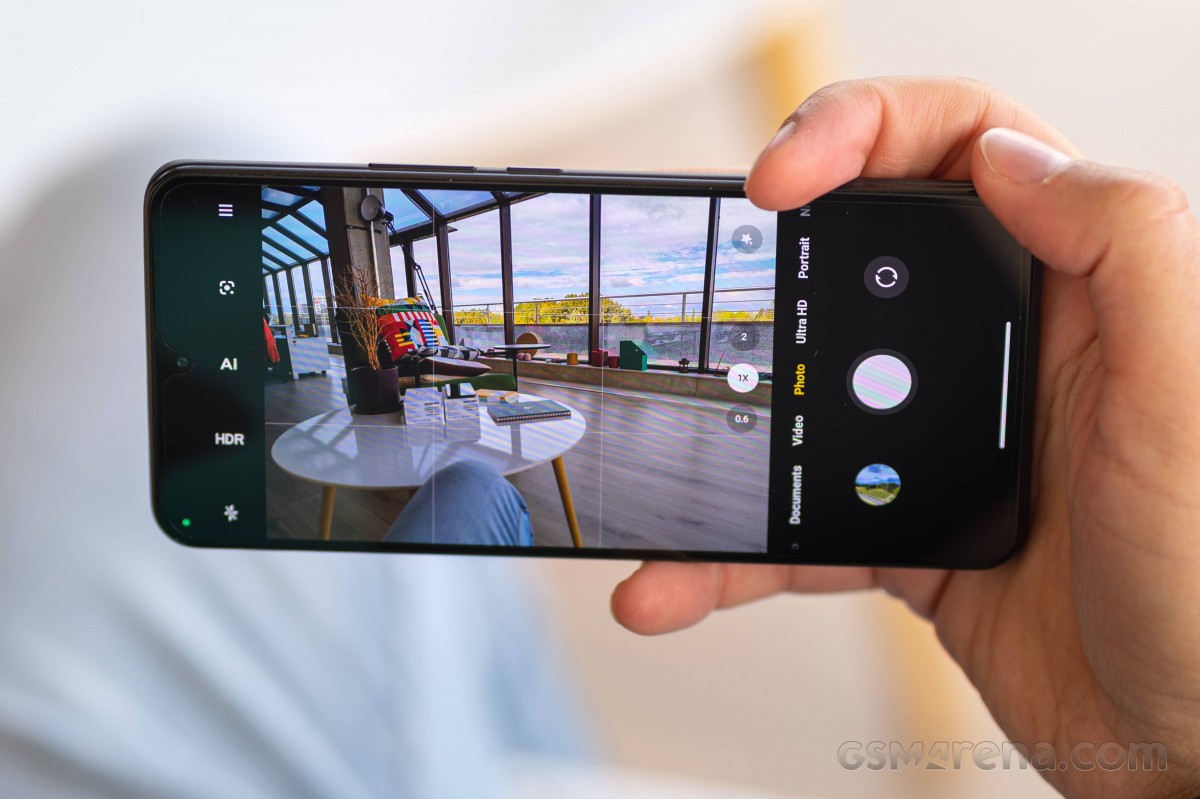 The main camera uses the Samsung HP1 sensor - a Tetra2pixel (that would be Tetra-to-the-power-of-two) design that's meant to bin its tiny 0.64µm pixels 16-to-1, resulting into combined 2.56µm pixels. It's one of the larger sensors overall in the industry, too, with an optical format of 1/1.22". It's certainly an upgrade over the 108MP (1/1.52", 0.7µm) unit of last year's model. The 12T non-Pro, meanwhile, comes with a different 108MP imager (1/1.67", 0.64µm).
Another positive development is that the lens here is stabilized, something which wasn't available on the 11T Pro. This camera has a field of view of 85 degrees according to Xiaomi specs, which translates to an equivalent focal length of 23-24mm (EXIF data claims 23mm).
We've already seen this sensor once - on the Motorola Edge 30 Ultra, but these two cameras are not exactly identical. The Motorola's camera lens had a focal length of 6.88mm (as per EXIF) as opposed to 7.01mm on the Xiaomi. The aperture on the Xiaomi is listed at f/1.7, as opposed to the f/1.9 on the Moto. All of this indicates that the HP1 can come packaged in different camera modules.
The ultrawide is the same between both 12Ts. It's based on the 8MP Samsung S5K4H7 ISOCELL Slim 1/4" sensor with a 1.12µm pixel pitch. The lens has a fixed focus, an f/2.2 aperture, and a field of view that should be 120 degrees.
The macro camera relies on a 2MP GalaxyCore GC02 sensor behind an f/2.4 lens. The focus is fixed at about 4cm away. We wish Xiaomi had used the 5MP unit from the previous generation, but that's not the case.
For selfies, we have the 20MP Sony IMX596 sensor, which should be a Quad Bayer design. The internet doesn't reveal much about it, but Xiaomi says it has a 1/3.47" optical format and a 0.8µm pixel size. The fixed-focus lens has an f/2.2 aperture. For what it's worth, that's the same selfie setup as on the Mix Fold 2.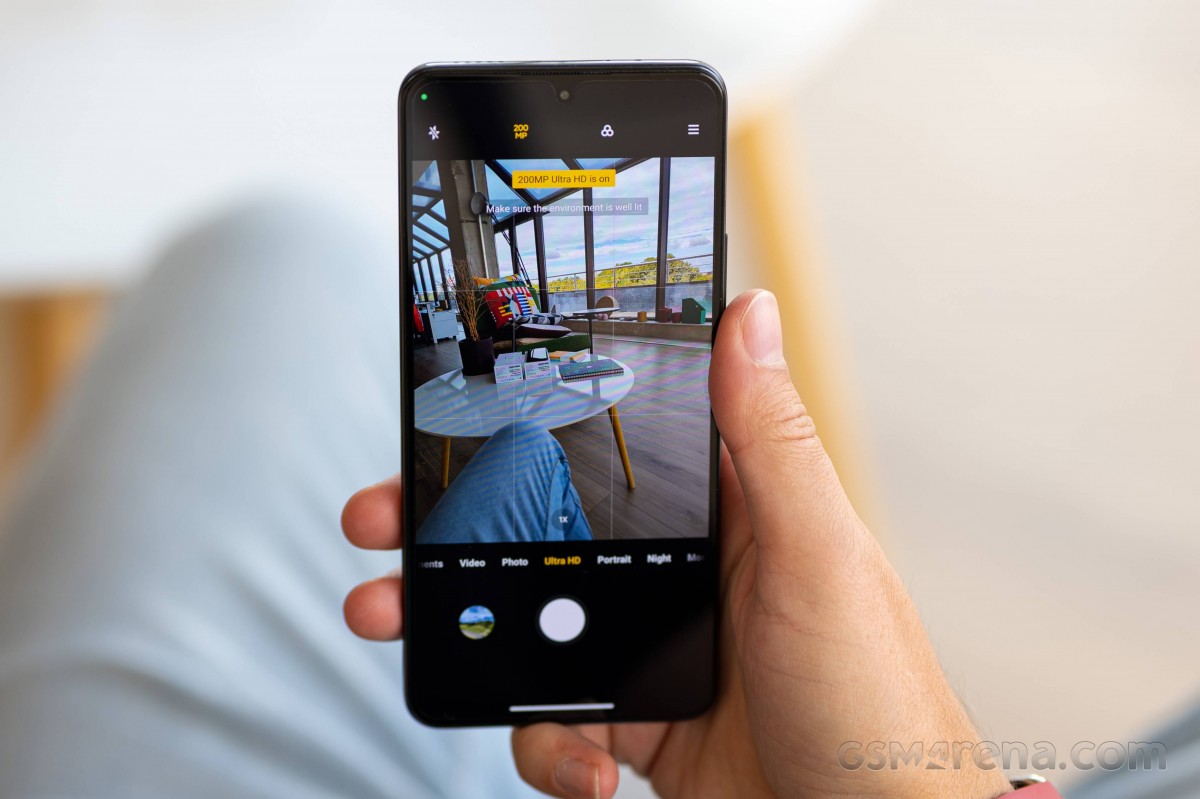 The familiar Xiaomi camera app has its quirks, but it's nothing outside the norm regarding basic use. Changing modes works with side swipes (on the black bezel, not the viewfinder itself), and you can also tap on the modes you can see to switch to those directly. Up and down swipes don't work for switching between the front and rear cameras; only the toggle next to the shutter release does that.
You can add, remove, and rearrange modes in the main rolodex by going to the More tab and navigating to the edit button, and you can access that from the settings menu as well. The unused modes will still be in that More tab, but you can switch to a (less intuitive) pull-out pane that's summoned from a line next to the shutter release.
The hamburger menu at the far end is where you'll find additional options, including the Macro mode (and burying it makes sense with a basic 2MP cam like this one), plus the icon to access the settings. Next to that hamburger menu, you have a flash mode switch, an HDR switch, an AI toggle, and a shortcut to Google Lens.
On the near end, you have a magic wand with beauty effects and filters, as well as the camera zoom switches.
There's a nicely capable Pro mode, where you can tweak the shooting parameters yourself. You can use the primary and the ultrawide here, but not the macro. You get to pick one of 4 white balance presets or dial in the light temperature with a slider, there's a manual focusing slider and shutter speed (1/4000s to 30s/0.8s for main/ultrawide) and ISO control (50 to 6400/1600 for main/ultrawide). A tiny live histogram is available, and a toggle for zebras can be found in the hamburger menu.
Night mode is available for the main and ultrawide cameras. There is an Auto Night mode toggle pre-enabled in the advanced Settings, too.
Daylight image quality
Daylight photos from the 12T Pro's main camera have a rather characteristic Xiaomi look, meaning they're very expressive and easily likable. You can count on vibrant color reproduction, with saturation verging on too much but still not quite there. You'd be getting nicely high contrast and wide dynamic range, though the particularly challenging overcast conditions we had during our review time did test that more or less to the limit.
The amount of captured detail in the default 12.5MP resolution is very good, and it's rendered with a measured amount of sharpening, so it looks decently natural. Noise is minimal to non-existent.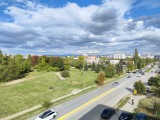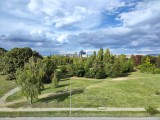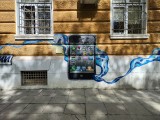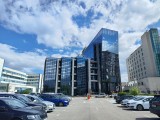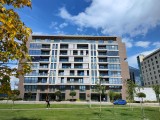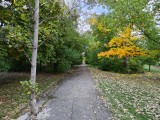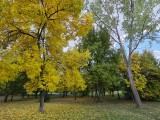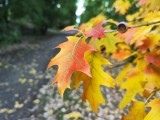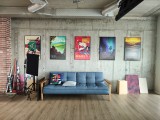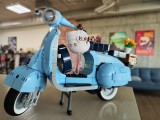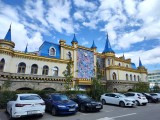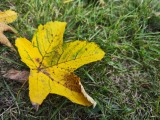 Daylight samples, main camera (1x)
The AI toggle will give you just that if you'd like an extra boost in contrast and color saturation. It's particularly effective in scenes with blue skies and greenery, which tend to get overly colorful.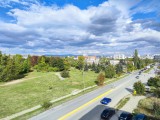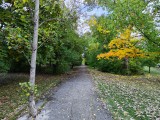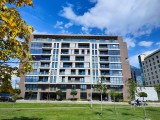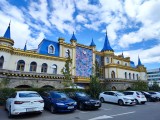 Daylight samples, main camera (1x), AI on
You have a couple more resolution options, and the intermediate 50MP one is the more interesting one. We're looking at a genuine increase in detail over the standard 12.5MP photos, albeit at the expense of some extra noise and a small, almost imperceptible, drop in dynamic range - a very sensible trade-off. The file sizes aren't negligible at 13-30MB, but the improved definition makes up for it.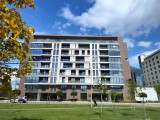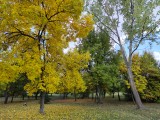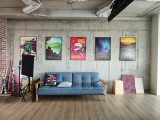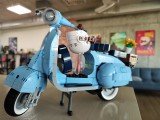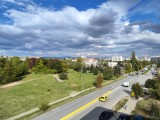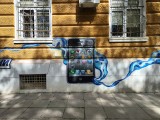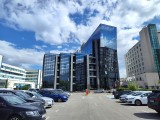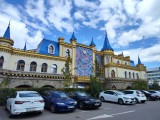 Daylight samples, main camera (1x), 50MP
That can't really be said about the nominal 200MP mode, where the quite significant file sizes (45-85MB) don't come with any meaningful increase in detail - objects just appear a lot larger and more heavily sharpened.
In summary: 50MP - good, 200MP - don't bother.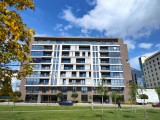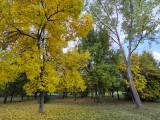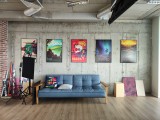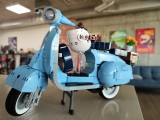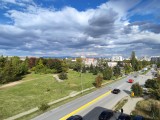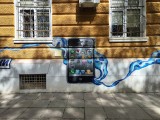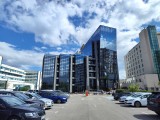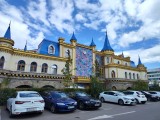 Daylight samples, main camera (1x), 200MP
The solid results at the 50MP resolution had us expecting good 2x zoom shots, and for the most part, that is indeed the case. The level of detail is comparable to a conventional dedicated 12MP 2x zoom camera, and only in particularly contrasty lighting and very intricate textures can you find the sharpening disagreeable. We'd say that the lack of a standalone 2x zoom camera (which is realistically the most you can expect on a non-flagship) on the 12T Pro is not really a con.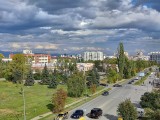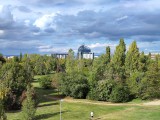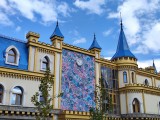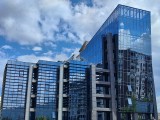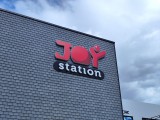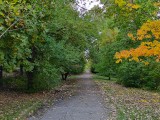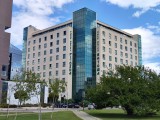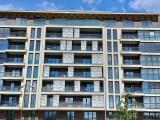 Daylight samples, main camera (2x)
The ultrawide camera's modest specs set pretty low expectations, which works well in its favor. The 8MP resolution provides just an adequate amount of detail, while the slight softness that creeps in at the extreme edges is nowhere near the worst we've seen. Taking a step back, we can offer some praise for the dynamic range, while the colors are a bit warmer and more saturated than on the main camera, but still pretty pleasing. Not an amazing performance, but not a disappointing one either.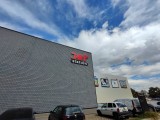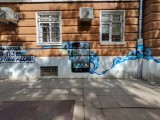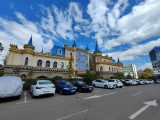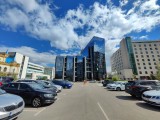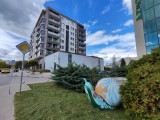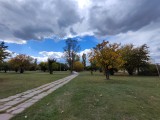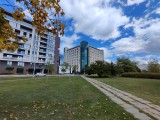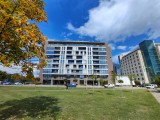 Daylight samples, ultrawide camera (0.6x)
Low-light image quality
As we've come to expect from Xiaomis, the 12T Pro has an Auto Night mode toggle in the camera settings, which comes pre-enabled. As a result, the phone's low-light photos have Night mode processing applied by default when the phone deems it appropriate (which in our experience, was essentially every time). That would generally get you the same results as in the dedicated Night mode, though you may wish to switch to Night mode manually if you don't want to be at the phone's mercy for your low-light shots.
Also unsurprisingly, the Night mode action doesn't require a whole lot of time, and whether it's the Auto Night mode kicking in or you're activating it manually, you'd be looking at something like a second per photo, perhaps a fraction longer on the ultrawide.
With that preamble behind us, let's just say that the low-light photos from the 12T Pro's main camera are excellent. The Night mode 'intensity' is rather conservative, so we're getting natural-looking exposures without dramatic shadow brightening. Still, the darker areas are well developed, while highlights aren't blown out either - the dynamic range is great. Colors don't suffer from any noticeable desaturation, and white balance is generally accurate, though certain odd combinations of lights could skew things slightly one way or another. The detail is very good, too, albeit with some noticeably liberal sharpening.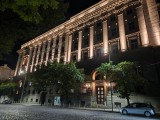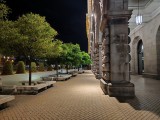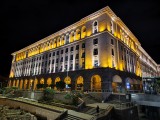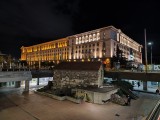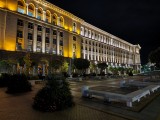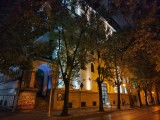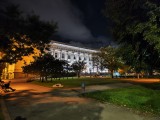 Low-light samples, main camera (1x), Auto Night mode
You'd need to look carefully at side-by-side comparisons between the photos above and ones taken in the dedicated Night mode to spot the differences. They can be observed in darker scenes and in the shadows in general, with the full-on Nigh mode samples having that extra bit of shadow development - nothing too dramatic, but worth the switch to Night mode if you're in a particularly dark environment.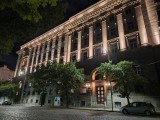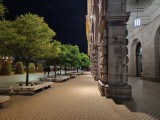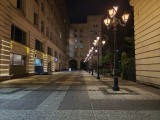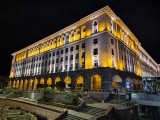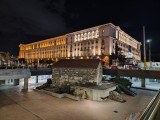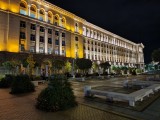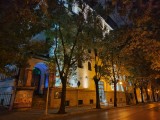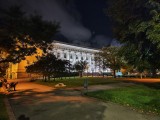 Low-light samples, main camera (1x), dedicated Night mode
You'd think that all this is courtesy of some Night mode magic, but disabling the Auto Night mode toggle for shooting in Photo mode, reveals that the camera isn't half bad, to begin with. In fact, in more balanced lighting, you'd get overall better images this way - there's finer detail, and it's rendered in a more organic way than in Night mode. Sure, the tonal extremes might not be quite as well preserved, but the 'inherent' dynamic range of the camera is still impressive.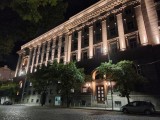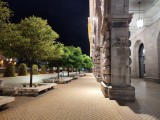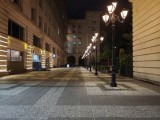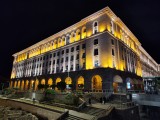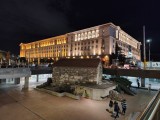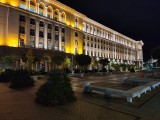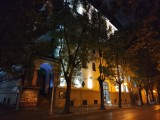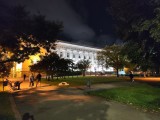 Low-light samples, main camera (1x), Auto Night mode disabled
All of the above holds true at the 2x zoom level. For a phone that's missing a telephoto camera, the 12T Pro sure takes some nice 2x zoom shots.
Again, you'd want to avoid Night mode in better-lit scenarios to get the absolute best detail the camera can produce, while Night mode in either of its implementations will get you improved dynamic range in more contrasty scenes at the expense of slightly broader strokes when examined at 1:1.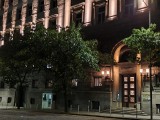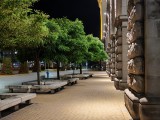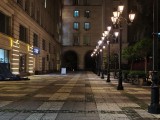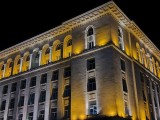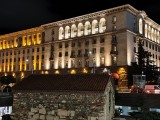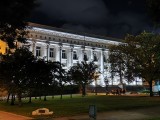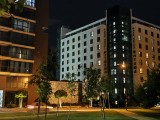 Low-light samples, main camera (2x), Auto Night mode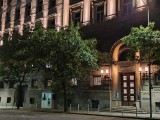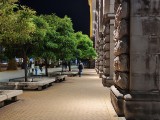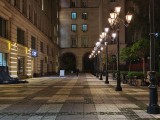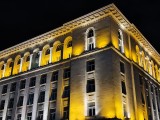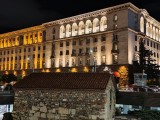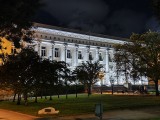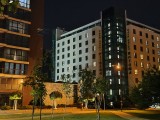 Low-light samples, main camera (2x), dedicated Night mode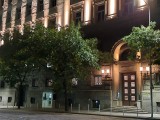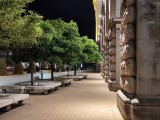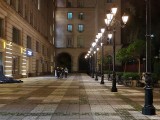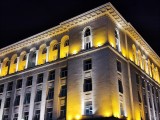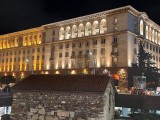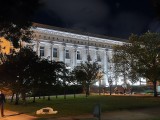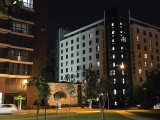 Low-light samples, main camera (2x), Auto Night mode disabled
On the ultrawide, you'd want all the Night mode help you can get, and the phone is happy to deliver some automatically. The Auto shots are decently well exposed and have good dynamic range, particularly for an unassuming camera like this. Colors are saturated, and street lights were handled well. Detail is acceptable.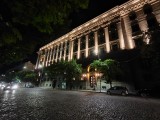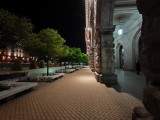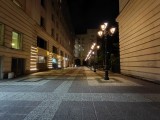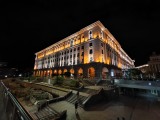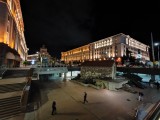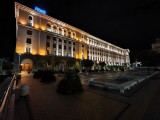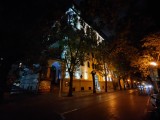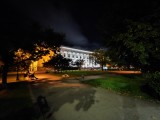 Low-light samples, ultrawide camera (0.6x), Auto Night mode
It's on the ultrawide where we observed the biggest gap between the Auto Night mode, and the Night-Night mode. If you make an effort to switch modes instead of relying on the software, you will get a further improvement in dynamic range - a nice lift in the shadows and lower midtones and a gentle toning down of the highlights.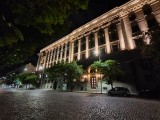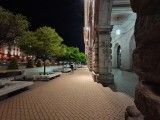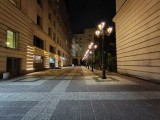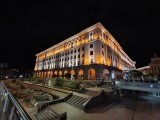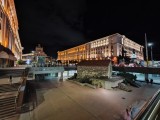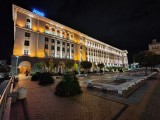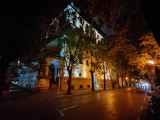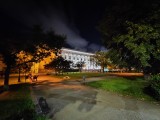 Low-light samples, ultrawide camera (0.6x), dedicated Night mode
With no Night mode assistance, things aren't looking as great. Most of the time, you'd get dark, underexposed images that are soft and noisy. Stay away, we reckon.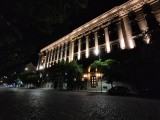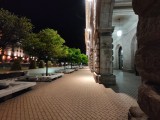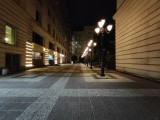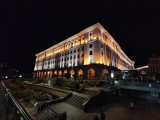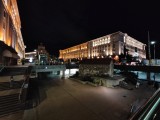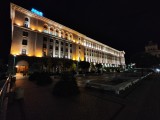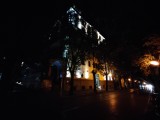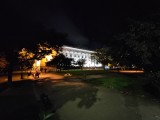 Low-light samples, ultrawide camera (0.6x), Auto Night mode disabled
Once you're done with the real-world samples, head over to our Photo compare tool to see how the Xiaomi 12T Pro stacks up against the competition.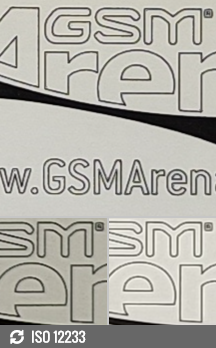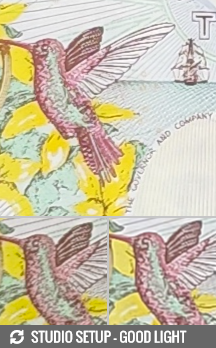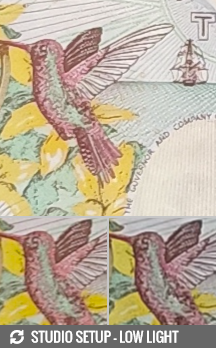 Xiaomi 12T Pro against the OnePlus 10 Pro and the Galaxy S21 FE in our Photo compare tool
Closeups
With no AF capability on the ultrawide, the 'macro' mode is handled by a dedicated 2MP shooter. The results are predictably meh, with not a lot of detail and limited dynamic range. Xiaomi does have a 5MP 'tele macro' unit that it's fitted on the 11T Pro, and that's a vastly superior performer - so we're seeing a downgrade on the close-up shooting capabilities this year.
Portrait mode
The 12T Pro's Portrait mode switches to a zoomed-in view from the main camera, to the tune of that 2x zoom level you can get in Photo mode. Normally, we'd be worried about the image quality from such an approach, but the solid zoom results from earlier on had us more hopeful; plus, the perspective given by the 2x zoom is a lot more flattering than the native 23-24-ish mm equivalent.
In the end, image quality turned out alright. Sharpness and detail on the subject are good in bright daylight, though they do drop in dimmer indoor conditions. The subject detection is excellent in simpler scenes and okay in more complex situations with things in the foreground - that is to say, not bad in comparison to other efforts. The default blur level can be a bit much for indoor scenes, where you know the background is close enough that it can't be that blurry, but it's just right for more distant backdrops. It's adjustable in the gallery post-shot anyway, so you can fine-tune it after the fact.
Selfies
Selfies on the Xiaomi 12T Pro are captured at the nominal 20MP resolution of the sensor, and, coming out of a Quad Bayer sensor, there's not 20MP of detail in them. That said, they do have a little edge in definition over the results from apparently the same camera in the 12T. Skin tones are likable, and the otherwise somewhat muted colors are accurate. Exposure is on point, and dynamic range is respectable for a selfie camera - backlit scenes are a non-issue.
That last bit changes a little in selfie Portrait mode, where the HDR processing takes second stage to the subject detection and blur calculations, but the subject remains equally well exposed. We saw no blunders in the subject detection - in fact, it was among the more foolproof selfie portrait experiences we've had.
Video recording
The Xiaomi 12T Pro can record video up to 8K in resolution at 24fps, a downgrade from the 8K@30fps mode we had on the 11T Pro.
The other available resolutions include 4K at up to 60fps with its main camera. It can do 4K60 at 2x zoom, too, while the ultrawide is capped at 1080p30.
The default codec is h.264, but you can choose to use h.265, which is also the only option for 8K encoding. Audio is recorded in stereo at 96kbps.
Stabilization is available in all resolutions and frame rates and is always on - there's no toggle to disable it if you're supporting the phone otherwise.
8K footage (131Mbps bit rate) isn't terrible, in fact. While per-pixel quality isn't quite up to the standard that the sheer 7680x4320px resolution would want you to believe, it does offer some detail benefits over 4K, which is rarely the case with smartphone 8K. Contrast and dynamic range are praiseworthy, and the lively colors from photos can be seen in the captured videos as well.
The vastly more sensible 4K resolution maintains the excellent global properties of 8K, while delivering solid pixel-level detail as 4K goes, especially at 30fps (50-63Mbps). The 60fps mode (same bit rate) produces slightly softer results.
At 2x zoom, 4K30 isn't looking great - it's too soft.
The ultrawide has a distinctly warmer color rendition - not bad in isolation, but not as accurate as the main camera's. It's producing a more contrasty look, too, with particularly deep shadows. Detail is good for a 1080p ultrawide clip, but that's not a very high bar to clear.
Stabilization is excellent on the Xiaomi 12T Pro's main camera. It irons out walking shake proficiently, there's no focus hunting, and pans have no abrupt transitions.
The ultrawide exhibited some faint wobbling in the middle of the frame when walking, which we've seen happen in detail-rich scenes like ours, but it's the worst. There's nothing to complain about if you're just standing in one place.
In low light, the main camera of the 12T Pro captures excellent video - we'd say it's about as good as the 12S Ultra. Sharpness and detail are great, colors are pleasingly vivid, and dynamic range is respectable, too.
That's not so on the ultrawide, naturally, whose footage is dark, soft, and noisy.
Here's a glimpse of how the Xiaomi 12T Pro compares to rivals in our Video compare tool. Head over there for the complete picture.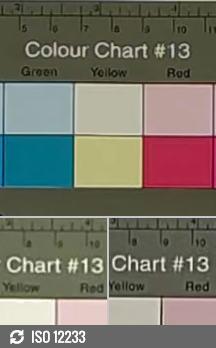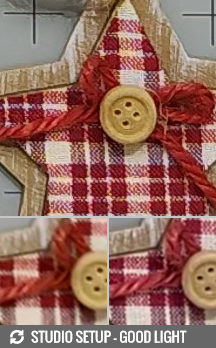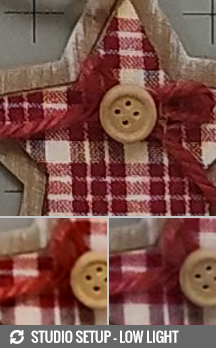 Xiaomi 12T Pro against the OnePlus 10 Pro and the Galaxy S21 FE in our Video compare tool