Gorgeous 120Hz 6.67-inch CrystalRes AMOLED display
The display is definitely one of the Xiaomi 12T Pro's highlights. This is a seriously good panel, no matter how you view it (even literally).
The 6.67-inch AMOLED display comes with an extra crisp 1220 x 2712 pixel resolution. That's a 20:9 aspect ratio like on the 11T, but the resolution is higher than your average FHD+ screens, and it works out to an excellent 446 ppi, which makes it look very sharp in person.
It's worth noting that the panel uses 1920Hz frequency PWM dimming, which is unusually high for an OLED, and might be a boon for someone who is bothered by the relatively low usual OLED dimming frequency of 500-800Hz.
The touch sampling rate is 480Hz, which is competitive, too.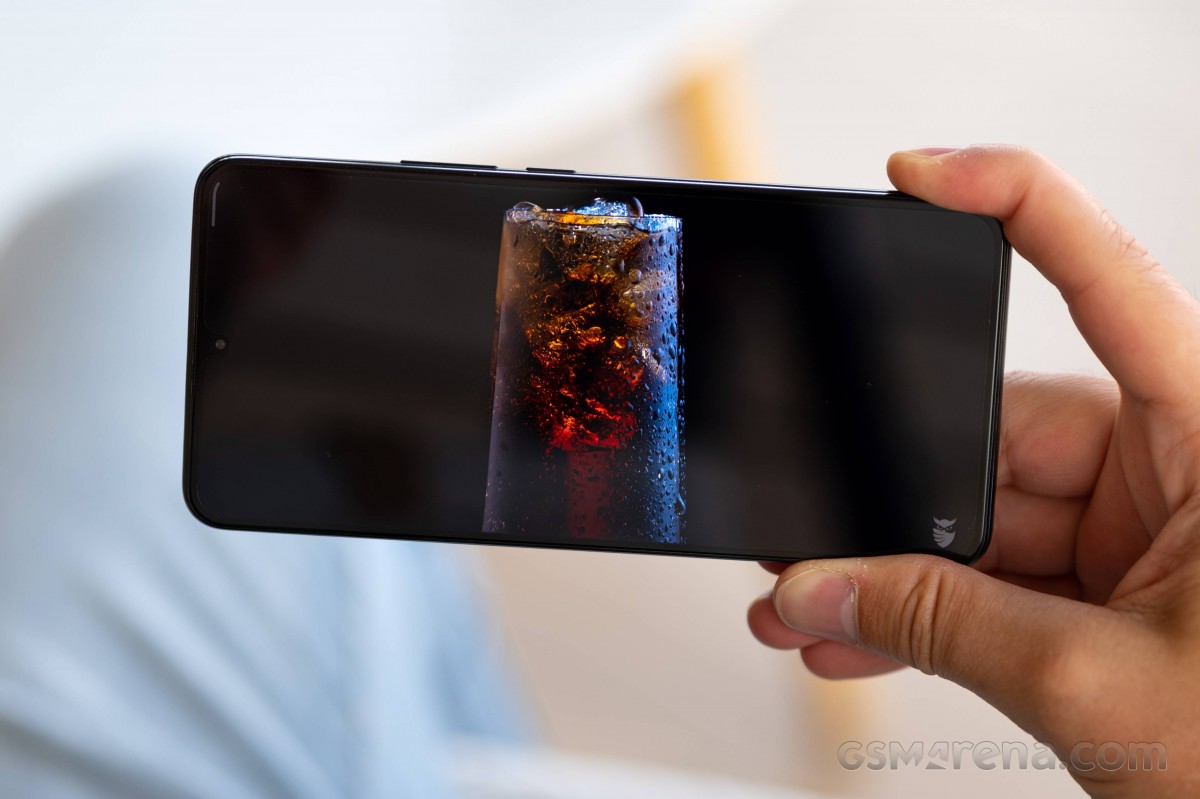 Xiaomi advertises 500 nits of typical brightness and 900 nits of max auto brightness in high brightness mode. We confirmed and even exceeded both of these figures in our own testing. The 12T Pro screen gets really bright and is perfectly usable outdoors.
Display test
100% brightness
Black,cd/m2
White,cd/m2
Contrast ratio
Samsung Galaxy S22 (Max Auto)
0
982
∞
Xiaomi 12T (Max Auto)
0
954
:1
Xiaomi 12T Pro (Max Auto)
0
913
∞
Xiaomi 12 (Max Auto)
0
896
∞
Google Pixel 6 Pro (Max Auto)
0
860
∞
Samsung Galaxy A53 5G (Max Auto)
0
830
∞
Xiaomi 12 Lite (Max Auto)
0
824
∞
Oppo Reno8 Pro (Max Auto)
0
818
∞
vivo V25 Pro (Max Auto)
0
805
∞
Samsung Galaxy S21 FE 5G
0
792
∞
OnePlus 10 Pro (Max Auto)
0
780
∞
Xiaomi Redmi Note 11 Pro (Max Auto)
0
746
∞
Xiaomi Redmi Note 11 (Max Auto)
0
736
∞
Nothing phone (1) (Max Auto)
0
663
∞
Xiaomi 12T
0
513
∞
Oppo Reno8 Pro
0
510
∞
Xiaomi 12T Pro
0
509
∞
Xiaomi 12 Lite
0
507
∞
vivo V25 Pro
0
500
∞
OnePlus 10 Pro
0
498
∞
Google Pixel 6 Pro
0
497
∞
Xiaomi 12
0
494
∞
Xiaomi Redmi Note 11 Pro
0
470
∞
Nothing phone (1)
0
466
∞
Xiaomi Redmi Note 11
0
465
∞
Samsung Galaxy S22
0
465
∞
Samsung Galaxy A53 5G
0
427
∞
This particular panel is great for prolonged use, thanks to its SGS Low Visual Fatigue Certification. It also has an adaptive reading mode, which detects prolonged reading sessions and reduces the amount of blue light coming from the display.
The panel is also amazing in terms of colors. To start off, it is 12-bit, which allows it to display over 68 billion colors. On top of that, it is certified for both Dolby Vision and HDR10+.
Xiaomi has quite a few color modes available in its settings menu, which can get a bit confusing. On the plus side, adjustments are available both for a custom white point and the individual RGB color channels, so you can tweak and tune the color profile if you choose to.
By default, the 12T Pro arrives with the Vivid mode enabled out of the box. It targets the DCI-P3 color space and hits the nail right on the head. The default color profile is a bit on the cold side, but you can easily tweak that with the custom white point adjustment and get basically perfect color calibration. Good enough even for color-sensitive work.
Original color mode basically does the same that vivid mode does but targets the sRGB color space and does so nearly perfectly too. Alternatively, if color accuracy is not a top priority for you, then Saturated mode can simply deliver punchy "OLED-y" colors that pop and jump out at you.
The advanced settings menu goes in-depth and includes a way to force all apps and the system UI to render in DCI-P3 or sRGB. We aren't exactly sure why anyone would want to do that, but if you are the type of person to fuss about your color profile, then there is practically every option we can think of available here.
The Xiaomi 12T Pro delivers big time in the HDR playback department. We already mentioned that its display is certified for both Dolby Vision and HDR10+. In terms of software and HDR decoding support, the phone has all of the bases covered and supports HLG, HDR10, HDR10+ and Dolby Vision.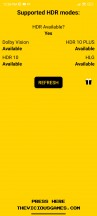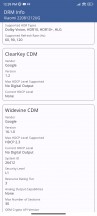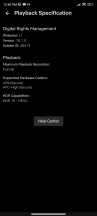 HDR support • Widevine • Netflix playback capabilities
There is also the highest possible Widevine L1 DRM on board, allowing streaming services like Netflix to offer FullHD resolution to saturate the resolution of the 12T Pro's panel.
The 12T Pro has a 120Hz refresh rate display and a very smart and well-optimized system to manage its refresh rate dynamically. When we say dynamically, we still mean in fairly coarse steps. Being a "budget flagship" or "flagship killer," the 12T Pro lacks the advanced LTPO tech of some higher-end Xiaomi phones. Instead, the 12T Pro can run its display at 120Hz, 90Hz and 60Hz.
In terms of settings, you can set the 12T Pro to refresh at a fixed 120Hz, fixed 60Hz or leave its default automatic switching behavior. The latter is excellent in practice. For the phone UI and most apps, the system uses 120Hz while the user is interacting with the display or there is motion on screen, and then once it sees a static image for a couple of seconds, it drops the refresh rate down to 60Hz to save power.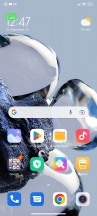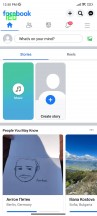 Automatic refresh rate in the UI and most apps
The auto refresh rate mode is also smart enough to detect when there is a video playing on screen or a video playback app like YouTube has been launched and drop its refresh rate down appropriately to 60Hz to save power.
We couldn't detect any use case where the display would go as low as 30Hz, but that might be due to the limitations of our way of observing the current refresh rate.
As for games, we tried a few titles we know can render at above 60fps, and all of these managed to trigger and run at 120Hz automatically for smoother gameplay.
Overall, the system works nearly flawlessly, and we see no real reason not to just leave the 12T Pro in auto-refresh rate mode all of the time.
Battery life
The Xiaomi 12T Pro has a 5,000 mAh battery on board just like Xiaomi 11T Pro before it. Both phones manage pretty similar battery endurance numbers in our combined testing results. However, when it comes to the calling and video playback test runtimes, the new 12T Pro has gotten a notable boost.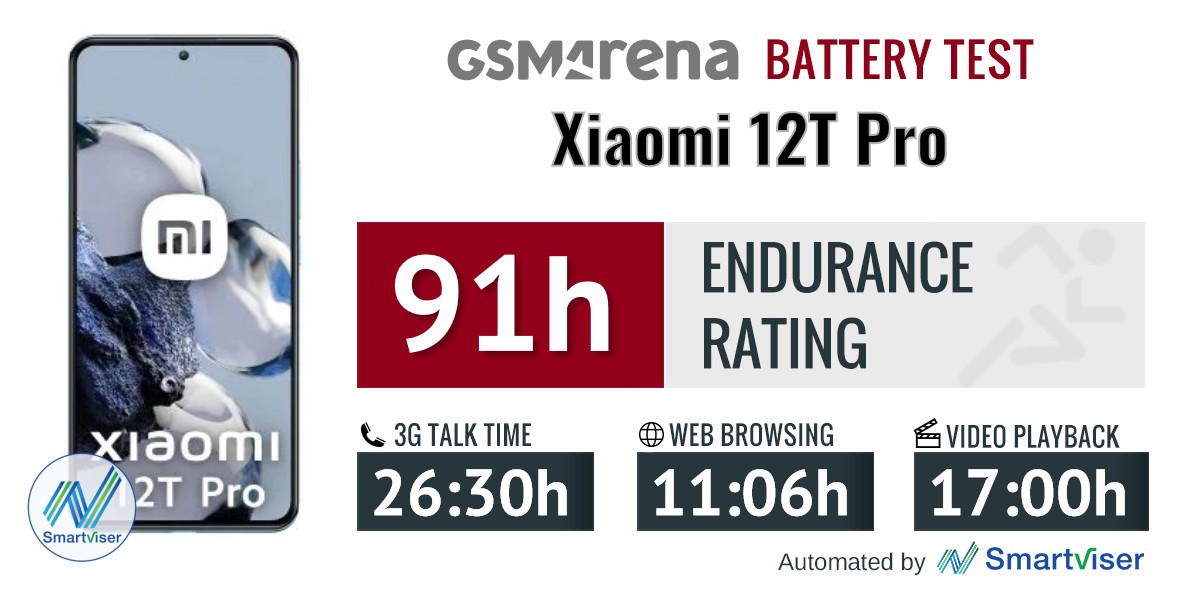 Ninety-one hours is a solid battery endurance rating overall. Still, it could be a bit better on a 5,000 mAh battery.
Our battery tests were automated thanks to SmartViser, using its viSerDevice app. The endurance rating denotes how long the battery charge will last you if you use the device for an hour of telephony, web browsing, and video playback daily. More details can be found here.
Video test carried out in 60Hz refresh rate mode. Web browsing test done at the display's highest refresh rate whenever possible. Refer to the respective reviews for specifics. To adjust the endurance rating formula to match your own usage patterns check out our all-time battery test results chart where you can also find all phones we've tested.
Charging speed
The Xiaomi 12T Pro can charge at up to 120W using its proprietary Xiaomi HyperCharge tech. As we already mentioned, you get both the wall adapter and cable required to do HyperCharge in the retail box and should hold on and keep track of both since both are proprietary.
30min charging test (from 0%)
Higher is better
Xiaomi 12T Pro
100%
Xiaomi 12 Pro (120W)
100%
Xiaomi 11T Pro
100%
OnePlus Nord 2T
99%
OnePlus 10 Pro
98%
Poco F4
92%
Xiaomi 12
87%
Xiaomi 12 Lite
84%
Xiaomi Redmi Note 11 Pro
78%
Poco X4 Pro 5G
75%
Xiaomi 12S Ultra
73%
Samsung Galaxy S22
63%
vivo V25 Pro
57%
Samsung Galaxy S21 FE 5G
51%
Xiaomi Redmi Note 11
51%
Xiaomi Redmi Note 10 Pro
50%
Google Pixel 6 Pro
48%
Google Pixel 6 (65W)
48%
Nothing phone (1)
48%
Samsung Galaxy A53 5G
45%
Time to full charge (from 0%)
Lower is better
Xiaomi 12 Pro (120W)
0:21h
Xiaomi 11T Pro
0:21h
Xiaomi 12T Pro (Boost)
0:23h
Xiaomi 12T Pro
0:29h
OnePlus 10 Pro
0:32h
OnePlus Nord 2T
0:32h
Poco F4
0:38h
Xiaomi 12
0:46h
Xiaomi Redmi Note 11 Pro
0:48h
Poco X4 Pro 5G
0:49h
Xiaomi 12 Lite
0:50h
Xiaomi 12S Ultra
0:50h
Samsung Galaxy S22
1:03h
vivo V25 Pro
1:07h
Samsung Galaxy S21 FE 5G
1:15h
Xiaomi Redmi Note 11
1:18h
Xiaomi Redmi Note 10 Pro
1:21h
Samsung Galaxy A53 5G
1:24h
Nothing phone (1)
1:31h
Google Pixel 6 (65W)
1:50h
Google Pixel 6 Pro
1:52h
The Xiaomi 12T is a very fast-charging device. In the default charging mode, we got it from 0% battery all the way up to 100% in just under thirty minutes. The phone didn't heat up to uncomfortable levels in the process, either. Setting the 12T Pro to its maximum Boost charging mode resulted in a full charge time of just 23 minutes.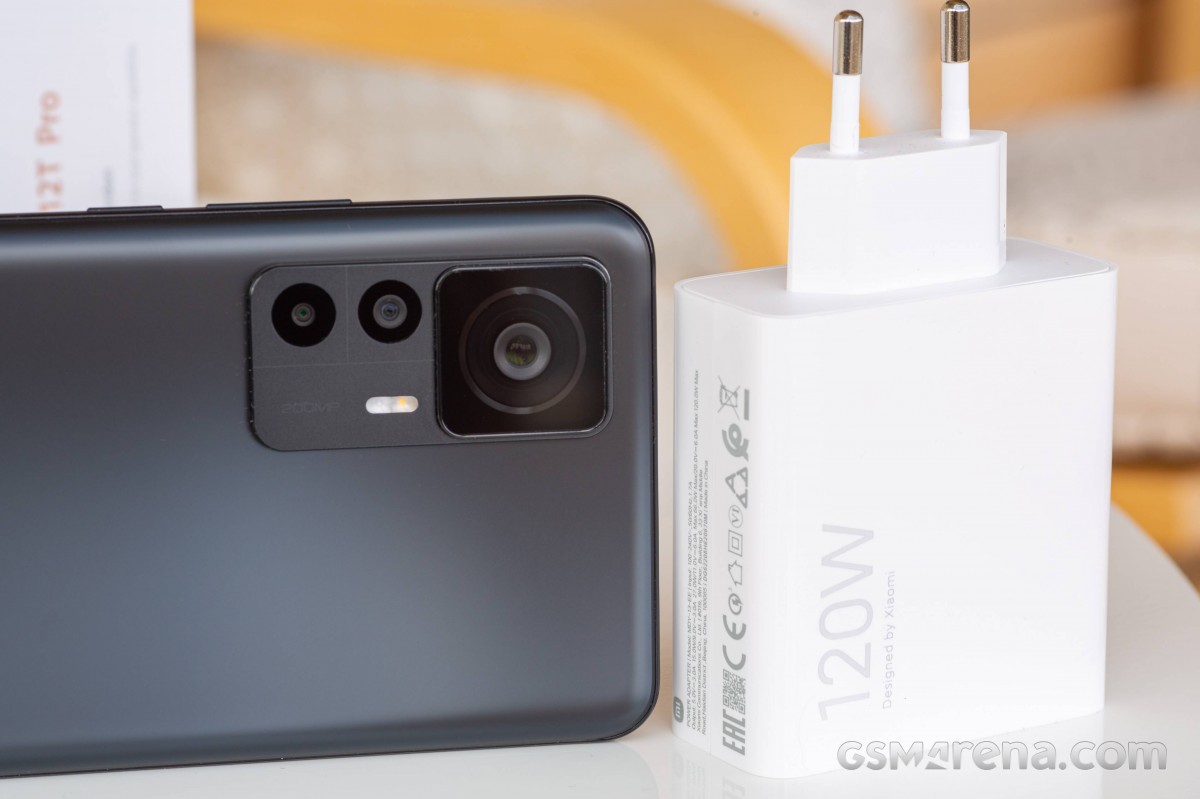 It is worth mentioning, however, that despite having the same battery capacity, its predecessor - the Xiaomi 11T Pro - managed to charge a bit quicker than the 12T Pro.
Speakers
The Xiaomi 12T Pro has two dedicated speakers at its disposal - one firing up and the other firing down. On top of that, the earpiece also outputs sound and contributes to the stereo setup. The earpiece isn't assisting just one channel from the stereo setup, but both. That's an interesting decision, but one that works surprisingly well in practice.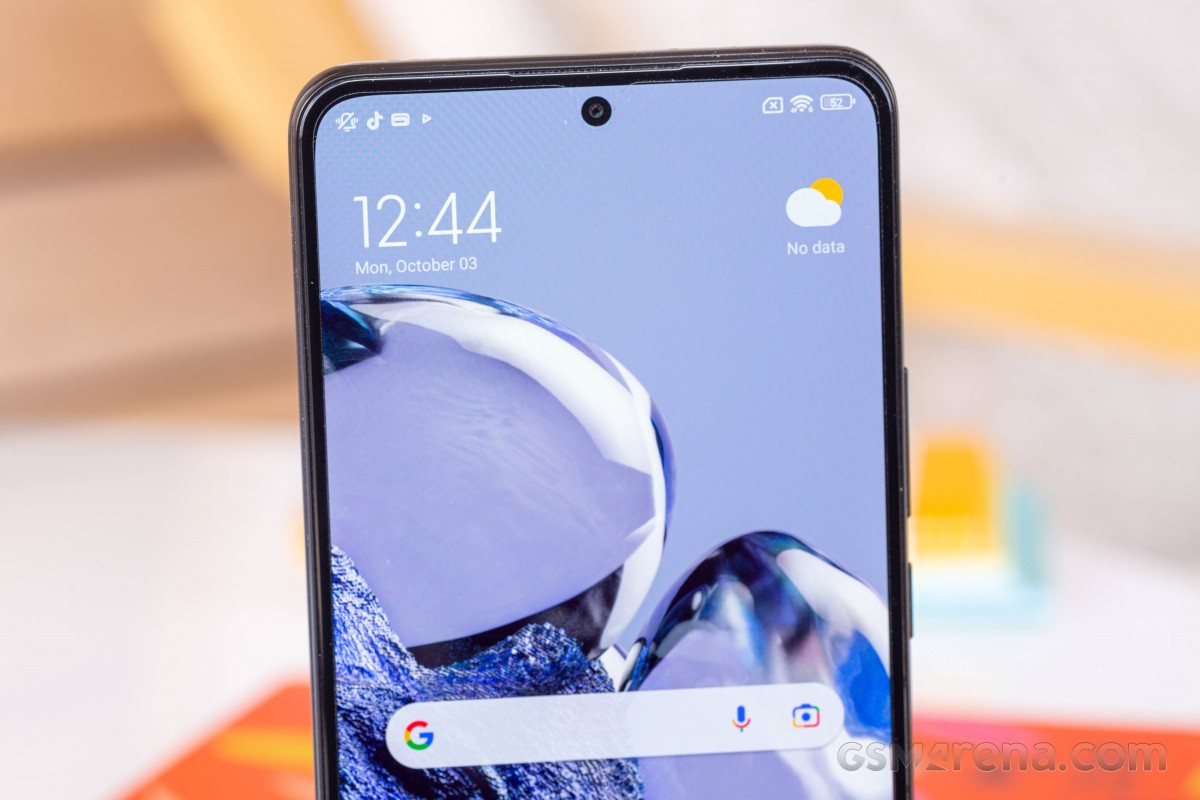 Xiaomi worked together with Dolby on the audio of the 12T Pro. There are settings for Dolby Atmos available as well as a full-featured equalizer. There is also a Harman Kardon partnership in place for the speakers on the 12T Pro.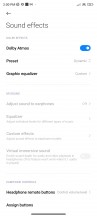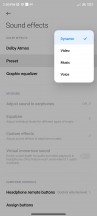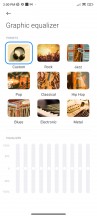 Dolby Atmos settings and equalizer
The 12T Pro gets quite loud. Its frequency response is nice and tight, with good mids for clear vocals. By the way, we tested audio quality both with and without Dolby Atmos enabled and having it on produced better results.
Overall audio quality is great. The only complaint we have is that both speakers are pretty easy to cover while holding the phone in landscape.
Use the Playback controls to listen to the phone sample recordings (best use headphones). We measure the average loudness of the speakers in LUFS. A lower absolute value means a louder sound. A look at the frequency response chart will tell you how far off the ideal "0db" flat line is the reproduction of the bass, treble, and mid frequencies. You can add more phones to compare how they differ. The scores and ratings are not comparable with our older loudspeaker test. Learn more about how we test here.