Android 12 with MIUI 13
The Xiaomi 12T boots Android 12 with the latest MIUI 13. As usual in the MIUI camp, the custom overlay's version matters more than the underlying OS, but there are still a few new things. Having said that, native Android 12 features like the redesigned widgets interface and privacy dashboard remain missing.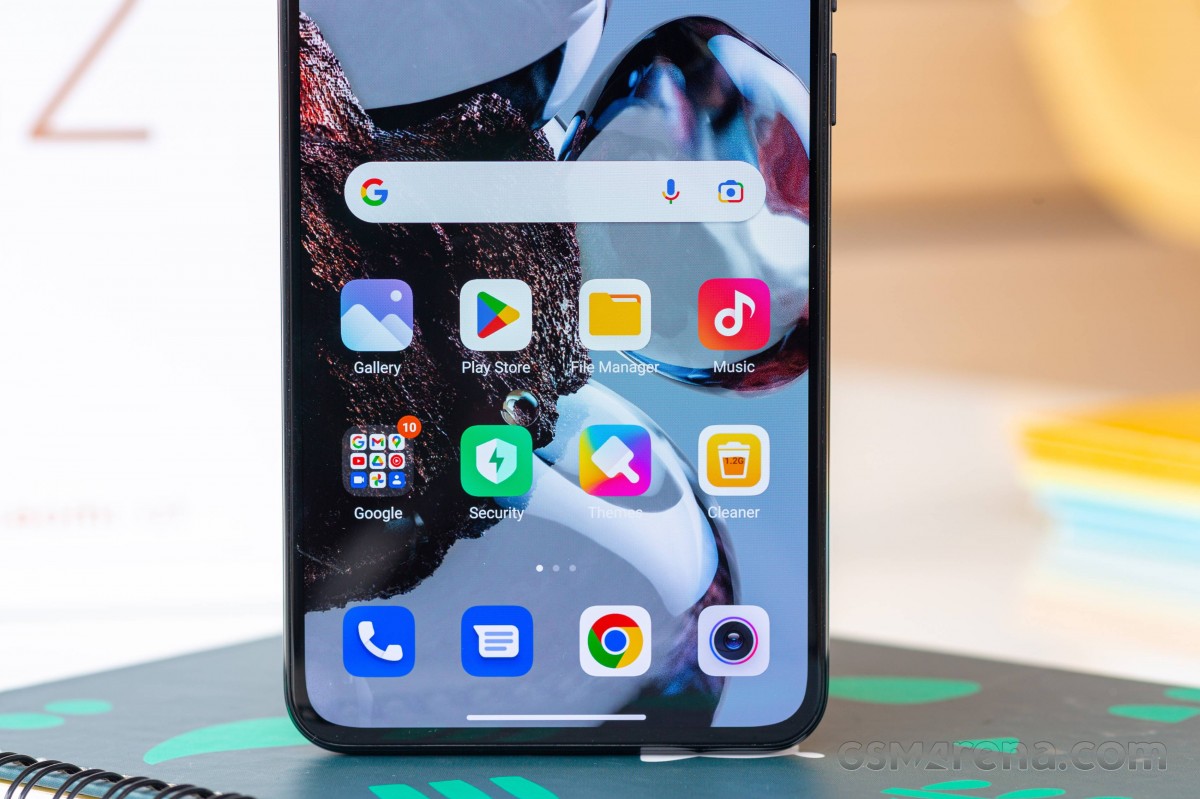 There's Always-on display functionality, and it's the full-fledged version, so you can have it show for 10s after a tap, truly always, or only within a scheduled time period. Some cheaper MIUI-powered phones only allow the first option. Naturally, there are a lot of AOD themes you can choose from, and some of those can also be customized.
The Xiaomi 12T also supports the Notification effect. It lights up the edges of the display when new notifications come in, but there's little in the way of customization other than a couple of different colors and a 'Starlight' option. This effect can work with or without the AOD.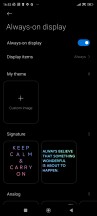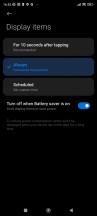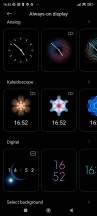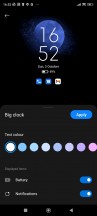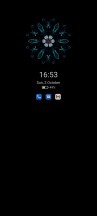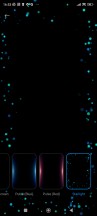 Always-on display • Always-on display • Clock style• Clock style • Notification effect
You unlock the screen via the under-display fingerprint scanner. The reader is easy to set up, satisfyingly fast, and the accuracy is great. You can change the fingerprint scanning animation, too.
A 2D Face Unlock is available, too, but it is far less secure than the fingerprint option.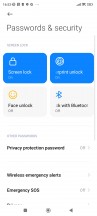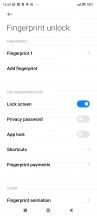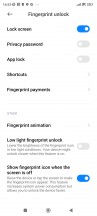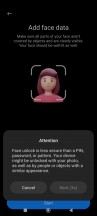 Passwords and security • Fingerprint settings • Fingerprint settings • Face unlock
The homescreens are nothing unusual - they are populated with shortcuts, folders, and widgets. The leftmost pane, if enabled, is Google's Discover. There is an optional app drawer, which automatically organizes your apps into categories, which you can edit or disable altogether.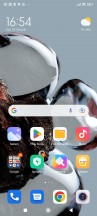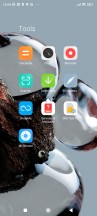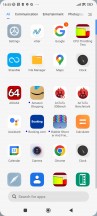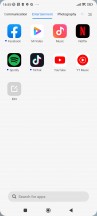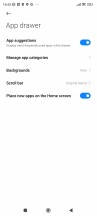 Homescreen • Folder view • App drawer
Just like in MIUI 12, MIUI 13 offers an independent Notification shade and Control Center. You summon them like on the iPhones - pull down from the left part of the screen for the Notification Center, pull down from the right for the Control Center. You can side-swipe to switch between them, too.
If you are not fond of this iPhone-ish split - you can disable the Control Center, and the shade will revert to its normal looks and operation.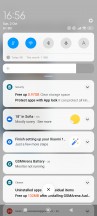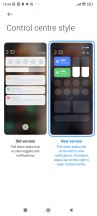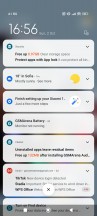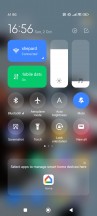 Classic notification shade • Control center split • Notification center • Control center
The task switcher is familiar, too, if you've ever used a Xiaomi. It shows all of your recent apps in two columns. Tap-and-hold on any card for the split-screen shortcut, or just swipe it left or right to close it. Floating Window is supported, too, from either the Task Switcher or the Sidebar interface.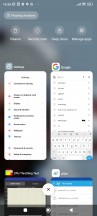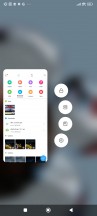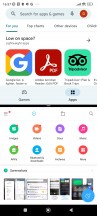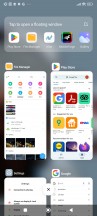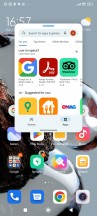 MIUI task switcher • Multitasking options • Split Screen • Floating window • Floating window
Themes have always been a huge part of MIUI, and they are available on MIUI 13, too. You can download new ones from the Themes store, and they can change wallpapers, ringtones, system icons, and even the always-on display style. Super Wallpapers are available too.
MIUI comes with its proprietary multimedia apps - there's Gallery, Music and Mi Video (both with local and streaming options). A MIUI File manager is also on board. And, of course, a Mi Remote app that uses the integrated IR blaster.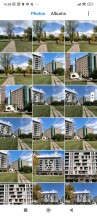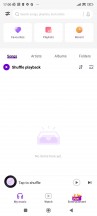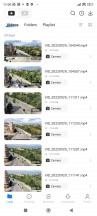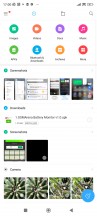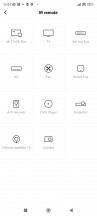 Gallery • Music • Video • File Manager • Mi Remote
MIUI also offers a Security app. It can scan your phone for malware, manage your blacklist, manage or restrict your data usage, configure battery behavior, and free up some RAM. It can also manage the permissions of your installed apps, define the battery behavior of selected apps, and apply restrictions only to certain apps.
And speaking of memory, MIUI 13 offers Memory Extension option that's active by default (you can disable it if you like). On our review unit, we had 3GB of internal storage reserved to serve as RAM extension. Less important memory blocks should come here.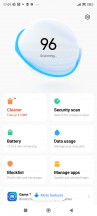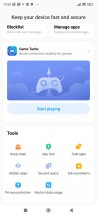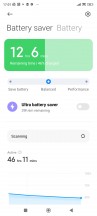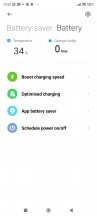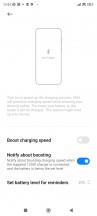 Security • Cleaner • Battery settings • Battery settings • Memory extension
The Sidebar is quite familiar - a small visible mark on the edge of the screen that expands into a menu anytime you swipe on it. You launch apps in pop-up windows from here. Of course, you can customize the actions for this menu.
If you are within a multimedia app (like YouTube, Mi Video, Gallery, etc.), you will get the Video toolbox next to the shortcuts - it contains shortcuts for Screenshot, Record screen, Cast, and Play Video with the screen off, which works on YouTube, no Premium subscription needed. The only caveat is that you need to whitelist the apps in advance where you want the feature enabled.
Also, widely available on other phones with MIUI, Game Turbo is both the hub you can use to launch your games as well as an in-game utility for improving your gaming experience. It includes classic functionality like screen recording and limiting incoming notifications.
Some MIUI ROMs include ads in the default apps; it is a well-known thing. The Xiaomi 12T does not come with such baked-in ad "recommendations".
Performance and benchmarks
This year Mediatek has allowed manufacturers the freedom to customize certain aspects of its high-end chips, such as "camera processing engine, display processors and audio hardware, hybrid multiprocessing (CPU, GPU, visual processors), artificial intelligence processing, and connectivity (Bluetooth features and profiles)."
The Xiaomi 12T is powered by one such customized chipset, and it's called the MediaTek Dimensity 8100-Ultra - a version of the base Dimensity 8100 chipset similar to how Oppo and OnePlus have their own customized Dimensity 8100-Max.
Xiaomi has tuned the capabilities of the onboard ISP and APU and has improved the CPU and GPU power efficiency. Some of the new improvements include a low-light video capturing boost, better noise reduction for photos, and greater frame rate stability when gaming.
In almost every major hardware aspect, the Dimensity 8100-Ultra is identical to its Dimensity 8100 sibling. That includes a 4x Cortex-A78@2.85 GHz and 4x Cortex-A55@2.0GHz CPU setup, a Mali-G610 MC6 GPU, a MediaTek Imagiq 780 ISP and a MediaTek APU 580 AI processing unit, plus an LPDDR5 memory controller all packaged on a 5nm TSMC node. That's just a hair more powerful than the Dimensity 8000 and generally positioned to be competitive with Qualcomm's Snapdragon 888 and 888+.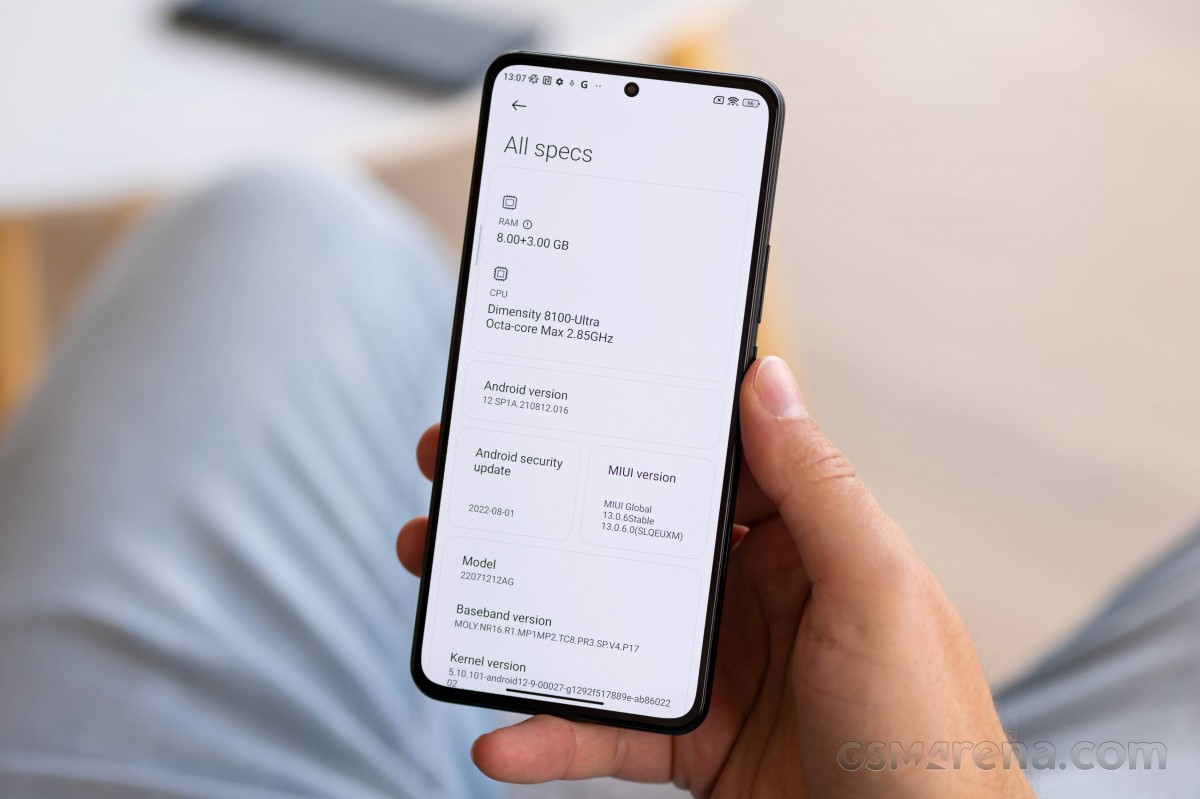 And now, let's see some benchmarks.
The single-core performance of the Dimensity 8100-Ultra chipset is great though not class-leading, as there is no prime core like within the flagship chipsets.
GeekBench 5 (single-core)
Higher is better
Poco F4 GT
1244
Xiaomi 12T Pro
1238
Asus Zenfone 8
1118
Xiaomi Mi 11
1085
Realme GT Neo 3T
1023
Poco F4
975
Realme GT Neo3
968
Xiaomi 12X
943
Xiaomi 12T
925
Poco X4 GT
917
Xiaomi 12 Lite
785
Xiaomi 11T
742
Xiaomi Redmi Note 11 Pro+ 5G
736
But the multi-core performance is superb, close to what the best chipset on the market can offer.
GeekBench 5 (multi-core)
Higher is better
Xiaomi 12T Pro
4081
Realme GT Neo3
4079
Xiaomi 12T
3756
Poco X4 GT
3719
Poco F4 GT
3637
Asus Zenfone 8
3604
Xiaomi Mi 11
3489
Poco F4
3190
Realme GT Neo 3T
3180
Xiaomi 12X
3168
Xiaomi 12 Lite
2943
Xiaomi 11T
2834
Xiaomi Redmi Note 11 Pro+ 5G
2225
The compound AnTuTu 9 test puts the Xiaomi 12T a little above the Snapdragon 870 bunch and just below the leading Snapdragon 8 Gen 1 devices. It is also on par with the Snapdragon 888-powered Zenfone 8.
AnTuTu 9
Higher is better
Xiaomi 12T Pro
1032185
Poco F4 GT
952124
Realme GT Neo3
819348
Asus Zenfone 8
799738
Xiaomi 12T
780204
Poco X4 GT
747871
Realme GT Neo 3T
726007
Poco F4
698586
Xiaomi 12X
690298
Xiaomi 11T
590837
Xiaomi 12 Lite
528905
Xiaomi Redmi Note 11 Pro+ 5G
437872
Unfortunately, our device had all GPU tests blacklisted, so we cannot provide you with actual GPU scores. We can show you the performance's ballpark as we've already tested other devices with a similar MT 8100 chipset like the Realme GT Neo3. As per Realme's scores, the MT D8100 GPU performance is close to that of the Snapdragon 888 chip.
GFX Car Chase ES 3.1 (offscreen 1080p)
Higher is better
Xiaomi 12T Pro
100
Asus Zenfone 8
69
Xiaomi Mi 11
67
Realme GT Neo3
60
Realme GT Neo 3T
59
Poco F4
59
Xiaomi 12X
55
Poco X4 GT
52
Xiaomi 11T
47
Xiaomi 12 Lite
33
Xiaomi Redmi Note 11 Pro+ 5G
25
GFX Manhattan ES 3.1 (offscreen 1080p)
Higher is better
Xiaomi 12T Pro
179
Asus Zenfone 8
117
Realme GT Neo3
111
Xiaomi Mi 11
111
Poco X4 GT
103
Realme GT Neo 3T
98
Poco F4
96
Xiaomi 12X
89
Xiaomi 11T
77
Xiaomi 12 Lite
54
Xiaomi Redmi Note 11 Pro+ 5G
43
So, the MediaTek Dimensity 8100 chipset seems like a great fit for the Xiaomi 12T. While it's not the most powerful chipset on the market, it is not that far and is among the best performing.
We also tested its stability, and it turned out magnificent. It retained 92% of its CPU speed when utilizing 100% of its CPU resources for an hour. The device was warm, almost hot after that, but we were able to hold it without fearing burns.
So, in addition to the excellent performance, the Xiaomi 12T seems to be offering superb stability. It did get warm, but it didn't overheat, and its surface temperature was tolerable even at peak performance.