Display
The Xiaomi 12T packs a 6.67-inch 120Hz CrystalRes AMOLED display, as Xiaomi calls it in its press materials. It's an updated panel since the Xiaomi 11T with a higher resolution of 2,712 x 1,220 pixels or 446ppi sharpness. There is support for a dynamic 120Hz refresh rate and up to 480Hz touch response.
The panel has a small perforation for the selfie camera and is protected by a flat sheet of Gorilla Glass 5.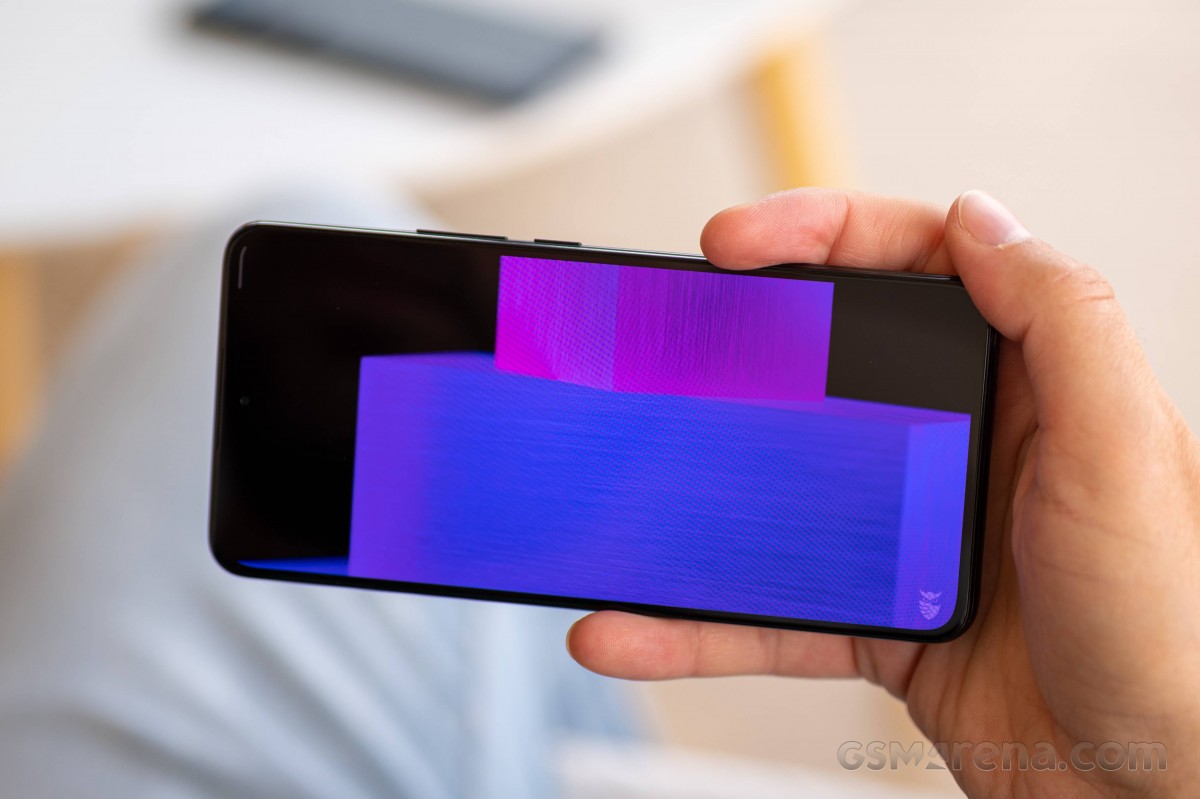 Some of the most notable screen features are the 12-bit color depth for over 68 billion colors, HDR10+ support, and True Display features that corrects the color temperature according to the ambient light (True Tone on Apple's iPhones).
Xiaomi advertises the Xiaomi 12T screen as capable of 500nits of typical and 900nits of high maximum brightness. And that's the first thing we put to the test.
And just like with any other Xiaomi, the 12T display properties turned out to be as promised. We measured 513 nits of maximum brightness when using the slider and 954nits of high maximum brightness with the sunlight boost.
The minimum brightness when showing white on the screen was mere 1.9nits - quite good.
Display test
100% brightness
Black,cd/m2
White,cd/m2
Contrast ratio
Xiaomi 12T
0
513
∞
Xiaomi 12T (Max Auto)
0
954
∞
Xiaomi Mi 11T
0
498
∞
Xiaomi Mi 11T (Max Auto)
0
798
∞
Xiaomi Mi 11T Pro
0
516
∞
Xiaomi Mi 11T Pro (Max Auto)
0
837
∞
Xiaomi 12T Pro
0
509
∞
Xiaomi 12T Pro (Max Auto)
0
913
∞
Xiaomi 12X
0
504
∞
Xiaomi 12X (Max Auto)
0
925
∞
Xiaomi 12
0
494
∞
Xiaomi 12 (Max Auto)
0
896
∞
Samsung Galaxy S22
0
465
∞
Samsung Galaxy S22 (Extra brightness)
0
757
∞
Samsung Galaxy S22 (Max Auto)
0
982
∞
Asus Zenfone 9
0
449
∞
Asus Zenfone 9 (Max Auto)
0
831
∞
Realme GT Neo3
0
466
∞
Realme GT Neo3 (Max Auto)
0
796
∞
Poco X4 GT
0.395
470
1190:1
Poco X4 GT (Max Auto)
0.496
600
1210:1
OnePlus 10T
0
517
∞
OnePlus 10T (Max Auto)
0
819
∞
Color accuracy
The Xiaomi 12T supports DCI-P3 wide color gamut. The phone's settings offer three different color modes - Vivid (default, automatic color adjustment, DCI-P3), Saturated (DCI-P3 with saturation boost), and Original color (sRGB with targeted color accuracy). You can tweak the color temperature for each mode. There are also Advanced Settings, where you can specifically choose between DCI-P3 or sRGB.
The default setting is Vivid, and it is tuned to reproduce DCI-P3 faithfully - we found the screen to be fairly accurate to DCI-P3, excluding the slightly bluish-white and gray hues. You can limit the blue tinge by opting for a Warm color temperature.
The Standard option, on the other hand, has an outstanding accuracy to sRGB with an average deltaE of 1.8.
Refresh rate
The Xiaomi 12T has two Refresh Rate options - Default and Custom. The Custom button offers two fixed steps - 60Hz and 120Hz.
Both the Default and the 120Hz modes work dynamically. The screen is always showing 120fps throughout the UI and all system apps, but it reverts to 60Hz when the picture is static for battery-saving reasons. 60Hz is also used for video playback/streaming and across apps that cannot support higher than 60Hz screens.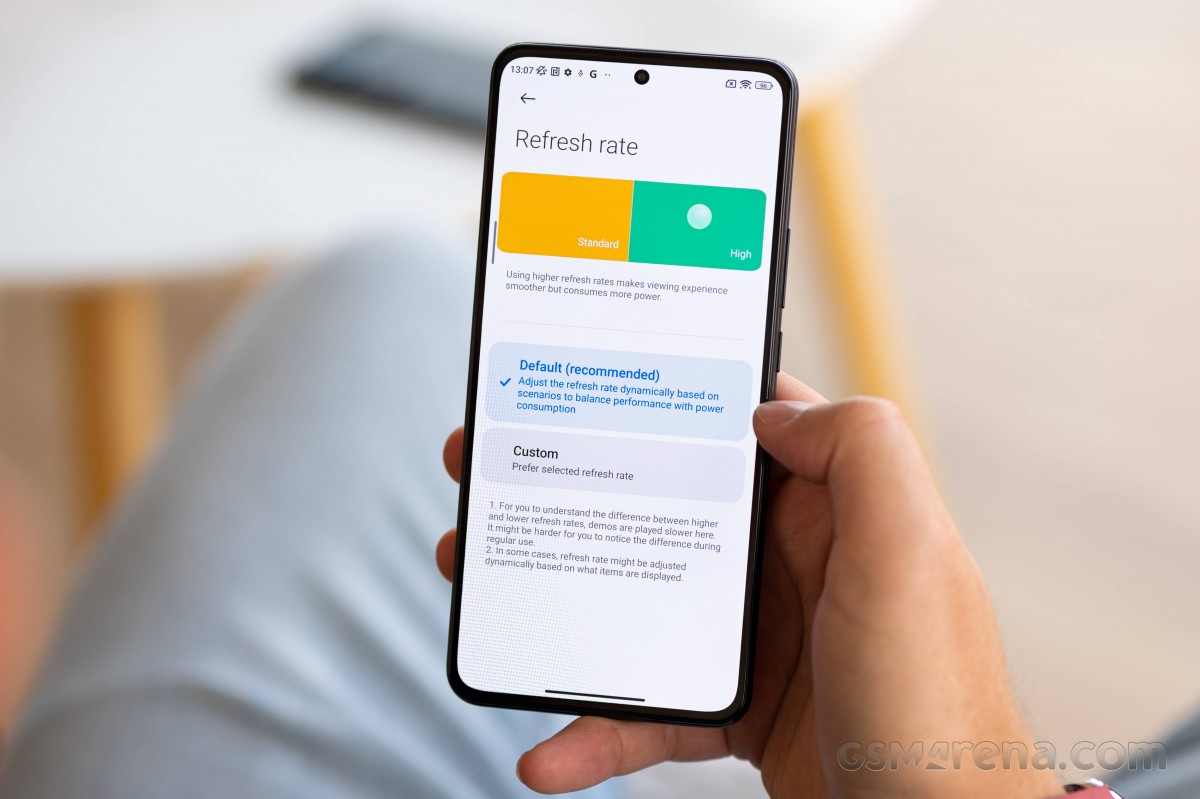 Hardware screening apps recognize the screen as capable of 30Hz, 60Hz, 90Hz, and 120Hz fixed refresh rate steps. The only occasion we found MIUI using 30Hz is for the Always-on Display. 90Hz is also possible for games that max out at 90Hz support.
High refresh rate gaming is possible on the Xiaomi 12T, and we did see quite a few games using the 120Hz refresh rate as native.
HDR and streaming
The Xiaomi 12T display supports HDR10 and HDR10+, but there is no Dolby Vision like on other models due to the lack of support in the Dimensity 8100 chipset. The phone features Widevine L1 DRM, which means it will serve the highest streaming quality in supported apps.
And the Xiaomi 12T is indeed recognized by all popular apps, and they readily serve Full HD HDR10 content.
Battery life
The Xiaomi 12T is powered by a 5,000mAh battery, the same capacity as the Xiaomi 11T. The new model offers much faster charging, though, but we will get to that in a bit.
The Xiaomi 12T did great on our battery test by scoring a 104h endurance rating, up from the 98h endurance of the Xiaomi 11T. The 12T did very well on the on-screen test, and it can last more than 33h on calls.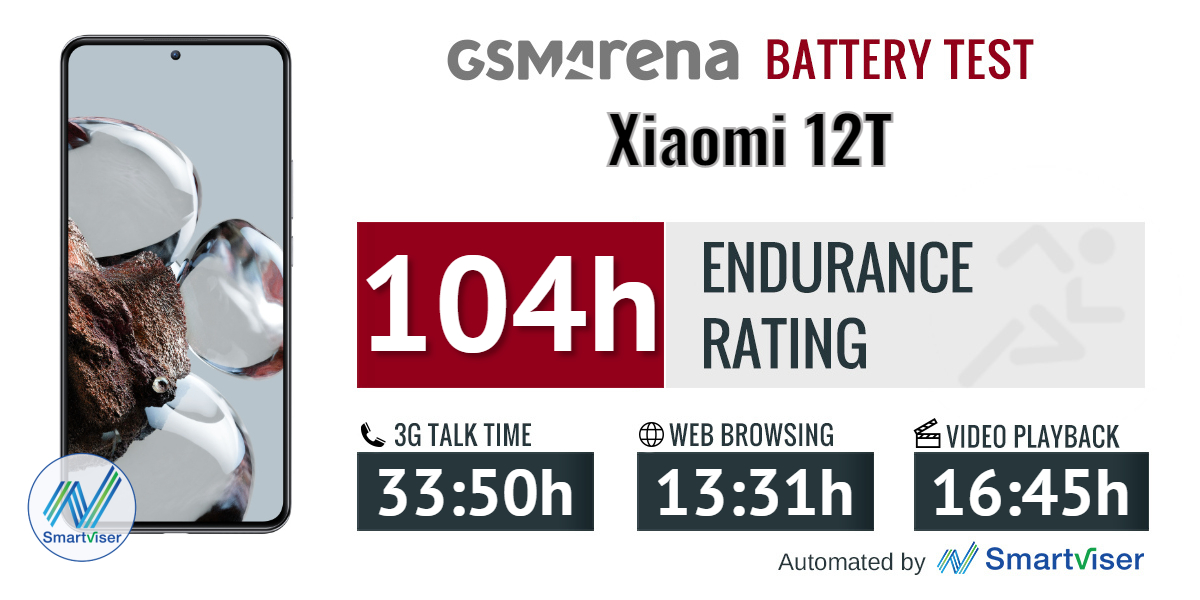 Our battery tests were automated thanks to SmartViser, using its viSerDevice app. The endurance rating denotes how long the battery charge will last you if you use the device for an hour of telephony, web browsing, and video playback daily. More details can be found here.
The new 12T model offers about 50% standby improvement, and that's why it got a higher total endurance rating despite the lower video and web times.
Video test carried out in 60Hz refresh rate mode. Web browsing test done at the display's highest refresh rate whenever possible. Refer to the respective reviews for specifics. To adjust the endurance rating formula to match your own usage patterns, check out our all-time battery test results chart where you can also find all phones we've tested.
Charging speed
One of the Xiaomi 12T key features is the 120W HyperCharge support for its 5,000mAh battery. The phone comes bundled with that charger and appropriate 6A-rated cable, so you are good to go right out of the box.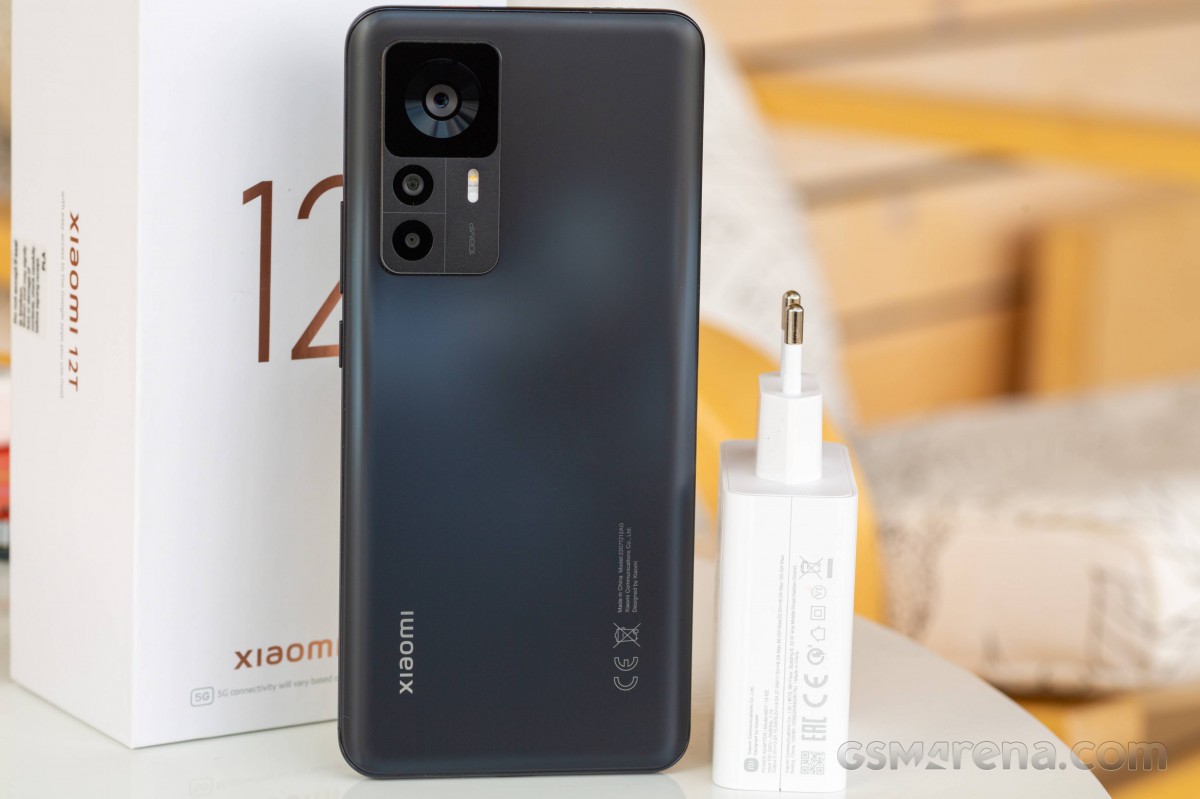 The 12T supports Boost Charge mode - this feature allows the fastest possible charging, but only when the phone is with its screen turned off as an overheating prevention measure. This option is turned off by default, but you can enable it from within the Battery settings.
When the Boost is off, the 12T goes from 0% to 30% in 5 min, we got 46% charge in 10 mins, 60% in 15 mins, 96% in 30 mins, and a full charge took 31 mins sharp.
30min charging test (from 0%)
Higher is better
Xiaomi 12T
100%
Xiaomi 12T Pro
100%
Xiaomi Redmi Note 11 Pro+ 5G
100%
Xiaomi Redmi Note 11 Pro+ 5G (Boost OFF)
100%
Realme GT Neo3 150W
100%
OnePlus 10T
100%
Xiaomi 12T (Boost OFF)
96%
Xiaomi 11T
86%
Xiaomi 12X
78%
Poco X4 GT
75%
Samsung Galaxy S22
63%
When we switched the Boost on, it got us 35% in 5 mins, 55% in 10 mins, 71% in 15 mins, 95% in 20 mins, and a full charge took 23mins.
Time to full charge (from 0%)
Lower is better
Xiaomi Redmi Note 11 Pro+ 5G
0:16h
Realme GT Neo3 150W
0:16h
OnePlus 10T
0:19h
Xiaomi Redmi Note 11 Pro+ 5G (Boost OFF)
0:22h
Xiaomi 12T
0:23h
Xiaomi 12T Pro
0:23h
Xiaomi 12T Pro (Boost OFF)
0:29h
Xiaomi 12T (Boost OFF)
0:31h
Xiaomi 11T
0:41h
Xiaomi 12X
0:48h
Poco X4 GT
0:57h
Samsung Galaxy S22
1:03h
Xiaomi has advertised a full charge in 19 mins, something we couldn't exactly replicate, but 23 mins is not that far. The charging speed is affected by various factors - for example, our unit had a SIM card connected to both Wi-Fi and cellular network, and it got a few notifications during the charging, which did light up the screen for a few seconds.
Speakers
The Xiaomi 12T features a stereo speaker setup with the two pieces placed on its top and bottom sides behind dotted grilles. The top speaker also acts as an earpiece, and that's why it has another front-facing outlet.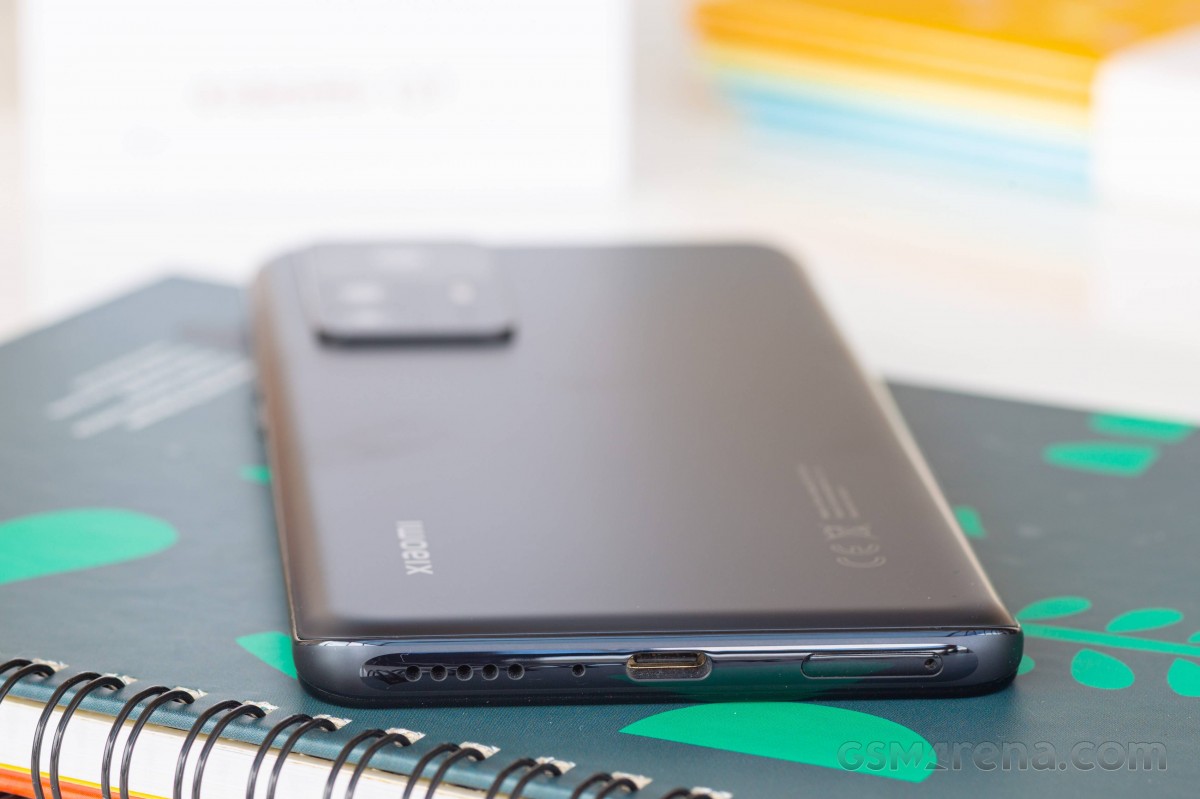 The top speaker is quieter than the bottom and with less bass, but thanks to the two outlets - the Xiaomi 12T delivers balanced audio output. The speakers support Dolby Atmos enhancement, and it's ON by default.
The Xiaomi 12T scored a Very Good mark on our loudness test. The sound is good with rich high notes, good vocals and okay bass. You can better vocals and somewhat wider output by disabling Dolby Atmos, but you will lose some of the high frequencies.
Use the Playback controls to listen to the phone sample recordings (best use headphones). We measure the average loudness of the speakers in LUFS. A lower absolute value means a louder sound. A look at the frequency response chart will tell you how far off the ideal "0db" flat line is the reproduction of the bass, treble, and mid frequencies. You can add more phones to compare how they differ. The scores and ratings are not comparable with our older loudspeaker test. Learn more about how we test here.