Wonderful display
The 12S Ultra comes with a bit of a surprise development in that it's using a different, slightly smaller display than last year's model. At 6.73 inches in diagonal, it's not small, of course, and the 0.08" difference is only in the numbers - it's not like you'd notice it. The new size, together with the relocated selfie camera, suggests it's the same panel as on the 12 Pro, in turn same as the 12S Pro - it does make sense to have the same panel across more devices in the lineup.
Resolution is once again 1440x3200px (20:9 ratio, 522ppi pixel density), and the LTPO2 AMOLED panel should allow dynamic refresh rate switching between 1 and 120Hz. As is customary for Xiaomis, the 12S Ultra's display has all sorts of HDR support, including DolbyVision, and it's a 10-bit panel, so it's capable of rendering 1 billion color gradations.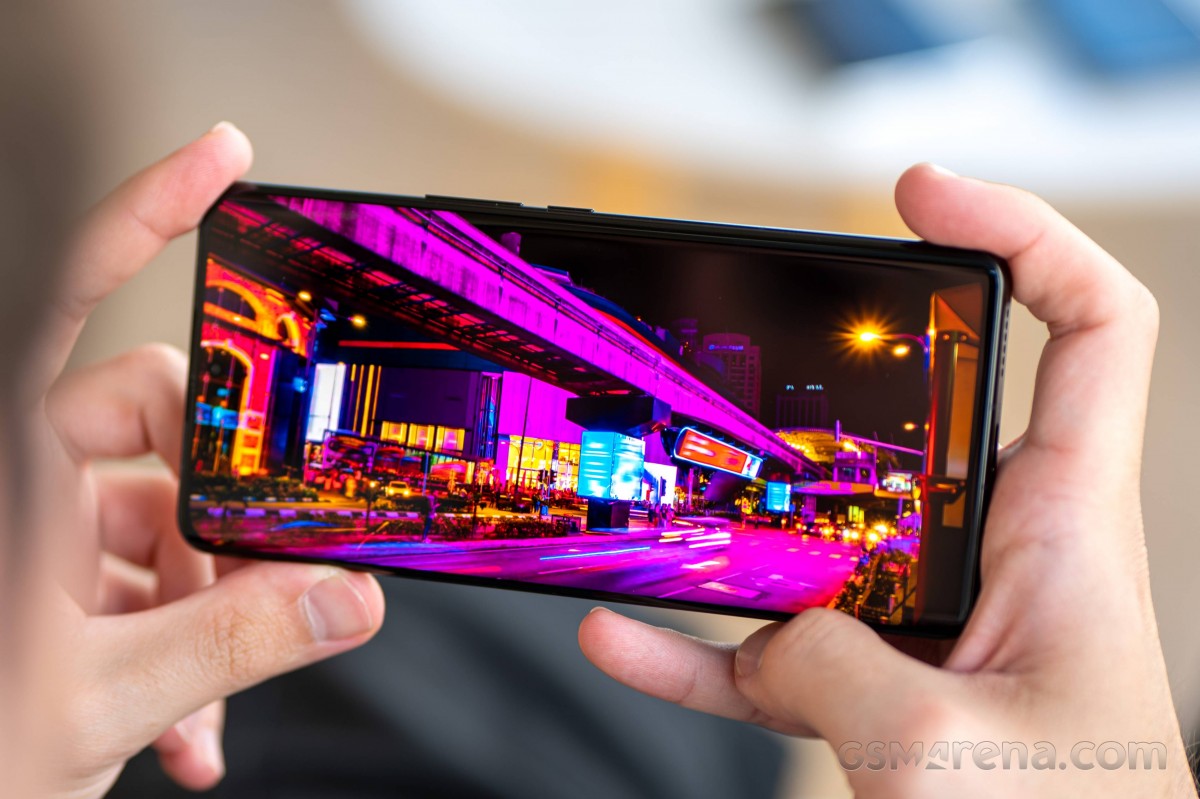 In our brightness testing, the 12S Ultra posted excellent numbers, as expected. 120nits brighter than the predecessor with the auto boost in bright ambient conditions, the 12S Ultra is virtually the same as the 12 Pro, and on par with the iPhone 13 Pro Max and vivo X80 Pro. Only Samsung's own S22 Ultra can put out more nits, some 200 of them. Meanwhile, the 500ish nits in manual operation are the norm on a modern-day flagship, with only the iPhone allowing significantly higher brightness at the top end of its slider.
Display test
100% brightness
Black,cd/m2
White,cd/m2
Contrast ratio
Xiaomi 12S Ultra
0
512
∞
Xiaomi 12S Ultra (Max Auto)
0
1065
∞
Xiaomi 12 Pro
0
506
∞
Xiaomi 12 Pro (Max Auto)
0
1050
∞
Xiaomi Mi 11 Ultra
0
514
∞
Xiaomi Mi 11 Ultra (Max Auto)
0
943
∞
Apple iPhone 13 Pro Max
0
852
∞
Apple iPhone 13 Pro Max (Max Auto)
0
1050
∞
Samsung Galaxy S22 Ultra
0
494
∞
Samsung Galaxy S22 Ultra (Extra brightness)
0
829
∞
Samsung Galaxy S22 Ultra (Max Auto)
0
1266
∞
vivo X80 Pro
0
488
∞
vivo X80 Pro (Max Auto)
0
1014
∞
Oppo Find X5 Pro
0
475
∞
Oppo Find X5 Pro (Max Auto)
0
762
∞
ZTE Axon 40 Ultra
0
539
∞
ZTE Axon 40 Ultra (Max Auto)
0
680
∞
Asus ROG Phone 6 Pro
0
501
∞
Asus ROG Phone 6 Pro (Max Auto)
0
829
∞
Sony Xperia 1 IV
0
602
∞
iQOO 9 Pro
0
438
∞
iQOO 9 Pro (Max Auto)
0
1000
∞
Huawei P50 Pro
0
609
∞
Huawei P50 Pro (Max Auto)
0
754
∞
Honor Magic4 Pro
0
550
∞
Honor Magic4 Pro (Max Auto)
0
957
∞
There are no surprises in the color mode handling, and the 12S Ultra comes with the same options we're used to seeing on high-end Xiaomi models - and it's a whole lot of options. There are three immediately available preset color modes (Vivid, Saturated, Original color), with a color wheel below for tweaking temperature, in addition to three factory presets (Default, Warm, Cool). Then there's an Advanced settings submenu where you can choose from three further presets (Original, P3, and sRGB), but there are also RGB sliders as well as sliders for hue, saturation, value, contrast, and gamma.
In the default Vivid mode, we're getting lively colors and generally accurate results for our DCI-P3 test swatches, with the usual noticeable blue shift to white and grays. The Warm temperature preset still leaves a hint of blue, though overall accuracy does improve. A custom point on the color wheel is the best bet for truly white whites.
Original color mode is more finely tuned, and we recorded an average dE2000 of 0.9 for the set of sRGB patterns in our test.
The dedicated P3 mode in Advanced settings was a bit less accurate than the Vivid mode for displaying P3 content, and the sRGB mode was way off target in our testing. The Advanced Original mode, on the other hand, was again very accurate for the sRGB test swatches.
For all its supposed HDR capabilities, the 12S Ultra doesn't quite deliver in real life, though it could very well be due to us using a Chinese unit in non-Chinese land. Netflix, in particular, is only good for SD quality and no HDR - understandable since the app reports a basic L3 Widevine certification. But DRM Info lists the highest L1 level, and sure enough, Amazon Prime Video does allow FullHD streaming, though that, too, isn't HDR. YouTube, for one, is more cooperative and does stream in HDR.
Just like the 12 Pro, the 12S Ultra lets you choose whether the phone should render in its native 1440p resolution or a lower 1080p, the presumption being that the lower-res setting would be less taxing on the battery. When you're in 1440p mode, there's also a toggle that allows the phone to automatically switch down to 1080p when it decides it's appropriate.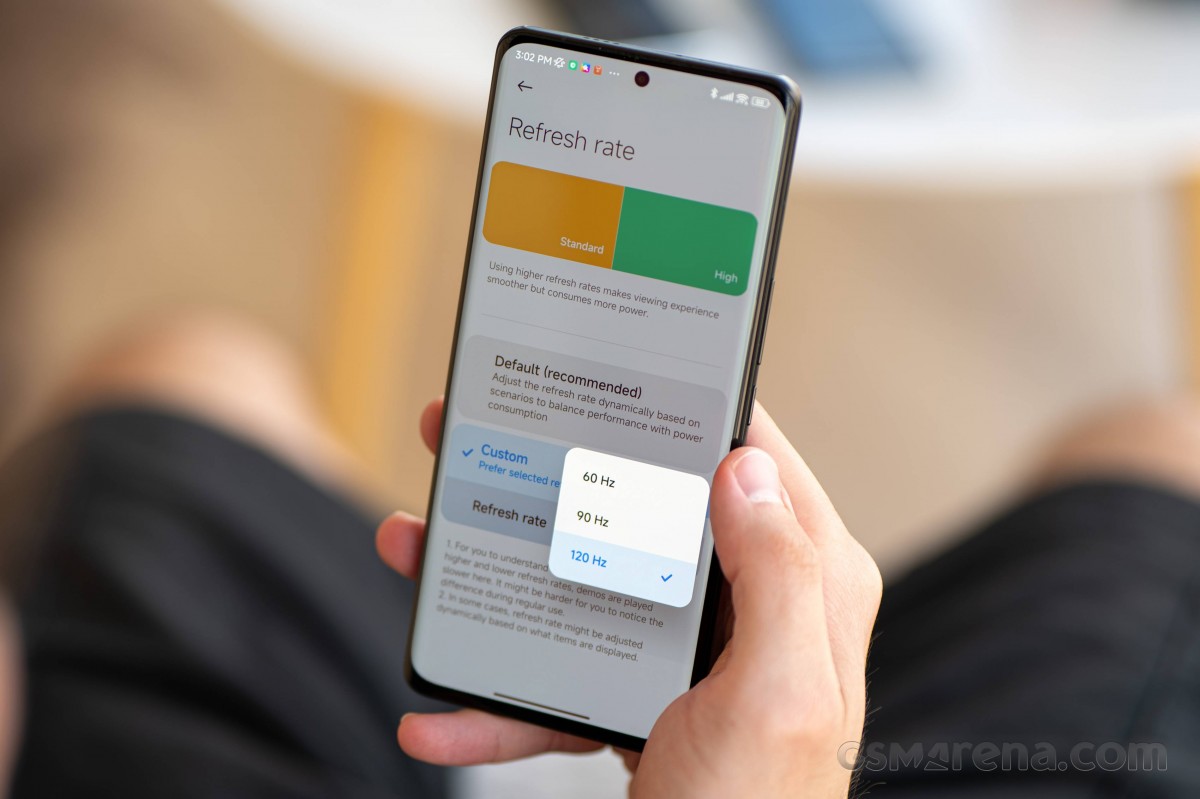 High refresh rate support on the 12S Ultra from the user perspective is handled in Xiaomi's recently adopted way where you get two modes - Default, where the phone chooses refresh rate on its own, and Custom, where you get to pick a refresh rate ceiling (60, 90, or 120Hz). The custom mode is not a hard setting - the phone will still vary the RR based on its internal logic, and there are a whole lot of factors affecting it.
In general use, the interaction with the phone's screen is among the most obvious ones, but there's also the current brightness level. If you stop touching the display, the phone will drop to 1Hz if brightness is above a certain threshold or 10Hz if it's below that, down to a point, and it will maintain the full 120Hz if it's kept at an even dimmer setting.
Of course, regardless of what bottom it hits, it will shoot to the maximum (120Hz in Auto or whatever value you set in Custom) when you do touch it. That's the behavior across most use cases - general UI, browsers, social media - when displaying static content. If there are moving bits, it won't drop below 60Hz.
Video playback has its own specifics. In the Xiaomi gallery app, we were locked at 60Hz regardless of content fps, while Google Photos maintained 120Hz. YouTube would give you 24Hz for 24fps content, and 30Hz for 30fps, but 60Hz for 48fps - when playing a video; when browsing the UI, it will observe the general activity/brightness behavior. Meanwhile, Netflix and Amazon Prime video would be stuck at 120Hz for video playback and the auto-switching for the UI.
The usual exceptions to those rules include Google Maps and the camera app, which get 60Hz only. A positive development is that games that support a high frame rate are treated to 120Hz, as they should be.
Xiaomi 12S Ultra battery life
The 12S Ultra has a slightly smaller battery than its predecessor - 4,860mAh vs. 5,000mAh, almost precisely by the same factor as the display area has shrunk, so in a way there's no downgrade? The Ultra still maintains an advantage over the Pro (4,600mAh) in capacity.
We're happy to report that we got some pretty solid numbers for endurance out of the 12S Ultra, particularly in light of the rather disappointing performance of the 12 Pro. We clocked 16:19h of looping videos offline (with the display running at 60Hz), while the web browsing test (constantly fluctuating between 120Hz and 1Hz) returned a 14:43h result. Both of these are better than the Mi 11 Ultra's, significantly so in the case of the browsing test).
Mind you, the tests were carried out with the display set to 1440p, which is not the default state. We repeated in 1080p mode, for completeness sake, and we got virtually the same result for web browsing and an hour extra in video playback. So we'd happily stick to the higher resolution.
In voice calls, we got what can be called an average result at 27:09 - an hour shorter than the Mi 11 Ultra. Standby battery draw was similarly middle of the road.
In the end, the Xiaomi 12S Ultra's Endurance rating stands at 93h.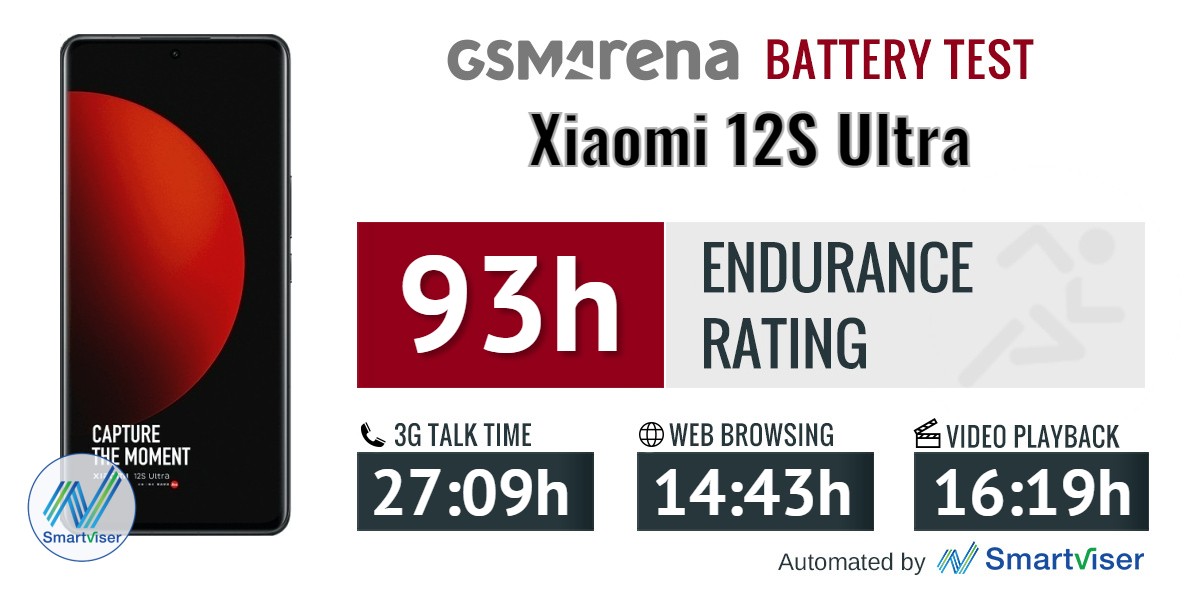 Our battery tests were automated thanks to SmartViser, using its viSerDevice app. The endurance rating denotes how long the battery charge will last you if you use the device for an hour of telephony, web browsing, and video playback daily. More details can be found here.
Video test carried out in 60Hz refresh rate mode. Web browsing test done at the display's highest refresh rate whenever possible. Refer to the respective reviews for specifics. To adjust the endurance rating formula to match your own usage - check out our all-time battery test results chart.
We'll concede that, while the battery life of the 12S Ultra is no worse than the phone it 'replaces' and a lot better than the 12 Pro from earlier this year, big-name competitors do have it beat, comfortably so, too.
Charging speed
The 12S Ultra comes bundled with a proprietary 67W charger. Using it, we clocked 0 to 100% time of 50 minutes, and we were looking at 73% in the battery indicator at the half-hour mark. Those are hardly record-breaking numbers, but not ones that warrant complaints either.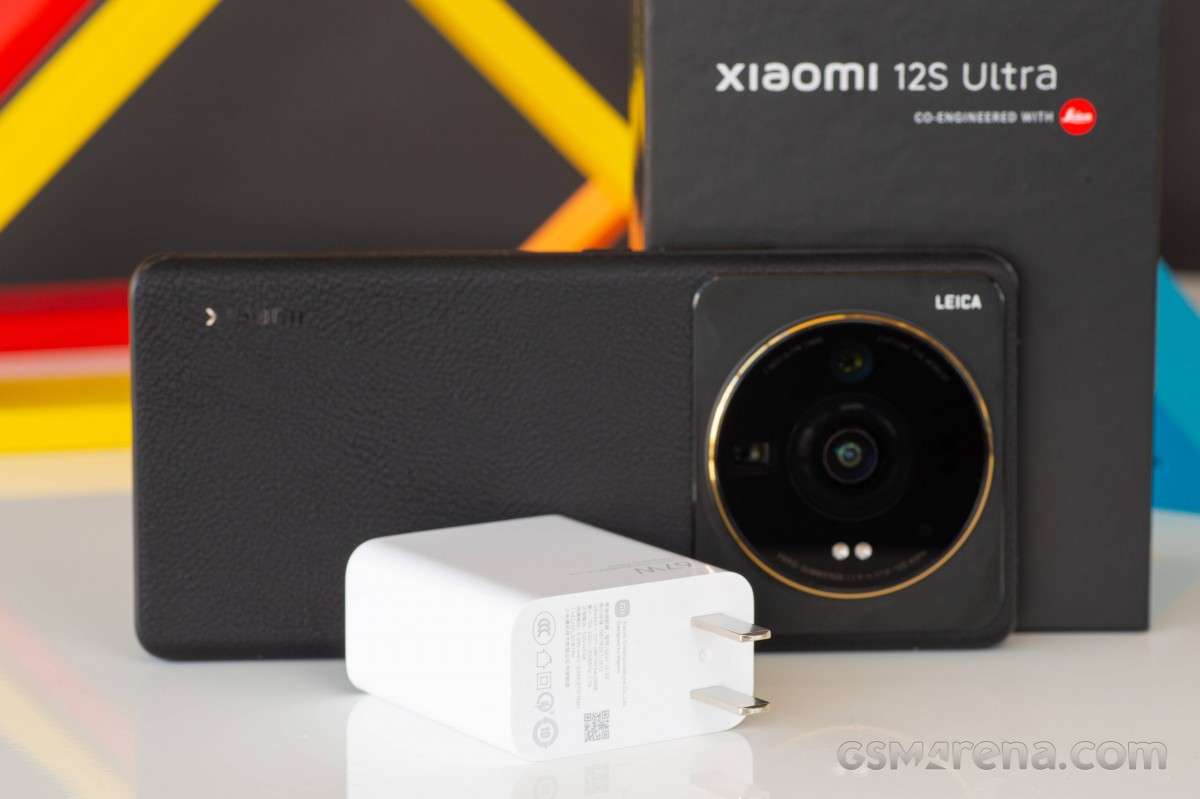 Admittedly, the 12 Pro with its 120W charging capability is a lot faster (presumably, so is the 12S Pro - its specs are the same). Other phones with proprietary charging, like the Find X5 Pro or the vivo X80 Pro are faster than the 12S Ultra, but just by a little. Conversely, Galaxies tend to be a little slower, while the iPhones - a lot slower.
30min charging test (from 0%)
Higher is better
Xiaomi 12 Pro (120W)
100%
iQOO 9 Pro
100%
Oppo Find X5 Pro
91%
Xiaomi Mi 11 Ultra
89%
vivo X80 Pro
88%
ZTE Axon 40 Ultra
80%
Asus ROG Phone 6 Pro
75%
Xiaomi 12S Ultra
73%
Samsung Galaxy S22+ (45W)
64%
Xiaomi 12 Pro (65W PD)
62%
Samsung Galaxy S22+ (25W)
62%
Samsung Galaxy S22 Ultra (25W)
61%
Samsung Galaxy S22 Ultra (45W)
60%
Apple iPhone 13 Pro Max (65W PD)
55%
Sony Xperia 1 IV
47%
Apple iPhone 13 Pro Max (20W Apple)
42%
Time to full charge (from 0%)
Lower is better
Xiaomi 12 Pro (120W)
0:21h
iQOO 9 Pro
0:21h
Xiaomi Mi 11 Ultra
0:37h
vivo X80 Pro
0:39h
Oppo Find X5 Pro
0:40h
Asus ROG Phone 6 Pro
0:42h
ZTE Axon 40 Ultra
0:47h
Xiaomi 12S Ultra
0:50h
Xiaomi 12 Pro (65W PD)
0:50h
Samsung Galaxy S22 Ultra (45W)
0:59h
Samsung Galaxy S22+ (45W)
1:01h
Samsung Galaxy S22+ (25W)
1:02h
Samsung Galaxy S22 Ultra (25W)
1:04h
Sony Xperia 1 IV
1:42h
Apple iPhone 13 Pro Max (20W Apple)
1:46h
Apple iPhone 13 Pro Max (65W PD)
1:54h
The Xiaomi 12S Ultra also supports wireless charging - both in and out. Searching for it on the WPC's website returns no results, but there is an entry for the 12 Pro, which says the phone is capable of taking up to 10W and it adheres to the Extended Power Profile. That's the usual result with standard peripherals, however, while a dedicated fast-charging Xiaomi pad promises up to 50W of power and a full charge in 52 minutes.
In our testing, the wired charging speed missed the promised mark by a few minutes, so maybe a similar expectation adjustment will apply to the wireless charging one - lab test results and real-world ones can be different, and that's to be expected, and it's okay.
Speaker test
The 12S Ultra has a rather standard speaker configuration for a Xiaomi. There's a bottom-firing unit and a top-firing one, which also outputs towards the front to serve as an earpiece. That last bit has the downside that during a voice call, the other party will be broadcast in your immediate vicinity. There's Harman/Kardon branding on the speakers, as well as Dolby Atmos support.
In our test, the 12S Ultra posted a 'Very Good' rating for loudness - on par with the previous model and the iPhone 13 Pro Max, though with slightly worse numbers than either of them. It's notably louder than the Xiaomi 12 Pro, which only managed an 'Average' rating, and the Galaxy S22 Ultra can't match it either.
In terms of sound quality, we quite like what we're hearing. The 12S Ultra has more thump in the lows than the 11 Ultra - more than pretty much any major competitor save for the iPhone 13 Pro Max, which is more or less similar. The ROG Phone 6 Pro does remain boomier, though it's fighting for a different crowd, we reckon. The Xiaomi is also delivering pleasing vocals and clean treble - overall, it's a great performance.
Use the Playback controls to listen to the phone sample recordings (best use headphones). We measure the average loudness of the speakers in LUFS. A lower absolute value means a louder sound. A look at the frequency response chart will tell you how far off the ideal "0db" flat line is the reproduction of the bass, treble, and mid frequencies. You can add more phones to compare how they differ. The scores and ratings are not comparable with our older loudspeaker test. Learn more about how we test here.