Faster, 120Hz OLED panel
This year's Xiaomi 12 Lite boasts an improved OLED panel with 12-bit (68 billion colors) color depth. The 6.55-inch, 1080 x 2400px display is also faster than before, supporting up to 120Hz adaptive refresh rate and 240Hz touch sampling rate for lower response time during gaming. That's a considerable upgrade over last year's 90Hz OLED screen.
Moreover, the display seems to be HDR10+ and Dolby Vision certified, making it a flagship-grade display. It shares the same specs as Xiaomi 12 and 12X's panels, which is quite impressive given the price point.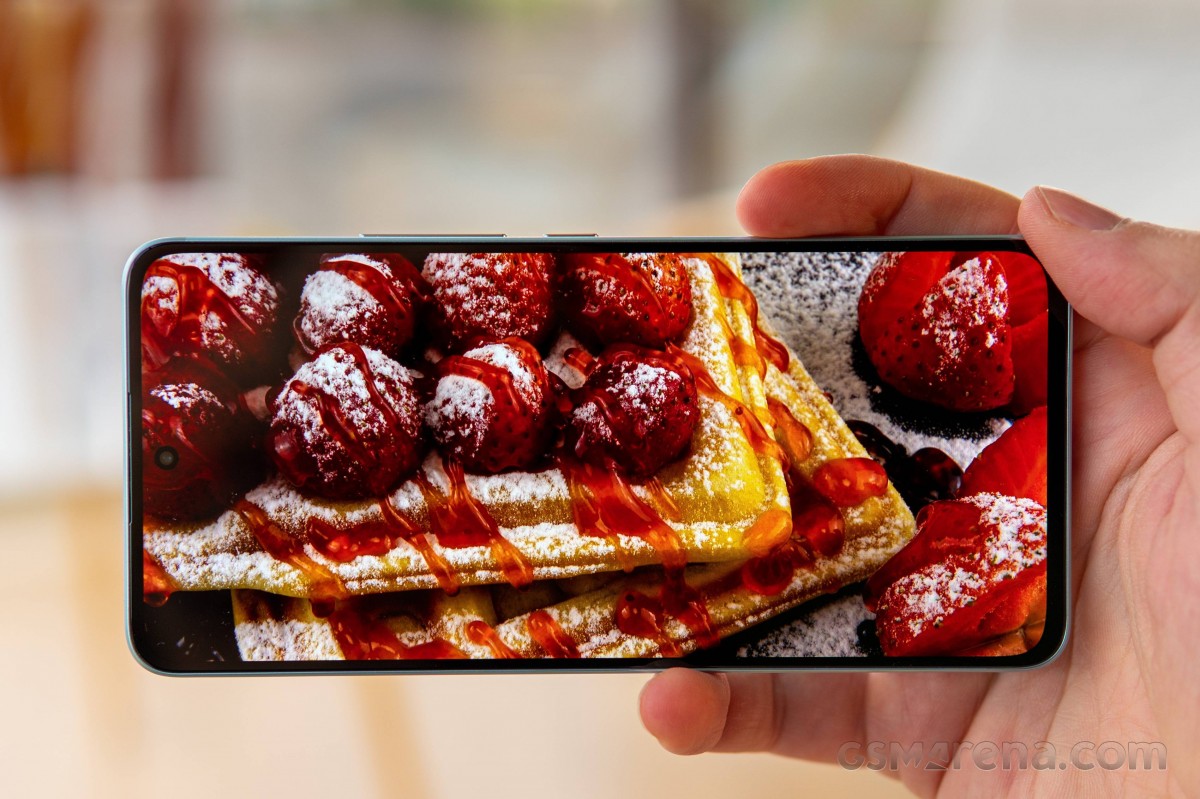 Brightness-wise, there's no upgrade, and that's not a bad thing. Last year's Xiaomi 11 Lite 5G NE was plenty bright in the first place.
In manual mode, the 12 Lite reached 507 nits, while in Auto mode, the panel peaked at 824 nits. This is enough for comfortable outdoor use on a bright sunny day. That's also flagship-level brightness right there. We measured it at 75% APL so values during HDR-enabled movies could go higher.
Display test
100% brightness
Black,cd/m2
White,cd/m2
Contrast ratio
Xiaomi 12 Lite
0
507
∞
Xiaomi 12 Lite (Max Auto)
0
824
∞
Xiaomi Mi 11 Lite 5G
0
514
∞
Xiaomi Mi 11 Lite 5G (Max Auto)
0
846
∞
Xiaomi Mi 11T Pro
0
516
∞
Xiaomi Mi 11T Pro (Max Auto)
0
837
∞
Apple iPhone SE (2022)
0.425
605
1424:1
Motorola Edge 20 Pro
0
484
∞
Motorola Edge 20 Pro (Max Auto)
0
673
∞
Realme GT Neo 3T
0
516
∞
Realme GT Neo 3T (Max Auto)
0
803
∞
Samsung Galaxy A53 5G
0
427
∞
Samsung Galaxy A53 5G (Max Auto)
0
830
∞
Color accuracy with the default Vivid mode is expectedly sub-optimal, with whites and grays a bit too blueish. The Original color mode, on the other hand, gets the average dE2000 down to just 1.5 but again, leaving the whites and grays leaning towards blue. It's hard to notice.
HRR control
The system's refresh rate control is simple, yet effective. We got the maximum 120Hz in pretty much all apps we've tested, excluding Google Maps, where we only got up to 60Hz. There could be other apps locked at 60Hz, of course, but this is the only one we've noticed to be limited. The software also dials down to 60Hz when watching videos on YouTube, Netflix and in the default Gallery app. Lower refresh rate is prioritized when not interacting with the display for more than a couple of seconds as well.
Battery life
Since the new Lite and last year's generation share the same SoC, comparable displays and practically the same battery capacity (4,300 mAh on the 12 Lite vs. 4,250 mAh on the 11 Lite 5G NE), we expected mostly the same results. And that appears true for the screen-on tests where both devices got some respectable runtimes.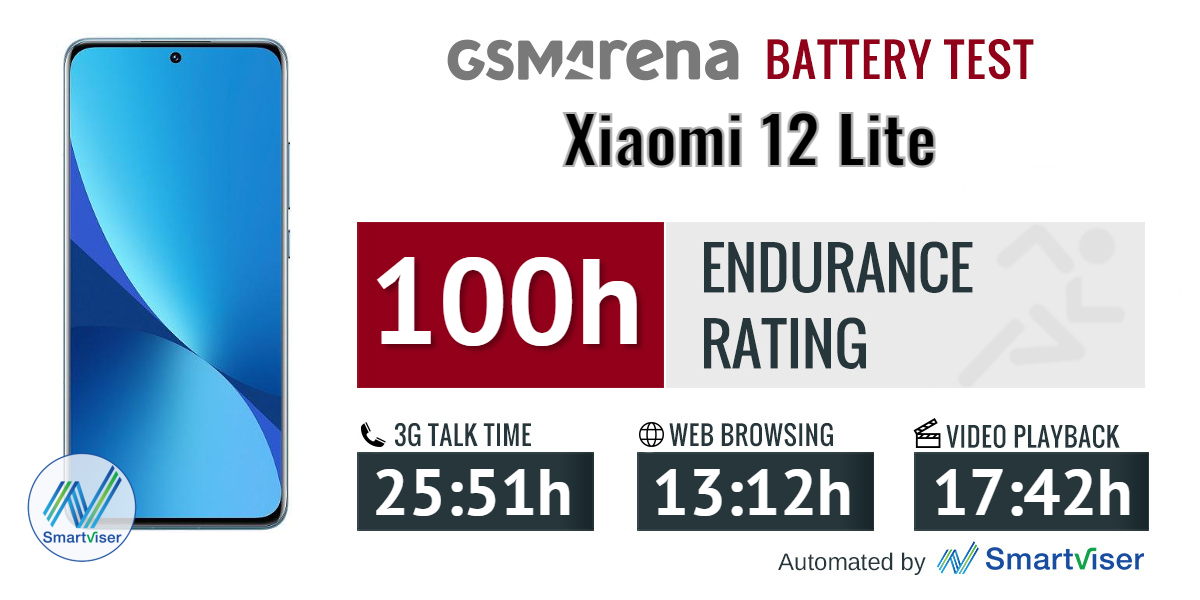 Our battery tests were automated thanks to SmartViser, using its viSerDevice app. The endurance rating denotes how long the battery charge will last you if you use the device for an hour of telephony, web browsing, and video playback daily. More details can be found here.
However, the significantly lower overall endurance score is hard to overlook. It's hard to pinpoint the culprit, but it could be due to the newer software. The new 12 Lite has considerably lower standby and 3G talk time.
Compared to other competitors, the 12 Lite falls behind in the overall ranking despite maintaining solid screen-on runtimes.
Video test carried out in 60Hz refresh rate mode. Web browsing test done at the display's highest refresh rate whenever possible. Refer to the respective reviews for specifics. To adjust the endurance rating formula to match your own usage patterns check out our all-time battery test results chart where you can also find all phones we've tested.
Charging speed
The new 67W Turbo Charge from Xiaomi is a big step forward compared to the older 33W charging protocol supported by the previous generation. The new 12 Lite reached 84% in just 30 minutes of charging; while a full charge from flat took only 50 minutes. Although the full charging time has been lowered by just 15 minutes, the charging curve is much faster in the sub-90% range.
When put against competing charging solutions, however, the 67W Turbo Charging doesn't necessarily stand out. Sure, it's competitive, but we also have to consider the phone's somewhat smaller 4,300 mAh battery. The competition often runs on batteries bigger than 4,500 mAh, and that affects charging times.
30min charging test (from 0%)
Higher is better
Xiaomi 11T Pro
100%
Realme GT Neo3T
95%
Xiaomi 12 Lite
84%
Apple iPhone SE (2022)
61%
Xiaomi Mi 11 Lite 5G
58%
Motorola Edge 20 Pro
53%
Time to full charge (from 0%)
Lower is better
Xiaomi 11T Pro
0:21h
Realme GT Neo3T
0:40h
Xiaomi 12 Lite
0:50h
Xiaomi Mi 11 Lite 5G
1:04h
Motorola Edge 20 Pro
1:17h
Apple iPhone SE (2022)
1:18h
Speakers
The Xiaomi 12 Lite features a dual-speaker, stereo setup with the main one positioned at the bottom (as usual), while the left channel is a loudspeaker that doubles as an earpiece. There's a grille on the top end of the frame, acting as an echo chamber.
Loudness-wise, the 12 Lite is a downgrade compared to the previous generation as it topped at -25.2 LUFS and got a "Very Good" score for that. When it comes to quality, however, it's somewhat subjective. The 11 Lite 5G produces clear highs and mids. Vocals are quite pronounced, but the bass is basically gone. Bass-heavy music sounds flat and dull. So it really depends on what kind of music you listen to.
Use the Playback controls to listen to the phone sample recordings (best use headphones). We measure the average loudness of the speakers in LUFS. A lower absolute value means a louder sound. A look at the frequency response chart will tell you how far off the ideal "0db" flat line is the reproduction of the bass, treble, and mid frequencies. You can add more phones to compare how they differ. The scores and ratings are not comparable with our older loudspeaker test. Learn more about how we test here.