Last week's poll shows that people are intrigued by the OnePlus 11, but it will need to prove itself – nearly 40% of those who voted in the poll say they will wait for thorough reviews of the new flagship before deciding whether to get one.
OnePlus is trying something different with this generation, it dropped the price, but that also required cutting back on some features. That feels more like the OnePlus of previous years.
Dropping down to a 2x tele lens, losing the IP68 rating, USB 3, wireless charging and a few other cutbacks don't sit well with a fairly large portion of voters. However, instead of leaning towards the older (and in some ways more capable) OnePlus 10 Pro and 9 Pro, most of them are looking towards other brands.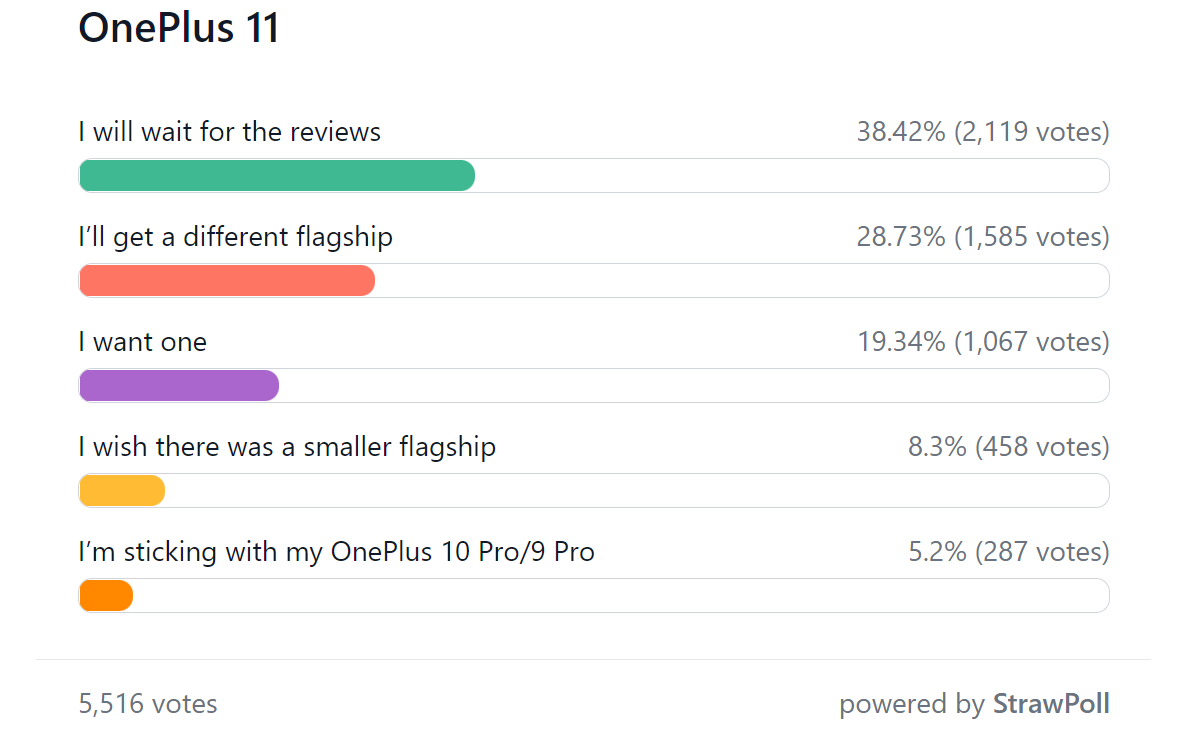 Few people expressed interest in a smaller OnePlus flagship. Not that the company is known for its petite flagships, but at least the non-Pro models were a bit smaller. It looks like OnePlus made the right choice in dropping to a single flagship offering.
Of course, we're yet to see the pricing outside of China. OnePlus' strategy is to undercut other Snapdragon 8 Gen 2 flagships, but other brands will be offering discounts and pre-order perks and so on.
The OnePlus 11 and Buds Pro 2 will go global on February 7. But for China at least the OnePlus 11 broke pre-sales records, so this is shaping up to be a successful launch.
d
Anybody deciding to go with OnePlus nowadays are utter fools, their software is almost completely oppo and their MSM tool they now actually charge normal techies and 3rd party companies to use it EACH AND EVERY TIME. The only thing they respect ...
D
In work i use my PC. At home i use PC or phone depends what i am doing. But anyway thanks for your effort.
ADVERTISEMENT