Last week's poll shows that the ZTE nubia Z50S Pro has a lot of potential – some are holding off until they can see what this phone can do before making their mind up, but for the most part people love the new Pro.
Its gaming-focused cousin, the Red Magic 8S Pro didn't draw as much interest and that's no surprise, it's more of a niche phone. The nubia is an all-round powerhouse with a unique camera.
It's a bit odd then that the main criticism of the phone is about its cameras. First, some were unhappy with the downgrade on the telephoto module – it went from a 64MP 85mm camera on the Z50 Pro to 8MP 80mm on the Z50S Pro. There shouldn't be 8MP cameras on flagships, some commenters said.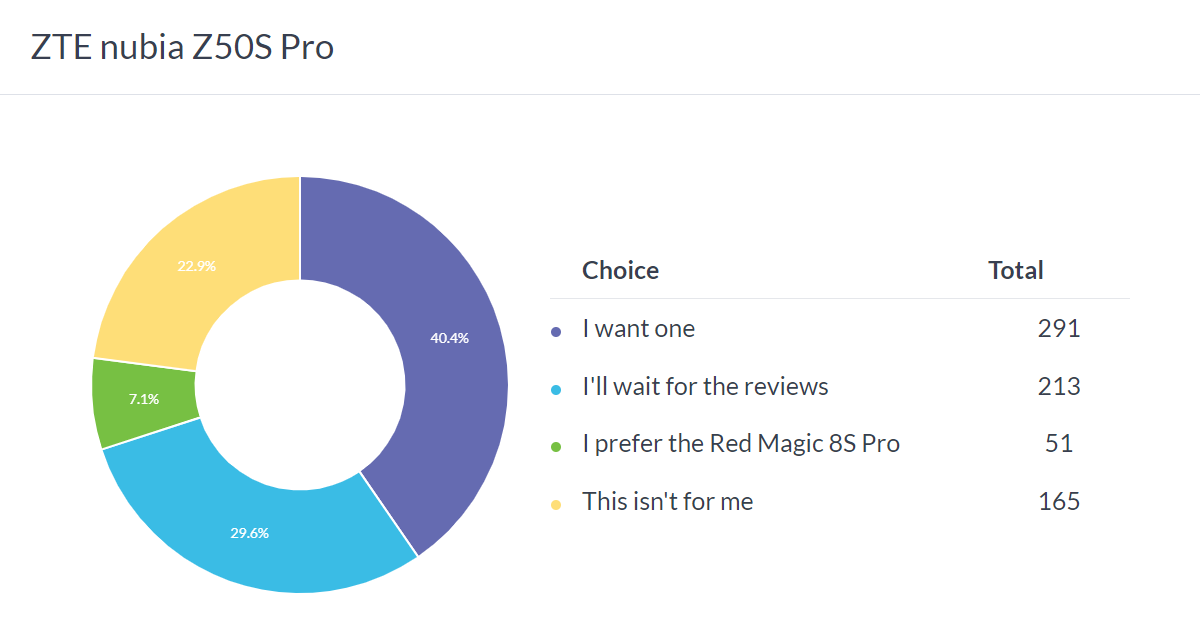 Second, the 35mm camera is cool, its versatility makes it suitable both for portraits and landscape shots. However, people are used to the 20-something millimeter main lenses on smartphones these days. It would be nice if ZTE could add both – which is exactly what it did with the Axon 30 Ultra (which had 13mm, 26mm, 35mm and 123mm lenses).
Other than that the only real complaint is that the phone is available only in China for now. We don't know whether ZTE plans to make this model global, that's usually more of an Axon and Red Magic thing. Nubias don't have much global presence.
If ZTE does decide on a wide launch for the nubia Z50S Pro, it has a potential hit on its hands. If not, we have the Axon 50 Ultra to look forward to next month (though despite being an "Ultra", it's not as capable as this "Pro").
P
Bro, you can buy anything on AliExpress. It will still cost just a little more than in China, but much cheaper than global ones. What is your Problem? People in Russia, Ukraine and few countries from Europe mostly buy their phones on AliExpress and p...
K
The norm for Nubia (zte) is 3years support.
K
I have a nubia z9//z11/z18(sold) and z20. and they are all still kicking.
ADVERTISEMENT