Weekly poll results: the Samsung Galaxy Note9 is great, its price isn't
About 1 in 5 people who voted in last week's poll say they have pre-ordered a Samsung Galaxy Note9. Among those who are holding back the most commonly cited reason why is the price.
The Galaxy Note8 was a bit cheaper in the US and the UK ($70 or £30 less) than the Note9 pricing. The new model comes with double the base storage and a more advanced S Pen, which probably added to the cost. Not surprisingly, 1 in 4 people are waiting for the prices to drop before they make a move.
Then there are the 14% who don't see the Galaxy Note9 as a big enough upgrade over the Note8 and prefer that one instead. There are even 9% of voters who don't care about the S Pen at all.
Anyway, it's telling that only a third of voters are looking at a non-Galaxy flagship. There was a heated discussion of Samsung's custom UI vs. Android Pie. There's a surprisingly negative sentiment against Pie, so it turns out that the Note9 launching with Oreo isn't a problem for most folks.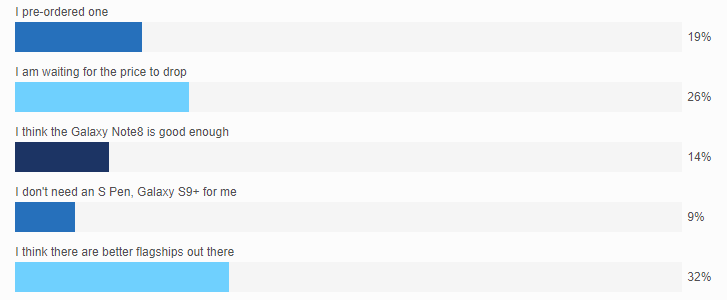 D
Man Samsung releases exactly 2 OS updates for every phoen apart the J series which gets just one barely (Samsung way i dont care) And for security its 3 years exactly which means S6 your S6 got maybe last update and finnished. From reports and p...
m
Don't try convincing a cheapo, please. A person who says Xiaomi is giving better updates than Samsung (good that he didn't mention Apple) should be ignored. Xiaomi is doing great, but updates. The same goes for Huawei.
S
'Samsung doesnt support even S7.' The S7 also got Oreo: https://m.gsmarena.com/res.php3?sSearch=Samsung+Galaxy+S7 & it is still being supported with Monthly updates: https://security.samsungmobile.com/workScope.smsb Yes, there is ...
ADVERTISEMENT