Weekly poll results: the Redmi Note 10 Pro (Max) is the clear fan favorite from the family
Despite Xiaomi's confusing naming scheme last week's poll has a clear result – the Redmi Note 10 Pro (Max) is the only phone in the series worth having. The global variant has a massive lead over the other models, actually, all other Note 10 phones fall under the negative option.
There is a modicum of interest in the Redmi Note 10 5G, but not enough to clear the "none of the above" bar. As the rollout of next-generation networks continues worldwide, the demand for affordable 5G phones should go up. So, the Note 10 5G will not come out swinging, but it could find an audience later on.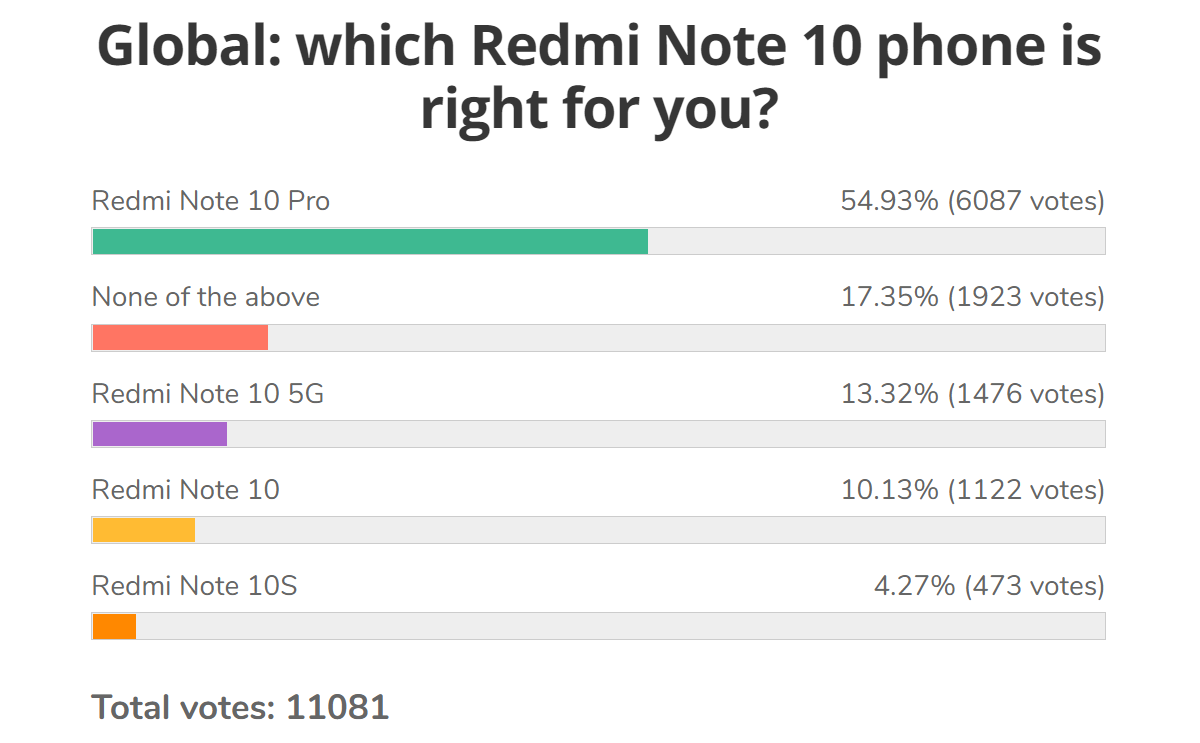 The global and Indian versions of the vanilla Redmi Note 10 are identical and they get an identical amount of love – which is to say barely any. The only model to perform worse in the polls is the Redmi Note 10S, which is oddly positioned between the Note 10 and Note 10 Pro.
Perhaps Xiaomi should have released India's Redmi Note 10 Pro globally instead of the 10S. It's similar to the global 10 Pro, except the 108MP main camera is swapped out for a 64MP unit. And it gets a 15% discount, which proved to be the sweet spot for 1 in 3 voters from India.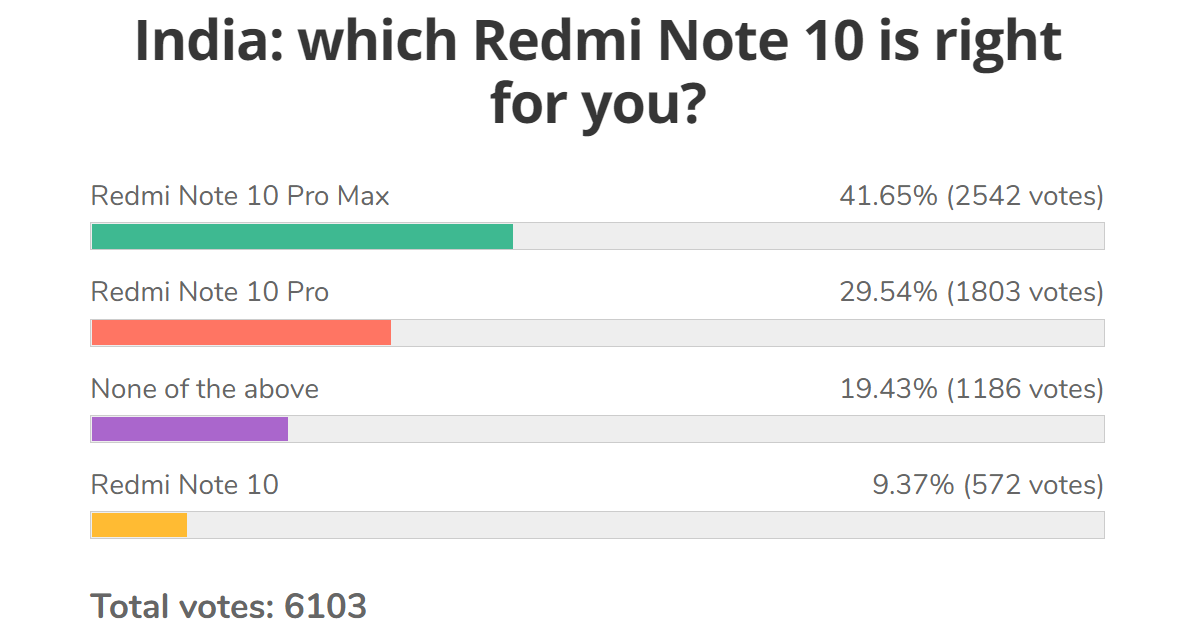 Our Top 10 by Daily Interest chart is a kind of implicit poll, which confirms these findings – the Redmi Note 10 Pro/Pro Max are currently the most popular phones in our database. They are followed by the Note 10, but we'll see if it has any legs.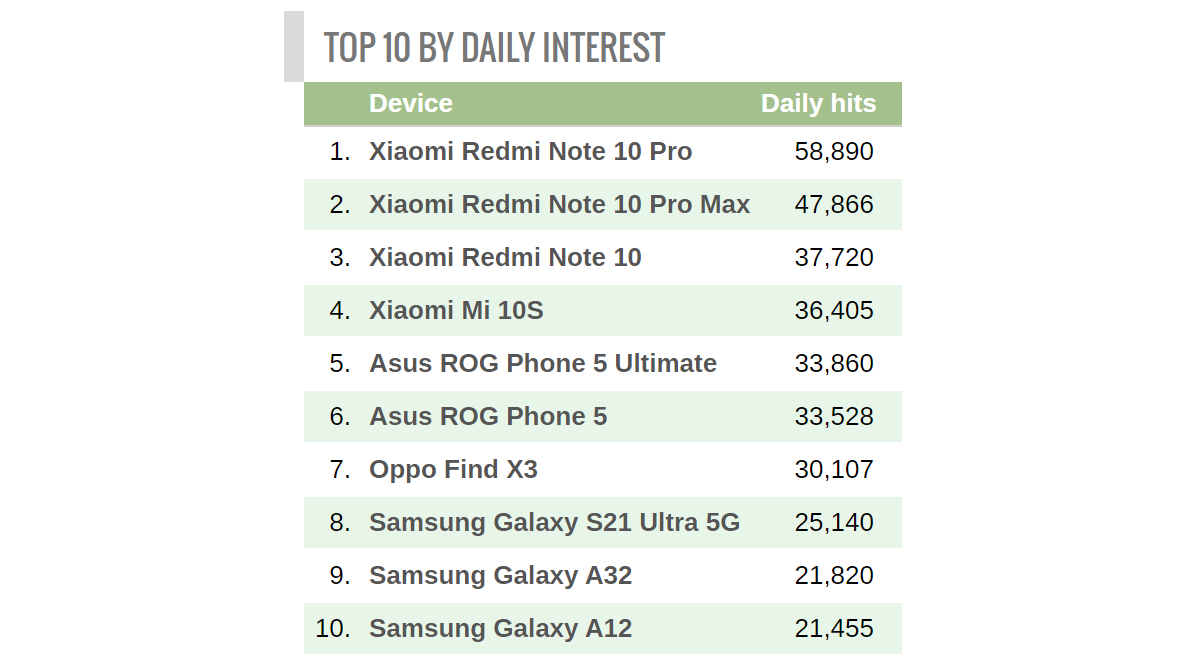 Another thing to watch out for is how the Notes will stack up against the more premium K40 series. They have similar screens and cameras, but pack faster Snapdragon 800-series chipsets. The K40s should be available globally soon (likely under a different name).
D
In Czechia they didn't put a price yet. Is "highly anticipating". But, if I had to make a guess, it will be around 250EUR for the Redmi Note 10 Pro base model (6Gb 64Gb). Around 370EUR for the 8Gb 128Gb model.
Price-per-feature isn't everything to me. Flagship smartphones still benefit from way more advanced camera hardware. The Global Note 10 Pro (aka India Note 10 Pro Max) doesn't even have OIS and telephoto sensor for crying out loud! Heck, fl...
?
Tl;dr : Yes👍😃 Xiami uses MiUI for both redmi and the mi series ! It is known for its Beautiful and eye candy visuals Oppo uses ColorOS , which isn't beautiful and resource hungry But it has a powerful and almost all the major "setting...
ADVERTISEMENT