Weekly poll results: Realme 10 Pro+ gets some love, 10 Pro falls flat
The results from last week's poll are in and it doesn't look good for the Realme 10 Pro. The Realme 10 Pro+, however, has a real shot at stardom. Even though their names differ by only one character the two phones are different from one another in ways that matter.
The Realme 10 Pro+ stood out in our review (also video review) with its bright, color-accurate screen, with (for the first time in the series) a premium-looking curved display. The rear cameras were another plus as they performed well both during the day and at night (though the selfie cam isn't all that good)

We were also impressed by the battery life and charging speed, the Dimensity 1080 is fast and the Android 13 + Realme UI 4.0 combo is lovely. The phone isn't perfect, but it is very competitive in its price range – a proper successor to the Realme 9 Pro+, which is one of the mid-rangers we recommend in our buyer's guide. That one will probably be replaced by the 10 Pro+ once it rolls out to more markets.
There were some criticisms against the Realme 10 Pro+, removing the 3.5mm headphone jack rubbed people the wrong way, for example.
The regular Realme 10 Pro fared worse even though it kept its 3.5mm jack and even offers a microSD slot. However, the IPS LCD left a lot to be desired, especially when it comes to color accuracy (the Pro+ display is much better across the board).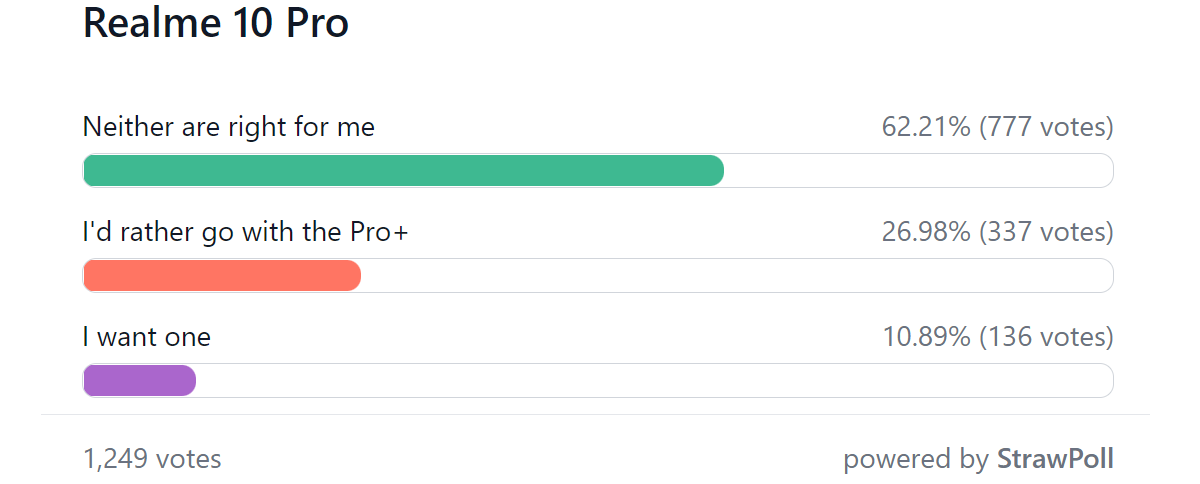 Also, the Snapdragon 695 is a fine chip, but there are faster options in the same price range as the Realme 10 Pro. The lack of an ultrawide camera turned many people away, the lack of 4K video recording made matters worse.
The Realme 10 Pro will have a tough time replacing the Realme 9 Pro (which is another mid-ranger we recommend in our buyer's guide). We can reevaluate once the price comes down, but right now you should probably look at other phones.
?
only down side so far is no bootloader unlock...
f
I got Realme 9 Pro as daily driver and nope, not gonna switch to 10 Pro, even if you offer me a free switch. It is a downgrade.
ADVERTISEMENTS