Weekly poll results: HTC U20 5G can be popular if the price is right, Desire 20 Pro gets snubbed
Last week's poll shows that the HTC brand still lingers in people's minds – the HTC U20 5G can receive a very warm welcome under one condition. The price has to be right, people are no longer willing to pay a premium for an HTC phone like they did in the golden days.
The company is yet to put a price tag on the U20, but if it gets it right then there are plenty of people willing to give HTC another shot. There's a small contingent willing to buy even at a higher price, not many but still more than the people who voted for the alternative phones.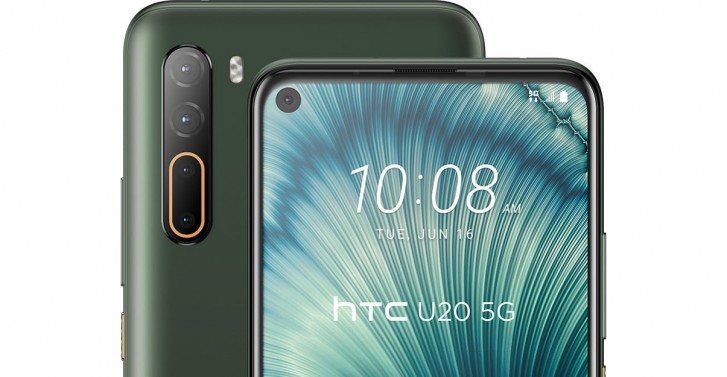 The Snapdragon 765G chipset and 5,000mAh battery seem to be the right choice for the phone. A common thread in most comments was the need for software support. For what it's worth, HTC will update 2017's U11 Lite (which launched with 8.0 Oreo) to Android 10. We can't say that for many of the company's other phones, but there are not a lot of HTC phones to talk about either.
The comments also hint that the LG Velvet 5G is a potential rival to the HTC U20 5G, an OLED display plus a rugged body could be decisive advantages. However, in its own poll the Velvet faced the same issues as the HTC – you can't price mid-rangers too high.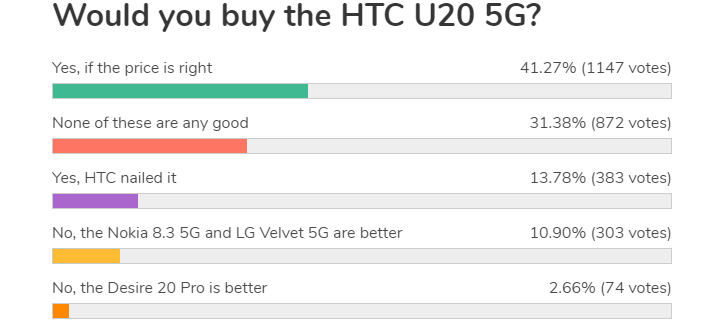 Moving on to the HTC Desire 20 Pro, things are far less optimistic. Still, one in three would pick one up if the reviews prove it's a worthwhile phone or if the price drops. We do know the price of this one, NT$ 9,000 (or around $305/€270).
Many voters were drawn to the higher end U20, not many thought that Sony's or Nokia's mid-rangers are great alternatives. Still, there's no escaping it – most of the people who voted think that the Desire 20 Pro just isn't all that desirable.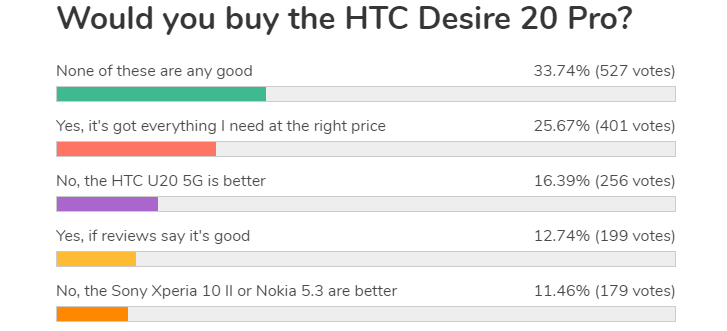 T
Agreed. After all, that's what HTC was good at. Flagships!
x
Just bring the M8 2020 with 765G or whatever with a fingerprint and updated cameras. Same design same face same body
T
In my opinion HTC should go for a Flagship device to compete with the current market situation as there are lot of options for mid range and budget phones. More over HTC is known for Flagship Devices as it was once the king of Android. But some how d...
ADVERTISEMENT