Weekly poll results: Honor 80 Pro and Magic Vs well liked, Honor 80 and 80 SE get the cold shoulder
A few months ago, the Honor 70 launched in Europe, and it received a warm welcome in our polls. Now, we're already talking about the Honor 80 series – which hasn't reached Europe yet, but it is coming. Are people excited? Yes and no. More specifically, yes to the Honor 80 Pro, and no to the vanilla and SE models.
Technically, there is no Pro+ this generation, but the Honor 80 Pro almost fills that niche with its Snapdragon 8+ Gen 1 chipset. Well, almost, because a telephoto lens would have been nice to see. We suppose the higher resolution 160MP sensor makes up for that partially with better digital zoom, but some commenters were asking how come this relatively expensive phone doesn't have OIS on the main camera.
The Honor 80 Pro didn't win over everyone, but it did draw in a fair number of supporters, a number that will only grow if the phone reviews well.

The vanilla Honor 80 seems like a poor substitute for the Honor 70. The chipset is more powerful, but only just, the 50MP ultra wide is swapped out for a basic 8MP unit, and the rest isn't all that different from a phone that is several months old (not too old, but old enough to get discounts).

The Honor 80 SE fared even worse, it seems like a complete miss. The downgraded chipset and cameras do not look good on this $300+ phone - it's less than 15% cheaper than the superior vanilla model. Very few voters expressed support for this model, so it will need a solid discount before sales pick up.

We will end this on a high note. Foldables are still surrounded by skepticism, but people who enjoy the form factor see potential in the Honor Magic Vs. Compared to the original Magic V, the Vs upgrades the chipset (8+ Gen 1), adds a telephoto camera instead of a second wide module and increases battery capacity slightly.
The vanilla Vs is relatively cheap as horizontal foldables go, but even the pricier Magic Vs Ultimate version found its supporters. You can check out our hands-on review of the Honor Magic Vs for more details.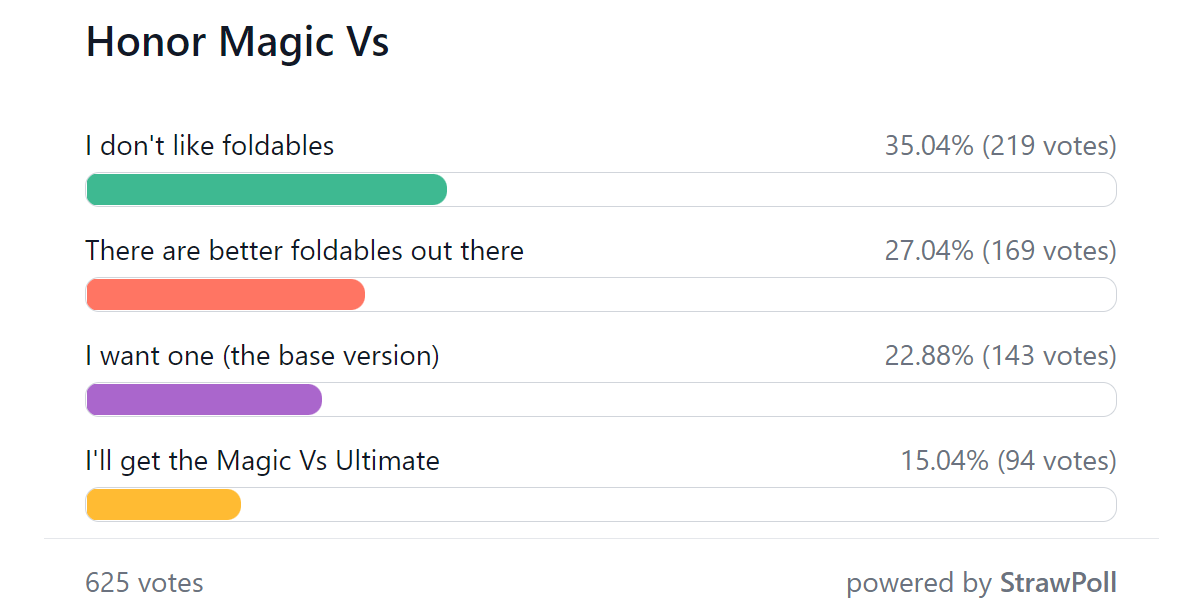 That is exactly why I sold my old Samsung Galaxy Fold and went for an LG V50 with its Dual Screen case. It's more practical and gives better flexibility than my old foldable phone. Unlike foldable phones where I have to carry the extra hefty wei...
ADVERTISEMENT