Weekly poll results: Galaxy A54 sparks interest, but reviews will decide its fate
Is the Galaxy A54 a worthy successor to the A52s? The phone was a bright spot in the series, while the A53 just wasn't quite as good. Based on last week's poll, the A54 has potential, but it is going to have to prove itself in reviews.
The reason that the A52s was so well liked is its chipset, the Snapdragon 778G is powerful and efficient and was sitting greatly at its €450 price tag. The A53 had the Exynos 1280 and it managed to match its predecessor at 113h endurance, but it needed 500mAh extra in the battery to do so. And in terms of performance it wasn't even close.
Now the Samsung Galaxy A54 arrives with the much-improved Exynos 1380 but also a €40/50 price hike. This chip will be measured against the 778G, not the 1280, which is no easy task. We're already running tests on the phone, so stay tuned for our detailed review.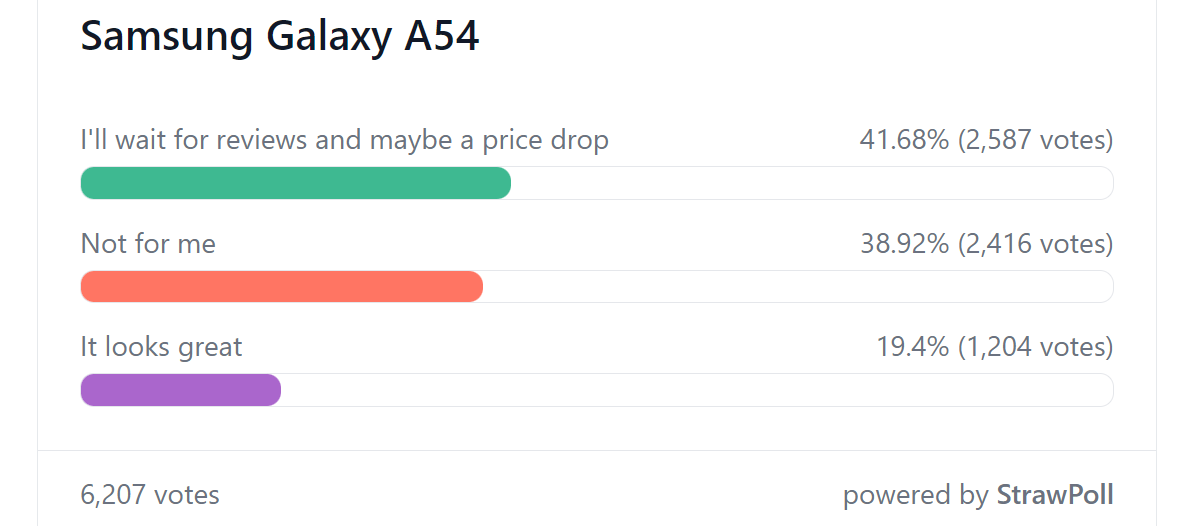 By the way, the Galaxy A54 and its sibling the Galaxy A34 started shipping in India this week, with ₹39,000 and ₹31,000 price tags. Also, Samsung quietly launched the Galaxy M54, which is a larger A54 with a better camera and bigger battery (long story short: 6.7" screen, 108MP main cam, 6,000mAh battery). We don't know which markets are getting the M54 yet, but we wonder – would you rather have that one than the A-series?
Speaking of prices and the Samsung Galaxy A34, this one seems to be a swing and a miss – even if its price was lower, there still wouldn't be much interest in this model.
The perennial rivals of the Redmi Note series launched in Europe this week and their prices are trending up as well – for the same €400 or so price as the Galaxy A34 you can have a Redmi Note 12 Pro instead. But is that the better phone or has Xiaomi lost its marbles? Also, there is a new Pixel 7a on the way, the original Nothing phone is still kicking around, the OnePlus 11R looks competitive, there are Motorolas and Pocos and Realmes too.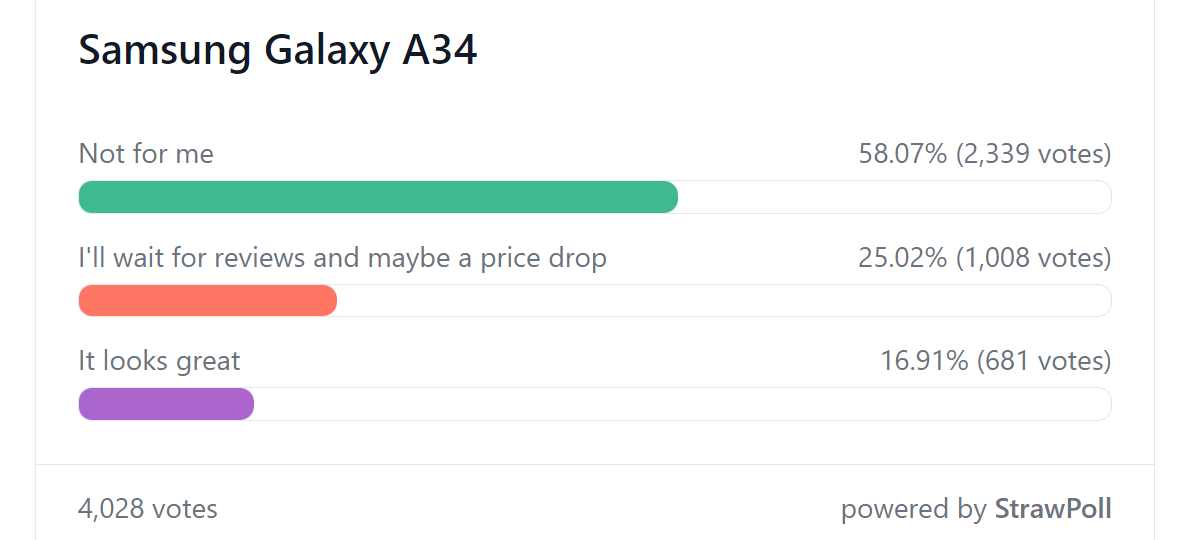 This is not to say that the Galaxy A34 won't sell well, it's a fine pick for people comfortable with One UI who need something cheaper than the A54 and don't spend a lot of time poring over specs.
?
Superb handset ....smoth touch & camera result superb.....
ADVERTISEMENT