Weekly poll results: 5.2" screens still most popular, interest in widescreens raises quickly
The more things change, the more they stay the same. In 2016 you voted that the best screen size is between 5" and 5.3", in 2017 the most preferred screen diagonal is still centered on 5.2".
41% of the vote settled on that option, though this year the larger option - 5.5" - came close with 28%. Things are starting to sway towards bigger screen, though this poll gives us a feeling that it will be a while before the 5-and-a-bit inch phones lose the top spot.
One thing that may accelerate the shift is wide-angle screens. The '5.7" (wide aspect ratio)' option scored a respectable 16% of the vote - way above both regular 5.7" and 6" phones (both of which stand at 5%).
The thing about phones like the Galaxy S8 and LG G6 is that they do offer more room for web pages, but they are only as wide as 5.2" phones. Width is the most important factor in ergonomics, so we're sure we'll be seeing many more phones go over 16:9 aspect ratio.
We need to address one thing - many people asked 'where's the sub-5" option?" Well, we're asking the same thing, we're almost halfway through 2017 and only these smartphones got under 5". Not much choice, is it? It's mostly a bunch of affordable handsets that can't afford a larger screen on their bill of materials. There's a very real worry that as screens become cheaper, the sub-5" category will go the way of the dodo.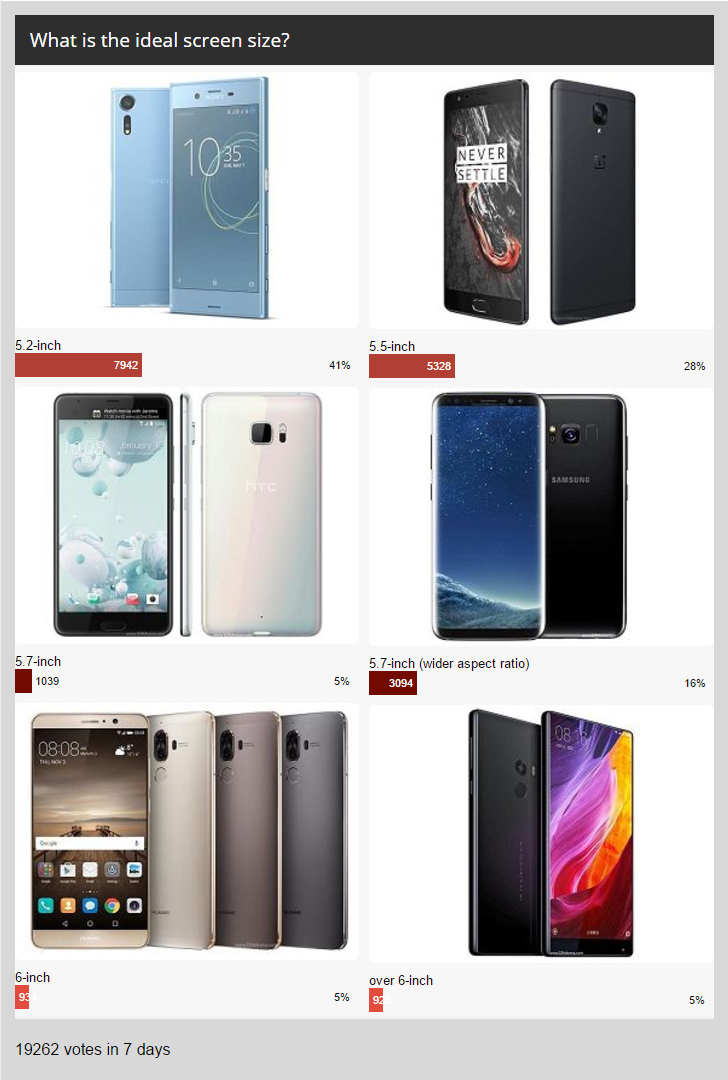 N
I always love to carry small sized powerful smartphones. So that I'm using iPhone SE 2020 which comes with thick bezel 😞. I will love 5.5" narrow bezel curved screen 😍.
?
Actually 5.2 inch display is the perfect size to me. Waiting the 6 inch screen with Zero bezel but the top durable material should use as a premise to ensure the phone is strong enough and dare to drop.
J
Quote from last year's poll that found lots of interest in sub-5" but ~5.2 the overall winner: " Going through the comments, there were a lot of vocal supporters for 4.5" to 5" phones, ones like the iPhone 6s and Xperia Z5 Compact. But an eve...
ADVERTISEMENTS