While the GT Neo 3 flaunts its cool new Dimensity 8100 chipset, the 3T model offers the popular but aging Snapdragon 870 and a lower price point. Is the trade-off worth it? First, let's give the Realme GT Neo 3T a closer look.
The phone offers nearly the same 6.62" AMOLED display, with FHD+ resolution, HDR10+ support and 120Hz refresh rate. It's not a 10-bit panel like on the Neo 3, though. Another change is the main camera – a basic 64MP sensor (1/2.0", 0.7µm) replaces the larger 50MP sensor (1/1.56", 1.0µm), the OIS is gone as well.
The GT Neo 3 has a version with 150W fast charging and a smaller 4,500mAh battery, but the 80W model is the same as the GT Neo 3T with 80W charging and a 5,000mAh battery. Does it matter? The 150W model gets to 50% charge in 5 minutes, the 80W phones do it in 12 minutes. A full charge takes 15 minutes and 40 minutes, respectively.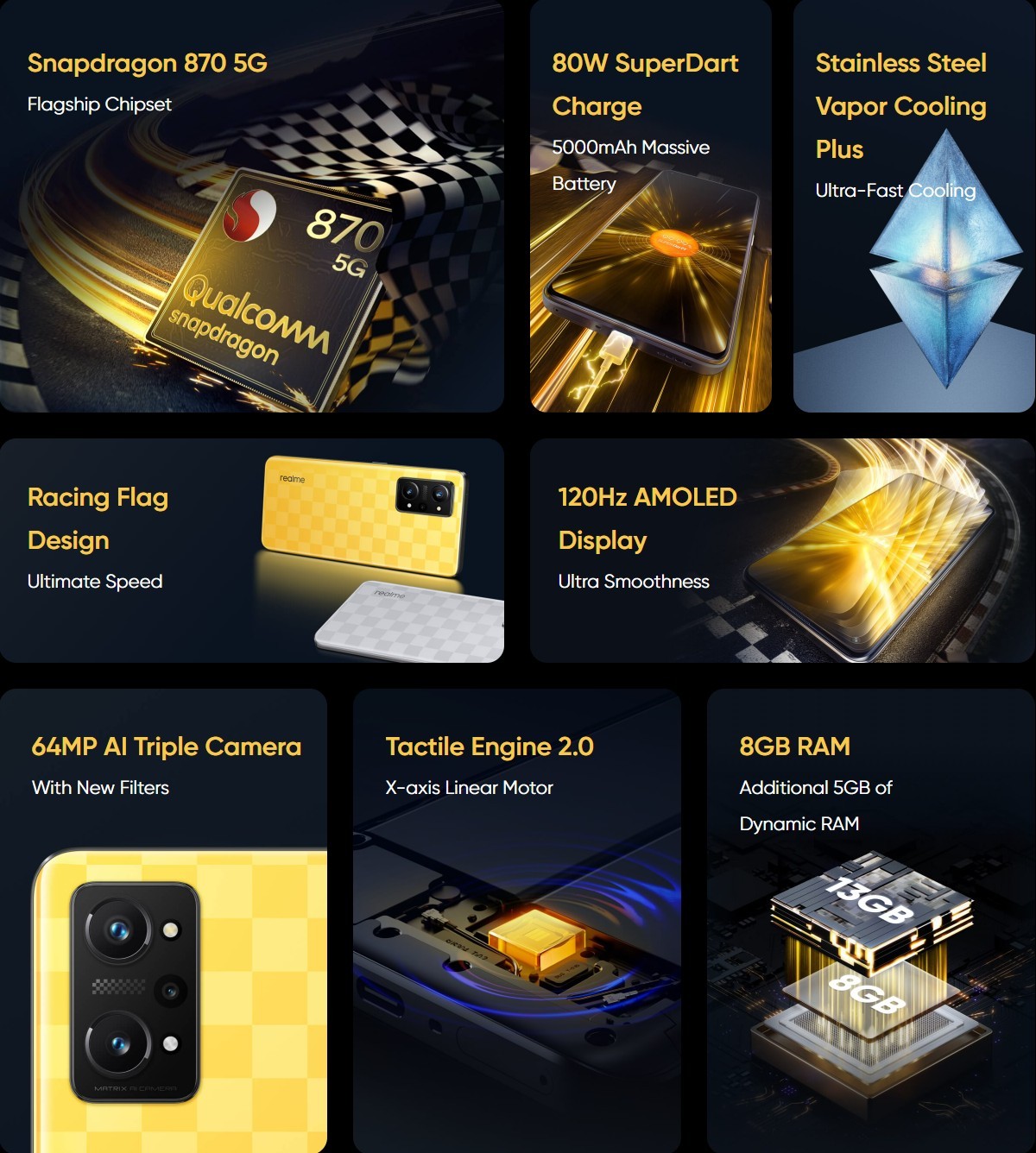 We mentioned a lower price, here it is in concrete numbers - €430 is Realme GT Neo 3T's price tag, €600 is what an 80W Neo 3 costs.
In our review, we found that the 3T camera performed quite well, even in the dark. Also, the massive vapor chamber helped keep the efficient Snapdragon 870, which showed great sustained performance. The Dimensity 8100 equipped GT Neo 3 did well in this test too and its chipset has a marked speed advantage – almost twice as fast in some GPU benchmarks. By the way, we also have a video review if you prefer.
Let's see what else you can get in the €400-€500 price range. The Realme GT Neo2 is €330 on the company's official site. It uses the same 870 chipset, seemingly the same display panel, very similar camera (64MP 1/1.73" main sensor) and battery (5,000mAh with 65W charging).
The Samsung Galaxy S21 FE can be found for around €500 from third party stores. And this is for the Snapdragon 888 version, giving it extra oomph. This one is slightly more compact than the 3T (and has a 6.4" 120Hz display) and a glass/aluminum build with IP68 dust and water resistance. It has a 12MP sensor with OIS in the main cam and an 8MP 3x telephoto camera, while the Realme relies only on in-sensor zoom. The 4,500mAh battery is less impressive, especially its 25W charging (0-50% in 30 minutes). Don't forget Samsung's excellent software support – 4 OS updates and an extra year of security patches.
The Poco F3 is over a year old now and you know what that means – it's cheap. €260 cheap (6/128GB) and it has the same Snapdragon 870 chip. The display is basically the same, the camera is nothing special, but comparable, the battery is not as good – 4,520mAh with 33W charging (67% charge in 30 minutes is what we got when we tested it).
The Motorola Moto G200 5G is €367 and has a Snapdragon 888+ chipset to drive its 144Hz LCD display. It also packs a 108MP main camera (1/1.52"), plus a 5,000mAh battery with 33W fast charging (52% in 30 minutes). If you prefer AMOLED, the Moto Edge 20 Pro is €460 (from Motorola, could easily be found for less) and it offers a 144Hz AMOLED display, a Snapdragon 870, 108MP main camera (1/1.52"), 8MP 5x periscope and a 4,500mAh battery with 30W charging (53% in 30 minutes).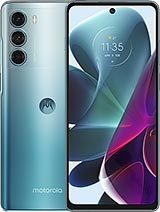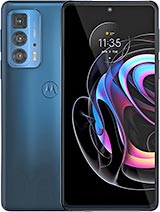 Motorola Moto G200 5G • Motorola Edge 20 Pro
Depending on where you live, there are quite a few other alternatives. With all that in mind, can you see yourself purchasing the Realme GT Neo 3T or would you pick another phone?
If you're having issues with the embedded poll above, try casting your vote here.
PS. Realme is also selling a GT Neo 3T Dragon Ball Z edition for €500. It has 8/256GB memory configuration, while the regular model is available only with 8/128GB memory (in Europe, at least).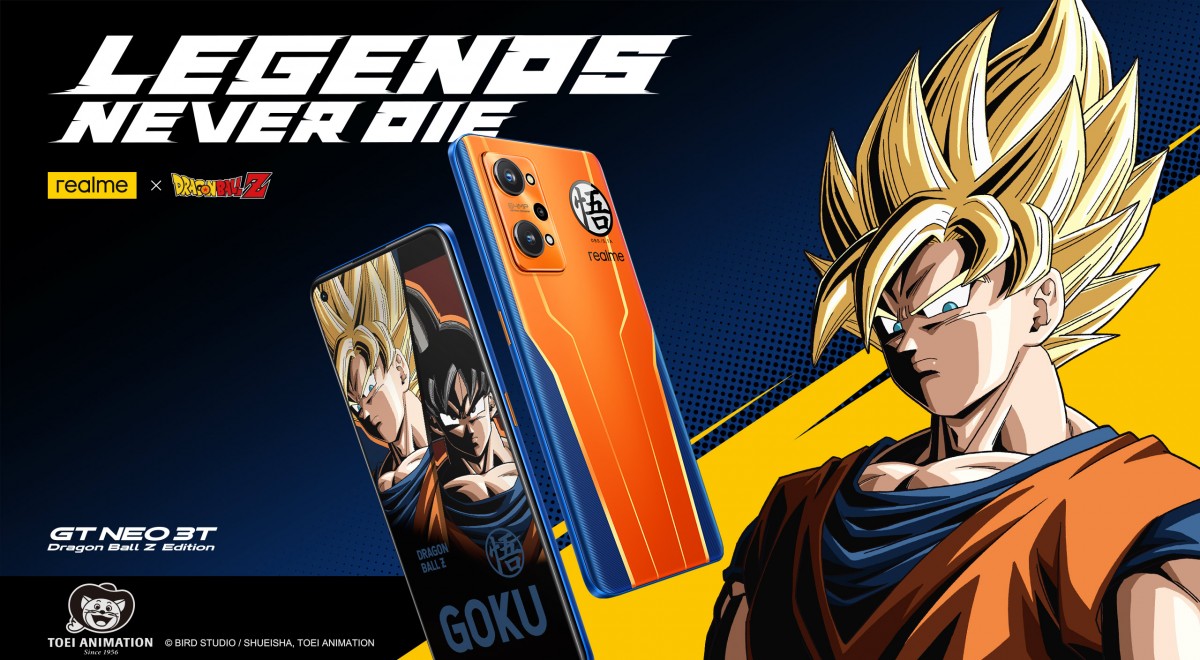 J
Last years tech with next years price sold today
?
Thaf price with sn 870. I will pass
ADVERTISEMENT