Aside from the Xiaomi Mi 6 (which launches next week), all flagships for the first half of 2017 have been announced. Which one has you excited?
The Mi 6 is promising Snapdragon 835 on a budget, not to mention dual cameras, plenty of memory and more. It's not clear if there will be a Plus model (the Mi 6 will have a 5.1" screen) or if that will be reserved for the 6s generation.
Still, the Samsung Galaxy S8 is the fastest route to S835 (unless you live in the Exynos zone). It stuck to only a single camera, but the Infinity Display is spectacular. And it does have a plus model, which is essentially the same phone but with a larger screen - 6.2" instead of 5.8". And keep in mind those are extra wide screens, 18.5:9 aspect ratio.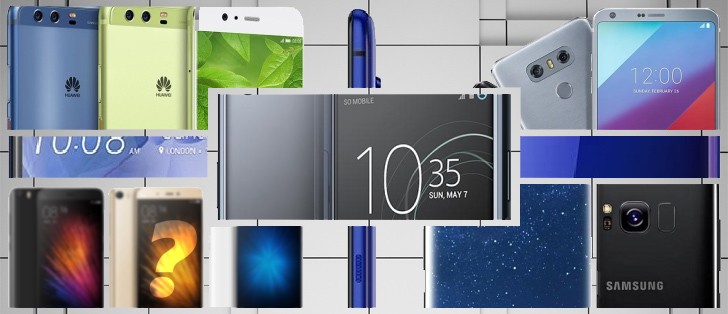 The LG G6 was announced ahead of its rival neighbor and also features minimal bezels on its flat 18:9 screen and it does have dual-cameras. The modular experiment is over, replaced by practical waterproofing. Still, the early announcement means the phone uses the older Snapdragon 821.
The Huawei P10 and P10 Plus focused more on developing their Leica-branded cameras than shrinking the bezels. Huawei side-stepped the chipset issue by making its own and this is the first Kirin to truly give Snapdragon and Exynos a run for their money.
Sony has the XZs, but we're all looking forward to the Xperia XZ Premium. We certainly had a lot of fun with the 960fps slow motion video mode and the image quality has gone up overall. Speaking of image quality, the 4K HDR screen is unique and you do get Snapdragon 835 (unlike the LG G6 and Xperia XZs).
HTC runs on a different schedule than the rest. The U Ultra was unveiled well ahead of the MWC, so it went on sale before the competition (the lead on the XZ Premium and Mi 6 is especially pronounced). HTC tried its hand at a secondary screen with the U Ultra, but other than that it is a continuation of the HTC 10, including the awesome camera (singular). Launching early again meant that the next-gen chipset was not available.
R
In India and pretty much everywhere, your Rolls Royce(Sony) is priced lower than the Nissans and Toyotas(Samsung and Apple), and still sells lot less than Nissans and Toyotas(Samsung and Apple) even after being of superior quality(which will be seen ...
R
Sony is number one in android world? May be in your world. But in reality Samsung rules the roost, whether Sony's fans accept it or not, but that's the reality.
ADVERTISEMENT