6.74-inch foldable OLED, 3-inch panel on the cover
The vivo X Flip is packing some great displays. The internal one is the star of the show - a 6.74-inch LTPO AMOLED with adaptive 120Hz refresh rate and 1B colors support. The 1080x2520px resolution in a cinematic 21:9 aspect results in a pixel density of 407ppi.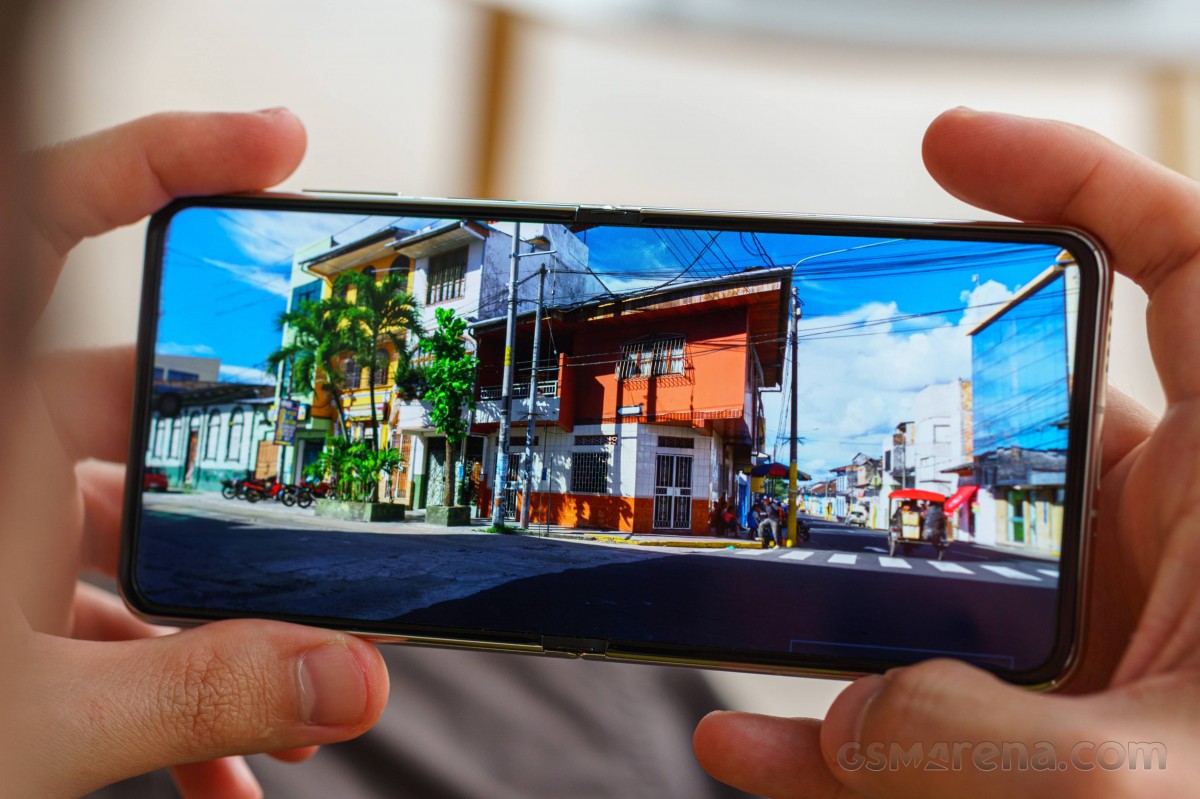 On the internal display, we measured excellent brightness levels. The X Flip was good for a little over 600nits when adjusting the brightness manually, with a healthy boost to over 1000nits with adaptive brightness enabled and the phone placed under bright light. This puts the vivo on par with foldable offerings from Motorola and Oppo when it comes to maximum values, and slightly ahead of the Galaxy Z Flip4. The vivo does allow a hundred nits more on the slider than most of the rivals.
Max display brightness test
White test pattern, 75% fill (nits)
Sort by
Manual mode
Auto mode
Motorola Razr 40 Ultra

1050

506

Oppo Find N2 Flip

1039

547

vivo X Flip

1027

606

vivo X90 Pro

934

517

Samsung Galaxy Z Flip4

919

505

Huawei P50 Pocket

803

521
The cover display isn't as sharp - it's got a 267ppi density. That's 422x682 pixels on a 3-inch diagonal. This one is OLED too, but 60Hz only. Due to the fairly limited selection of apps that can be shown on it, we couldn't test its max brightness, but in use, it didn't feel like it was lacking in nits.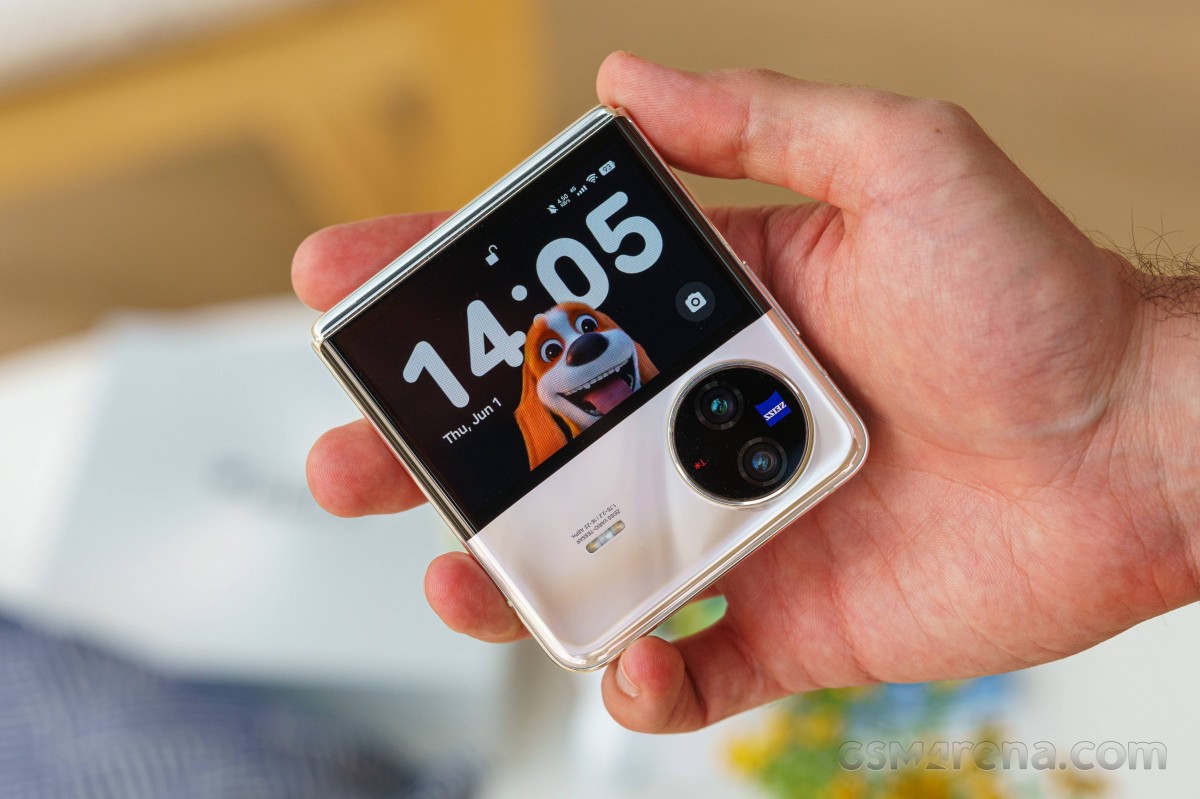 Color accuracy
The X Flip has three color profiles, and Standard is the default one out of the box. It offers a wide color gamut and is decently accurate for DCI-P3 content, albeit with the usual pronounced blue shift to white and grays. Switching to the Warm color temperature in Standard mode improves things considerably, making for an overall excellent accuracy. The Professional color profile is tuned for sRGB content and is tuned very accurately too. The Bright profile isn't particularly accurate, but it's plenty colorful instead if that's your thing.
HDR and streaming
The X Flip supports HDR10 and HDR10+, but no Dolby Vision. We got HDR streams from YouTube but not on Netflix, which isn't surprising given the phone's China-only release status. The Widevine L1 certification means you get 1080p resolution for DRM-protected content too, Netflix included.
Refresh rate
The X Flip's LTPO OLED display supports refresh rates in the 1Hz to 120Hz range and will automatically adjust its refresh rate depending on the content, brightness level, and your interaction with the phone. There are three modes - 60Hz, 120Hz, and Smart Switch - and in all three modes, there will be adaptive behavior, so you can treat the 60Hz and 120Hz numbers as ceilings and not fixed values.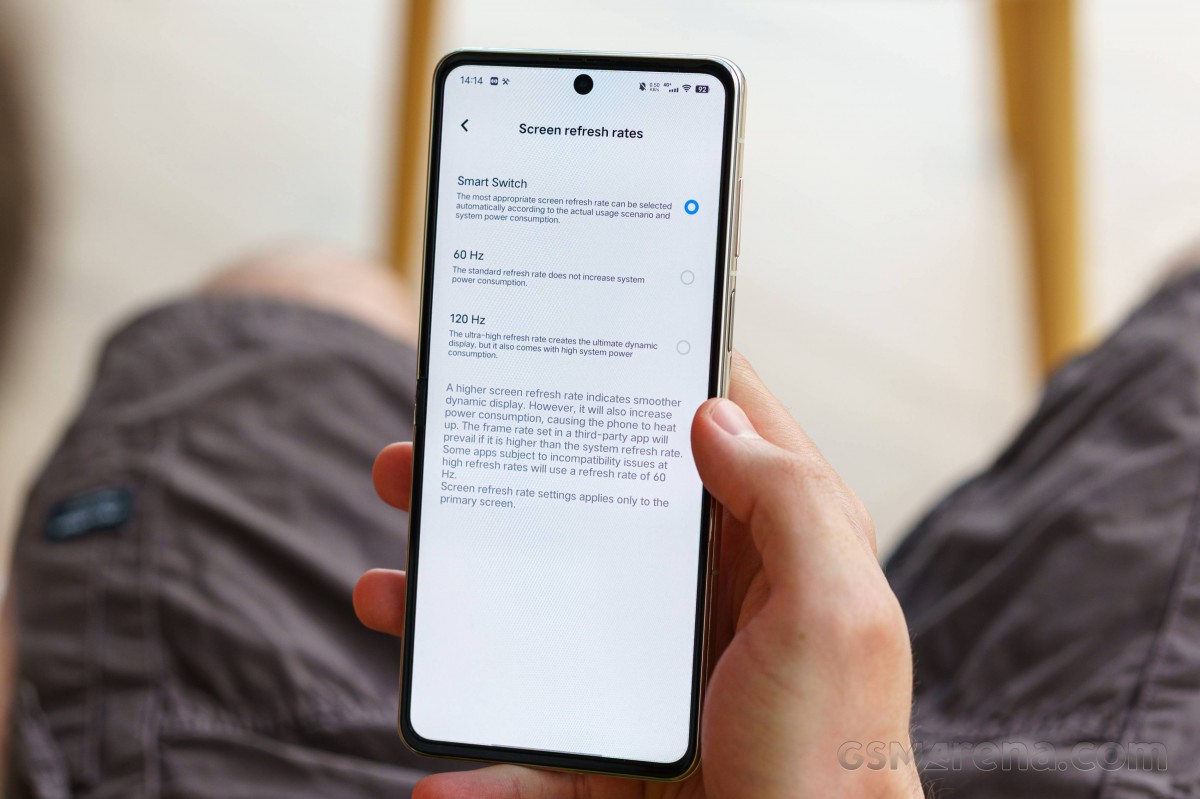 We found the X Flip to readily dial down to 1Hz in the UI, browsers and social apps, when you're not touching its display. That's unless your brightness is below certain thresholds, and depending on how low it is, the refresh rate may only drop to 10Hz (or maintain the ceiling value if you're in a particularly dim setting). That's more or less standard behavior for a high-end modern display.
In both 120Hz and Smart Switch modes you'll only get up to 60Hz in browsers, unless you specifically whitelist said browser to get the full 120Hz in a dedicated settings menu. Even then, the phone will only jump to 120Hz when you're touching the display.
We also had an unusual experience with HRR in gaming. Games did need to be whitelisted in the same menu, and even then we didn't get 120Hz for some titles that we know to support high frame rates. There's an additional gaming utility, which lets you set refresh rates on a per-game basis, but that didn't appear to work reliably either. All of that is somewhat odd, since we got higher-than-60fps results for onscreen tests in benchmarks, so it could be an error in reporting the refresh rate, as opposed to a 60Hz limit on games.
vivo X Flip battery life
The X Flip has a rated battery capacity of 4,400mAh, divided into two cells with 3,173mAh 1,227mAh - one in each half of the handset. That's a touch higher capacity than the Find N2 Flip's 4,300mAh, and noticeably more than what the Galaxy Z Flip4 (3,700mAh) or the Motorola Razr 40 Ultra (3,800mAh) have.
With those numbers in mind, it's no surprise that the X Flip aced our battery tests. We got 23h in our video looping test and 19h of Wi-Fi web browsing - both numbers are way higher than any of the clamshells. The call time result is also better than on the others. The overall Endurance rating of the vivo X Flip works out to a best-in-class 110h.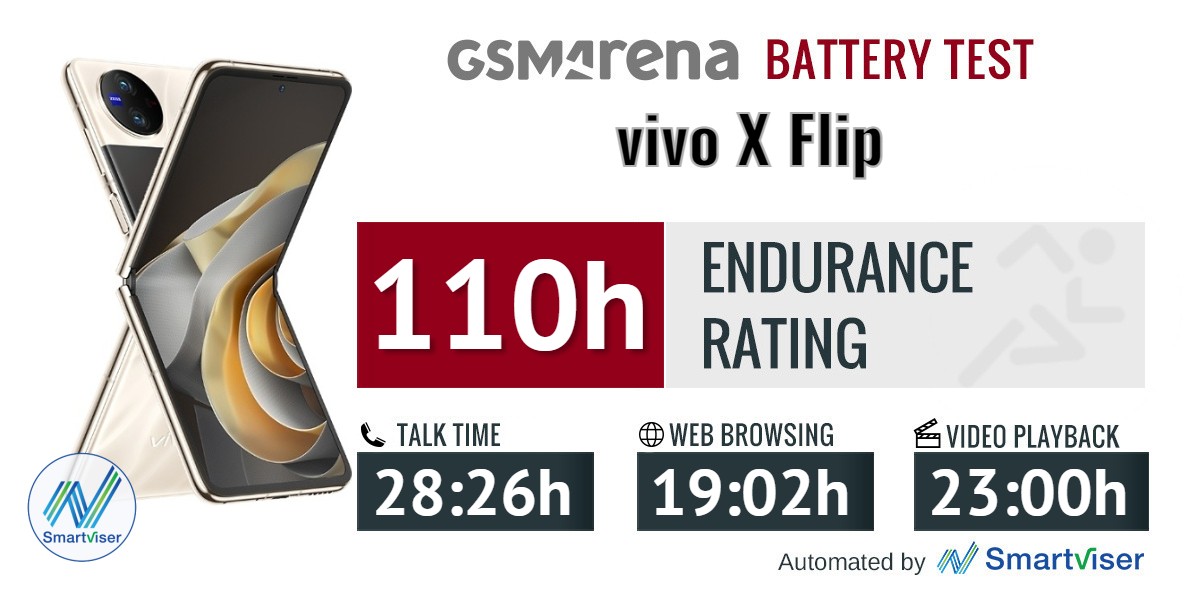 Our battery tests were automated thanks to SmartViser, using its viSerDevice app. The endurance rating denotes how long the battery charge will last you if you use the device for an hour of telephony, web browsing, and video playback daily. More details can be found here.
Video test carried out in 60Hz refresh rate mode. Web browsing test done at the display's highest refresh rate whenever possible. Refer to the respective reviews for specifics. To adjust the endurance rating formula to match your own usage - check out our all-time battery test results chart.
Charging speed
The X Flip comes with a 44W adapter in the box, the same rating as on the Find N2 Flip and higher than the Moto's 30W or the Galaxy's 25W capability.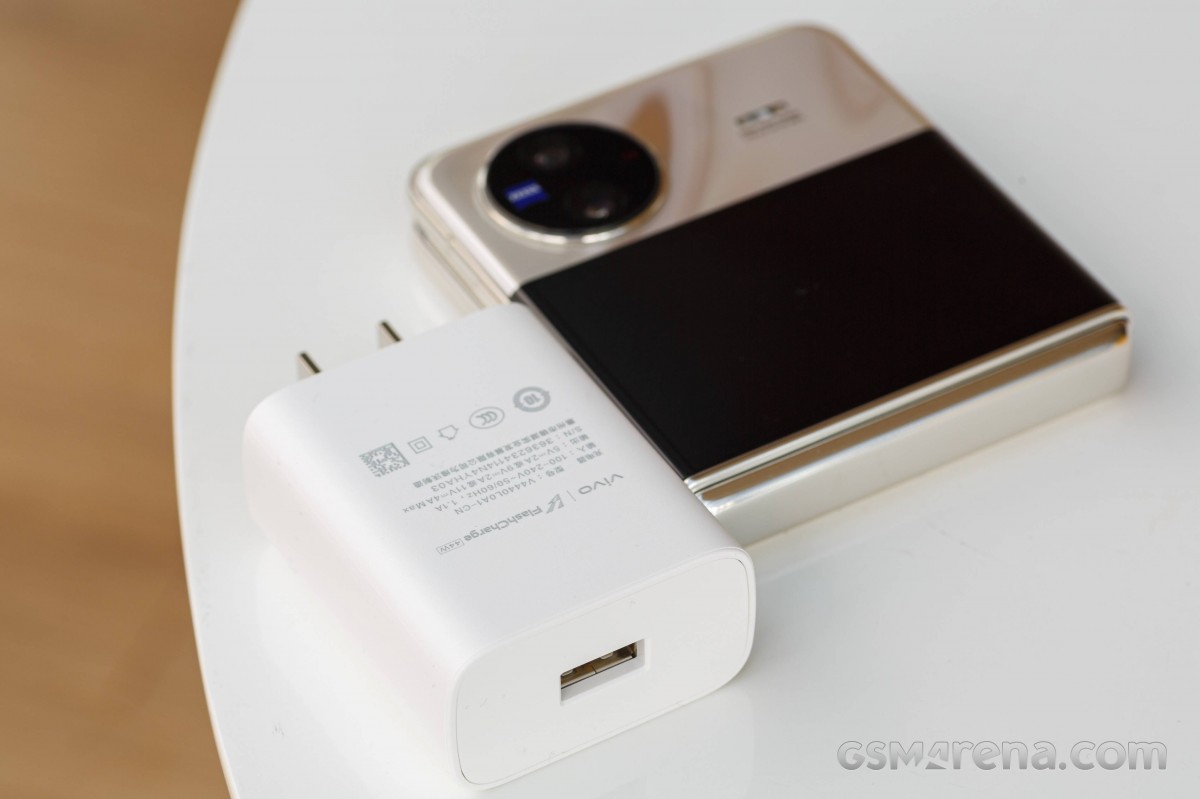 In our experience, the X Flip wasn't impressively quick to charge. The 53% we got after half an hour are okay, but even the Galaxy managed a couple more percentage points in as much time. The Find is even quicker too, though the slightly slower Moto does make the vivo look better. It's not quite so in the 'time to full' metric, where the vivo's one-and-a-half hours is tied with the Moto for last place among clamshell foldables.
15min/30min charging test (from 0%)
Higher is better
Sort by
15 min time
30 min time
vivo X90 Pro

100%

79%

Huawei P50 Pocket

70%

N/A

Oppo Find N2 Flip

62%

34%

Galaxy Z Flip4

55%

N/A

vivo X Flip

53%

30%

Motorola Razr 40 Ultra

45%

24%
* Tap/hover over the device names for more info
Time to full charge (from 0%)
Lower is better
| | |
| --- | --- |
| vivo X90 Pro | 0:24h |
| Huawei P50 Pocket | 0:54h |
| Oppo Find N2 Flip | 0:58h |
| Galaxy Z Flip4 | 1:15h |
| vivo X Flip | 1:27h |
| Motorola Razr 40 Ultra | 1:27h |
* Tap/hover over the device names for more info
There's no wireless charging on the vivo X Flip, same as on the Find N2 Flip. The Galaxy and the Moto do have that feature though.
Speaker test
The X Flip gets vivo's midranger treatment in the speaker department and is only fitted with a single speaker on the bottom - the earpiece only serves earpiece duty. That puts the handset at a disadvantage against all the other clamshells on the market, as they all have a hybrid stereo speaker setup.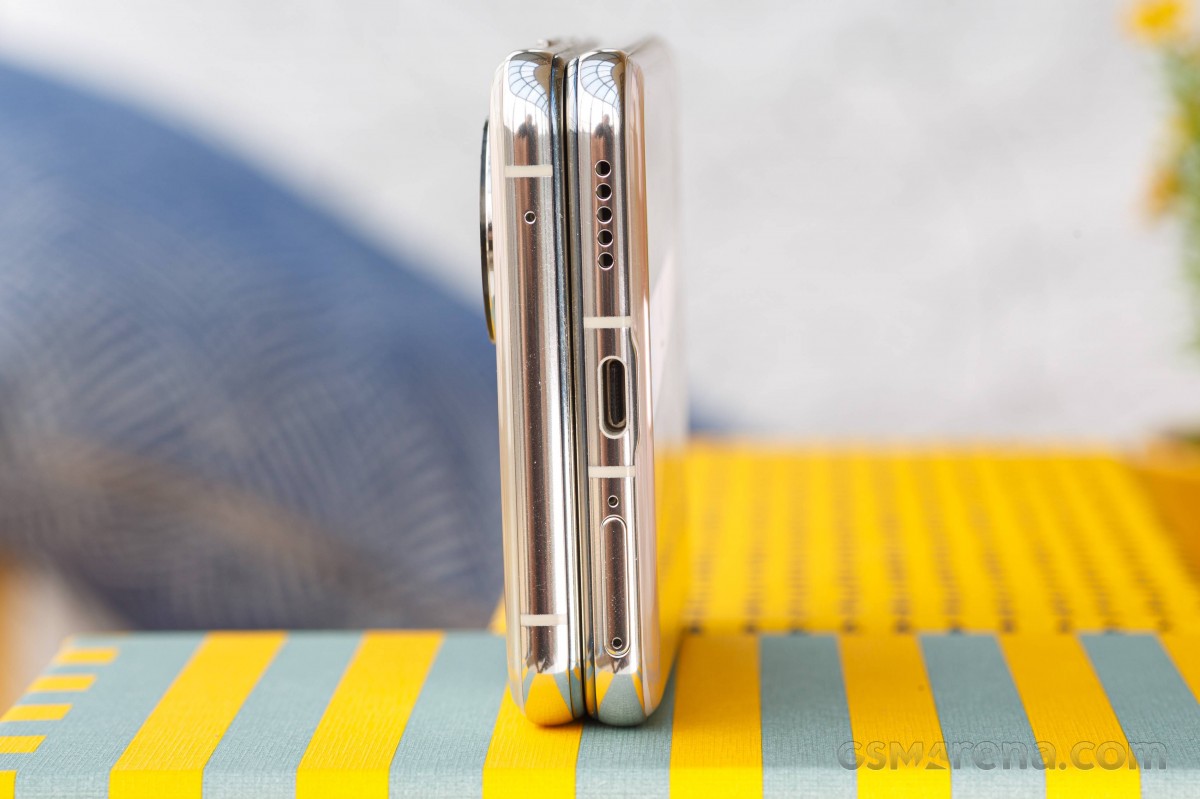 It's not an overly loud speaker either, only earning an 'Average' rating in our test - compare to the 'Very Good' Moto and Find. With all that in mind, the sound isn't all that bad - we're getting balanced output with pleasant vocals and sparkly highs.
Use the Playback controls to listen to the phone sample recordings (best use headphones). We measure the average loudness of the speakers in LUFS. A lower absolute value means a louder sound. A look at the frequency response chart will tell you how far off the ideal "0db" flat line is the reproduction of the bass, treble, and mid frequencies. You can add more phones to compare how they differ. The scores and ratings are not comparable with our older loudspeaker test. Learn more about how we test here.