6.78-inch OLED of 1260p resolution
The vivo X90 Pro features a 6.78-inch OLED screen with 10-bit color depth, HDR10+ certification, and 1260p resolution. The panel supports a 120Hz refresh rate and high-frequency 2,160Hz PWM dimming for people who are sensitive to PWM pulsations on AMOLED screens.
BOE is the display manufacturer, and the panel uses its proprietary Blue Diamond Pixel arrangement, which allegedly increases the OLED lifespan by 30% and also improves the brightness and color properties.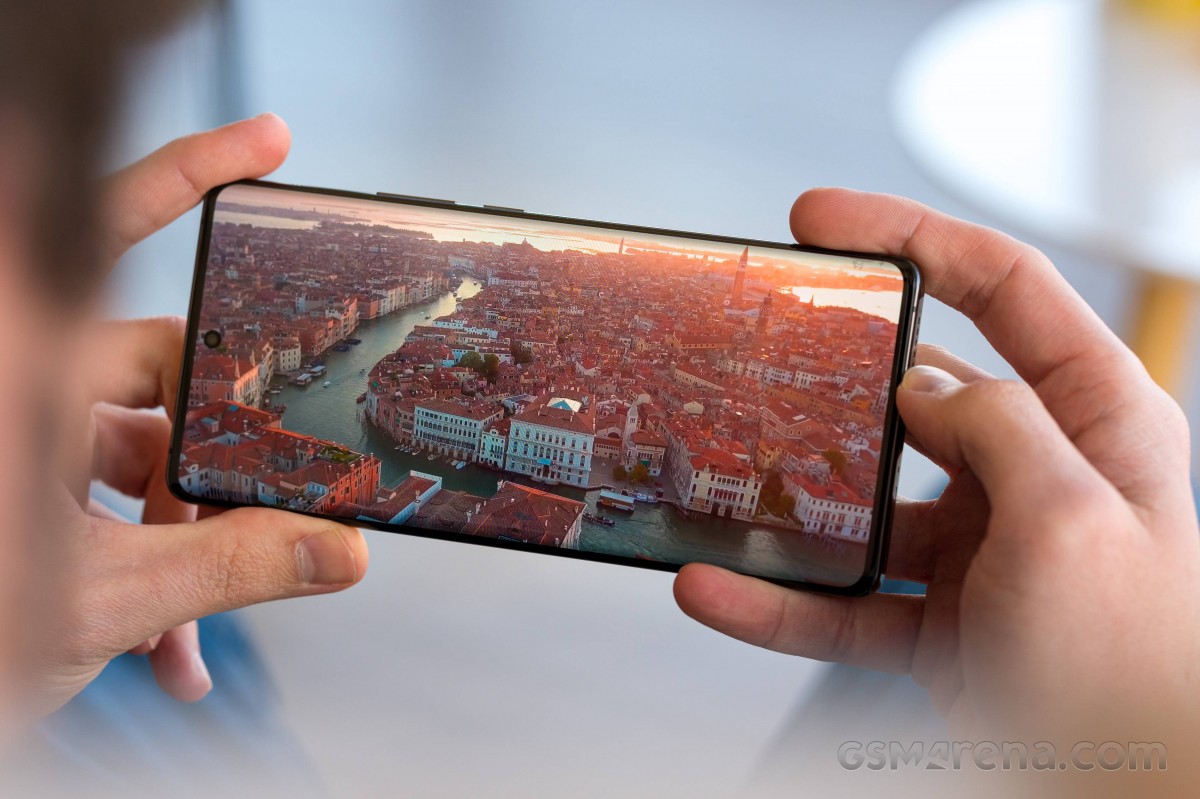 The display is protected by a slightly curved glass, but its maker is not revealed. The vivo X80 Pro and X70 Pro used Schott Xensation Up glass, and there is a big chance the vivo X90 Pro uses the same type of protection.
Let's talk about the screen specs. As we said, it's a 6.78-inch in diagonal and offers a 2,800 x 1,260 pixels resolution or 453 ppi density. There is support for 10-bit color depth, meaning the screen can show over a billion colors. Unlike the LTPO3 panel on the vivo X80 Pro that offered truly dynamic refresh rate, this one has fixed three fixed steps - 60Hz, 90Hz, and 120Hz.
Vivo hasn't shared any brightness numbers outside the 1,300 nits peak brightness. We've completed our display test and we captured 517nits of maximum manual and 934nits of maximum automatic brightness.
The sunlight boost seems to be available no matter if you are using Auto Brightness or not, but if Auto Brightness is not on, sometimes it just dramatically lowers the contrast instead of raising the brightness beyond 520 nits. And, another thing, we did measure 540nits of brightness when testing the sRGB color accuracy, so the maximum manual brightness also depends on the chosen color mode.
The minimum brightness at point white is 1.9 nit.
Display test
100% brightness
Black,cd/m2
White,cd/m2
Contrast ratio
vivo X90 Pro
0
517
∞
vivo X90 Pro (Max Auto)
0
934
∞
vivo X80 Pro
0
488
∞
vivo X80 Pro (Max Auto)
0
1014
∞
vivo X70 Pro
0
457
∞
vivo X70 Pro (Max Auto)
0
993
∞
Xiaomi 12S Ultra
0
512
∞
Xiaomi 12S Ultra (Max Auto)
0
1065
∞
Samsung Galaxy S23 Ultra
0
517
∞
Samsung Galaxy S23 Ultra (Extra Brightness)
0
831
∞
Samsung Galaxy S23 Ultra (Max Auto)
0
1274
∞
Huawei Mate 50 Pro
0
568
∞
Huawei Mate 50 Pro (Max Auto)
0
946
∞
Sony Xperia Pro-I
0
406
∞
Sony Xperia Pro-I (Max Auto, Creator mode)
0
644
∞
Apple iPhone 14 Pro Max
0
828
∞
Apple iPhone 14 Pro Max (Max Auto)
0
1760
∞
Color accuracy
The vivo X90 Pro and its Funtouch launcher offer four color modes - Standard (default), Pro, Bright, and Zeiss Natural Color. In all but the Zeiss modes you can also tweak the color temperature.
All modes but the Pro correspond to the DCI-P3 color gamut.
The Standard (default) color mode offers very good color accuracy except for the slightly bluish white and gray hues. A similar thing can be said for the Bright mode, too, though some of the base color here also exhibit a slight saturation boost.
The Zeiss mode offers excellent accuracy to DCI-P3 targets with accurate white and gray colors. The Pro mode offers superb accuracy to sRGB targets.
Refresh rate
The vivo X90 Pro display supports a 120Hz refresh rate, but it's not as dynamic as on the vivo X80 Pro's. The X90 Pro screen has three fixed steps - 60Hz, 90Hz, and 120Hz.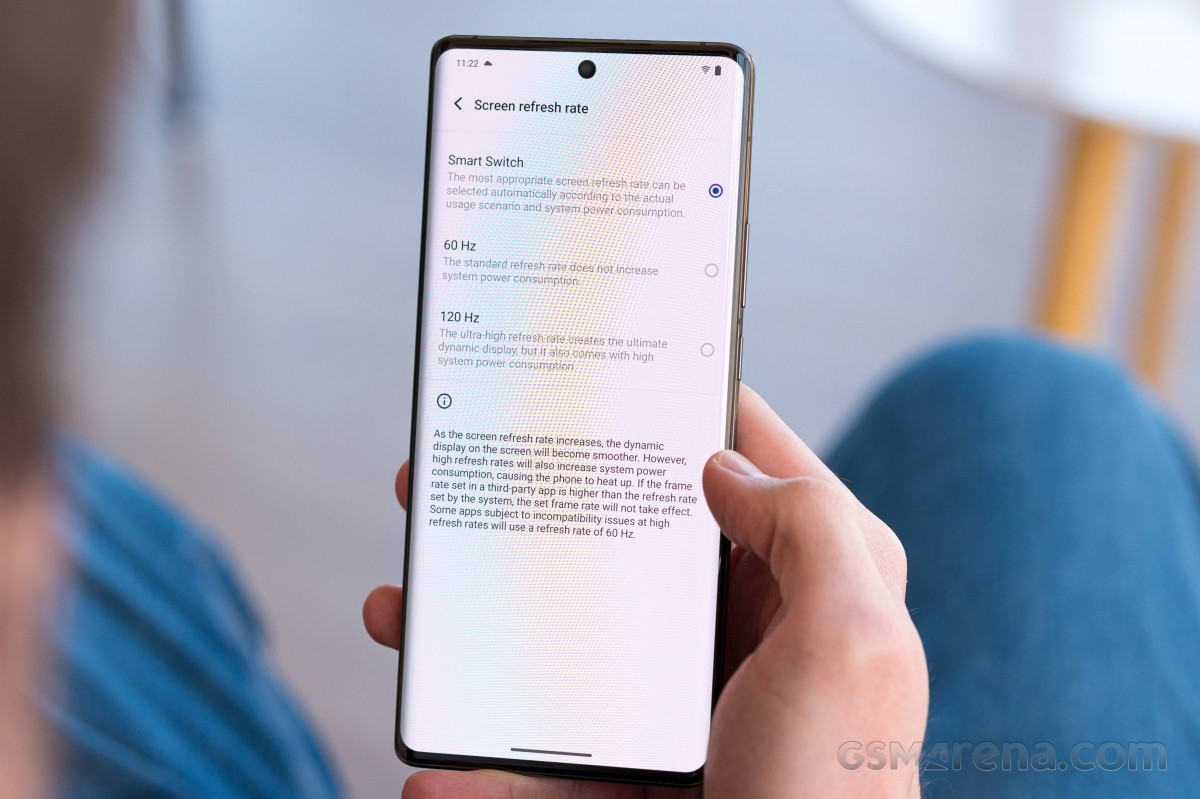 The vivo X90 Pro offers three refresh rate modes, similar to what we've seen on most of the modern phones - 60Hz, 120Hz, and Smart Switch.
The 60Hz is self-explanatory - the phone always uses 60Hz refresh rate and all apps are capped at 60fps.
The Smart Switch and 120Hz modes work in a similar fashion - they use 120Hz across the user interface and most apps, and switch to 60Hz for static picture, video playback (but not video UI) and incompatible apps like Google Maps and Camera app.
The Smart Switch is a bit more restrictive - it analyzes the app, and it decides if it's worth using 120Hz or not. We found that web browsers, video streaming apps like Netflix, office apps, among others are limited to 60Hz. In fact, half of the apps we tried were limited to 60Hz.
The Smart Switch and 120Hz modes allow for HFR gaming (and benchmarking), if supported. There is also a Frame Rate Interpolation feature that increases 90fps games to 120fps, though the game has to be compatible, and you need to enable the feature from within the Ultra Game Mode manually.
HDR and streaming
The vivo X90 Pro has an HDR10+ certified display, and it comes with Widevine L1 DRM support. The phone is recognized by all popular apps as HDR10-capable, and we were able to stream HDR content in high resolution everywhere.
Display enhancements
There is one display enhancement option for the vivo X90 Pro screen, and it's called Visual Enhancement. It optimizes the colors and contrast in compatible video streaming apps for a "more vivid picture". Once enabled in settings, you can select the apps where you want this to work - such as YouTube and Netflix.
The Visual Enhancement feature increases the power consumption, while its effect is barely noticeable (also unnecessary), and, in our opinion, you should keep it off.
Battery life
The vivo X90 Pro is powered by a 4,870mAh battery, up from 4,700mAh on the vivo X80 Pro and 4,450mAh on the X70 Pro. The battery has been split into two separate cells so it can support the incredibly fast 120W fast charging.
We've completed our battery life test, and the vivo X90 Pro scored a 96h endurance rating. It did absolutely great on the onscreen tests - 16 hours and 27 minutes of web browsing and 18 hours of continued video playback.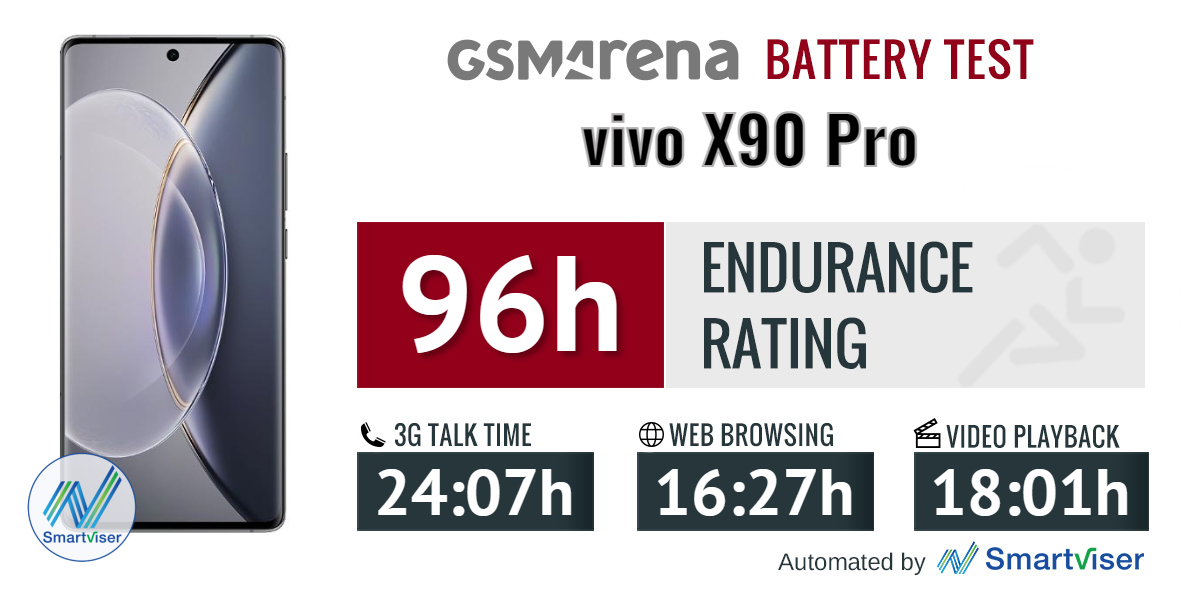 Our battery tests were automated thanks to SmartViser, using its viSerDevice app. The endurance rating denotes how long the battery charge will last you if you use the device for an hour of telephony, web browsing, and video playback daily. More details can be found here.
The sub-100h endurance rating comes from the average standby performance (237h), which could be attributed either to the chipset and its modem, or the software (lack of) optimizations, or both.
Video test carried out in 60Hz refresh rate mode. Web browsing test is done at the display's highest refresh rate whenever possible. Refer to the respective reviews for specifics. To adjust the endurance rating formula to match your own usage patterns, check out our all-time battery test results chart, where you can also find all phones we've tested.
Charging speed
The 4,870mAh battery inside the vivo X90 Pro has two independent cells, and that's how the 120W fast wired charging was made available. The phone ships with a 120W brick and a 6A-rated USB-C cable.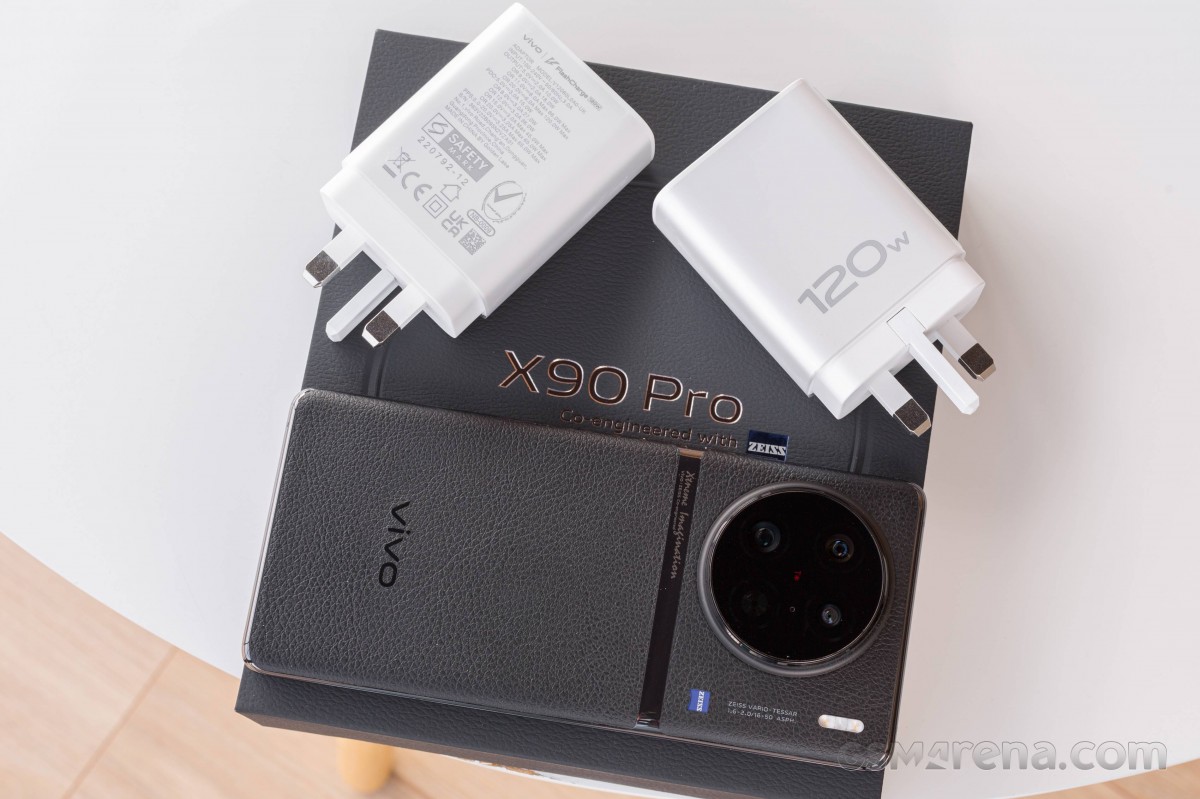 Oddly, the fast-charging option was disabled by default from within the battery settings, limiting the charging power to 20W-30W or so.
Vivo promises 50% of charge in 8 minutes, and we can confirm that - the X90 Pro recharged to 30% in 5 minutes and to 50% sharp in 8 minutes!
A full charge took 24 minutes - about the same as the Xiaomi 12T and 12T Pro with their 5,000mAh batteries and 120W fast chargers.
30min charging test (from 0%)
Higher is better
| | |
| --- | --- |
| vivo X90 Pro | 100% |
| OnePlus 11 | 100% |
| vivo X80 Pro | 88% |
| vivo X70 Pro+ | 80% |
| Huawei Mate 50 Pro | 79% |
| Samsung Galaxy S23 Ultra (65W) | 74% |
| Xiaomi 12S Ultra | 73% |
| vivo X70 Pro | 64% |
| Apple iPhone 14 Pro Max | 48% |
* Tap/hover over the device names for more info
Time to full charge (from 0%)
Lower is better
| | |
| --- | --- |
| OnePlus 11 | 0:22h |
| vivo X90 Pro | 0:24h |
| vivo X80 Pro | 0:39h |
| Huawei Mate 50 Pro | 0:41h |
| vivo X70 Pro+ | 0:48h |
| Xiaomi 12S Ultra | 0:50h |
| vivo X70 Pro | 1:00h |
| Samsung Galaxy S23 Ultra (65W) | 1:01h |
| Apple iPhone 14 Pro Max | 1:52h |
* Tap/hover over the device names for more info
The vivo X90 Pro also supports 50W fast wireless charging, and even reverse wireless charging (needs to be turned on/off from the battery menu). Reverse wired charging is also supported, too, and you already have a USB-C-to-C cable inside the box, which means you don't need any adapters.
Speakers - loudness and audio quality
The viv0 X90 Pro has stereo speakers - there is one at the bottom of the phone, while the other one is above the screen and also doubles as an earpiece.
The top speaker is a bit quieter than the bottom one, but it is front-facing, and that makes up for its inferiority. With that in mind, the setup offers excellent audio balance no matter how you are holding the phone.
The stereo speakers on the vivo X90 Pro scored a Very Good mark on our loudness test, and they indeed sound loud when playing music and when ringing. The audio quality is also very good - there is a good bass, likable mid-tones and vocals, and the high range is also well-presented.
We've experienced phones with a bit richer and deeper sound from their speakers (like the Galaxy S23 series), and that's why we can't rate the X90 Pro audio quality as excellent. But it is, indeed, Very Good.
Use the Playback controls to listen to the phone sample recordings (best use headphones). We measure the average loudness of the speakers in LUFS. A lower absolute value means a louder sound. A look at the frequency response chart will tell you how far off the ideal "0db" flat line is the reproduction of the bass, treble, and mid frequencies. You can add more phones to compare how they differ. The scores and ratings are not comparable with our older loudspeaker test. Learn more about how we test here.