Beautiful QHD AMOLED
The specsheet of the X80 Pro's display leaves nothing out. The 6.78-inch Samsung-made OLED panel has a 1,440x3,200px resolution for a pixel density of 517ppi. Refresh rate maxes out at 120Hz but can go down to 1Hz depending on content and activity, while touch sampling can be as fast as 300Hz. It's a 10bit panel too for over 1 billion colors, supports HDR10 and can reach a peak brightness of 1500nits.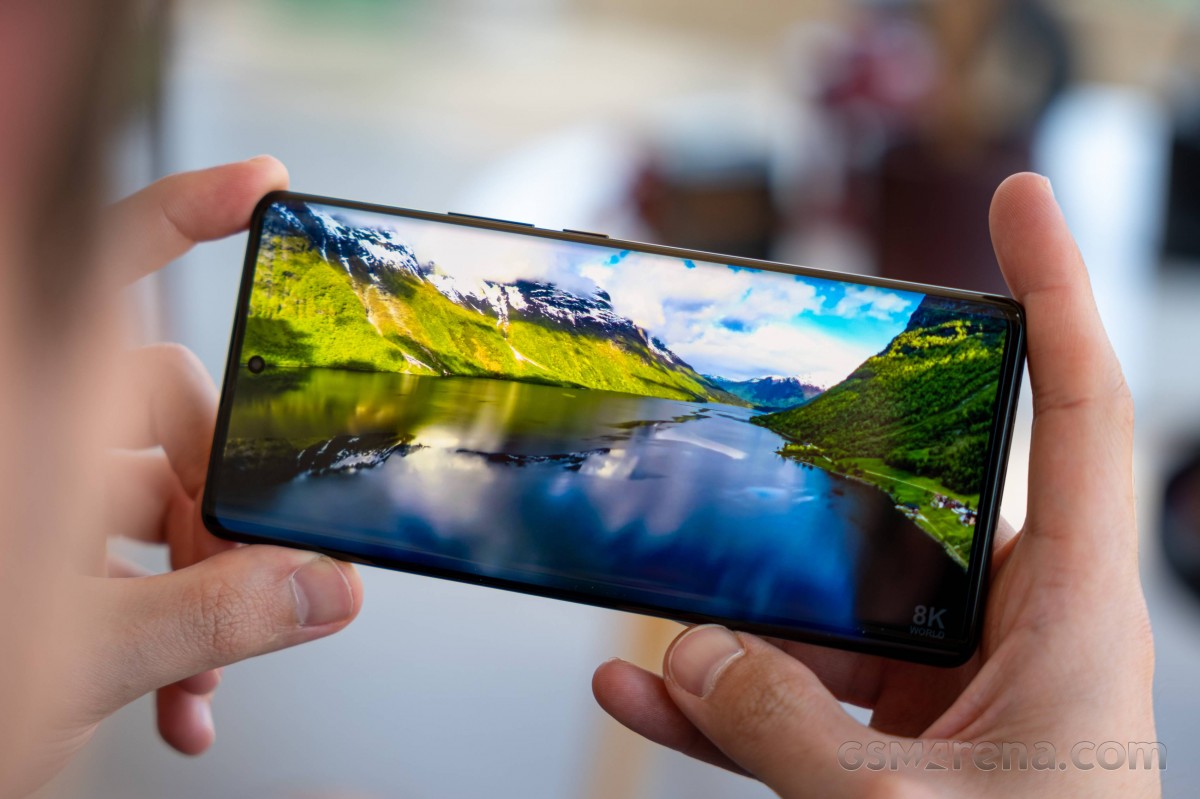 That number is for small lit-up areas - that's why they call it 'local peak brightness', which is an honest approach we appreciate. In general use vivo promises 1000nits and that's essentially what we measured on the X80 Pro (plus some change), when the phone was placed under direct light and with adaptive brightness enabled in settings. The number you can get at the right end of the slider when the toggle is disabled is 488nits.
Those are virtually the same results we got on the iQOO 9 Pro and the vivo X70 Pro+, and it's as bright as phone displays go - excluding the current top-end Galaxies or iPhones, that is.
Display test
100% brightness
Black,cd/m2
White,cd/m2
Contrast ratio
vivo X80 Pro
0
488
∞
vivo X80 Pro (Max Auto)
0
1014
∞
vivo X70 Pro+
0
458
∞
vivo X70 Pro+ (Max Auto)
0
1022
∞
iQOO 9 Pro
0
438
∞
iQOO 9 Pro (Max Auto)
0
1000
∞
OnePlus 10 Pro
0
498
∞
OnePlus 10 Pro (Max Auto)
0
780
∞
Oppo Find X5 Pro
0
475
∞
Oppo Find X5 Pro (Max Auto)
0
762
∞
Realme GT2 Pro (Max Auto)
0
778
∞
Realme GT2 Pro
0
482
∞
Xiaomi 12 Pro
0
506
∞
Xiaomi 12 Pro (Max Auto)
0
1050
∞
Apple iPhone 13 Pro Max
0
852
∞
Apple iPhone 13 Pro Max (Max Auto)
0
1050
∞
Samsung Galaxy S22 Ultra
0
494
∞
Samsung Galaxy S22 Ultra (Extra brightness)
0
829
∞
Samsung Galaxy S22 Ultra (Max Auto)
0
1266
∞
Samsung Galaxy S22+
0
468
∞
Samsung Galaxy S22+ (Extra brightness)
0
782
∞
Samsung Galaxy S22+ (Max Auto)
0
1214
∞
Sony Xperia 1 IV
0
602
∞
The X80 Pro goes about color handling in the same way as the X70 Pro+ and the iQOO 9 Pro. There are three color presets as well as a simple stepless temperature slider if you'd like to tweak things one way or the other. The Standard profile has a wide color gamut and is generally accurate for DCI-P3 content, though its white point and grayscale colors are visibly cold and shifted towards blue - more or less the norm. You can visibly improve things by moving the temperature slider about 1/3 or half the way in the warm direction.
The Professional preset is what you should look for if you're after accurate representation for sRGB content - it was spot-on for our test swatches.
Then there's the Bright mode, which expands the gamut beyond the P3 color space and is a bit punchier without any attempts at accuracy.
The X80 Pro supports HDR10+ and we got HDR streams in both YouTube and Netflix, but not so much in Amazon Prime. Both Netflix and Prime streamed at 1080p.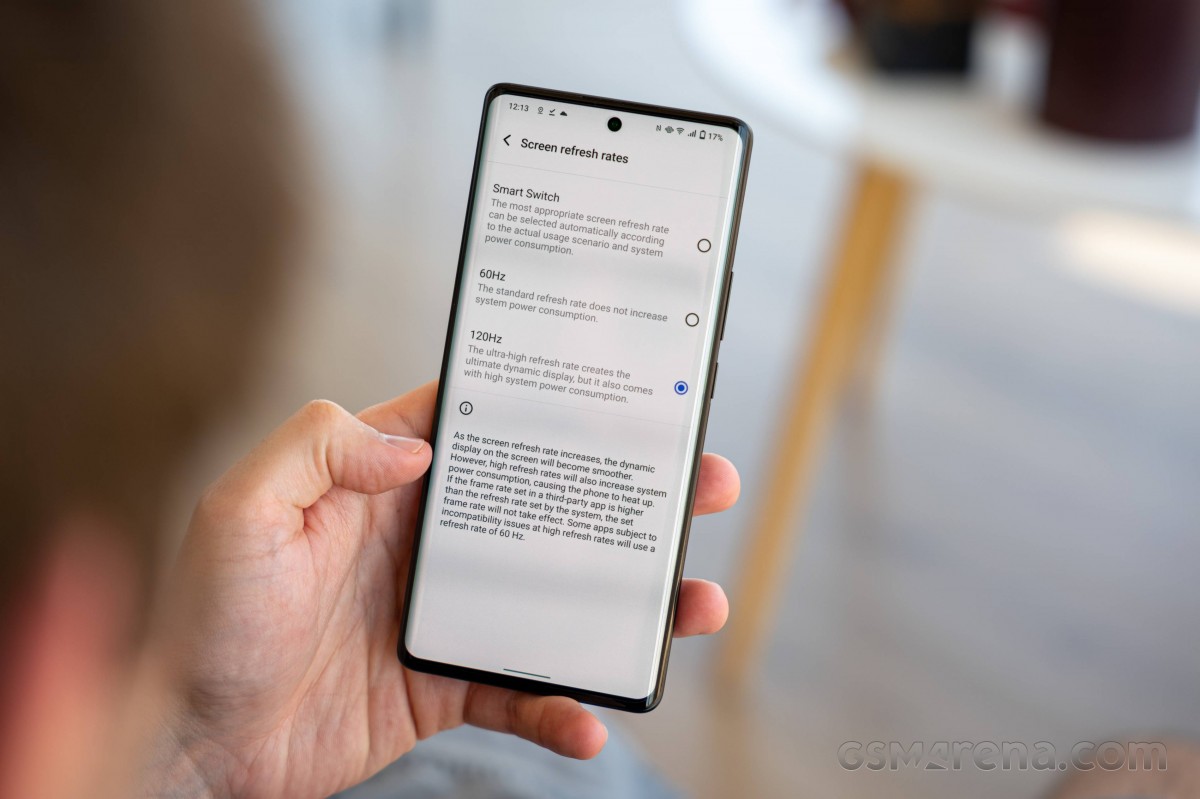 The X80 Pro has a three options in the refresh rate menu - Smart Switch, 60Hz, and 120Hz. As we've previously observed, there's little difference between the Smart Switch and 120Hz mode and both employ mostly similar logic for autoswitching the refresh rate based on the use case and whether you're touching the phone or not.
The 60Hz mode is also a ceiling of sorts - RR maxes out at 60Hz, but will still drop to save power when the phone doesn't detect any touch input for a few seconds. Having said that, in this mode we never saw readings below 10Hz, while both other modes would drop to 1Hz in isolated instances - or rather, instance - the settings menu, when you're not touching the display. Speaking of, that 1Hz is only attainable at or near maximum brightness - pull the slider a bit more to the left and it's 10Hz.
Browsers max out at 60Hz in Smart switch mode, but 120Hz in 120Hz mode. Again, if you're not touching the display, the phone will seize the opportunity to drop to 10Hz, though it will be smart enough to maintain 60Hz if there's moving content in the web page.
Video content will be getting the refresh rate it needs and nothing more. 24fps, 30fps, and 48fps clips had the Hz counter going all over the place, but the video played smoothly (also, who uses 48fps), while for 60fps videos the phone reported stable refresh rate numbers.
One area where we're seeing no positive development is the availability of high refresh rate in gaming. While we're seeing benchmarks go above the 60fps threshold and we get 120Hz readings in GFXBench, actual games don't do that on the vivo X80 Pro - as is unfortunately the norm with phones in the vivo/Oppo/Realme/OnePlus portfolio.
vivo X80 Pro battery life
The X80 Pro gets a minor battery capacity increase over the X70 Pro+ and the number is now 4,700mAh. We expect the extra 200mAh to cover the newer Snapdragon's likely higher demands - the reality we've come to accept is that newer chipsets don't seem to offer better battery life.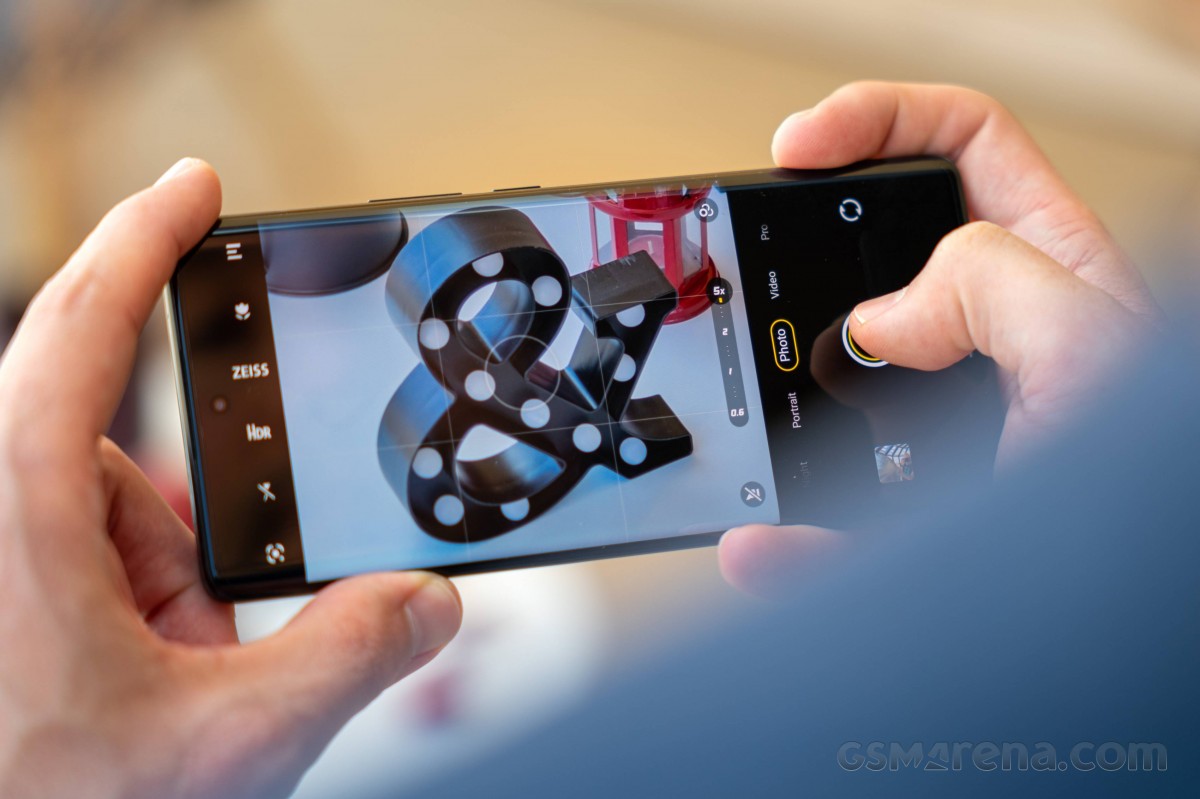 Indeed, that's more or less what the figures below show. We clocked virtually the same 14:45h runtime in looping videos (with the screen alternating between 24/30Hz refresh rates) as on the older model, while the Wi-Fi web browsing was half an hour shorter than on the X70 Pro+ at 13:49h (at a variable 10Hz-60Hz refresh rate). We'd call these solid numbers, if not exactly class-leading.
Unimpressive in the grand scheme of things, the call time and standby economy weren't all that bad as high-end SoCs go, but they didn't help the overall Endurance rating and the result stands at 79h.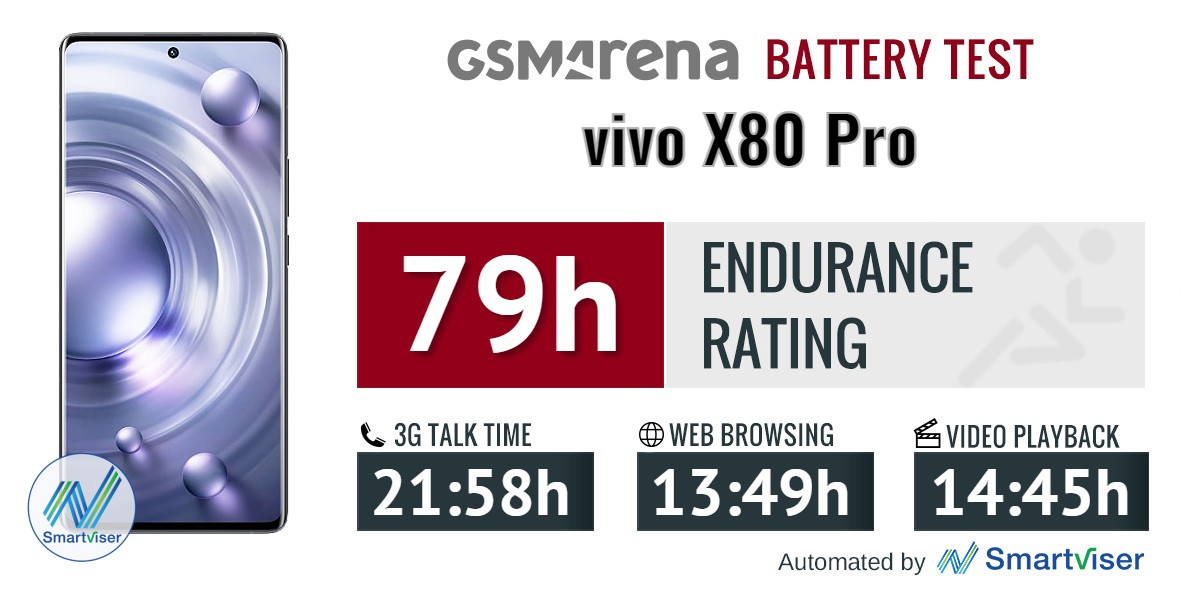 Our battery tests were automated thanks to SmartViser, using its viSerDevice app. The endurance rating denotes how long the battery charge will last you if you use the device for an hour of telephony, web browsing, and video playback daily. More details can be found here.
Video test carried out in 60Hz refresh rate mode. Web browsing test done at the display's highest refresh rate whenever possible. Refer to the respective reviews for specifics. To adjust the endurance rating formula to match your own usage - check out our all-time battery test results chart.
Charging speed
The X80 Pro comes bundled with a 80W adapter with vivo's FlashCharge branding. It's highest rated mode is 20V/4A, and it's in this mode that the phone reaches the peak of about 65-66W of charging power to its two separate cells inside - at around 17V and a little under 4A. We tried other adapters supporting USB PowerDelivery up to 65W, but with those the phone only negotiated 5V/2V - so a pretty slow fallback if you don't have your vivo charger handy and a somewhat unusual PD implementation on the X80 Pro.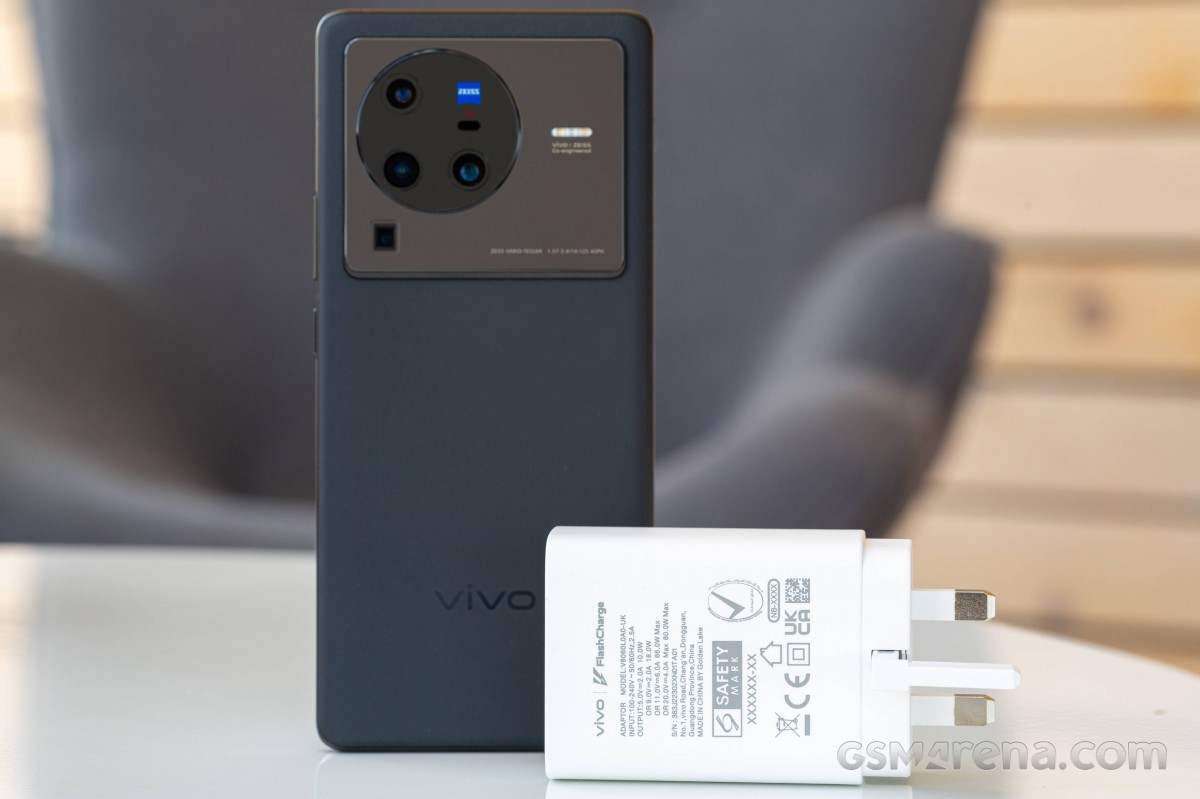 However, using the included adapter, you can get nicely quick top ups. A full charge from flat took us 39 minutes - one more than vivo's claims, which could very well be down to a difference in methodology. The thirty-minute mark had us looking at 88% in the battery indicator.
So while properly quick and a decent upgrade over the X70 Pro+, the X80 Pro is no match for the iQOO 9 Pro where the 0 to 100% took just 21min. That said, no 'outside' competitor is quicker than the vivo, other than the Xiaomi 12 Pro.
30min charging test (from 0%)
Higher is better
iQOO 9 Pro
100%
Xiaomi 12 Pro (120W)
100%
Oppo Find X5 Pro
91%
Realme GT2 Pro
91%
vivo X80 Pro
88%
vivo X70 Pro+
80%
Samsung Galaxy S22+ (45W)
64%
Xiaomi 12 Pro (65W PD)
62%
Samsung Galaxy S22+ (25W)
62%
Samsung Galaxy S22 Ultra (25W)
61%
Samsung Galaxy S22 Ultra (45W)
60%
Apple iPhone 13 Pro Max (65W PD)
55%
Sony Xperia 1 IV
47%
Apple iPhone 13 Pro Max (20W Apple)
42%
Time to full charge (from 0%)
Lower is better
iQOO 9 Pro
0:21h
Xiaomi 12 Pro (120W)
0:21h
vivo X80 Pro
0:39h
Oppo Find X5 Pro
0:40h
Realme GT2 Pro
0:40h
vivo X70 Pro+
0:48h
Xiaomi 12 Pro (65W PD)
0:50h
Samsung Galaxy S22 Ultra (45W)
0:59h
Samsung Galaxy S22+ (45W)
1:01h
Samsung Galaxy S22+ (25W)
1:02h
Samsung Galaxy S22 Ultra (25W)
1:04h
Sony Xperia 1 IV
1:42h
Apple iPhone 13 Pro Max (20W Apple)
1:46h
Apple iPhone 13 Pro Max (65W PD)
1:54h
The X70 Pro+ introduced wireless charging to the lineup and the X80 Pro has it as well. Vivo advertises a 50W maximum input power and 50minutes for the 0 to 100% run, but that would require one of their own FlashCharge wireless pads, which we didn't have for testing. Judging by the certification listing for the X70 Pro+ at the WPC (the X80 Pro doesn't have one yet, oddly), the X80 Pro should support the Extended Power Profile for up to 11W using standard Qi charging pads.
Speaker test
Another of the long overdue features that showed up on the X70 Pro+ and we're now also getting on the X80 Pro is stereo speakers. It's a standard setup where a bottom-firing dedicated speaker is joined by the earpiece to form a pair of channels and the software observes the orientation of the phone to send the correct channel to the correct speaker in landscape orientation.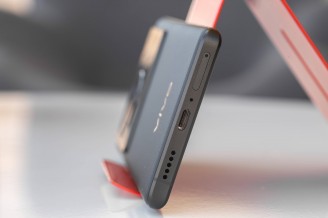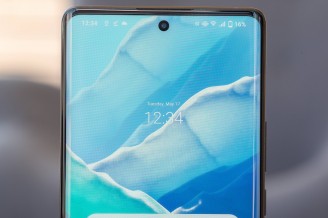 Bottom speaker • Earpiece/Top speaker
'Very Good' is the rating that the X80 Pro got for loudness in our test, in line with stablemates like the Oppo Find X5 Pro and the iQOO 9 Pro, as well as last year's X70 Pro+. They all sound distinctly different - not day-and-night different, but different. We'd say the X80 Pro has the best balance - it has some low-end thump, pleasing vocals, well-defined treble - the others in the (extended) family each have a flaw here or there. Meanwhile, competitors like the Xiaomi 12 Pro or the Galaxy S22+ are really no match.
Use the Playback controls to listen to the phone sample recordings (best use headphones). We measure the average loudness of the speakers in LUFS. A lower absolute value means a louder sound. A look at the frequency response chart will tell you how far off tehe ideal "0db" flat line is the reproduction of the bass, treble, and mid frequencies. You can add more phones to compare how they differ. The scores and ratings are not comparable with our older loudspeaker test. Learn more about how we test here.