Flagship-grade 120Hz OLED
The X70 Pro may not be headlining the series, but it sure does have a solid 6.56-inch display. Now relying on Samsung's more efficient E5 AMOLED process the panel can reach higher brightness and offers increased power efficiency. Note that this E5 AMOLED panel is different from the one used in the Pro+ where the manufacturing process of the TFT matrix is LTPO. This one uses a standard LTPS TFT.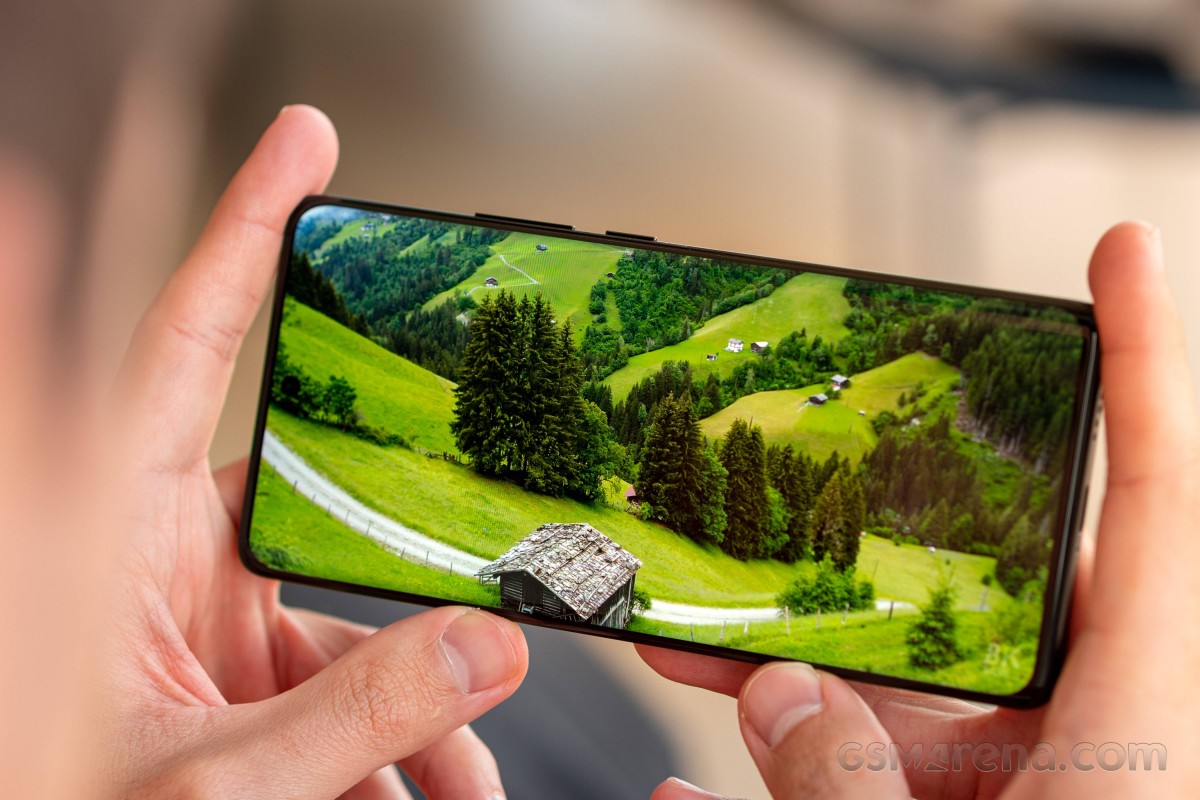 Anyway, it's curved to the sides (which might not be up your alley), and it has a single, centered punch-hole selfie camera design. It runs at 120Hz with a tall 1080 x 2376px resolution. The 240Hz touch response time will be appreciated by gamers.
However, the panel isn't just fast, it's bright too. It's rated at 1300 nits peak brightness, and by that, vivo probably means peak brightness during HDR video playback. After all, it's HDR10+ compliant.
In our tests, with a 75% fill pattern, the screen peaked at the whopping 993 nits in Auto mode. It only got to 457 nits in manual mode with the brightness slider set to maximum but however you look at it, it's a definite upgrade over the X60 Pro.
Display test
100% brightness
Black,cd/m2
White,cd/m2
Contrast ratio
vivo X70 Pro
0
457
∞
vivo X70 Pro (Max Auto)
0
993
∞
vivo X60 Pro
0
472
∞
vivo X60 Pro (Max Auto)
0
818
∞
vivo X60 Pro+
0
477
∞
vivo X60 Pro+ (Max Auto)
0
816
∞
Xiaomi Mi 11T Pro
0
516
∞
Xiaomi Mi 11T Pro (Max Auto)
0
837
∞
Xiaomi Mi 11i
0
514
∞
Xiaomi Mi 11i (Max Auto)
0
939
∞
OnePlus 9
0
450
∞
OnePlus 9 (Max Auto)
0
821
∞
Asus Zenfone 8
0
440
∞
Asus Zenfone 8 (Max Auto)
0
800
∞
Asus Zenfone 8 Flip
0
518
∞
Asus Zenfone 8 Flip (Max Auto)
0
735
∞
Color accuracy is excellent in the Professional mode achieving an impressive dE2000 of just 1.9 and maximum deviation of 3.9. The default and Bright modes expect a bit exaggerated colors and blue-ish tint on whites and grays. Manual control for color temperature is also available so you can keep the juicy colors and bring down the color temperature a bit.
Refresh rate control isn't ideal, and it's identical to the X60 Pro's. The same 60Hz, 120Hz and Smart Switch modes are available, but when the latter is active, the panel defaults to 60Hz when not touching the display. Sadly, the issue with browsers being limited to 60Hz (vivo's default Browser included) is still persistent. The system would also tone down the refresh rate to 60Hz when browsing the default Gallery, YouTube, Netflix, Google Maps and the Camera app.
Using the 120Hz mode would keep things smooth at all times at the expense of battery life. Idling would still bring down the refresh rate to 60Hz while forcing 120Hz on browsers too. Moreover, the refresh rate menu gives you a couple of toggles that force 120Hz on some apps, which the system detects them running at 60Hz by default. In essence, the 120Hz is perhaps a better auto mode than the so-called Smart Switch.
Battery life
We are happy to report that the vivo X70 Pro offers a massive improvement in battery life compared to its predecessor. Perhaps the more efficient E5 AMOLED panel from Samsung, the new chipset and the small bump in the battery capacity (up 4,450 mAh from 4,200 mAh) have all contributed to the impressive 123h overall endurance score. The screen-on runtimes are particularly impressive, which leads us to believe that the upgraded E5 AMOLED panel is the main contributor to this improvement.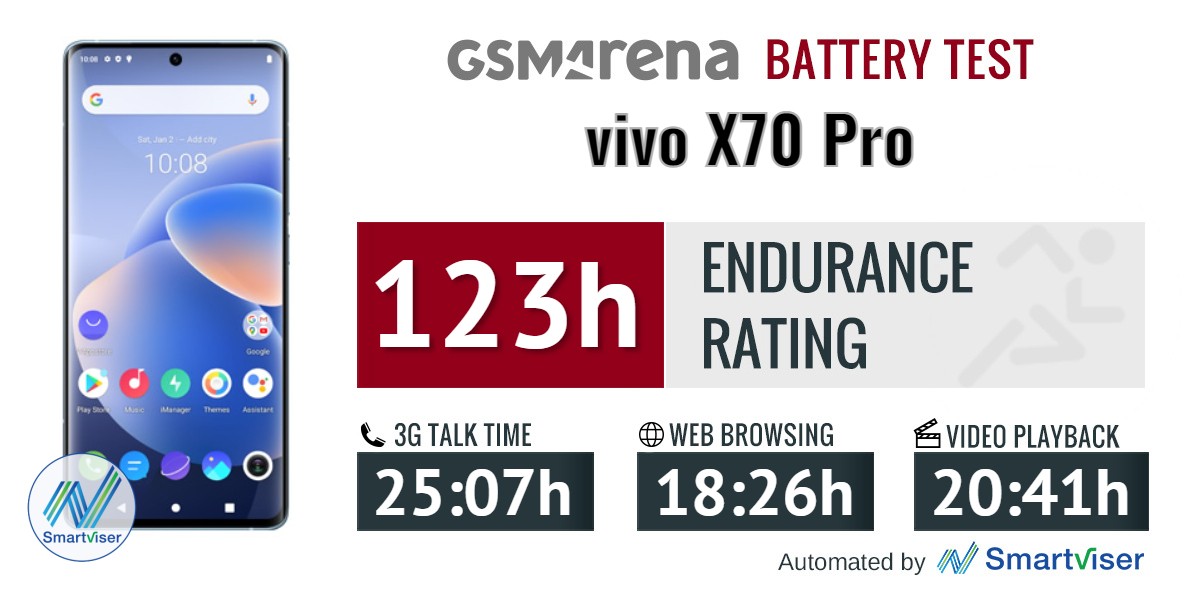 Our battery tests were automated thanks to SmartViser, using its viSerDevice app. The endurance rating denotes how long the battery charge will last you if you use the device for an hour of telephony, web browsing, and video playback daily. More details can be found here.
Video test carried out in 60Hz refresh rate mode. Web browsing test done at the display's highest refresh rate whenever possible. Refer to the respective reviews for specifics. To adjust the endurance rating formula to match your own usage patterns check out our all-time battery test results chart where you can also find all phones we've tested.
None of the X70 Pro's competitors gets close in terms of endurance, even though some of them pack bigger batteries. The 11T Pro, for example, has a 5,000 mAh cell.
Charging speed
The 44W FlashCharge coupled with a 4,450 mAh battery should be pretty fast on paper, and according to our tests, it's decently fast. You can get about 64% of the charge in 30 minutes, while a full charge would take exactly 60 minutes. Put that into context, however, and the X70 Pro falls short of the competition.
30min charging test (from 0%)
Higher is better
OnePlus 9
100%
Xiaomi 11T Pro
100%
vivo X60 Pro+
84%
Xiaomi Mi 11i
69%
vivo X60 Pro
68%
vivo X70 Pro
64%
Asus Zenfone 8
60%
Time to full charge (from 0%)
Lower is better
Xiaomi 11T Pro
0:21h
OnePlus 9
0:29h
vivo X60 Pro+
0:42h
Xiaomi Mi 11i
0:52h
vivo X60 Pro
0:58h
vivo X70 Pro
1:00h
Asus Zenfone 8
1:28h
In fact, the X60 Pro outpaces the newer X70 Pro despite supporting slower 33W charging. It does have a slightly smaller battery, though. Still, the majority of the competition pumps the batteries faster, with the OnePlus 9 and Xiaomi 11T Pro reaching 100% in less than 30 minutes.
Speaker
We have another flagship vivo on our hands, and it once again misses the stereo speaker setup, although this has become a standard even in the mid-tier class. Pretty much all of the X70 Pro's potential rivals boast a pair of these.
Sadly, loudness has suffered somewhere along with the upgrade from the X60 Pro from -25.5 LUFS down to 27.5 LUFS. However, the latter still earns a "Good" score, even for a single, bottom-firing speaker. To our surprise, the X70 Pro didn't sound as flat as its predecessor. There's certainly not enough bass, and mids are not rich enough. Vocals do sound pretty clear, though, but as you approach maximum volume, the distortion in the highs starts to creep in.