6.56-inch AMOLED that's hard to fault
The vivo X60 Pro+ is equipped with the same 6.56-inch display that we saw on the non-plus, and that's no bad thing. It's a 1080p AMOLED with a 120Hz refresh rate, and the good things don't end there.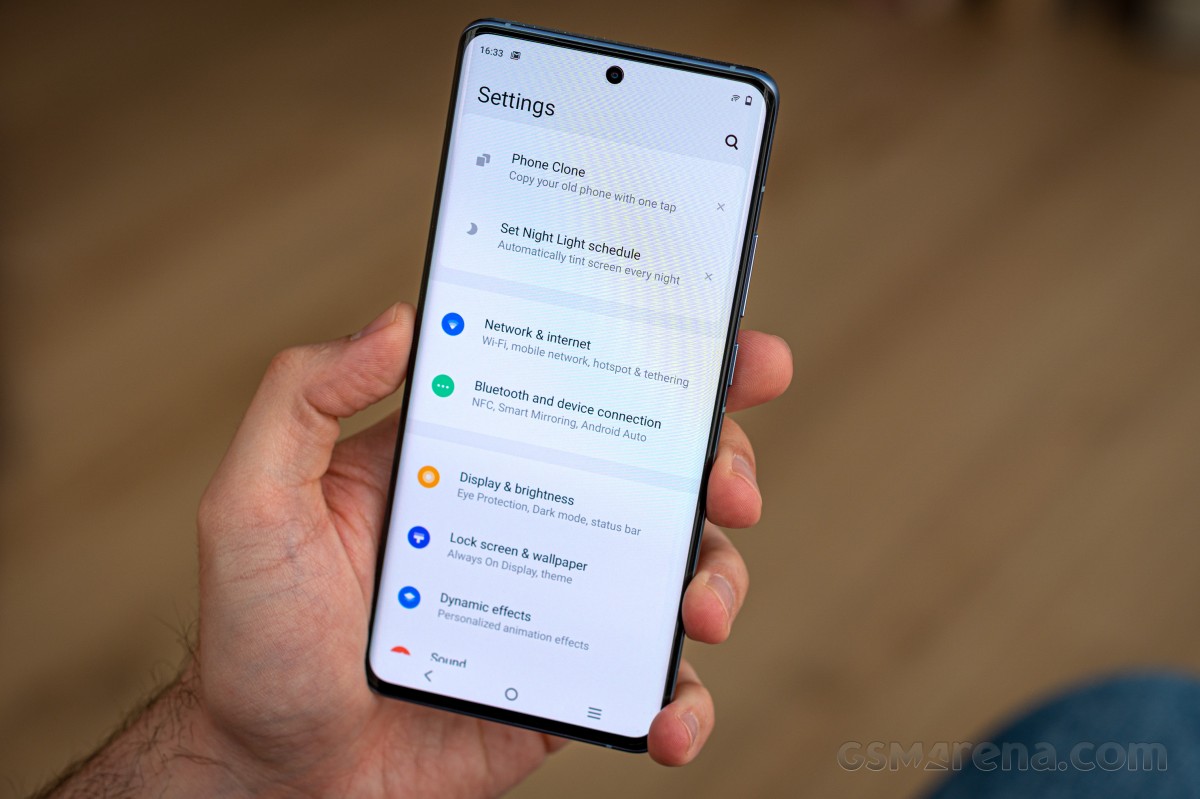 We measured 816ntis of brightness in auto mode with the phone under direct light, a significant boost compared to the 477nits when operating the slider manually. These are essentially the same numbers as the X60 Pro's. Maximum brightness is higher than on the Find X3 Pro, though the OnePlus 9 Pro and Galaxy S21+ can pump out some 60-70nits more, while the Mi 11 is brighter by 110nits. The vivo's 800+ result is still plenty bright, of course.
We recorded no illumination in the blacks, as it should be on OLEDs. The minimum brightness for white, meanwhile, was an excellent 2.0nits.
Display test
100% brightness
Black,cd/m2
White,cd/m2
Contrast ratio
vivo X60 Pro+
0
477
∞
vivo X60 Pro+ (Max Auto)
0
816
∞
vivo X60 Pro
0
472
∞
vivo X60 Pro (Max Auto)
0
818
∞
Oppo Find X3 Pro
0
493
∞
Oppo Find X3 Pro (Max Auto)
0
774
∞
OnePlus 9 Pro
0
525
∞
OnePlus 9 Pro (Max Auto)
0.038
871
22921:1
Xiaomi Mi 11
0
498
∞
Xiaomi Mi 11 (Max Auto)
0
926
∞
Samsung Galaxy S21 Ultra 5G
0
458
∞
Samsung Galaxy S21 Ultra 5G (Max Auto)
0
1023
∞
Samsung Galaxy S21+ 5G
0
459
∞
Samsung Galaxy S21+ 5G (Max Auto)
0
883
∞
Apple iPhone 12 Pro Max
0
822
∞
Asus ROG Phone 5
0
492
∞
Asus ROG Phone 5 (Max Auto)
0
806
∞
Color reproduction is handled in a three-mode way with an additional temperature slider in each. The out-of-the-box Standard mode has a distinct blue shift, which is easily resolved by moving the slider to around the mid-warm point. That way, we got very accurate results for our DCI-P3 swatches. No slider action was required in Professional mode, where we measured essentially perfect calibration for sRGB content. Bright mode is basically an extra colorful mode with no claims for accuracy.
The X60 Pro+ is HDR10+ capable, and Netflix and YouTube served it HDR streams of compatible videos. Amazon Prime Video, on the other hand, didn't.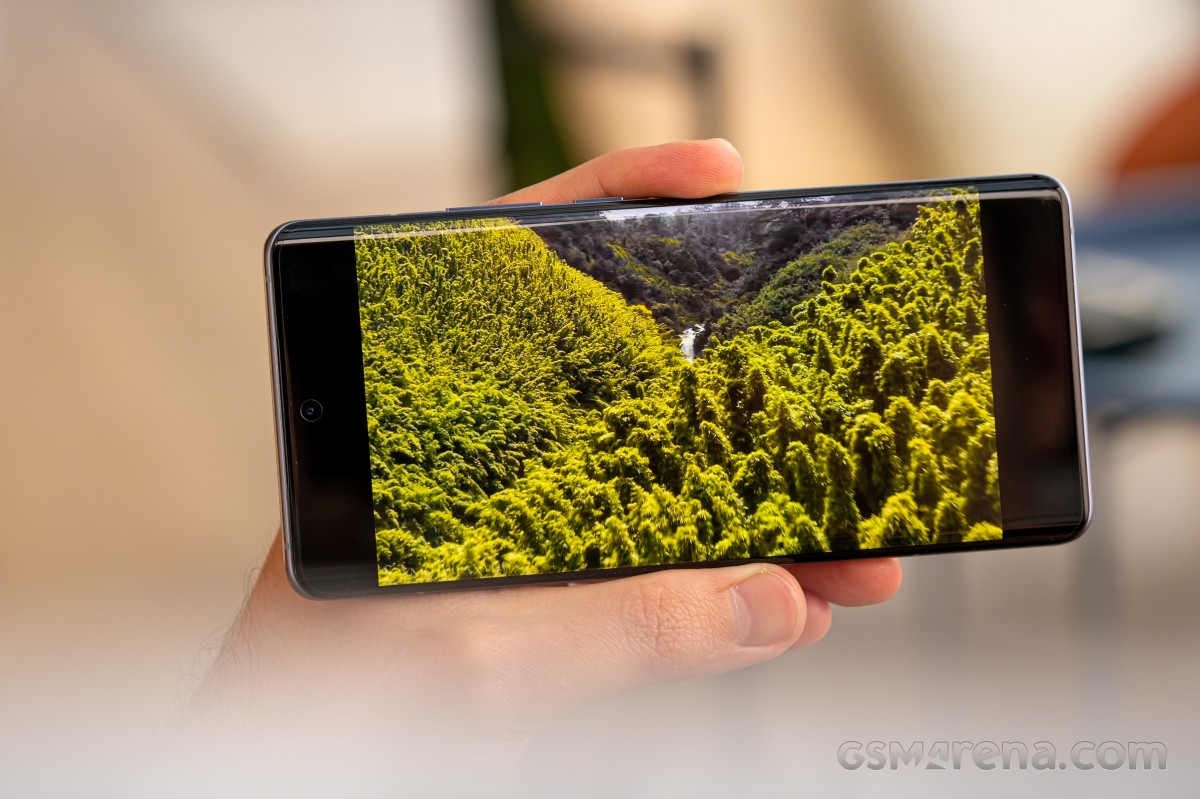 Refresh rate settings on the X60 Pro+ let you choose between three modes - 60Hz, 120Hz and auto (Smart Switch) modes. There's no granular adjustment capability like you'd find on the top-end Galaxy Ultras, with the auto being a simple 120-or-60Hz mode.
In the always-on 120Hz mode, you'd be getting the full 120Hz pretty much constantly - the UI, browsers, social apps. The camera viewfinder and certain apps (Google Maps, for one) will force a switch to 60Hz, however, as will all video playback apps when you go into fullscreen mode - when browsing the video app for content or playing in windowed mode, it'll still be in 120Hz.
The Smart Switch mode maintains 120Hz for UI only when you're touching the display, otherwise, it drops to 60Hz, and that's the behavior in social apps. Oddly, in browsers, it will default to 60Hz as soon as you open the browser, with no spike to 120Hz when swipe around.
The 60Hz mode is, well, 60Hz for everything all the time.
vivo X60 Pro+ battery life
The vivo X60 Pro+ is powered by a 4,200mAh battery, one of the smallest batteries on a flagship Android handset. Distant relatives like the Oppo Find X3 Pro and OnePlus 9 Pro have a bit more juice (4,500mAh each), the Mi 11's power pack is a smidgen bigger at 4,600mAh, while the Galaxy S21+ relies on a 4,800mAh cell.
The vivo is fairly frugal with its use of what it's got, however, and posted decent numbers in our tests, if by no means excellent. The 11:33h result in Wi-Fi web browsing is somewhat low, but let's not forget that the test was carried out at 120Hz, all the time.
For video playback, on the other hand, we got more than 19 hours, which is a best-in-class score. That is always at 60Hz on the X60 Pro+, regardless of display mode, which is a sound power-saving approach.
Voice call longevity was okay at around 24 hours, while standby draw was entirely average for an SD888.
In the end, the X60 Pro+ got an Endurance rating of 91 hours, slightly better than on the OnePlus 9 Pro and the Mi 11, significantly lower than the Galaxy S21+ (in Exynos trim).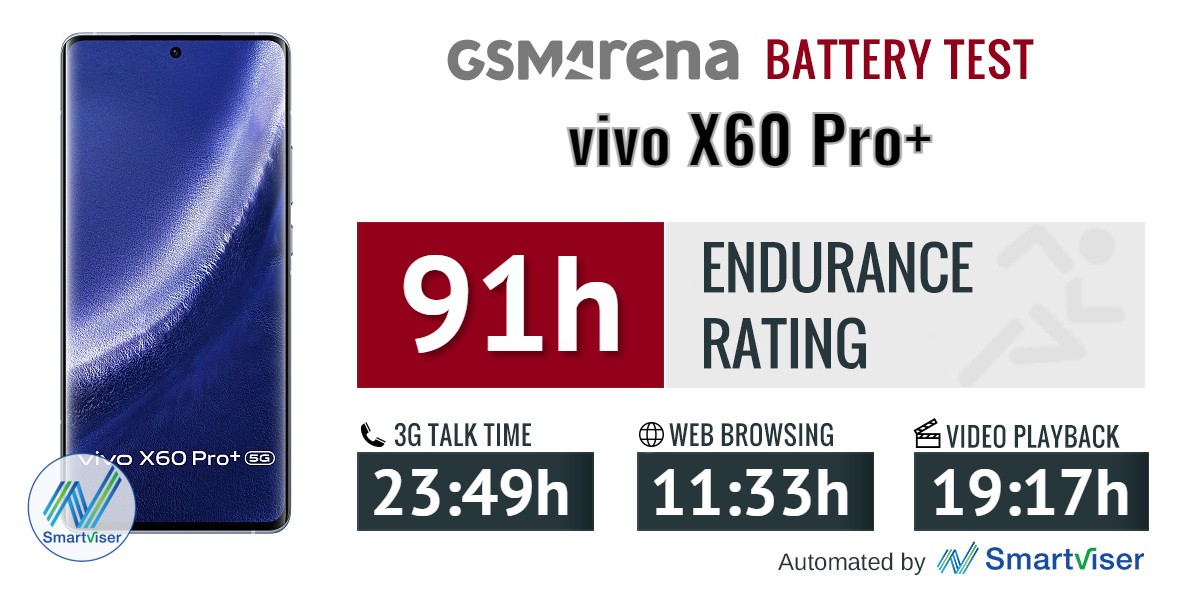 Our battery tests were automated thanks to SmartViser, using its viSerDevice app. The endurance rating denotes how long the battery charge will last you if you use the device for an hour of telephony, web browsing, and video playback daily. More details can be found here.
All test results shown are achieved under the highest screen refresh rate mode. You can adjust the endurance rating formula manually so it matches better your own usage in our all-time battery test results chart where you can also find all phones we've tested.
As a side note, we should mention that we also ran the web browsing test at 60Hz, in which case we got an hour extra (12:36h). Since the Smart Switch refresh rate mode will default to 60Hz for browsers (and 60Hz is what you get in the 60Hz mode, obviously), that additional hour is there for the taking if you don't care for a high refresh rate when surfing the web and opt for either of the two non-120Hz modes. We feel like it's not worth it.
Charging speed
The vivo X60 Pro+ ships with a proprietary 55W charger branded Super FlashCharge 2.0 - that's 22 watts and a 'Super' more than the non-plus' unit. The extra power output makes a difference indeed, and a 30-minute charge from zero got us to 84% on the X60 Pro+ (69% on the X60 Pro). A full charge took 42 minutes.
The Oppo Find X3 Pro and the OnePlus 9 Pro are a bit faster than the vivo in both disciplines, and the Mi 11 is about on par with the X60 Pro+ in the sprint, but other than that, the X60 Pro+ is among the fastest charging phones around.
30min charging test (from 0%)
Oppo Find X3 Pro
100%
OnePlus 9 Pro
99%
vivo X60 Pro+
84%
Xiaomi Mi 11
83%
Asus ROG Phone 5
70%
vivo X60 Pro
69%
nubia Red Magic 6
63%
vivo X50 Pro+
60%
Apple iPhone 12 Pro Max
55%
Samsung Galaxy S21 Ultra 5G
54%
Samsung Galaxy S21+ 5G
54%
Time to full charge (from 0%)
Oppo Find X3 Pro
0:28h
OnePlus 9 Pro
0:32h
vivo X60 Pro+
0:42h
Xiaomi Mi 11
0:50h
vivo X60 Pro
0:56h
nubia Red Magic 6
1:01h
Asus ROG Phone 5
1:05h
Samsung Galaxy S21 Ultra 5G
1:11h
vivo X50 Pro+
1:11h
Samsung Galaxy S21+ 5G
1:12h
Apple iPhone 12 Pro Max
1:32h
Speaker test
Flagship or not, the X60 Pro+ still comes with a single speaker - vivo is no fan of stereo sound. The bottom-firing unit on this handset is as loud as on the model it replaces, earning a 'Good' score in our test - a notch lower than all competitors.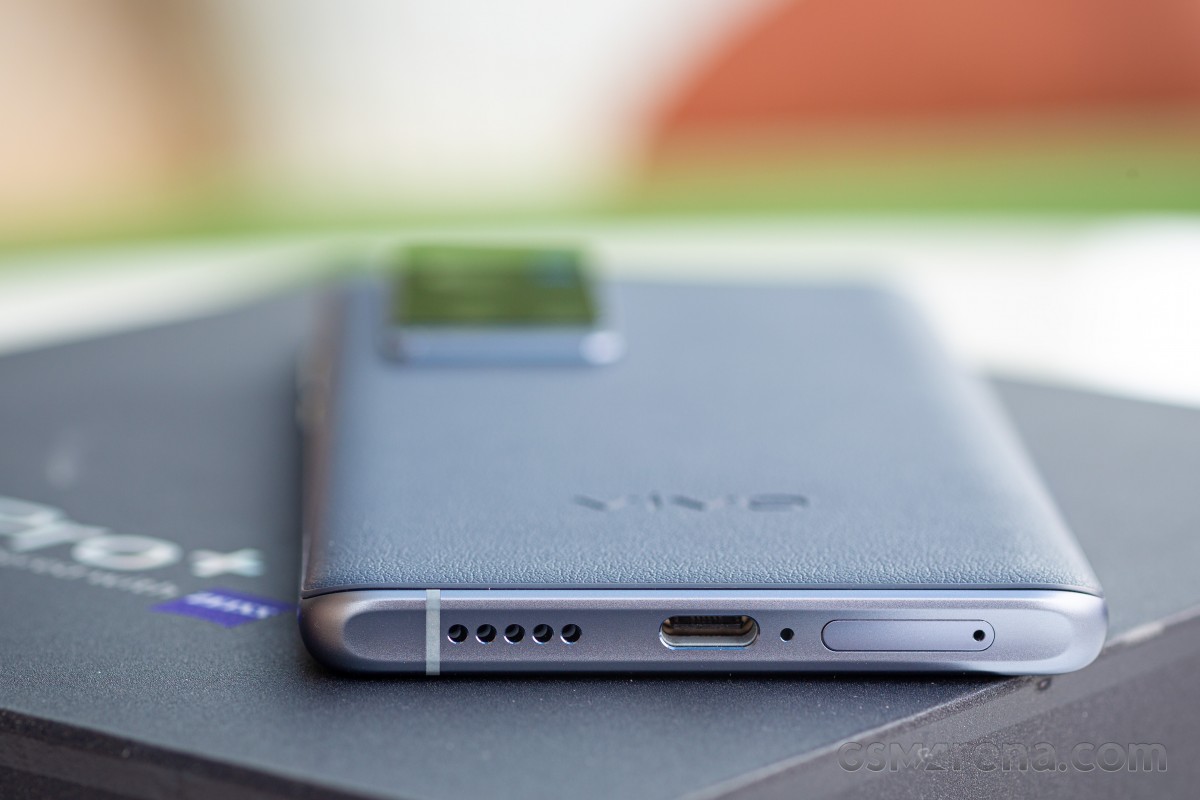 It may be a bit quieter than the non-plus, but the X60 Pro+ sounds better than its stablemate. We're hearing more sparkle in the high frequencies and livelier female vocals. Even so, virtually all rivals sound better.
Use the Playback controls to listen to the phone sample recordings (best use headphones). We measure the average loudness of the speakers in LUFS. A lower absolute value means a louder sound. A look at the frequency response chart will tell you how far off the ideal "0db" flat line is the reproduction of the bass, treble, and mid frequencies. You can add more phones to compare how they differ. The scores and ratings are not comparable with our older loudspeaker test. Learn more about how we test here.