Excellent HDR10+ AMOLED screen
The vivo X50 Pro features a 6.56" AMOLED screen with extended 1080p resolution and rounded edges, and one tiny punch-hole to make way for the selfie camera.
The screen resolution is 2,376 x 1,080 pixels making for sharp 398ppi density. The panel is covered with curved tempered glass, and additionally, vivo is shipping the phone with a very thin protective film pre-applied at the factory.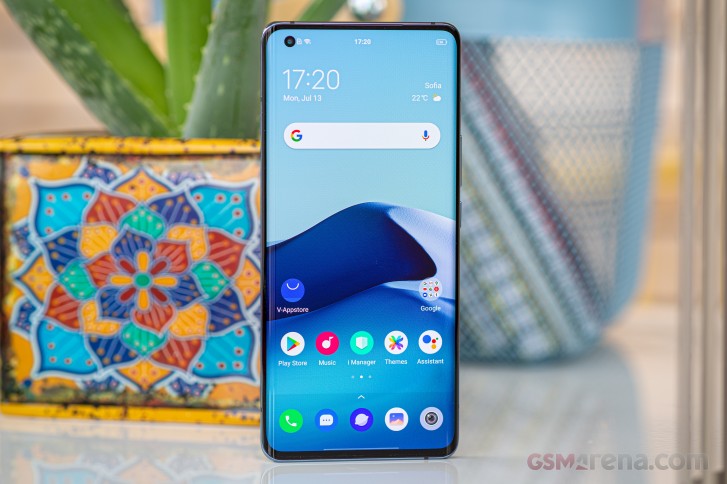 The vivo X50 Pro supports 90Hz high refresh rate. You can choose between 60Hz, 90Hz, or Smart Switch based on content. It also features 180Hz touch sampling, so it'll register input plenty quick.
The OLED screen supports HDR10+ and is recognized as such by all popular apps including Netflix, Prime Video, and YouTube. The X50 Pro supports Widevine L1 DRM, so you will be able to enjoy the maximum video quality across all streaming services.
We did some brightness measurements and we found that X50 Pro panel to be quite bright (for an OLED) but not among the best performers in this aspect. Using the brightness scrubber, we got a maximum brightness of 490 nits. When the screen uses Adaptive Brightness it can light up as high as 503 nits. Oddly, the sunlight boost is available only for the 60Hz refresh rate, while at 90Hz - you will be limited to 490 nits the whole time. It's not a big loss, obviously.
Note that some HDR10 content could offer higher screen brightness if needed. In any case, a brightness of 500 nits is quite adequate for an OLED screen and we had no issues whatsoever even on the brightest of days.
Finally, the minimum brightness we were able to achieve with white was 2.1 nits - so an excellent result.
Display test
100% brightness
Black,cd/m2
White,cd/m2
Contrast ratio
vivo X50 Pro
0
489
∞
vivo X50 Pro (Max Auto)
0
503
∞
OnePlus 8
0
496
∞
OnePlus 8 (Max Auto)
0
803
∞
Realme X50 Pro 5G
0
525
∞
Realme X50 Pro 5G (Max Auto)
0
635
∞
Xiaomi Mi 10 Lite 5G
0
442
∞
Xiaomi Mi 10 Lite 5G (Max Auto)
0
610
∞
Realme 6 Pro
0.318
421
1324:1
Samsung Galaxy A51 5G
0
410
∞
Samsung Galaxy A51 5G (Max Auto)
0
642
∞
Huawei P40 Pro
0
425
∞
Huawei P40 Pro (Max Auto)
0
531
∞
Huawei P40
0
440
∞
Huawei P40 (Max Auto)
0
589
∞
Realme X3 SuperZoom
0.332
437
1316:1
Xiaomi Mi Note 10 Lite
0
424
∞
Xiaomi Mi Note 10 Lite (Max Auto)
0
596
∞
Apple iPhone 11 Pro Max
0
820
∞
vivo iQOO 3 5G
0
518
∞
vivo iQOO 3 5G (Max Auto)
0
848
∞
The vivo X50 Pro screen supports DCI-P3 and sRGB color spaces. You get to choose between Standard, Normal, or Bright color modes. In each of these, you will get a color temperature slider going from cool to warm.
The default Standard mode got us an average DeltaE of 4.1 against DCI-P3 targets. If you move the temperature slider midway to Warm, you can get rid of the blue tinge over the white and gray hues and get higher color accuracy with an average DeltaE of 2.3.
The Bright Mode is pretty much the same as the Standard, with more saturated red and green hues.
With Normal mode, we measured an average DeltaE of 1.9 against sRGB targets.
Overall, color reproduction is very good on the X50 Pro and it can be even excellent if that's what you want.
Battery life and charging
The vivo X50 Pro is powered by a 4,315 mAh battery - a proper capacity for a flagship. The phone supports 33W fast charging - same as on the X30 Pro. The X50 Pro ships with the said 33W charger - it gets the battery from flat to 55% in 30 mins and to 100% in 70 mins.
The X50 Pro clocked great Screen-On-Times on our battery tests - it can last more than 12 hours in web browsing, while you can watch movies for nearly 17 hours.
The standby performance turned out to be uninspiring for a 4,300 mAh battery and this resulted in the rather average 88 hours final endurance rating.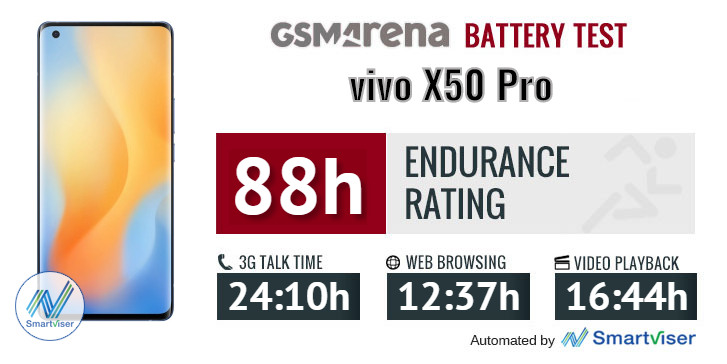 Our battery tests were automated thanks to SmartViser, using its viSer App. The endurance rating above denotes how long a single battery charge will last you if you use the vivo X50 Pro for an hour each of telephony, web browsing, and video playback daily. We've established this usage pattern so that our battery results are comparable across devices in the most common day-to-day tasks. The battery testing procedure is described in detail in case you're interested in the nitty-gritty. You can check out our complete battery test table, where you can see how all of the smartphones we've tested will compare under your own typical use.
Speaker test
The vivo X50 Pro is equipped with a single loudspeaker on the bottom.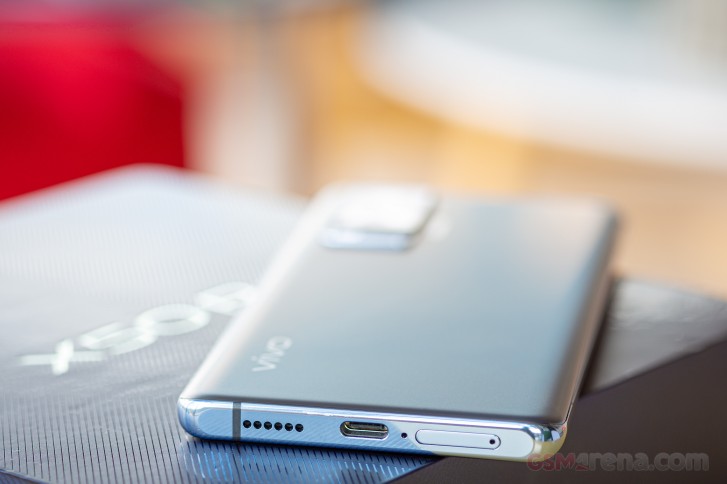 In terms of loudness, the vivo X50 Pro scored a 'Good' mark, however the good news ends here. The speaker is of a poor quality and it lacks in both low and high notes, while the mid tones presentation is all over the place.
Use the Playback controls to listen to the phone sample recordings (best use headphones). We measure the average loudness of the speakers in LUFS. A lower absolute value means a louder sound. A look at the frequency response chart will tell you how far off the ideal "0db" flat line is the reproduction of the bass, treble, and mid frequencies. You can add more phones to compare how they differ. The scores and ratings are not comparable with our older loudspeaker test. Learn more about how we test here.
Audio output quality
We've recently discontinued our audio output quality test.
The reason for that is that most phones that arrived for testing were already excellent in this regard and whatever difference there was, it was marginal and probably indistinguishable to anything but our lab equipment.