Competent 6.78-inch OLED display
Unlike the previous generation, when the V25 and V25 Pro models had different displays, vivo went with the same unit for both the V27s (the V27e is still different). The 6.78-inch OLED panel we have here has a 1,080x2,400px resolution in a 20:9 aspect ratio, and pixel density works out to 388ppi. The maximum refresh rate is 120Hz, and there's HDR10+ support too.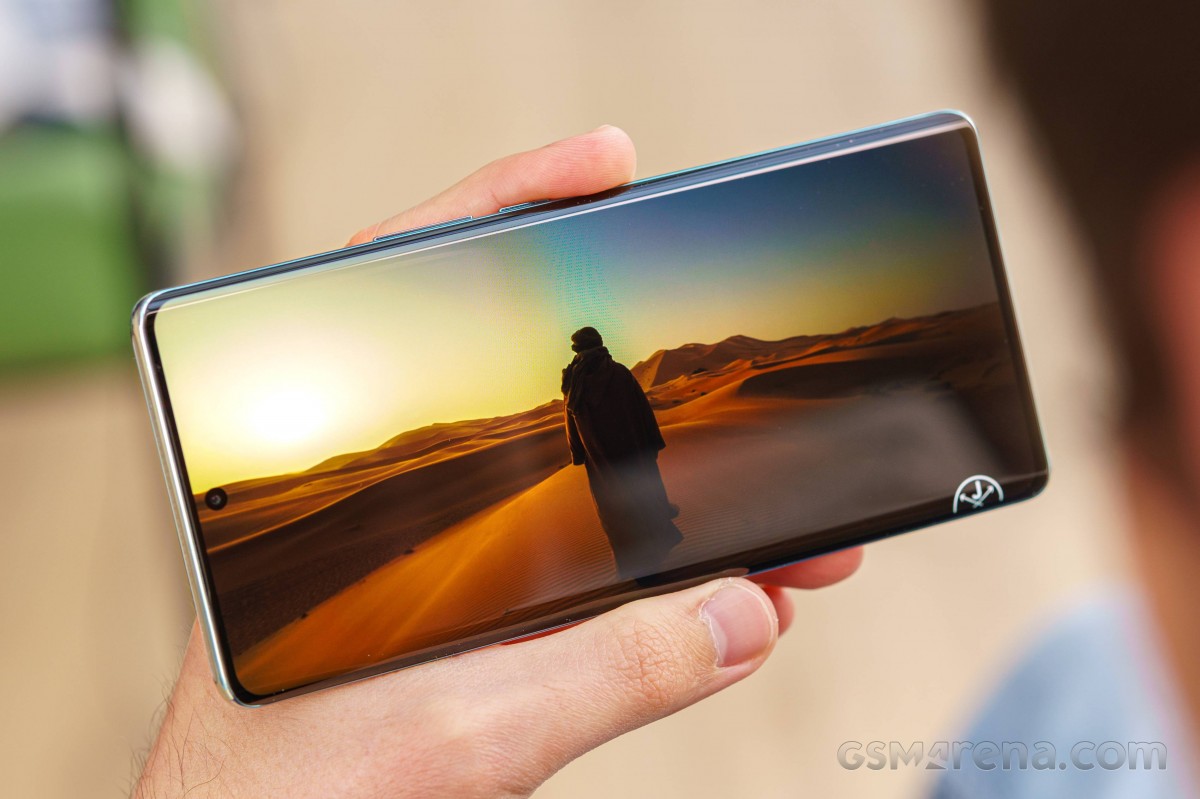 We measured a slightly higher maximum brightness on the V27, compared to what we got on the Pro. The 1055nits that the V27 is capable of when placed under bright light with adaptive brightness enabled is a class-leading result, almost flagship-grade. The 497nits that are available when adjusting manually is essentially more or less a 'standard' figure.
Max display brightness test
White test pattern, 75% fill (nits)
Sort by
Manual mode
Auto mode
vivo V27

1055

497

Galaxy A34

1009

476

Redmi Note 12 Pro+

990

535

Galaxy A54

980

457

vivo V27 Pro

978

479

Motorola Edge 30 Fusion

946

516

Realme GT2

846

517

Realme 10 Pro+

809

484

vivo V25 Pro

805

500

Realme GT Neo3

796

466

iQOO 9

749

455

Nothing phone (1)

663

466
Three color modes can be found in the V27's display settings - the out-of-the-box Standard, Pro, and Bright. Both Standard and Bright deliver a wide color gamut, while the Pro mode is limited to covering the narrower sRGB color space.
In Standard mode, we got relatively good color fidelity when examining DCI-P3 test swatches. The white point and the grays were shifted towards blue, but not as much as on a lot of other phones, and a nudge of the stepless color temperature slider (roughly 1/3 of the way towards warm) makes for a nearly perfect rendition. Bright mode doesn't strive for color accuracy and instead give you an overtly vivid output.
Pro mode wasn't entirely accurate for the sRGB test swatches we served the V27 - the primary colors were spot on, the white and grays were very good, but there were a few of the other swatches that were way off. Still, the average dE2000 was very good even in this mode.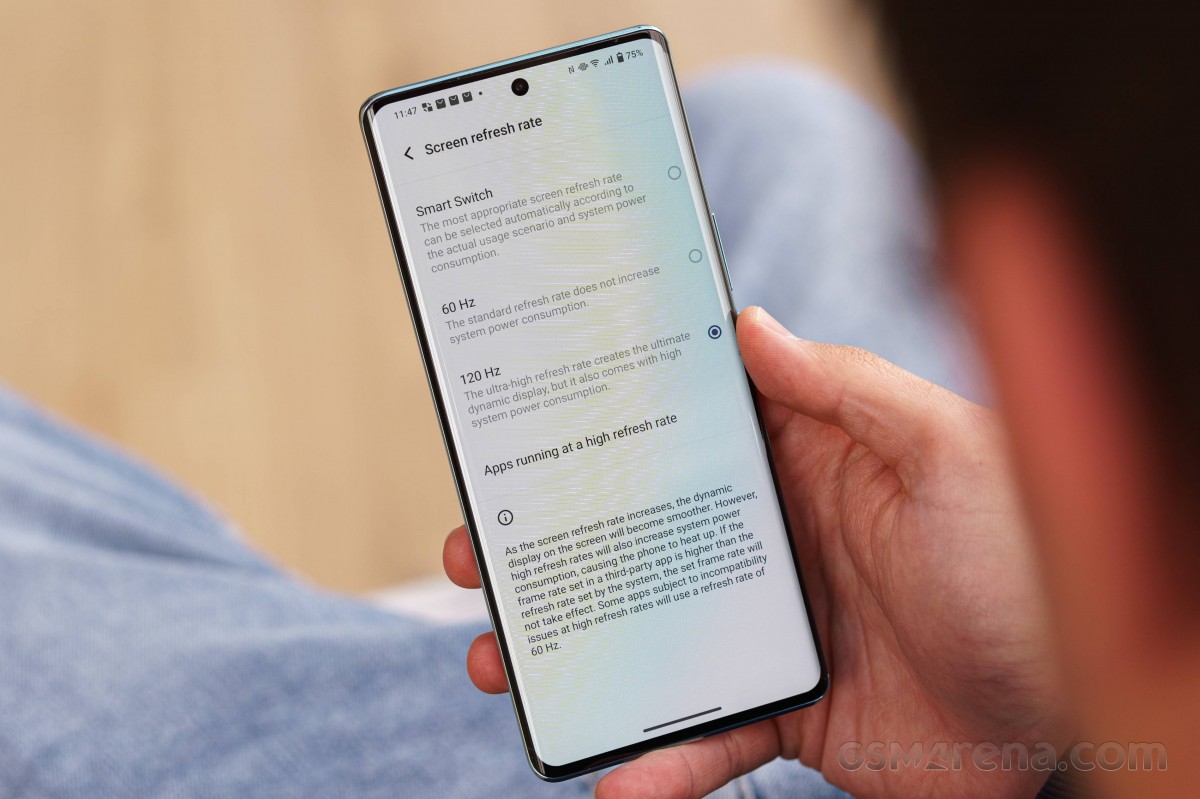 The vivo V27 screen's refresh rate maxes out at 120Hz. Hardware scanning apps detect support for three fixed steps - 60Hz, 90Hz, and 120Hz - but we couldn't make the screen use 90Hz option no matter what we tried.
Three modes are available in settings, similar to what we've seen on most modern phones - 60Hz, 120Hz, and Smart Switch.
The 60Hz option is straightforward - the phone always uses 60Hz refresh rate and all apps are capped at 60fps.
The Smart Switch and 120Hz modes work in a similar way - they use the maximum 120Hz across the user interface and some supported apps, and switch to 60Hz for static picture, video playback (but not video UI) and incompatible apps like Google Maps and Camera app. Both modes allow for HFR gaming, too, if supported by the game.
While the Smart Switch setting was a bit more restrictive on the V27 Pro, it was more in line with the 120Hz mode here. It allowed the full 120Hz in browsers and YouTube, which the Pro would cap at 60Hz in Smart Switch mode. Netflix was still limited to 60Hz here, as it was on the other model.
There's more parity between Pro and non-Pro in the HDR behavior - the V27 comes with an HDR10+ certified display and Widevine L1 DRM support and is recognized as HDR10-capable by YouTube, but Netflix serves 1080p SD content and detects no HDR support.
vivo V27 battery life
The V27 uses the same capacity battery as the V27 Pro, at 4,600mAh. Having already reviewed the Pro and gotten some pretty impressive figures there, we knew the vanilla model would perform great, and indeed it did.
We got 22:26h of offline video playback on the V27 (precisely 1:00h more than on the Pro) and 19:08h of Wi-Fi web browsing (0:40h better than the Pro). The V27 had a more noticeable advantage in voice call longevity, where its 33:23h result was over 7h better than the Pro's, and standby efficiency was also superior on the non-Pro.
In the end, the vivo V27 scored an overall Endurance rating of 134h.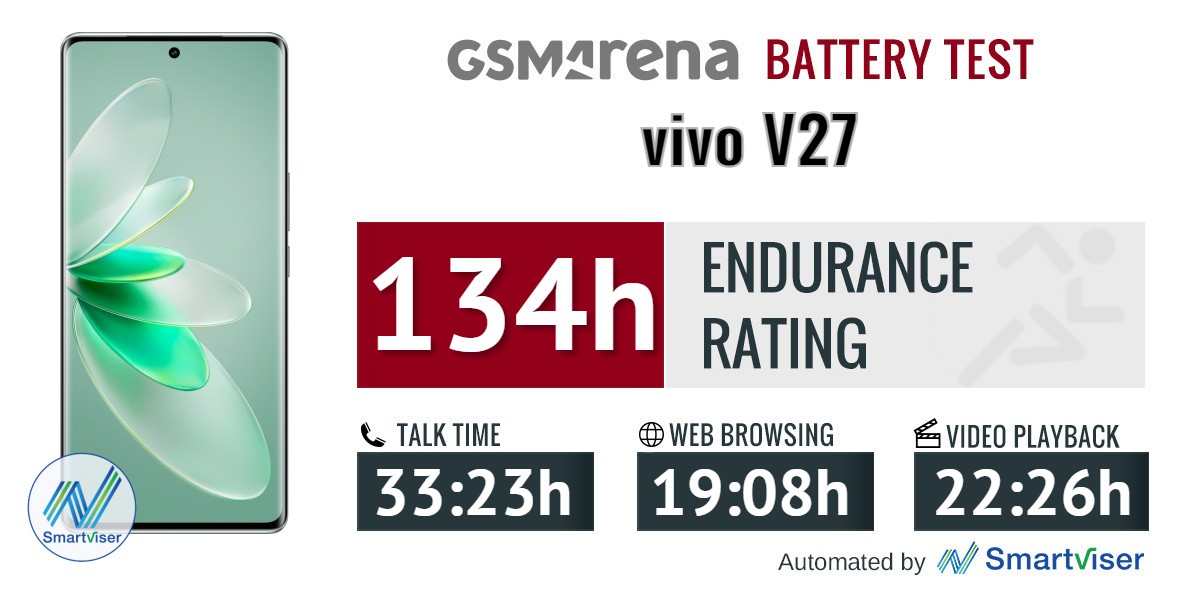 Our battery tests were automated thanks to SmartViser, using its viSerDevice app. The endurance rating denotes how long the battery charge will last you if you use the device for an hour of telephony, web browsing, and video playback daily. More details can be found here.
Video test carried out in 60Hz refresh rate mode whenever possible. Web browsing test done at the display's highest refresh rate whenever possible. Refer to the respective reviews for specifics. To adjust the endurance rating formula to match your own usage - check out our all-time battery test results chart.
Charging speed
The vivo V27 specs list a maximum charging rate of 66W, though we did receive it with a charger rated for 80W - just like the V27 Pro.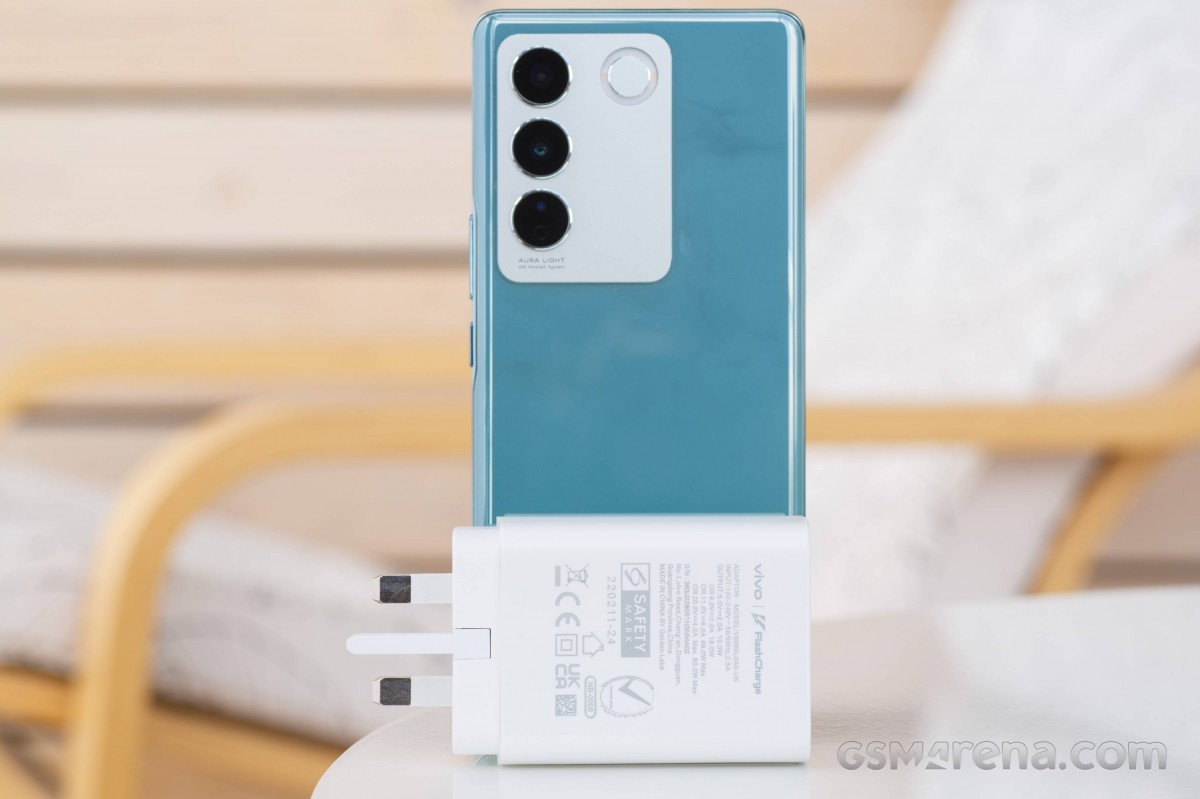 Using the included adapter, we clocked some pretty respectable charging times on the V27. A full charge from flat needed 53 minutes - 2 more than the V27 Pro. The non-Pro was faster in the early stages, however, and we got 49% in 15 minutes (vs. 42% on the Pro) and 82% in 30 minutes (71% on the Pro).
For comparison, the Redmi Note 12 Pro+ charges notably faster than the vivo, while the Realme 10 Pro+ is only slightly ahead of the V27. The Galaxy A54, on the other hand, is notably slower in the early stages, though a full charge there only takes a little more than it does on the vivo.
15min/30min charging test (from 0%)
Higher is better
Sort by
15 min time
30 min time
Redmi Note 12 Pro+

100%

81%

Realme GT2

97%

N/A

Realme GT Neo3T

95%

62%

Realme 10 Pro+

86%

53%

vivo V27

82%

49%

Motorola Edge 30 Fusion

82%

N/A

Redmi Note 12 Pro

78%

44%

vivo V27 Pro

71%

42%

vivo V25 Pro

57%

33%

Galaxy A54

56%

30%

vivo V25

53%

28%

Galaxy A34

51%

27%

Galaxy A53 5G

45%

N/A
* Tap/hover over the device names for more info
Time to full charge (from 0%)
Lower is better
| | |
| --- | --- |
| Redmi Note 12 Pro+ | 0:23h |
| Realme GT Neo3T | 0:40h |
| Realme GT2 | 0:40h |
| Realme 10 Pro+ | 0:41h |
| vivo V27 Pro | 0:51h |
| Motorola Edge 30 Fusion | 0:52h |
| vivo V27 | 0:53h |
| Redmi Note 12 Pro | 0:55h |
| Galaxy A54 | 1:03h |
| vivo V25 Pro | 1:07h |
| vivo V25 | 1:11h |
| Galaxy A53 5G | 1:24h |
| Galaxy A34 | 1:24h |
* Tap/hover over the device names for more info
Speaker test
The V27 continues a trend with vivo midrangers that we can't say we're fans of - it doesn't have stereo speakers. The Pro has a single speaker, so it's no surprise that so too does the non-Pro, but it's just not acceptable at this price point - Pro or otherwise.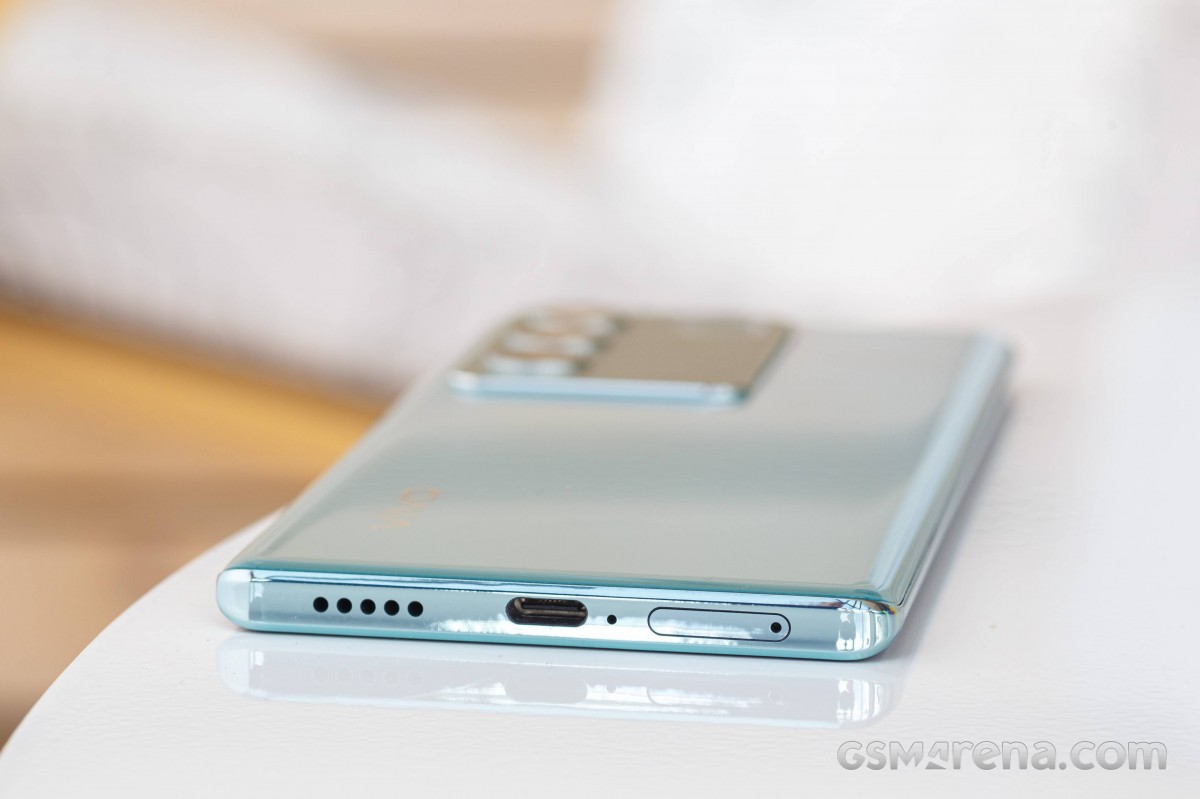 Single speaker on the bottom
In our testing, the V27 was marginally louder than the V27 Pro, but both ended up with an 'Average' rating for loudness, and that's not something to be proud of. Sound quality can also be described along those lines, though we'll have to give it to the non-Pro that it does sound noticeably better than its sibling, particularly in both the treble and bass region. That said, both the Galaxy A54 and the Redmi Note 12 Pro+ have thoroughly superior speakers.
Use the Playback controls to listen to the phone sample recordings (best use headphones). We measure the average loudness of the speakers in LUFS. A lower absolute value means a louder sound. A look at the frequency response chart will tell you how far off the ideal "0db" flat line is the reproduction of the bass, treble, and mid frequencies. You can add more phones to compare how they differ. The scores and ratings are not comparable with our older loudspeaker test. Learn more about how we test here.