Design
The V25 Pro is unquestionably a very elegant phone. Vivo has a certain dignified refinement to many of its phones as of late that is very much present here too. The curved lines on the back and front flow nicely into the thin middle frame. All of the surfaces are nice and uniform, and both look and feel premium. And there is just something about vivo's camera island designs that brings a sense of order and symmetry. So, even though the V25 is geared towards a younger creative crown, it would feel right at home on a boardroom meeting table, too, especially in the Pure Black color.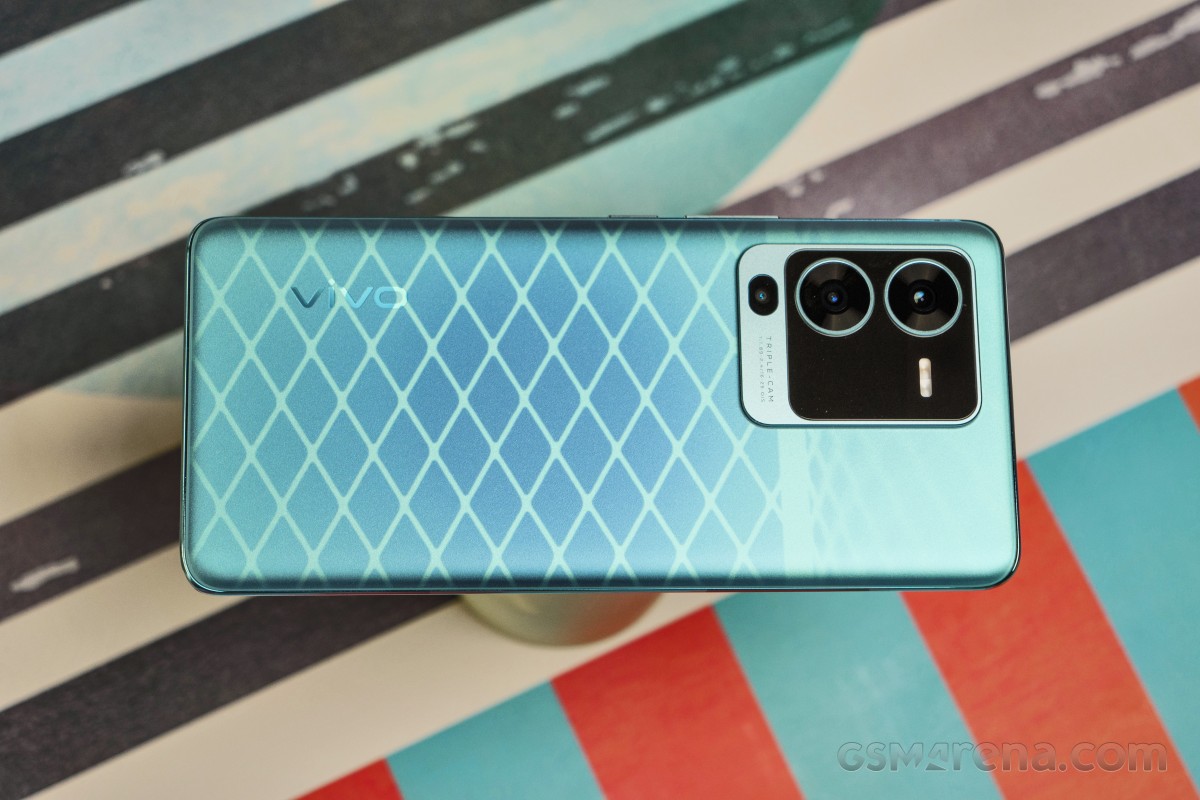 If you want extra visual flair, then the Sailing Blue color variant is definitely the better choice. Like the previous V23 generation, vivo uses a proprietary color-changing paint job on the back of its V25 phones. The material or, rather, color layer in question is UV-reactive. When exposed to UV, the light blue on the V25 Pro starts to darken. As vivo puts it - "from a clear sky to the deep sea".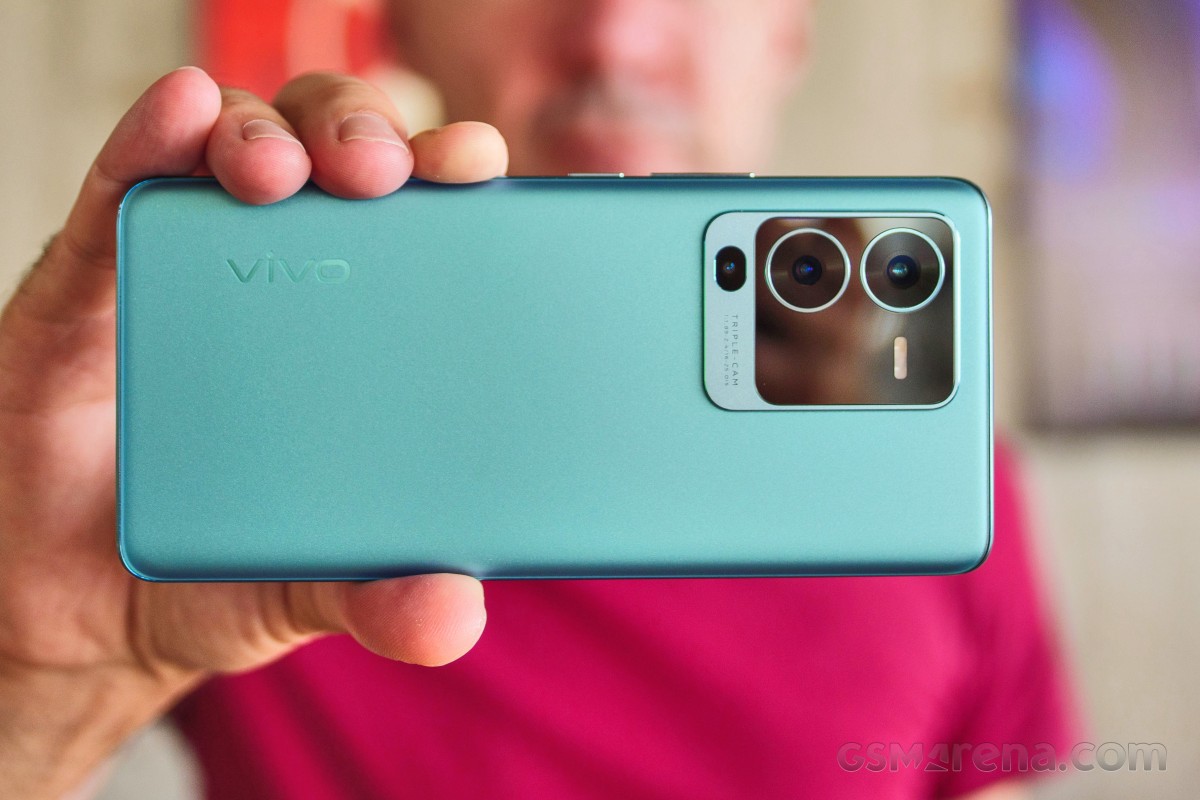 The color change itself can take anywhere from under a minute to a few minutes, both going to and from the UV blue state, depending on how much UV light is present. You can often end up with a mid-way change in some environments, like on a cloudy day and never get all the way to the proper "deep blue" color.
Naturally, you can play around with the process quite a bit simply by covering parts of the back panel as it changes. Unless you are in a controlled environment, though, don't bet on any temporary "customization" sticking around consistently, like a stencil of a logo or something. And also, be prepared to look at a not-so-pleasing random "artsy" design for a while after holding your phone as you walk into or away from the sun.
All things considered, though, it is a really cool party trick that even works fairly well through the included TPU case, which is neat. And if you are not into it, you can always slap a solid case on the V25 Pro and forget it was ever a thing.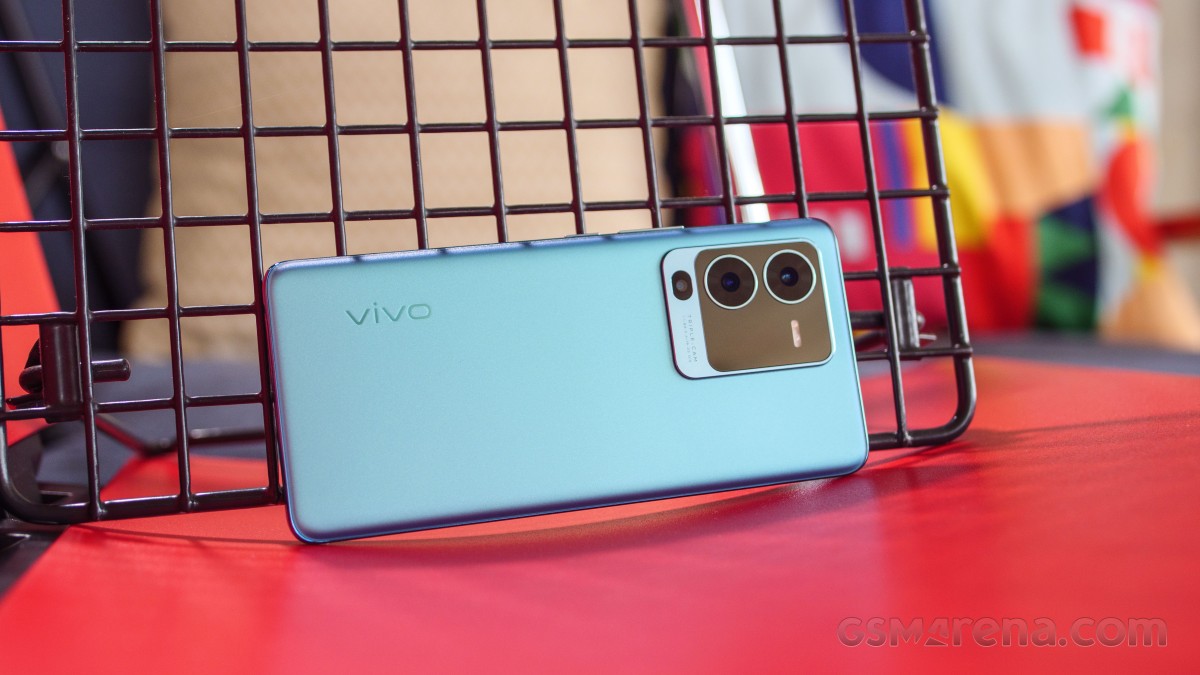 Beyond its color-changing abilities, the back surface of the V25 Pro also has a layer of crystals along the fluorite AG glass, which shines and glimmers as light hits in at different angles. The surface itself feels like very soft sandstone to the touch.
We can't talk design on the V25 Pro without mentioning its aggressively-curved profile. This aesthetic is mostly carried over from the V23 Pro, with the front and back glass panels curving very steeply into a thin middle frame. This makes for a striking profile but also a surprisingly comfortable in-hand feel. The latter is aided by the fact that the back surface isn't particularly slippery and the fact that the V25 Pro still measures a good 8.62 mm, which is not excessively thin and is actually quite a bit thicker than the V23 Pro.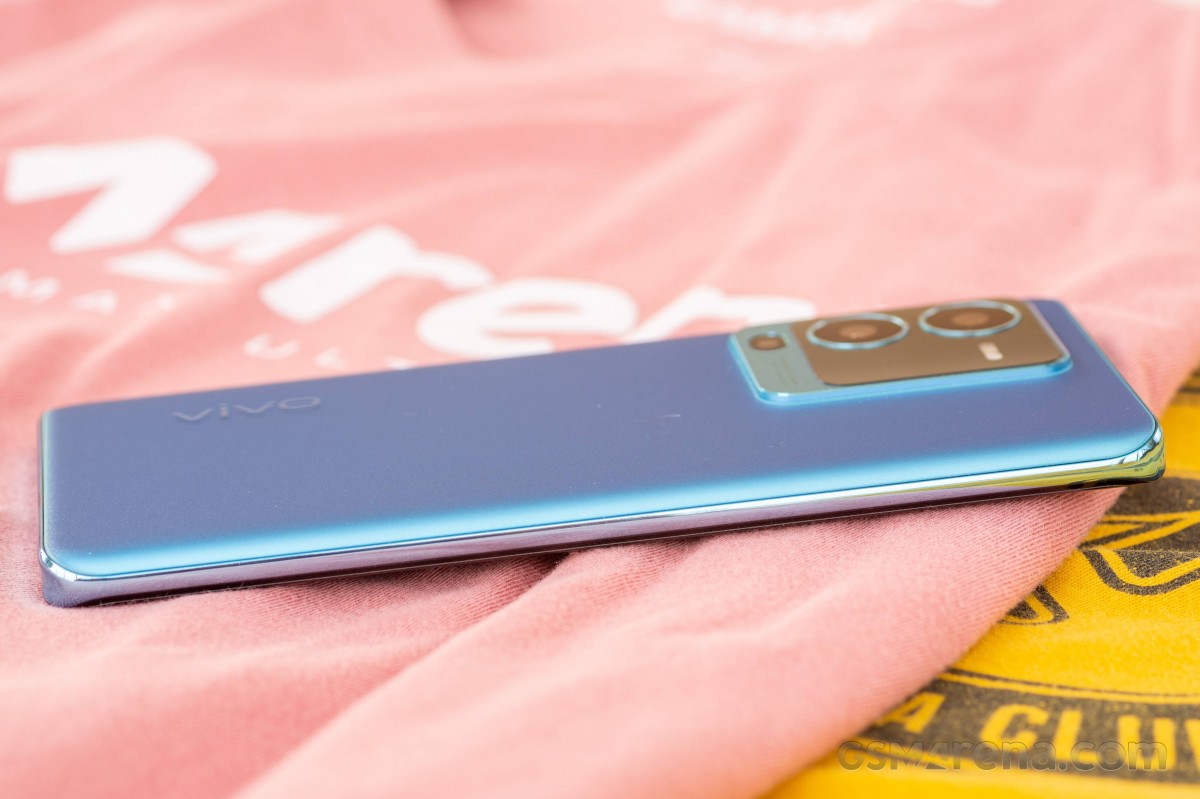 The V25 Pro is also heavier than its predecessor, tipping the scale at 190 grams. This increase in girth and weight can largely be attributed to the larger 4,830 mAh battery - a tradeoff we are more than happy with, especially since the V25 Pro is a very well-balanced device weight-wise. Its 158.9 x 73.5 x 8.6 mm body hasn't really grown in any other dimension compared to the V23 Pro and has great weight distribution.
Materials and build quality
The V25 Pro feels very sturdy. It has pretty much zero flex, and there is no hollow feeling to note anywhere on its body. It utilizes the popular "glass sandwich" construction with two curved sheets of 3D glass bolted on a middle frame for structural rigidity.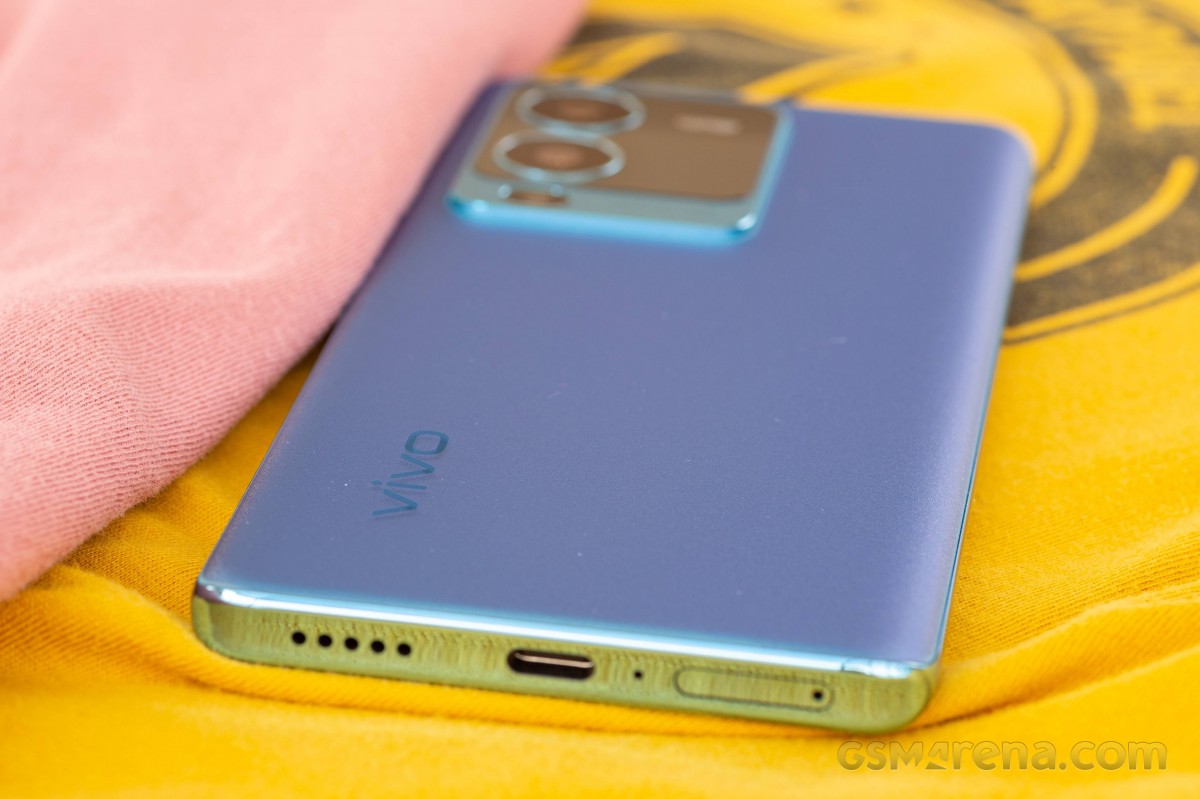 That middle frame is made of plastic with a shiny finish that, unlike the back of the V25 Pro, retains plenty of grease and smudges. Structurally, despite its thin size, it does a great job. Vivo is not sharing any particular details about the front and back glass surfaces of the V25 Pro. We do know that the back is made of some sort of fluorite AG material, and vivo advertises that both surfaces are scratch resistant. Just how much is a mystery, though.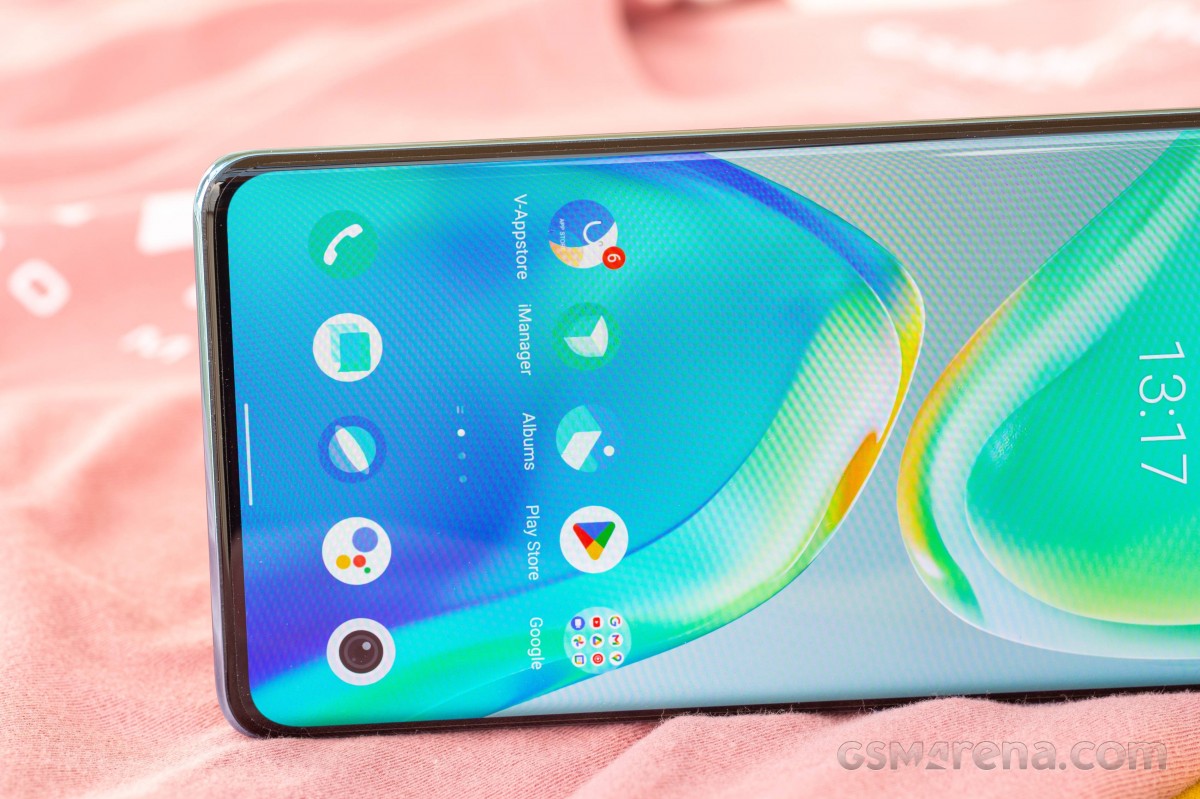 The V23 Pro used Schott Xensation α glass for its front, so vivo could have turned to Schott once again. But that's just speculation on our end. We do know that the V25 Pro comes with a factory pre-applied plastic screen protector, which feels quite good, despite having more resistance than a glass surface.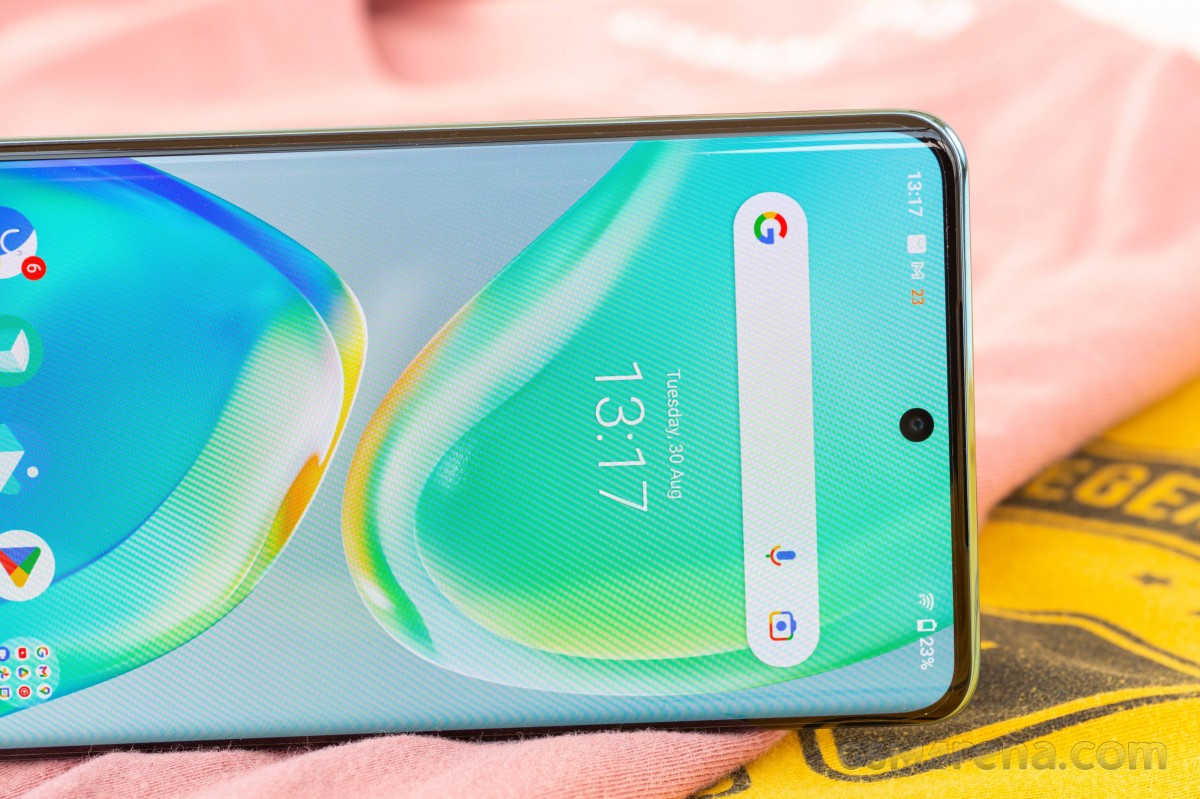 The vivo V25 Pro still lacks any official ingress protection rating, which is a bit of a bummer. Vivo does at least promise that it should withstand sweat. Also, the V25 Pro has apparently been extensively drop-tested, for what that's worth.
Controls
The V25 Pro has a standard control layout. In terms of actual buttons, you just get a power button and volume rocker on the right-hand side. These are well-positioned in terms of height but are rather thin, which is understandable given the thin size of the frame. Still, that makes them a bit harder to use. Plus, the tactile feedback is merely ok and not great by any means.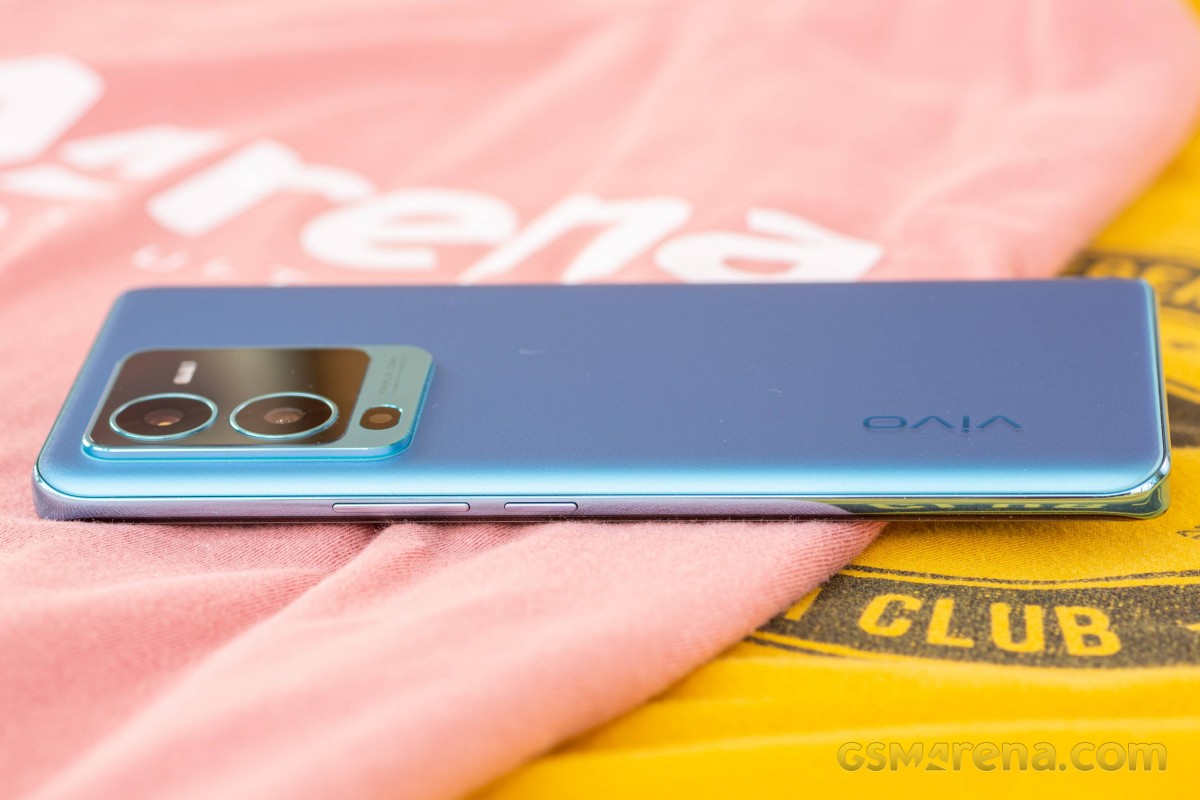 The left-hand frame is entirely empty.
So is the top of the phone, for the most part, since there is still a tiny secondary microphone hole here. The flat plastic insert on the top complete with tiny writing, is also worth pointing out. It has been a rather consistent part of vivo's recent design language. We thought it was kind of unnecessary at first, but the look does grow on you.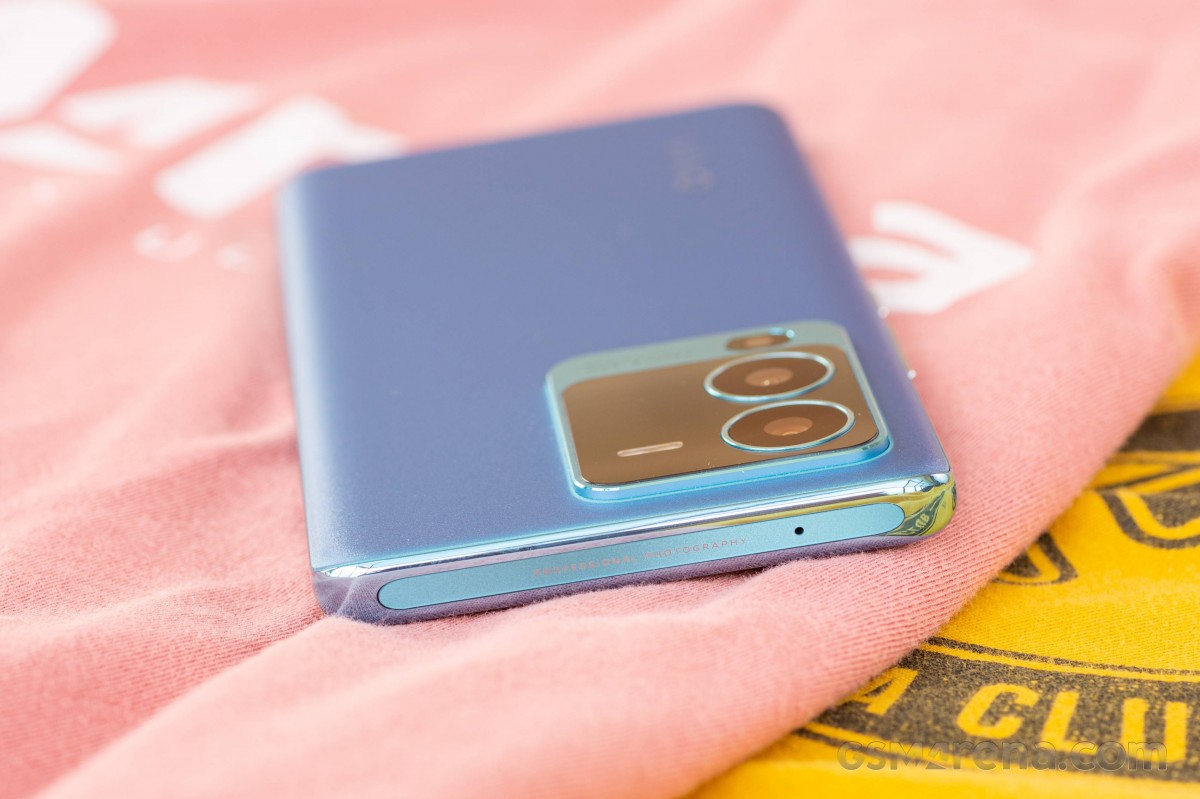 The bottom side of the V25 Pro houses one of the two speakers. The amplified earpiece above the display acts like the second channel. The main microphone is also here, and so is the SIM tray.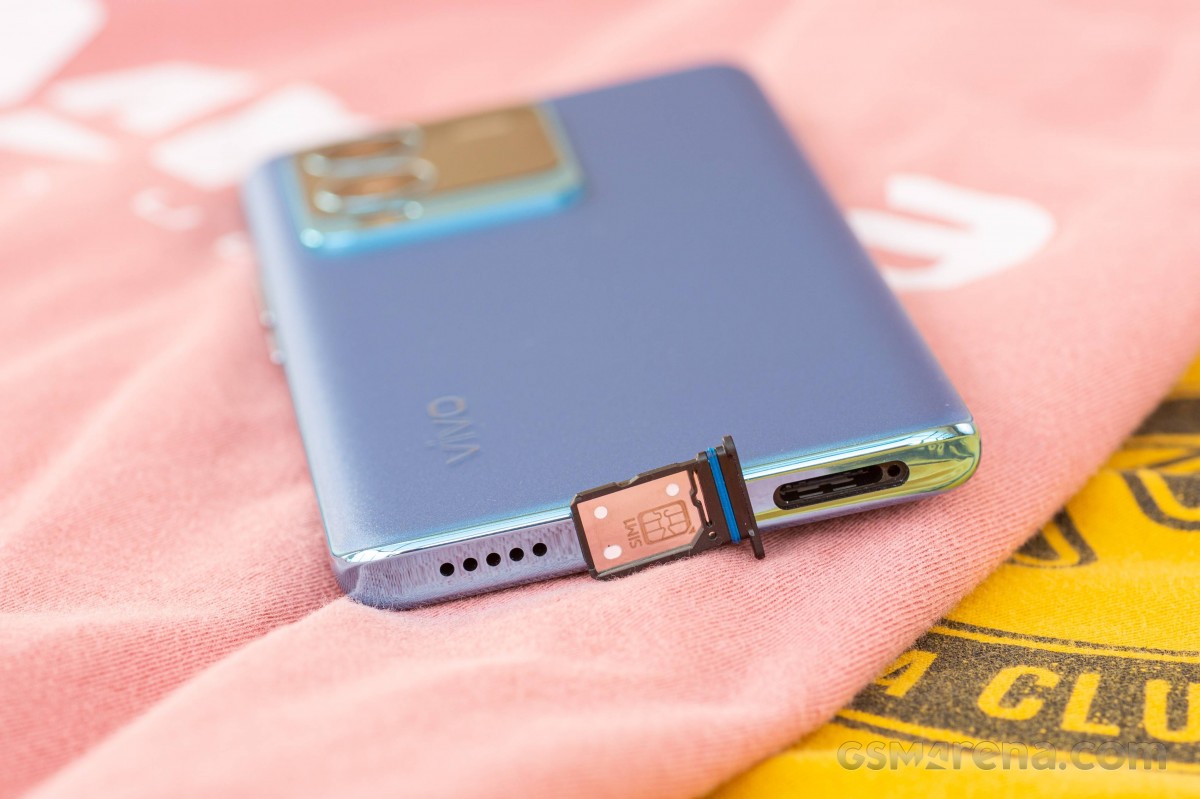 It houses two nano SIM cards and does have a gasket, even in the absence of an official ingress protection rating on the phone. There is no SD card slot for storage expansion.
The V25 Pro has an under-display fingerprint reader. It is a standard optical unit. Well-positioned, speedy and accurate. No complaints there.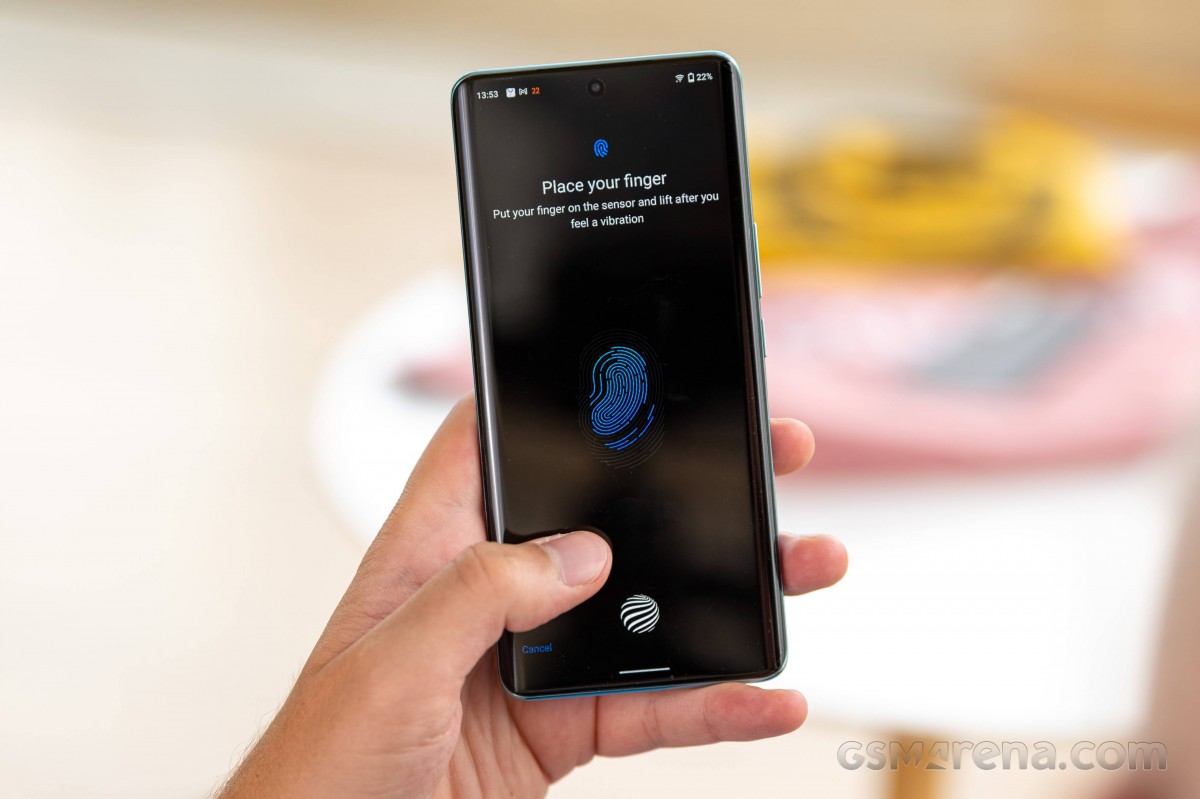 The V25 Pro has reasonably-sized display bezels - not too thick and definitely not too thin, particularly on the left and right side of the screen. The absence of a dual selfie camera setup has allowed for a central-mounted selfie punch hole - much less of an eyesore than the V23 Pro and its notch.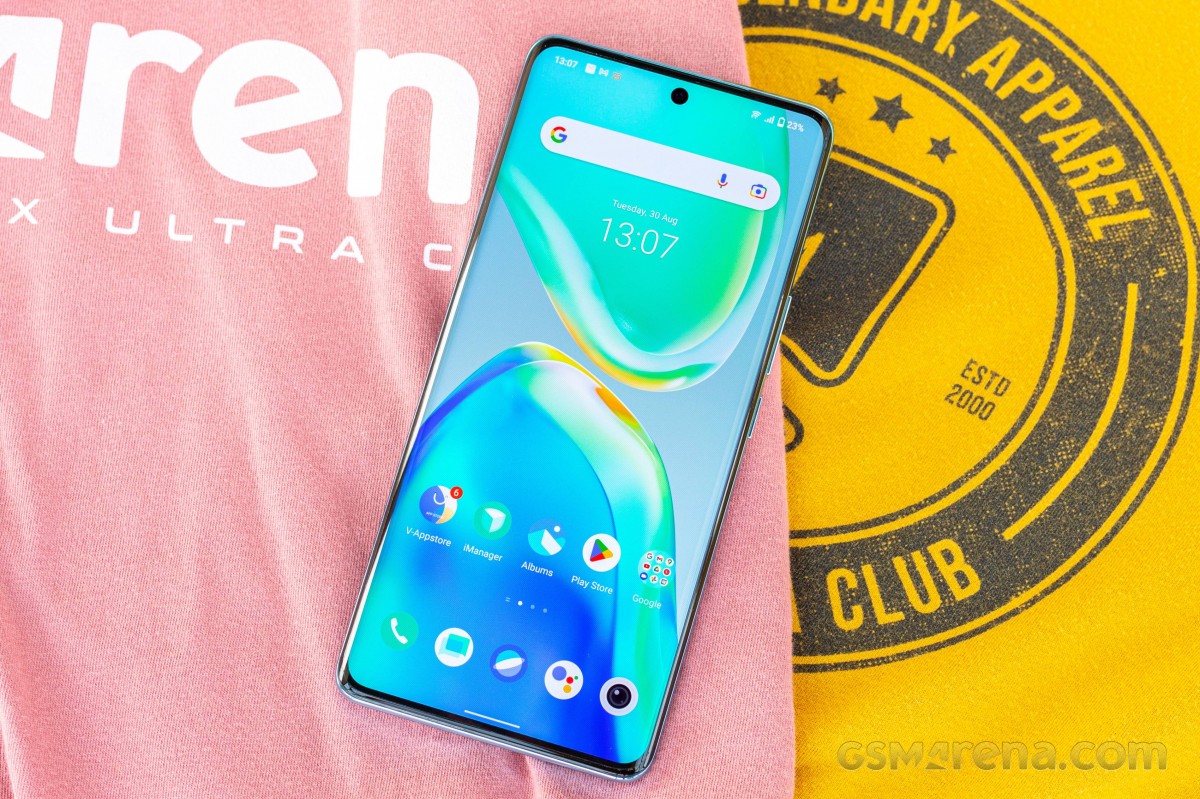 There is a proper proximity sensor and a light sensor hidden away somewhere near the top of the V25 Pro. In case you were wondering - no notification LED, as has become the norm.
Connectivity
The V25 Pro is running on the new MediaTek Dimensity 1300 chipset - a slight refresh of the Dimensity 1200, though a very similar chip overall. The similarities extend to network connectivity, where the V25 Pro supports dual-SIM SA/NSA Sub-6 5G connectivity with support for up to 4.6Gbps download speed. The V25 Pro has dual-band Wi-Fi 6 (ax) and Bluetooth 5.2 with LE support for local connectivity. There is GPS with GPS, GLONASS, BDS, GALILEO, QZSS and NavIC. There is no NFC, FM radio, 3.5mm jack or infrared port.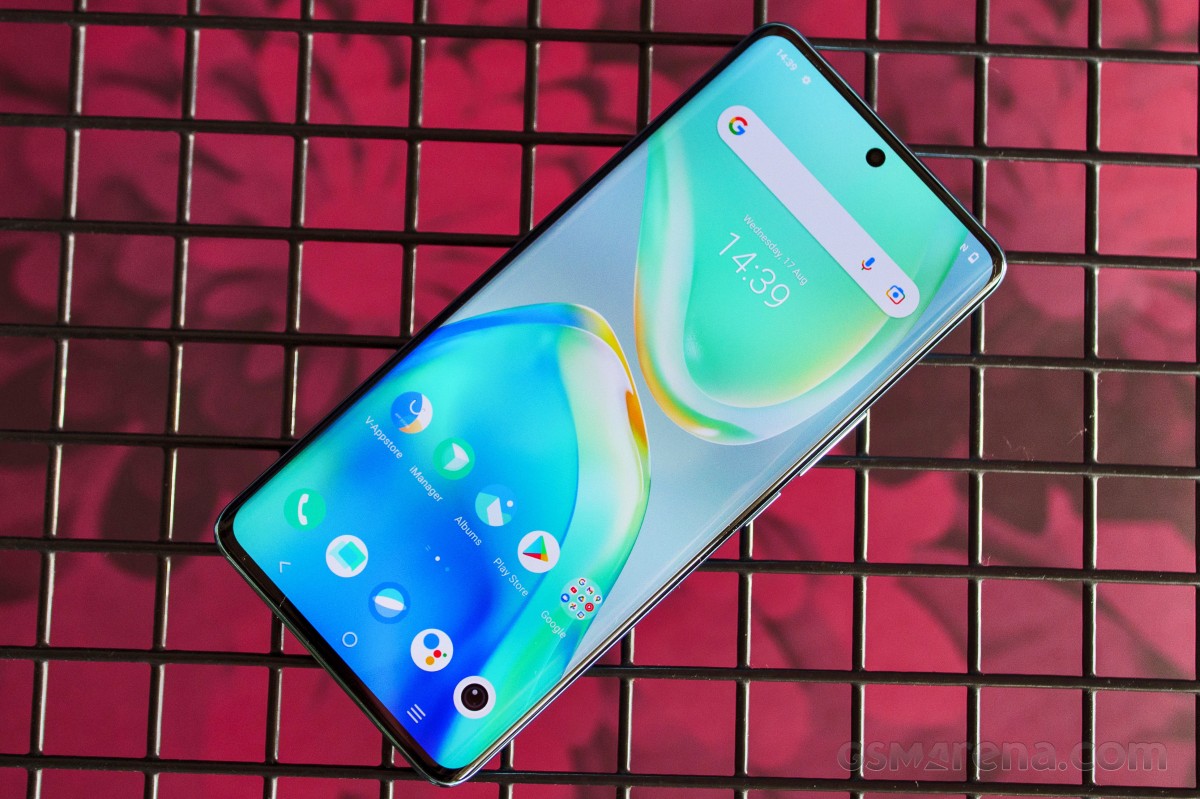 We did make sure to test the capabilities of the USB Type-C port too. It has USB OTG or Host capabilities, but data transfer is limited to USB 2.0 speeds of a theoretical max of 480 Mbps. There is no video output or anything fancier like that.