More display than glass
While technically the display area is covered by glass too, the NEX Dual Display is definitely more display than anything else. Vivo really went all out in this department. Well, to be fair, compared to the original NEX S, the main display did get a bit smaller at 6.39 inches, compared to 6.59, but even so, it is still a huge panel. Plus, if we count the second 5.49-inch panel in, the admittedly subjective screen real estate math puts the NEX Dual Display in a league of its own.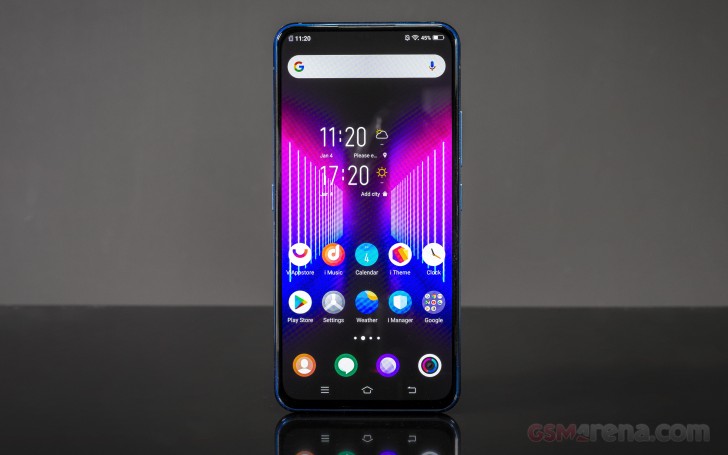 Better still, both panels are of the Super AMOLED variety. So, not only did vivo do some proper panel shopping, going for OLED over LCD, said panels were also sourced from Samsung, potentially speaking to their quality. Naturally, we tested both panels, starting with the exuberantly tall, even by current standards, 19.5:9 main unit.
Display test
100% brightness
Black, cd/m2
White, cd/m2
Contrast ratio
Samsung Galaxy Note9 (Max Auto)
0
658
∞
Huawei Mate 20 Pro (Max Auto)
0.003
657
219000
LG V40 ThinQ (Max Auto)
0.008
638
79750
Samsung Galaxy S9+ (Max Auto)
0
631
∞
Sony Xperia XZ3 (Max Auto)
0
620
∞
Asus ROG Phone (Max Auto)
0
542
∞
Huawei Mate 20 Pro
0.002
508
254000
Xiaomi Pocophone F1
0.314
461
1468
vivo NEX S
0
458
∞
Xiaomi Mi 8
0
458
∞
Asus ROG Phone
0
458
∞
OnePlus 6T (Max Auto)
0
455
∞
OnePlus 6T
0
453
∞
Sony Xperia XZ3
0
442
∞
vivo NEX Dual Display (sec. display)
0
436
∞
Google Pixel 3
0
426
∞
Oppo Find X
0
426
∞
Razer Phone 2 (Max Auto)
0.403
426
1057
vivo NEX Dual Display
0
413
∞
Razer Phone 2
0.401
380
948
Samsung Galaxy S9+
0
376
∞
Samsung Galaxy Note9
0
367
∞
LG V40 ThinQ
0.002
323
161500
It's a decent AMOLED unit, but not really on the same level as the ones Samsung puts in its current flagships. The main beef we have with it is that it is a bit on the dim side. It is still very much okay, but a max auto mode would have been a neat addition to the mix.
Actually, looking at the rear 5.49-inch panel, we see pretty much the same results brightness-wise. The smaller, or more specifically, less tall and slightly wider 16:9 rear display does put out a few extra nits, which can definitely be attributed to having the same number of OLED pixels across a smaller surface area.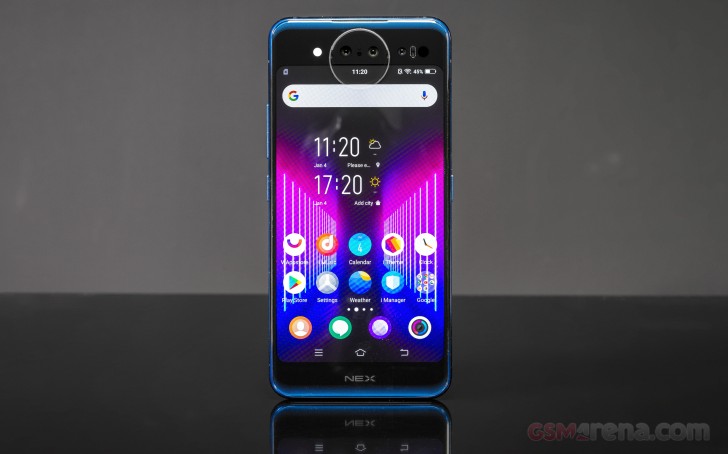 Other than that, the two are really comparable in terms of performance. Their brightness could potentially be capped as well to save on some battery. THat's just a guess, of course. Plus, the duo rarely turns on at the same time, so potential extra battery strain is hardly a consideration.
Sunlight contrast ratio
Apple iPhone XS
5.171
Apple iPhone X
5.013
Huawei Mate 20 Pro
4.965
OnePlus 5T
4.789
Samsung Galaxy S8
4.768
Asus ROG Phone
4.765
Samsung Galaxy S8+
4.658
Samsung Galaxy S9
4.63
Samsung Galaxy S6 edge+
4.615
Samsung Galaxy S9+
4.537
Samsung Galaxy Note9
4.531
Apple iPhone XS Max
4.516
Sony Xperia XZ3
4.502
Motorola Moto Z2 Play
4.459
Oppo R11
4.454
Samsung Galaxy S7 edge
4.439
Oppo RX17 Pro
4.434
OnePlus 3
4.424
Samsung Galaxy S7
4.376
Google Pixel 3
4.35
Samsung Galaxy A7 (2018)
4.324
OnePlus 6
4.321
Xiaomi Mi Mix 3
4.291
vivo NEX Dual Display (sec. display)
4.289
HTC One A9
4.274
LG V40 ThinQ
4.256
Oppo R15 Pro
4.251
Samsung Galaxy Note7
4.247
Samsung Galaxy A3
4.241
Nokia 8
4.239
Google Pixel 2 XL (pre-update)
4.234
OnePlus 3T
4.232
Samsung Galaxy A9 (2018)
4.22
Google Pixel XL
4.164
ZTE Axon 7
4.154
Samsung Galaxy Note8
4.148
Meizu Pro 7 Plus
4.147
OnePlus 6T
4.138
Samsung Galaxy S6 edge
4.124
Samsung Galaxy A7 (2017)
4.124
vivo V11
4.113
vivo NEX Dual Display
4.108
Huawei Mate 10 Pro (normal)
4.096
Samsung Galaxy Note5
4.09
Huawei P20 Pro
4.087
Xiaomi Mi 8
4.086
Meizu 15
4.082
Nokia 6 (2018)
4.052
Google Pixel 2 (pre-update)
4.023
LG V30
4.022
Huawei Nexus 6P
4.019
vivo NEX S
4.012
Honor Magic 2
4.01
Samsung Galaxy J7 Pro
3.998
OnePlus X
3.983
Vivo Xplay5 Elite
3.983
LG G7 ThinQ (outdoor)
3.978
Oppo R7s
3.964
Apple iPhone 7
3.964
Apple iPhone 8 (True Tone)
3.957
Huawei P9 Plus
3.956
Oppo Find X
3.954
Meizu Pro 6 Plus
3.935
Lenovo Moto Z
3.931
Samsung Galaxy A7 (2016)
3.918
OnePlus 5
3.914
Samsung Galaxy C5
3.911
Xiaomi Mi 8 SE
3.901
Samsung Galaxy C7
3.896
Samsung Galaxy A5
3.895
Samsung Galaxy J7 outdoor
3.879
Samsung Galaxy J2 outdoor
3.873
Motorola Moto G6 Plus
3.865
Samsung Galaxy A8
3.859
Samsung Galaxy A8 (2018)
3.842
Apple iPhone 6
3.838
Microsoft Lumia 950XL
3.837
Samsung Galaxy A6+ (2018)
3.834
Sony Xperia XZs
3.818
Samsung Galaxy A9 (2016)
3.817
Motorola Moto X (2014)
3.816
Samsung Galaxy J7 (2017)
3.812
Samsung Galaxy A5 (2017)
3.804
Samsung Galaxy J7 (2016) outdoor mode
3.802
Xiaomi Redmi Pro
3.798
LG V20 Max auto
3.798
Sony Xperia XZ
3.795
Samsung Galaxy A5 (2016)
3.789
Apple iPhone 6s
3.783
Meizu Pro 5
3.781
Microsoft Lumia 650
3.772
Xiaomi Mi 6
3.767
Sony Xperia XZ1
3.765
Samsung Galaxy J7 (2016)
3.756
Nokia 8 Sirocco
3.745
Sony Xperia XZ1 Compact
3.729
Apple iPhone 8 Plus (True Tone)
3.725
Oppo F1 Plus
3.709
Vivo X5Pro
3.706
Samsung Galaxy A3 (2017)
3.688
Huawei P20
3.683
Apple iPhone SE
3.681
Huawei Mate 9
3.68
Samsung Galaxy A7
3.679
Sony Xperia XZ2 Compact
3.675
Meizu PRO 6
3.659
BlackBerry Priv
3.645
Sony Xperia XA1 Ultra
3.597
Apple iPhone 7 Plus
3.588
Sony Xperia XZ2
3.58
LG G6
3.556
Apple iPhone 6s Plus
3.53
Motorola Moto Z Play
3.526
Samsung Galaxy J3 (2016)
3.523
Samsung Galaxy J3 (2016) outdoor mode
3.523
Acer Jade Primo
3.521
Microsoft Lumia 950
3.512
Oppo R7 Plus
3.499
Nokia 7 plus
3.479
nubia Z11
3.466
Sony Xperia M5
2.69
Xiaomi Mi A1
2.689
Huawei P9 Lite
2.679
Xiaomi Redmi 4 Prime
2.679
vivo V7+
2.671
Vivo V3Max
2.659
Xiaomi Mi Mix
2.658
Huawei Mate 10 Lite
2.654
Oppo F5
2.653
Doogee Mix
2.642
Xiaomi Mi 4i
2.641
Xiaomi Redmi 4a
2.635
Sony Xperia Z3
2.618
Xiaomi Mi 5X (Standard)
2.616
Sony Xperia XA
2.609
Motorola Moto G4 Plus
2.582
Motorola Moto G4 Plus (max auto)
2.582
Meizu M5s
2.58
Xiaomi Mi 4c
2.574
LeEco Le Max 2
2.567
Microsoft Lumia 640
2.563
Asus Zenfone 3 ZE552KL
2.563
Huawei P Smart
2.563
Xiaomi Mi Max 2
2.561
HTC U11+
2.556
Xiaomi Redmi Note 5A (Y1)
2.556
Lenovo Moto G4
2.544
Lenovo K6 Note
2.544
Oppo F1
2.528
Sony Xperia Z5 Premium
2.525
Huawei Honor 7 Lite / Honor 5c
2.506
Sony Xperia M4 Aqua
2.503
Huawei Honor 10 Lite
2.497
BlackBerry Motion
2.494
Oppo F1s
2.481
Motorola Moto G
2.477
Lenovo Vibe K5 Plus
2.473
Huawei G8
2.471
Huawei nova
2.467
Sony Xperia Z
2.462
Lenovo Vibe K5
2.459
Meizu m3 max
2.447
Xiaomi Mi 5X (Auto)
2.417
HTC 10 evo
2.407
Huawei Honor 7
2.406
Vivo V7
2.404
Sony Xperia E5
2.386
ZUK Z1 by Lenovo
2.382
HTC 10
2.378
Oppo F3
2.376
vivo V5 Plus
2.371
Meizu m1 note
2.362
Huawei nova plus
2.329
Razer Phone
2.328
HTC One E9+
2.305
Alcatel One Touch Hero
2.272
OnePlus One
1.961
Meizu m3 note
1.923
BlackBerry Leap
1.892
Meizu m2 note
1.892
HTC Butterfly
1.873
ZTE Nubia Z9 mini
1.759
Sony Xperia U
1.758
Asus Zenfone Selfie
1.68
Motorola Moto E (2nd Gen)
1.675
ZTE Nubia Z9
1.659
Jolla Jolla
1.605
Samsung Galaxy Core
1.563
Motorola Moto E
1.545
Sony Xperia M
1.473
Sony Xperia L
1.351
Xiaomi Redmi 2
1.311
HTC Desire C
1.3
Nokia X
1.291
Meizu MX
1.221
Sony Xperia E
1.215
Sunlight legibility is also quite close on the pair of screens. Something we were actually wondering about since the rear panel originally looked like it might not be fully laminated. Or at least that's what we thought, considering the round camera module that is also molded out of the same glass finish. A phone disassembly online, however, revealed that the panel and glass are, indeed, part of a single module, proving our original theory wrong and frankly leaving us a bit impressed from an engineering standpoint.
Just like the other aspects of the panels, color accuracy turned out to be very similar. Out of the box, neither came close to what we would consider "color accurate'. The main one scored an average deltaE of 6.3 and a maximum of 11.8. The vivo display settings menu isn't particularly full of color adjustment options either, just a simple temperature slider, which we did utilize to warm up the otherwise cold color output a bit. That brought down the average deltaE to 5.1 and the maximum to 9.7 - still far from color accurate.
The back panel scored a very similar average deltaE of 6.7 and a surprisingly consistent maximum of a whopping 27.9 in one of our test patterns. Frankly, we would have noticed such a major mismatch in regular use and since this was not the case the only logical conclusion was that the OS wasn't playing nice with our color pattern generating software on the rear panel.
To be perfectly frank, we expected much more severe issues when we noticed that the two panels share their display settings. We get it, both are FullHD in resolution and for most use cases, the phone simply switches from one to the other, only having to deal with scaling issues for certain apps. Rarely are the two panels enabled simultaneously. Still, it would have been nice to separate brightness and color adjustments for the secondary display.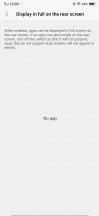 Rear full screen app settings are broken
This is actually part of a bigger criticism we have towards vivo for not really ironing out some of the kinks of using two full-featured displays. For example, the app scaling, or rather a re-scaling issue, depending on which display is in use is a real thing. There is a settings menu available that appears to be designed to handle that very same issue on a per-app basis, but it was clearly unfinished and not properly implemented on our review unit. This meant that most third-party apps that scaled, manually or otherwise, to 19.5:9 for the front display were left severely pillar-boxed on the rear one. Far from ideal, but also far from the only complaint we have about vivo's implementation and feature set for the second display. But, more on that in the software section.
Battery Life
The vivo NEX Dual Display edition is definitely a beefy phone. With a body measuring 157.2 x 75.3 x 8.1 mm and weighing in at just shy of 200 grams, it is clearly in the same weight category as other massive phablet devices, such as the Samsung Galaxy Note9. We have become rather accustomed to seeing large 4,000-ish mAh batteries on said devices. After all, they are at least roomy if not anything else.
That, however, isn't exactly applicable to the NEX Dual Display. Naturally, that second screen and all its components take up valuable internal space. This is likely one of the reasons why the NEX Dual Display is only packing a 3,500 mAh battery. Again, we say "only" pretty relative to the general phablet market. In practical terms, 3,500 mAh is still plenty of juice to go around.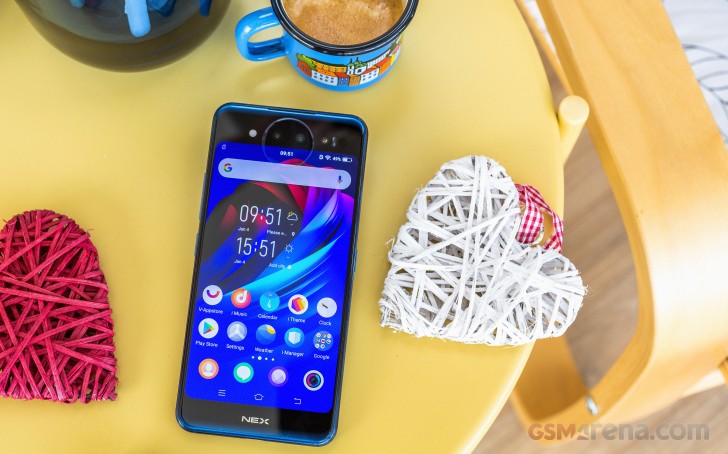 Now, that being said, there are a few things to consider here. Two panels definitely draw more power than one. Then again, there are very few circumstances in which the two panels can even be active at the same time, especially for prolonged periods of time. Using the always on display feature on both panels might suggest otherwise, but the phone is actually smart enough to use the proximity sensor and has AOD active only on the upward facing panel. Still, at the end of the day having the always on display feature on will still eat through around 10% of extra battery on a charge.
On the flip side of the display count argument, it is noteworthy that vivo opted for efficient OLED panels on both sides. That definitely brings the overall power consumption down. The native FullHD resolution of the panels helps to some extent, as well.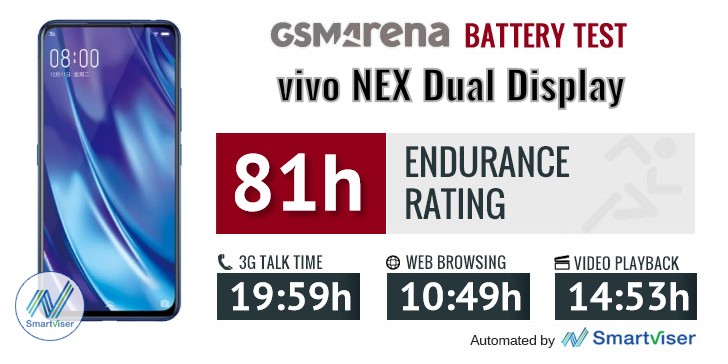 The vivo NEX Dual Display performed pretty admirably in our proprietary battery test, scoring a total endurance rating of 81 hours. 3G call test numbers fall in line with Snapdragon 845 expectations and so does video playback. The web browsing score is a little bit on the lower end of the scale, but well within acceptable limits. There are some improvements left to be desired in the cell standby area as well. Again, the NEX Dual Display falls within acceptable margins, but we have seen the X20 LTE do better on a similarly sized battery.
Our battery tests were automated thanks to SmartViser, using its viSer App. The endurance rating above denotes how long a single battery charge will last you if you use the vivo NEX Dual Display for an hour each of telephony, web browsing, and video playback daily. We've established this usage pattern so that our battery results are comparable across devices in the most common day-to-day tasks. The battery testing procedure is described in detail in case you're interested in the nitty-gritty. You can check out our complete battery test table, where you can see how all of the smartphones we've tested will compare under your own typical use.
As far as charging goes, the vivo NEX Dual Display has a pretty decent setup going. It can charge at a rate of 22.5W, which is actually carried over from the original vivo NEX S and a few other recent vivo phones.
In terms of charging speed, using the included 22.5W charger fills the battery at a rate of around 55% per hour. Accounting for all the trickle charge cycles and other variances a full charge from 0% to 100% takes just under 2 hours. With a fully drained battery a quick half hour charge gets you to about 30%. Not bad at all.
BBK Electronics Corporation is no stranger to fast charging tech. They have VOOC and Dash (now simply named OnePlus Fast Charge for legal reasons) in their ranks with standards going up to 50W of power. These seem to have one thing in common, which is a distributed charging model that utilizes a constant, in-spec 5V voltage going into the phone at a high current, split up to charge different segments of the internal battery concurrently.
The tech has already started trickling down the vivo ranks as well. Certain devices like the vivo V11 support something called Dual Engine Fast Charging - a system, by all accounts very similar in principle to VOOC and Dash. However, details have been scarce regarding it - we only have this image below.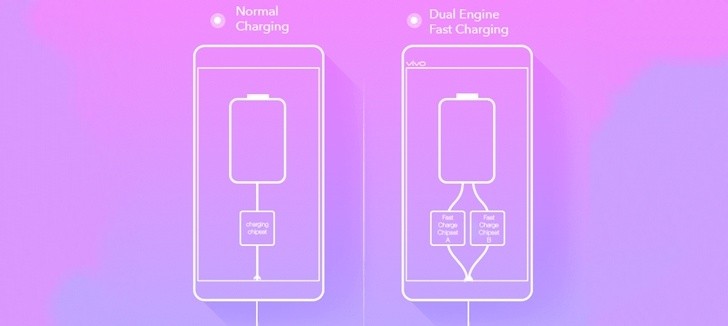 With all that said, we suspect the NEX DD uses the same type of charger as it's listed to support a trio of odd output ratings: 5V@2A, 9V@2A, and 10V@2.25A. The first one is pretty standard, while the second voltage upgrade to 9V is indicative of a whole other kind of fast charging methodology, like 18W Quick Charge. Looking at the final output closely, however, leads us to believe that vivo is actually using an internal battery arrangement similar to the of Oppo's SuperVooc Find X Lamborghini. That is to say a pair of batteries connected in series. The only difference is that, as far as we know, the Find X Lamborghini has a pair of those linked in parallel for a total of four and a rough max input of 50W. So, we guess, technically this could be "Dual Engine" technology.
Regardless, the bottom line here is - don't lose your included charger since it is rather special. Plus, that 9V@2A output rating does potentially make it rather flexible since it should be able to properly charge Quick Charge devices as well.
Loudspeaker
The vivo NEX Dual Display only has a single bottom-firing speaker in its arsenal. Pity, really, since we would have loved to see at least some sort of hybrid stereo implementation working on that odd double-sided earpiece design.
| | | | | |
| --- | --- | --- | --- | --- |
| Speakerphone test | Voice, dB | Pink noise/ Music, dB | Ringing phone, dB | Overall score |
| LG V40 ThinQ | 68.2 | 74.1 | 77.4 | Very Good |
| Samsung Galaxy S9+ | 68.4 | 74.0 | 80.1 | Very Good |
| Xiaomi Mi 8 | 68.1 | 72.3 | 82.2 | Very Good |
| OnePlus 6T | 67.2 | 72.5 | 84.5 | Very Good |
| Samsung Galaxy Note9 | 71.2 | 74.9 | 80.2 | Very Good |
| Oppo Find X | 70.7 | 75.2 | 81.2 | Very Good |
| Sony Xperia XZ3 (ClearAudio+) | 68.0 | 75.3 | 84.0 | Very Good |
| vivo NEX Dual Display | 68.5 | 72.1 | 88.0 | Excellent |
| Sony Xperia XZ3 | 71.0 | 75.4 | 82.9 | Excellent |
| Google Pixel 3 | 77.5 | 71.7 | 81.1 | Excellent |
| Xiaomi Pocophone F1 | 72.8 | 74.7 | 86.6 | Excellent |
| vivo NEX S | 71.3 | 74.5 | 91.0 | Excellent |
| HTC U12+ (Music) | 76.0 | 73.6 | 88.5 | Excellent |
| Asus ROG Phone | 79.0 | 77.5 | 84.9 | Excellent |
| Razer Phone 2 (Dolby dynamic) | 76.7 | 77.7 | 87.7 | Excellent |
| Razer Phone 2 | 78.2 | 78.8 | 86.9 | Excellent |
In terms of loudness, the NEX Dual Display just barely made it into "Excellent" grade territory. On the plus side, the sound it produces is actually pretty clear.
Audio quality
vivo NEX Dual Display Edition started off brightly in our test, delivering nicely clean output with an active external amplifier and garnishing that with a loudness that's well above average.
Headphones affected several readings, although the hits weren't too major. Frequency response, intermodulation distortion and stereo crosstalk all degraded by moderate amounts dropping the rating from excellent to good. Better yet, volume remained high, making up a solid overall showing.
Test
Frequency response
Noise level
Dynamic range
THD
IMD + Noise
Stereo crosstalk
vivo NEX Dual Display Edition
+0.03, -0.20
-94.0
94.0
0.0010
0.0066
-88.1
vivo NEX Dual Display Edition (headphones)
+0.48, -0.05
-92.7
92.7
0.0077
0.373
-54.9
Xiaomi Mi Mix 3
+0.02, -0.02
-93.2
93.2
0.0014
0.072
-90.6
Xiaomi Mi Mix 3 (headphones)
+0.09, -0.07
-92.7
92.6
0.0033
0.151
-60.9
Huawei Mate 20
+0.02, -0.16
-92.1
92.0
0.0017
0.013
-85.6
Huawei Mate 20 (headphones)
+0.07, -0.07
-92.1
92.4
0.0021
0.106
-66.5
Sony Xperia XZ3
+0.01, -0.02
-91.2
93.2
0.0024
0.0080
-88.7
Sony Xperia XZ3 (headphones)
+0.38, -0.21
-93.1
92.5
0.0049
0.233
-61.7
Samsung Galaxy Note9
+0.01, -0.03
-93.7
93.7
0.0017
0.0074
-94.1
Samsung Galaxy Note9 (headphones)
+0.03, -0.02
-93.6
93.5
0.0033
0.046
-93.2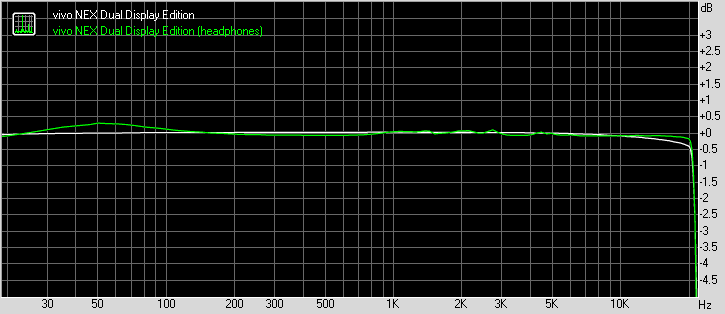 vivo NEX Dual Display Edition frequency response
You can learn more about the tested parameters and the whole testing process here.