Unannounced Oppo A53s listed on Amazon – images, specs and price in toll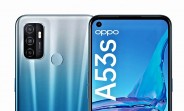 This is a bit of an odd situation, but not a unique one on the modern smartphone scene. In what is technically a "leak", a still unannounced Oppo A53s can now be found on Amazon DE. The listing includes a basic set of specs, pretty detailed images of the device, as well as a pre-order price of €189 and an official release date of October 13.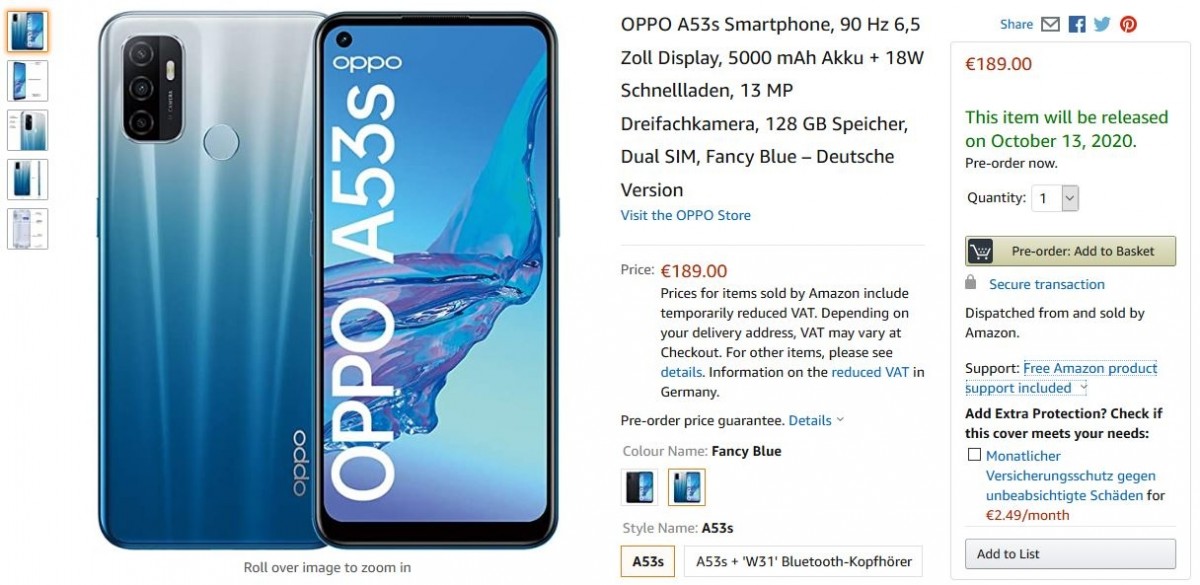 In any other scenario, this would be a very interesting and bountiful leak. However, as listed, this Oppo A53s seems to absolutely identical to the regular Oppo A53, which was launched late last month in India. So, we can assume that either the official Oppo store on Amazon Germany made a mistake in the listed specs (since the A53s moniker is clearly visible in the product images and less likely an error), or simply decided that the listing's pre-mature timing is fine since the Oppo A53 will simply be called the A53s in Europe. Or at least Germany.
We are definitely leaning towards the latter, especially since a few hours ago the very same Oppo A53 was launched under the Oppo A32 moniker in China. So, we guess that all naming bets are off at this point and the real news here is that the phone is coming to Europe.
For just shy of €200, the A53s has a 6.5-inch, HD+ fast 90Hz display, a 5,000 mAh battery, which draws power through a USB-C port at up to 18W, a triple main camera setup, consisting of a 13MP primary, 2MP macro and 2MP depth sensor and a 16MP selfies snapper. At its heart – a Snapdragon 640 chipset, in this particular case, paired with 128GB of expandable storage.
Unfortunately, for whatever reason, the Amazon listing does not include the amount of RAM in the A53s. If we indeed subscribe to the likely theory that this is jus the A53, with an "s" at the end, we are looking at the higher memory tier, currently on offer – 6GB/128GB for €189. In India, there is also a lower-tier 4GB/64GB one, priced at INR12,990 ($175/€150), whereas the 6GB/128GB retails for INR15,490 ($210/€175) on Flipkart.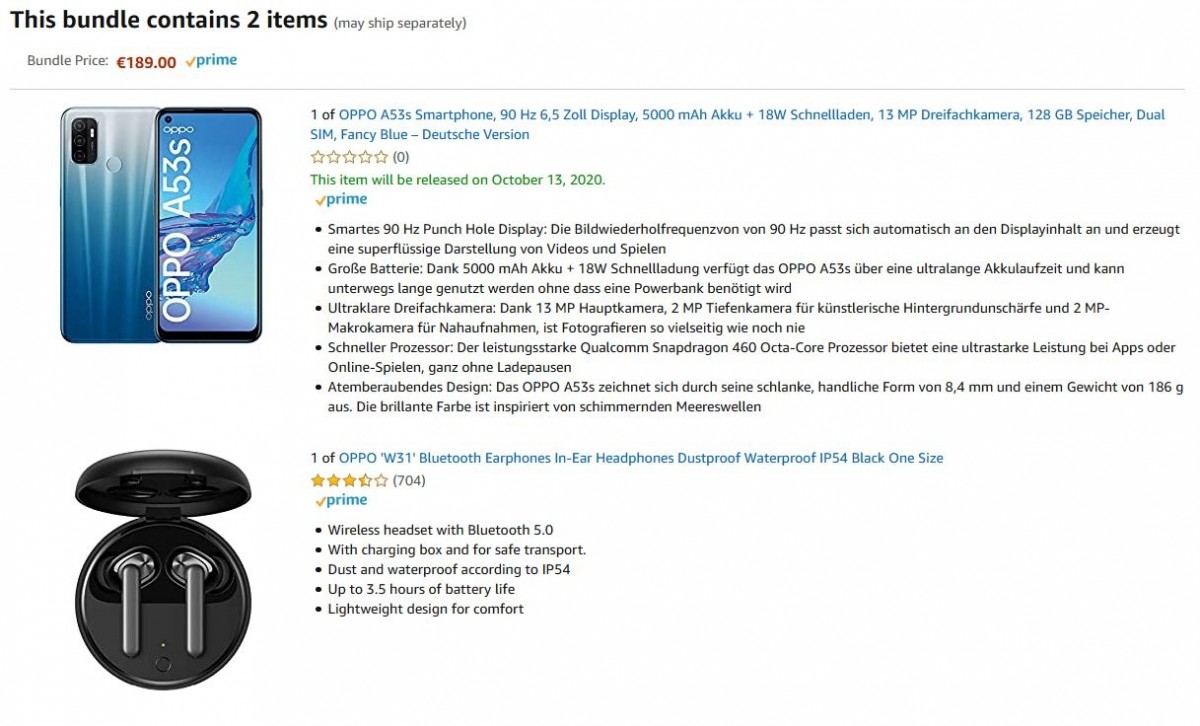 That's a pretty mild EU price hike in our book. Plus, the Amazon listing, that will be linked in the source, also currently has a pre-order bundle. You can get the A53s in Fancy Blue with a free pair of Oppo W31 Bluetooth TWS earbuds. Apparently, €77 of extra value on their own, as per their Amazon DE listing. Not too shabby.
T
You've come on GSM Arena to say that! Ha ha.
?
True but most manufacturers do it these days, tons of phones that are all to similar - the only really interesting trend is that you can get a good quality phone for very little money. Here in Germany you get the A53S including the W31 headsets ...
s
Oppo A72, A73, A12, A32, F16, F17, A12e, A53, A52, F17 pro, S9, A9x....the list goes on and on. What a ridiculous strategy. Just saturation of the market. All these phones are really similar. It's an exercise in throwing as much garbage at the w...
ADVERTISEMENT