Android 11 with a no-nonsense Ulefone UI
The Ulefone Power Armor 13 comes with Android 11 out of the box. The maker advertises it as a pure version of Android, but that is not really the case. It offers a clutter-free Ulefone launcher that is not that far from what you'd get with the vanilla 11.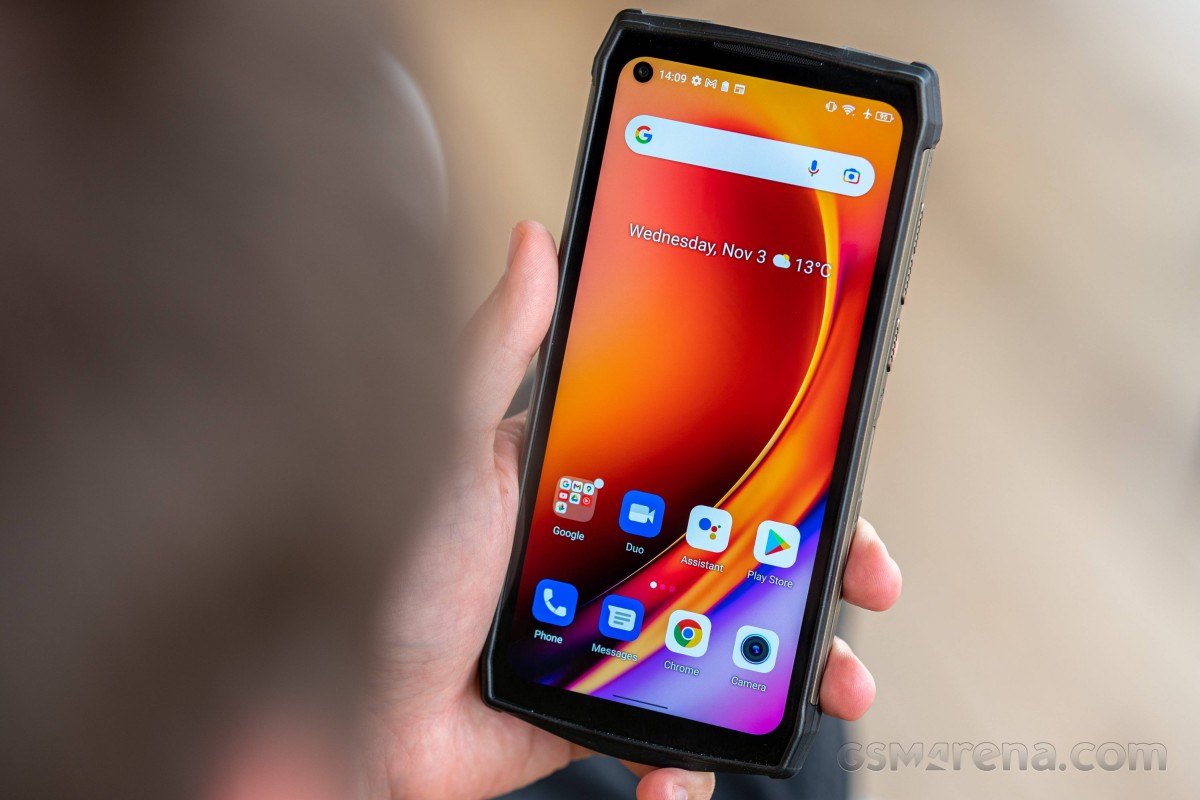 The software indeed looks a lot like the vanilla Android, minus the icons. The home screen, lock screen, notification shade, and the recent apps menu resemble those of the stock Android.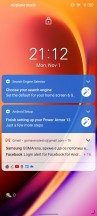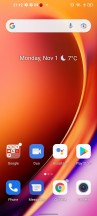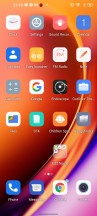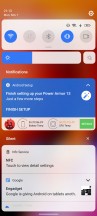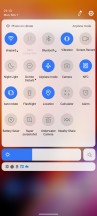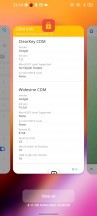 Android OS on Ulefone Power Armor 13
Looking deeper into the Settings menu reveals the changes that Ulefone has made - there is AI app launch acceleration, various gestures, nav bar settings, among others. You can also assign up to three different actions on the PTT key - one upon the short press, another one - on long press, and the third option is when you double click it.
There is no app drawer available on the Power Armor 13, but if it's a must - there are plenty of custom launchers.
The app package is pretty straightfo rward. The default Android apps are pre-installed, so you have a gallery, a media player, and a file manager. There is also an FM radio app by Ulefone, a custom Notes app, and a Toolbox app.
The FM radio doesn't require a wired headset to work - the phone has an integrated FM antenna inside.
The Toolbox is probably the most powerful app you will find on Armor 9.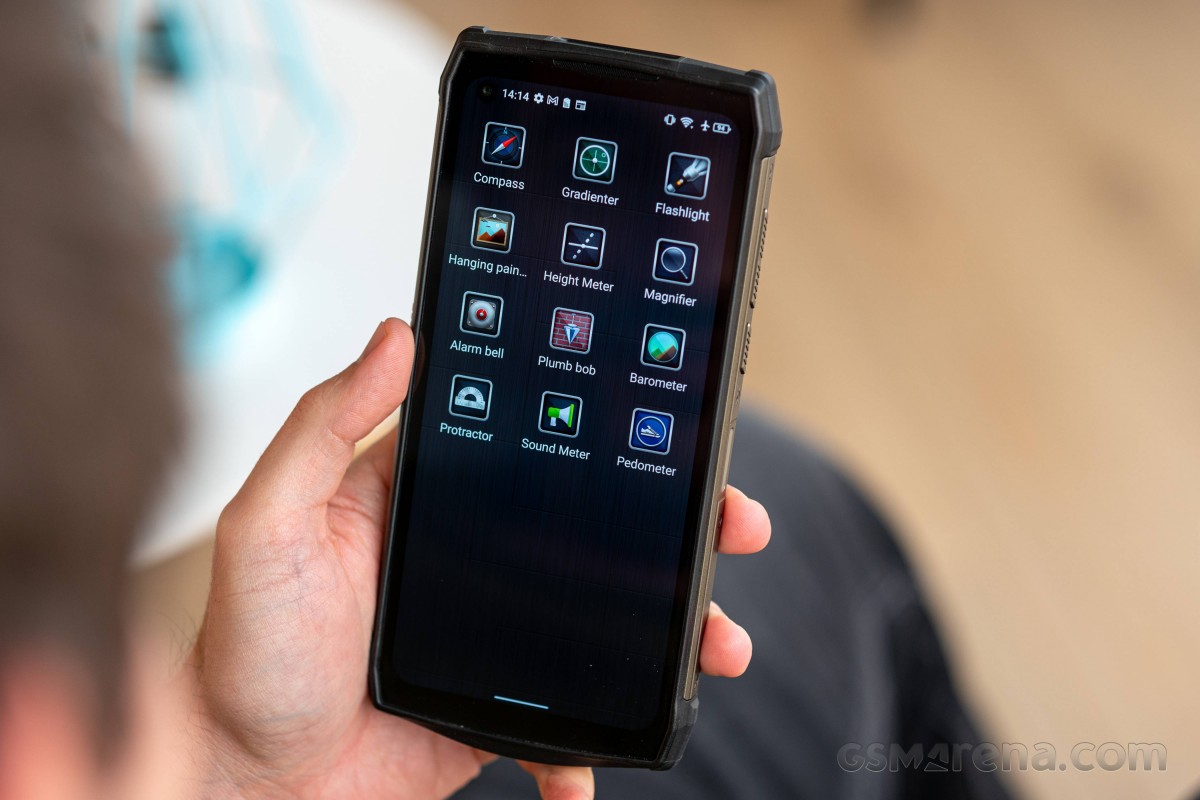 It offers Compass, Level tool, Flashlight, AR level for paintings, Height meter (seems like a gimmick), Magnifier, Alarm bell, Protractor, Noise meter (uses the microphone), Pedometer, Bubble level, and Plumb bob.
Finally, there is also the Rangefinder app, which uses the integrated laser distance measure. It's rather easy to use - just tap on the Measure key - once to activate the Laser, and a second time for the actual measuring.
You can change the way of measuring to include or not to include the phone. You can also use advanced modes for calculating area or volume.
We tried the Power Armor 13 next to a regular entry-level laser meter, and we found the Power Armor 13 isn't as accurate - it usually deviates by 0.5-1.0cm. We suspect this is because of the curved bottom, which gets in the way when trying to measure perpendicularly off a wall. This is some seriously bad design decision, and it is beyond us how this was overlooked.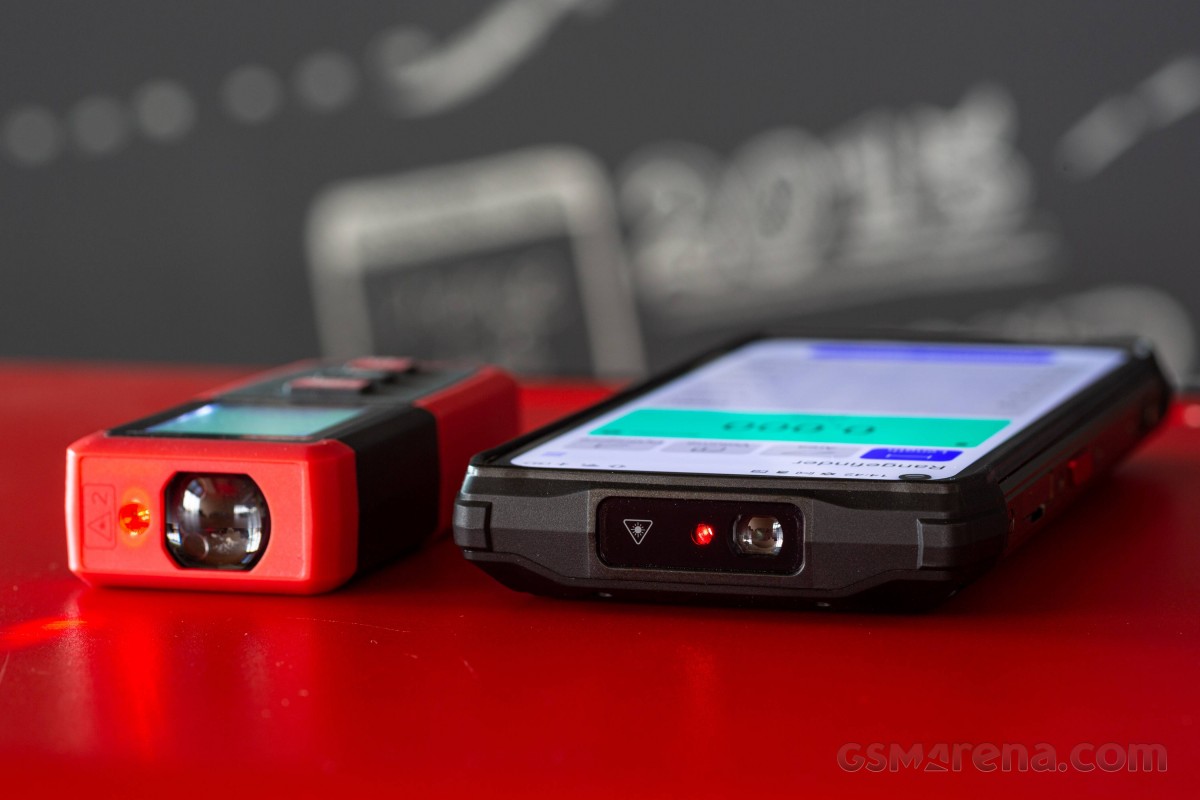 There are no ads across the UI whatsoever, so you can be sure you won't be bothered by unwanted spam here and there. And that pretty much covers the Ulefone Power Armor 13 starter package.
Performance and benchmarks
The Ulefone Power Armor 13 utilizes the MediaTek Helio G95 chipset. It is a popular SoC for mid-range purposes and is fabricated on the 12nm FinFET manufacturing process from TSMC. The Helio G95 packs an octa-core CPU with two high-performance Cortex-A76 cores ticking at 2.05GHz and six energy-efficient Corext-A55 cores working at 2.0GHz.
There is a Mali-G76 MC4 GPU, which should provide adequate performance for the class.
The Power Armor 13 is available in only one memory configuration - 8GB LPDDR4X RAM with 256GB storage. A microSD memory expansion is available via a hybrid-SIM slot.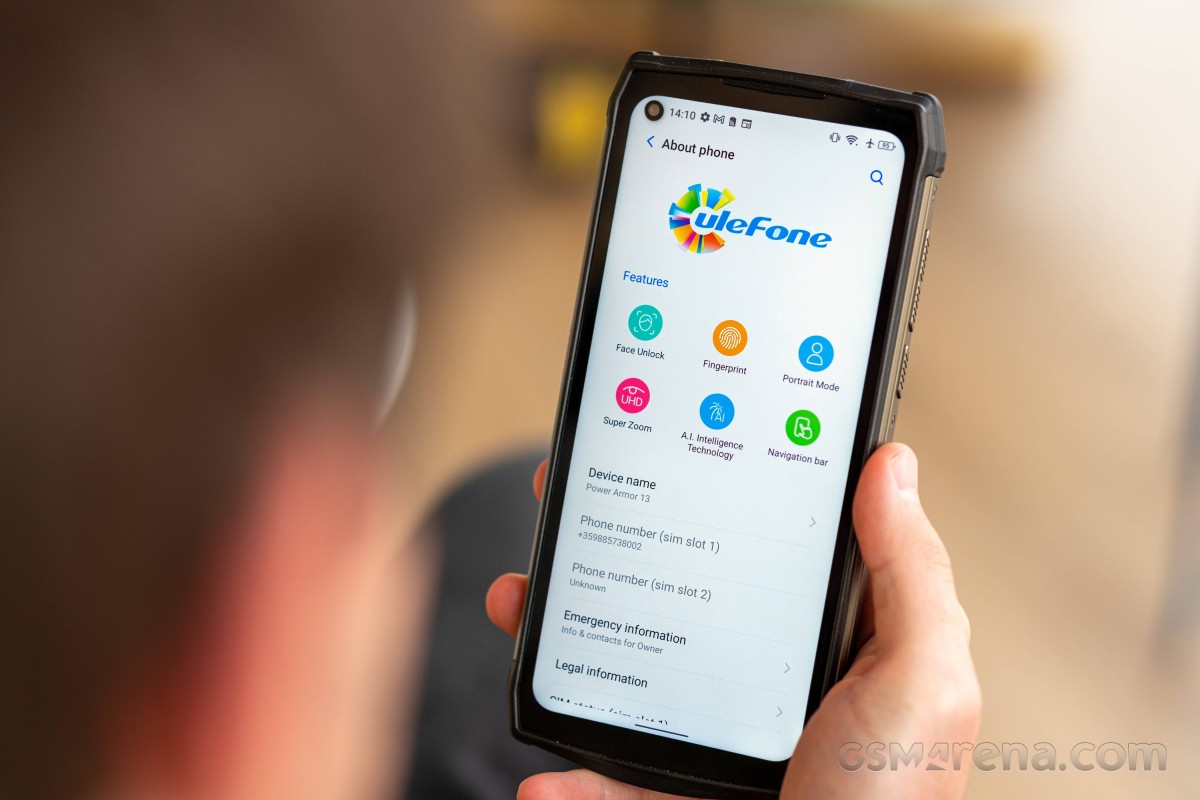 The Helio G95 is far from flagship-grade silicon, but it offers decent performance that's enough for both crucial and entertainment-related tasks.
GeekBench 5 (multi-core)
Higher is better
OnePlus Nord 2
2792
OnePlus Nord CE 5G
1812
Infinix Note 11 Pro
1800
Xiaomi Redmi Note 10 Pro
1780
Poco X3 NFC
1777
Infinix Note 10 Pro
1644
Ulefone Power Armor 13
1610
Ulefone Armor 9
1498
Ulefone Armor 7
1476
GeekBench 5 (single-core)
Higher is better
OnePlus Nord 2
814
OnePlus Nord CE 5G
641
Xiaomi Redmi Note 10 Pro
569
Poco X3 NFC
568
Infinix Note 11 Pro
520
Infinix Note 10 Pro
510
Ulefone Power Armor 13
502
Ulefone Armor 9
401
Ulefone Armor 7
380
While gaming isn't what the Ulefone Power Armor 13 was meant to do, it can still do it adequately well. Its screen response isn't ideal, though, which may be a problem in shooters. Occasional lag and stutter do happen, despite having a capable GPU. We blame the poorly optimized software.
GFX Manhattan ES 3.1 (onscreen)
Higher is better
OnePlus Nord 2
57
OnePlus Nord CE 5G
30
Ulefone Power Armor 13
29
Infinix Note 10 Pro
28
Poco X3 NFC
27
Infinix Note 11 Pro
20
Ulefone Armor 7
18
Ulefone Armor 9
17
GFX Car Chase ES 3.1 (onscreen)
Higher is better
OnePlus Nord 2
38
Ulefone Power Armor 13
18
Infinix Note 10 Pro
17
OnePlus Nord CE 5G
17
Xiaomi Redmi Note 10 Pro
16
Poco X3 NFC
16
Infinix Note 11 Pro
11
Ulefone Armor 9
7.9
Ulefone Armor 7
7.5
3DMark Wild Life Vulkan 1.1 (offscreen 1440p)
Higher is better
OnePlus Nord 2
4224
Infinix Note 10 Pro
1506
Ulefone Power Armor 13
1487
OnePlus Nord CE 5G
1103
Infinix Note 11 Pro
1100
Then AnTuTu also says the Ulefone Power Armor 13 is a good mid-range performer and should be a reliable smartphone whatever the task.
AnTuTu 8
Higher is better
OnePlus Nord 2
512164
OnePlus Nord CE 5G
318672
Infinix Note 10 Pro
310342
Xiaomi Redmi Note 10 Pro
295442
Ulefone Power Armor 13
294194
Infinix Note 11 Pro
290797
Poco X3 NFC
283750
Ulefone Armor 7
216770
Ulefone Armor 9
197000
AnTuTu 9
Higher is better
OnePlus Nord 2
598022
OnePlus Nord CE 5G
391770
Infinix Note 10 Pro
365490
Ulefone Power Armor 13
351678
Infinix Note 11 Pro
343527
Finally, we ran the two stress tests we always use - CPU Throttle and 3D Mark Wild Life.
The Ulefone Power Armor 13 did okay on the CPU Throttle test by keeping 63% of its maximum performance during an hour of 100% CPU usage. Then it scored 88% stability on the 3D Mark Stress Test - an excellent result.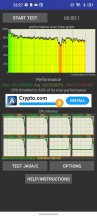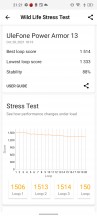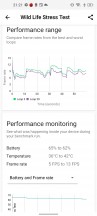 CPU stress test • GPU stress test
The Power Armor 13 offers good stability and long-lasting gaming performance. It may get warm when using 100% of its resources but never hot.
The phone does offer adequate performance, and it should provide a stutter-free experience, though that's not the case. Sometimes the Ulefone launcher's poor optimizations get in the way; other times - the slow screen response rate.