Display
The Ulefone Power Armor 13 features a 6.81-inch IPS LCD screen sitting behind a Gorilla Glass 3 shielding. The display has rounded corners and small perforation for the selfie camera, which is baffling considering the width of the bezels.
The panel has traditional 2,400 x 1,080 pixels (386ppi) and standard 60Hz refresh rate.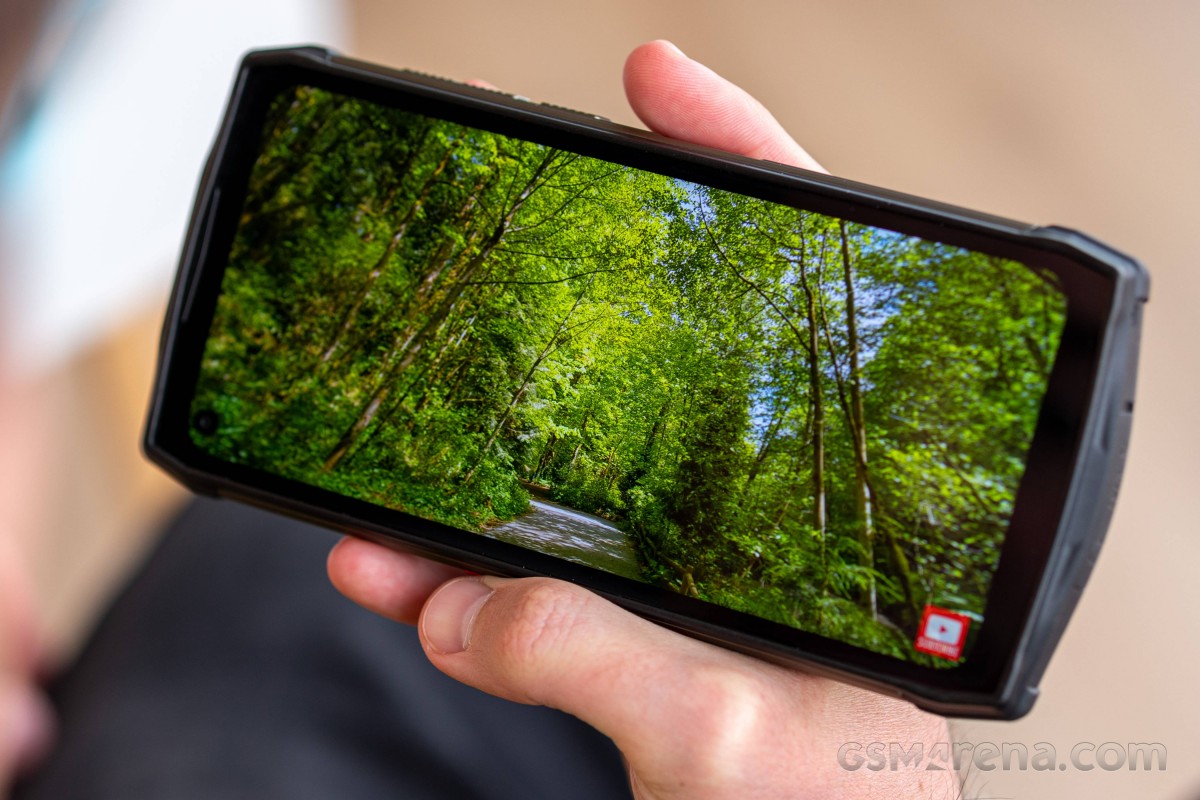 We've completed our display test, and the numbers are okay. The panel's maximum brightness is 400 nits in both auto and manual control. Combined with the deep enough blacks, we've captured a particularly good contrast ratio of 1306:1.
The minimum brightness is unexpectedly high at 25 nits - a poor result indeed.
Display test
100% brightness
Black,cd/m2
White,cd/m2
Contrast ratio
Ulefone Power Armor 13
0.307
401
1306:1
Ulefone Armor 7
0.279
406
1455:1
Ulefone Armor 9
0.357
550
1541:1
Xiaomi Mi 11 Lite 5G
0
514
∞
Xiaomi Mi 11 Lite 5G (Max Auto)
0
846
∞
Poco X3 Pro
0.327
458
1401:1
Poco X3 Pro (Max Auto)
0.4
534
1335:1
The screen is recognized as HDR10-capable by YouTube and only YouTube, but HDR videos don't look good, they are desaturated.
The phone has the lowest Widevine L3 DRM level support, meaning you will have access to SD streaming only in apps such as Netflix and Prime Video.
Finally, the color accuracy is not good, and you cannot hope for accurate colors though the picture is vibrant and punchy. This was never meant to be a strong side for this Ulefone, so there is no need to go all technical about this.
Battery life
Welcome to our Ulefone Power Armor 13 review! We bet many of you skipped straight to this part, and we would have probably done the same. One of the highlights of this smartphone is the incredibly large 13,200mAh battery that is responsible for much of its weight and thickness.
Quite expectedly, the Ulefone Power Armor 13 Pro is not only the most rugged phone we've tested so far, but also the one with the highest endurance rating to date! It scored an unbelievable 296-hour endurance rating, and it can last 40 hours on web browsing, 33 hours playing videos, or north of 100 hours on 3G talks.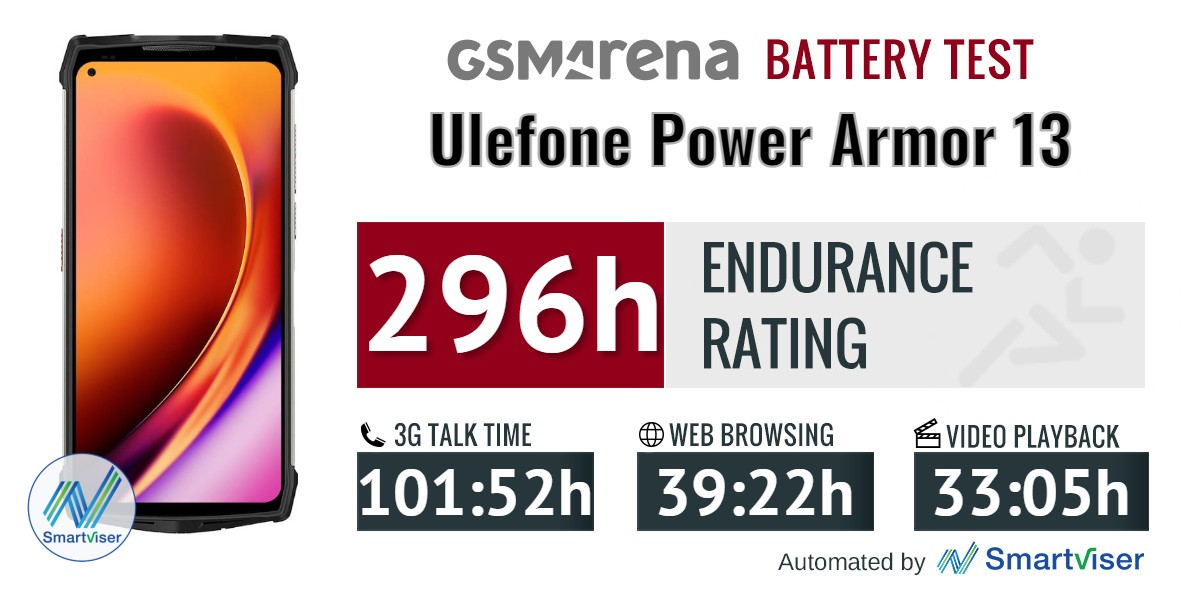 Our battery tests were automated thanks to SmartViser, using its viSerDevice app. The endurance rating denotes how long the battery charge will last you if you use the device for an hour of telephony, web browsing, and video playback daily. More details can be found here.
Video test carried out in 60Hz refresh rate mode. Web browsing test done at the display's highest refresh rate whenever possible. Refer to the respective reviews for specifics. To adjust the endurance rating formula to match your own usage patterns check out our all-time battery test results chart where you can also find all phones we've tested.
Charging speed
The Ulefone Power Armor 13 has a gargantuan 13,200mAh battery inside, and thankfully, it supports fast charging. We can only imagine the time required for a full charge with 5W or less.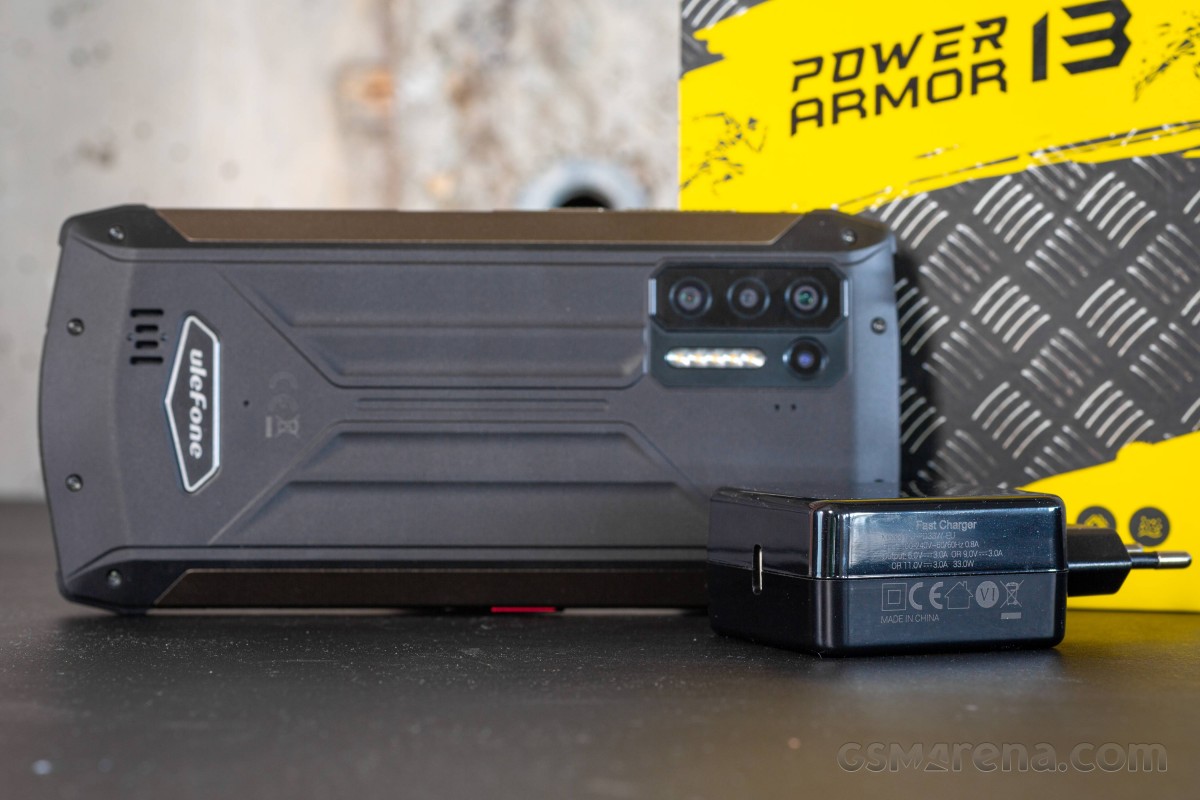 So, the phone supports fast 33W wired charging, and it ships with a correspondingly fast power adapter (not always a given). It is a USB-PD type, so you can use it on a variety of other compatible devices, too.
Killing the Power Armor 13's battery seemed to take forever, but we were finally able to complete our charging test, too, and the bundled 33W adapter takes the 13,200mAh battery from 0% to 27% in 30 minutes. Not bad!
30min charging test (from 0%)
Higher is better
Poco X3 Pro
50%
Asus ROG Phone 3
43%
Ulefone Armor 9
35%
Samsung Galaxy M51
35%
Ulefone Armor 7
27%
Ulefone Power Armor 13
27%
Poco M3
25%
Samsung Galaxy M30s
21%
Motorola Moto G9 Power
20%
Doogee S88 Pro
16%
A full charge takes 3 hours and 3 minutes, which is, in fact, an excellent result for such a battery.
Time to full charge (from 0%)
Lower is better
Poco X3 Pro
1:08h
Samsung Galaxy M51
1:47h
Asus ROG Phone 3
1:50h
Motorola Moto G9 Power
2:19h
Ulefone Armor 9
2:30h
Poco M3
2:30h
Ulefone Armor 7
2:40h
Ulefone Power Armor 13
3:03h
Doogee S88 Pro
3:49h
The Ulefone Power Armor 13 also supports fast wireless charging up to 15W - it appears you need to buy Ulefone's wireless charging pad for this. We cannot possibly imagine recharging this battery at this rate as it could take more than one night, but hey, the option is there.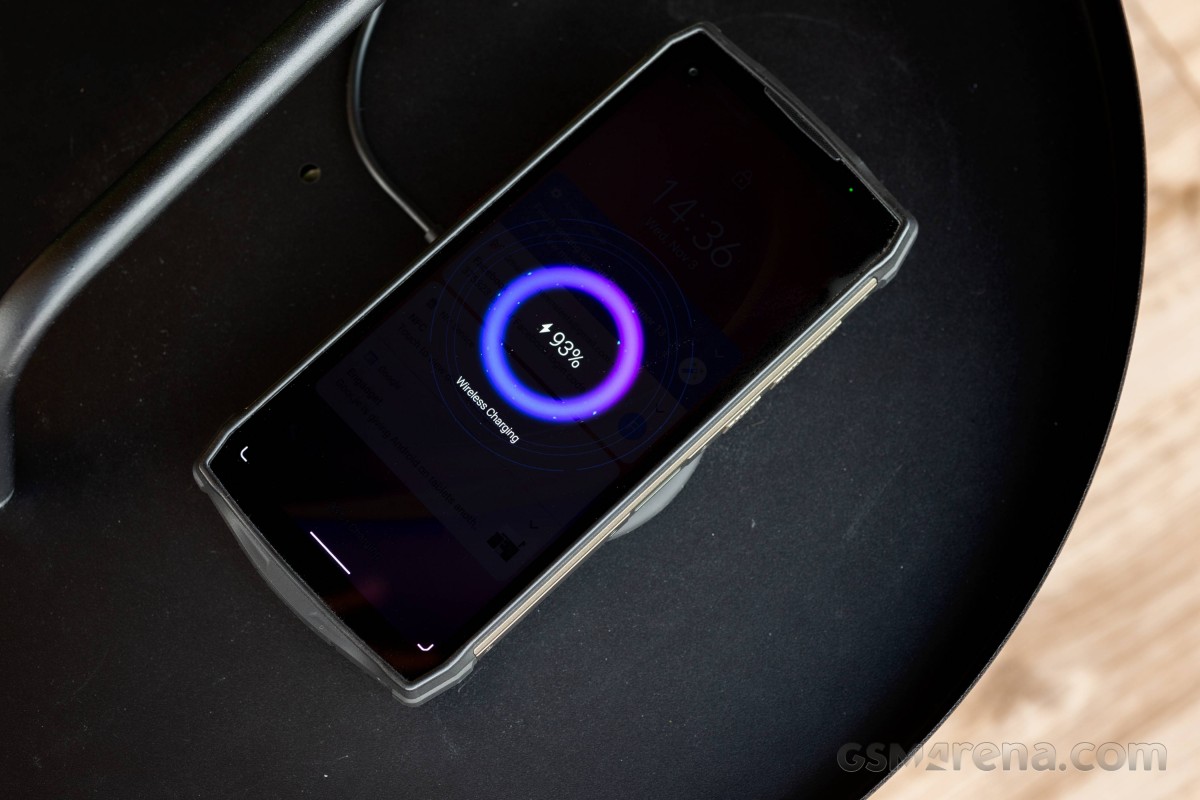 The phone does not offer reverse wired charging, but you can still use it as a power bank because it can do reverse wireless charging - go figure! You need to enable this thing from Settings, and then you can recharge other phones, headphones, or smartwatches on the Power Armor 13's back.
Speaker loudness
The Ulefone Power Armor 13 has one rear-facing loudspeaker. It sounds loud if you are facing it, but not that much if the phone is lying on a desk or resting in a pocket. We do this test in our sound lab with the device facing our equipment.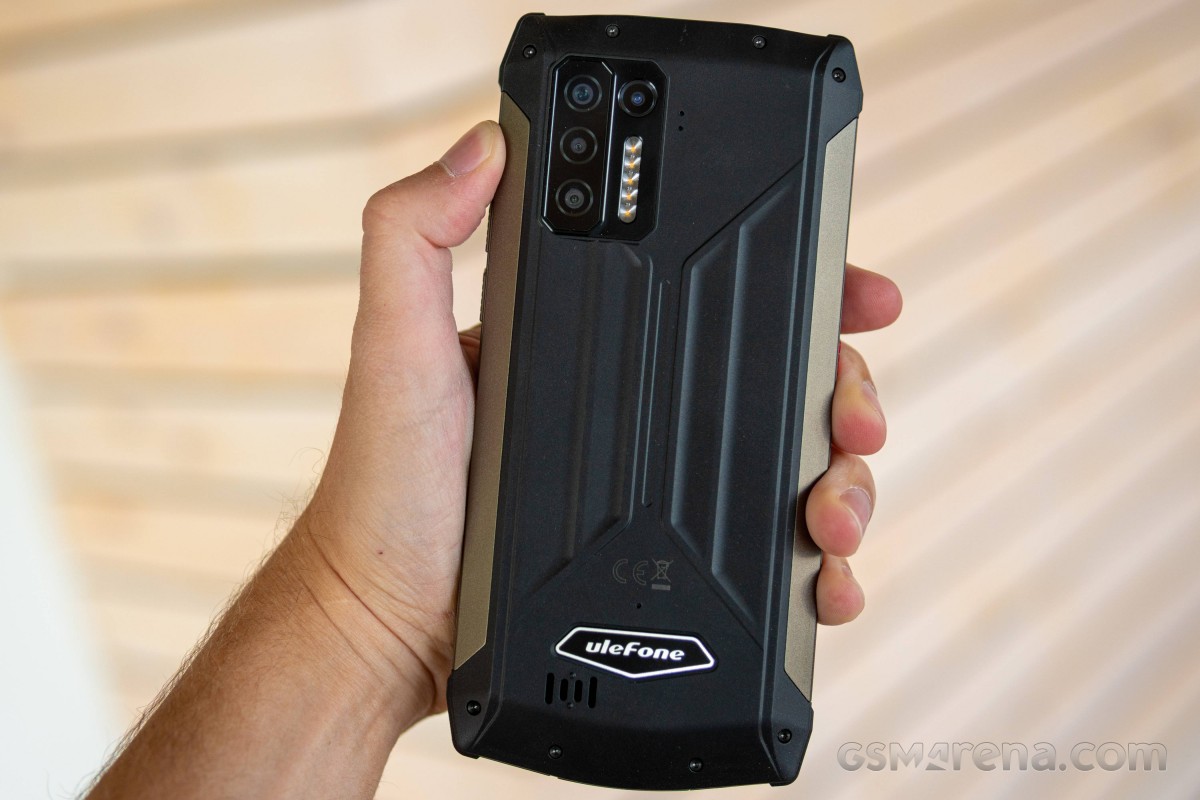 So, the Power Armor 13 scored an Average mark on our loudness test. The audio quality is rather poor, though - we can hear mostly mid-tones and no highs or lows.
Use the Playback controls to listen to the phone sample recordings (best use headphones). We measure the average loudness of the speakers in LUFS. A lower absolute value means a louder sound. A look at the frequency response chart will tell you how far off the ideal "0db" flat line is the reproduction of the bass, treble, and mid frequencies. You can add more phones to compare how they differ. The scores and ratings are not comparable with our older loudspeaker test. Learn more about how we test here.