Design, build quality, handling
Just look at this ruggedly handsome brick! It's massive, it's heavy, and it's just beautiful with its industrial design. If you hate it, this will be the end of the line for you. But if you want a phone that can survive the apocalypse, you are at the right place.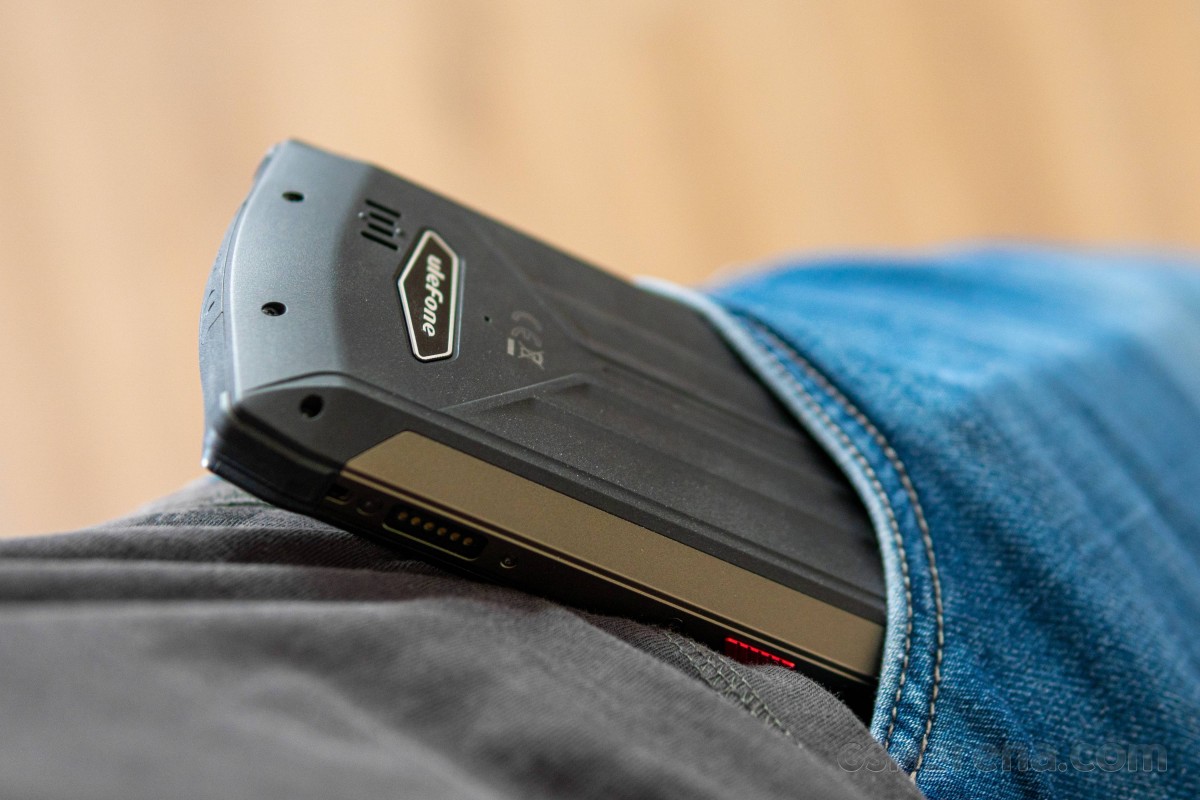 The Ulefone Power Armor 13 has so many resistances, and we can only hope we won't miss something important. The device is IP69K-rated and MIL-STD-810G certified, meaning it is dust, water, and shockproof.
This rare IP69K rating means the phone not only can survive in the usual 1.5m deep water for half an hour (IP68), but it can also shower in high-pressure water. That's why all of its ports are properly sealed and all panels - screwed to the chassis.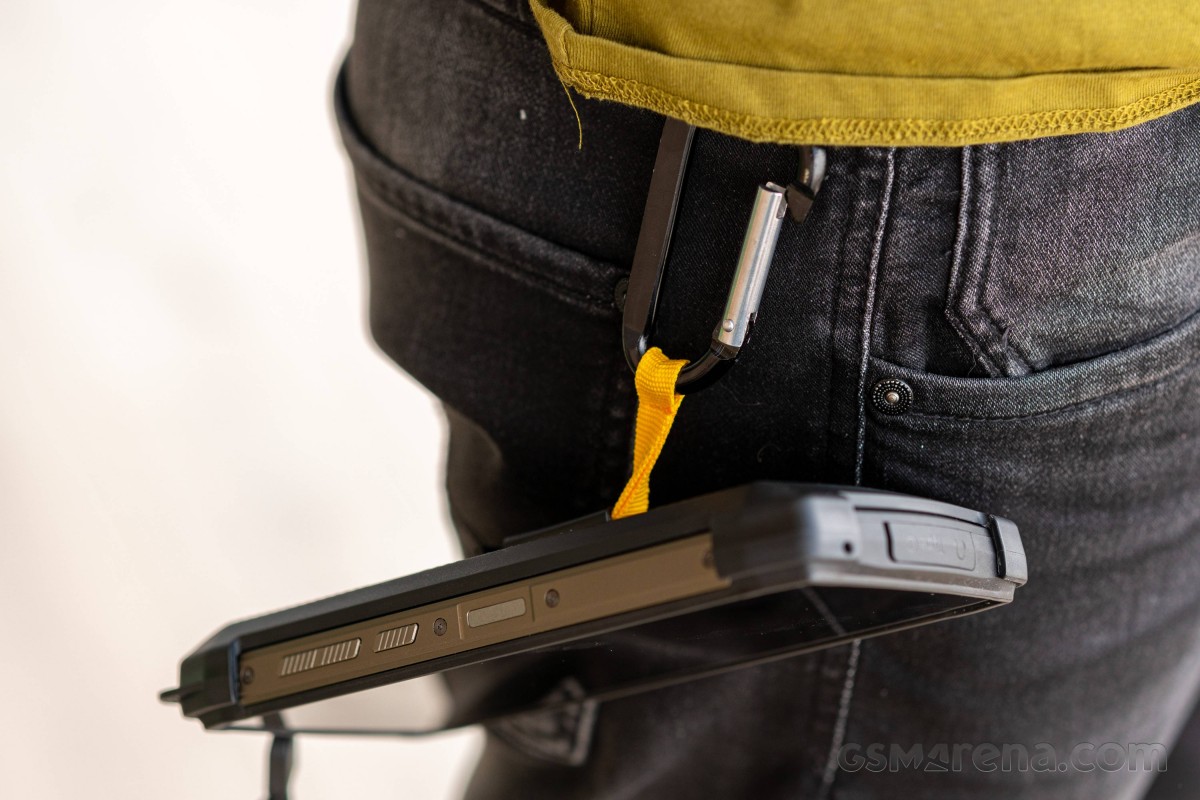 The Power Armor 9 is also shock proof - it has a drop-to-concrete resistance up to 1.2 meters - that's what usually breaks most of the phones nowadays. The Power Amor 13 has secured corners and enhanced back panel, and they usually absorb the shock after a freefall. We suspect this phone can survive drops from a couple of meters, but we are not that enthusiastic about breaking it just yet.
Finally, there is also MIL-STD-810G compliance with a few standards - temperature and altitude shocks, solar radiation endurance, acid environment, transport shock, high humidity. What we cannot confirm is the salt resistance, but given all the rubber seals and tightened panels, we'd make a semi-educated guess and suggest this phone will probably survive in a seawater as well.
Now, let's make a closer look.
The 6.81-inch LCD panels take up most of the front, and it's protected by a flat Gorilla Glass 3 sheet. The screen has a punch-hole for the front camera, and it is beyond us why Ulefone did not put the camera on the top bezel - it's wide enough. Worse, the 16MP snapper is not ideally centered in that hole.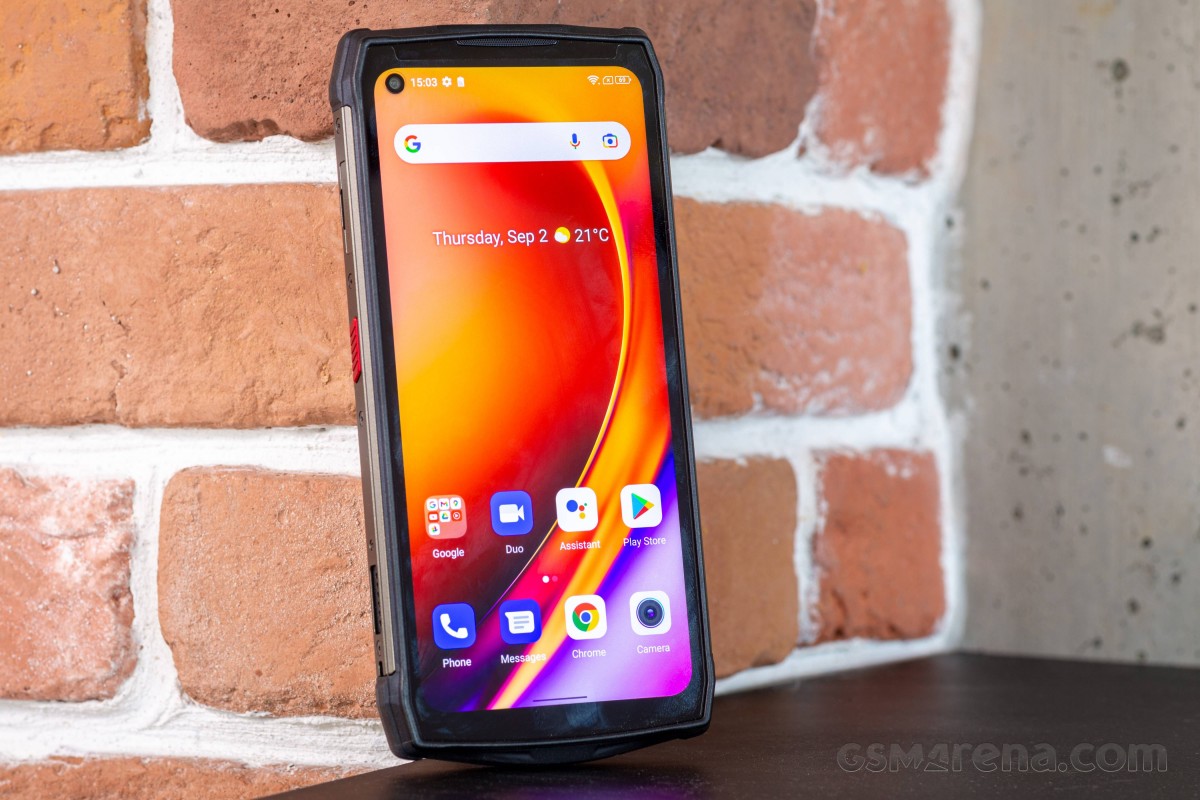 Above the screen, you can also spot a large grille that covers the earpiece. Around the top right corner is hidden a small notification LED light.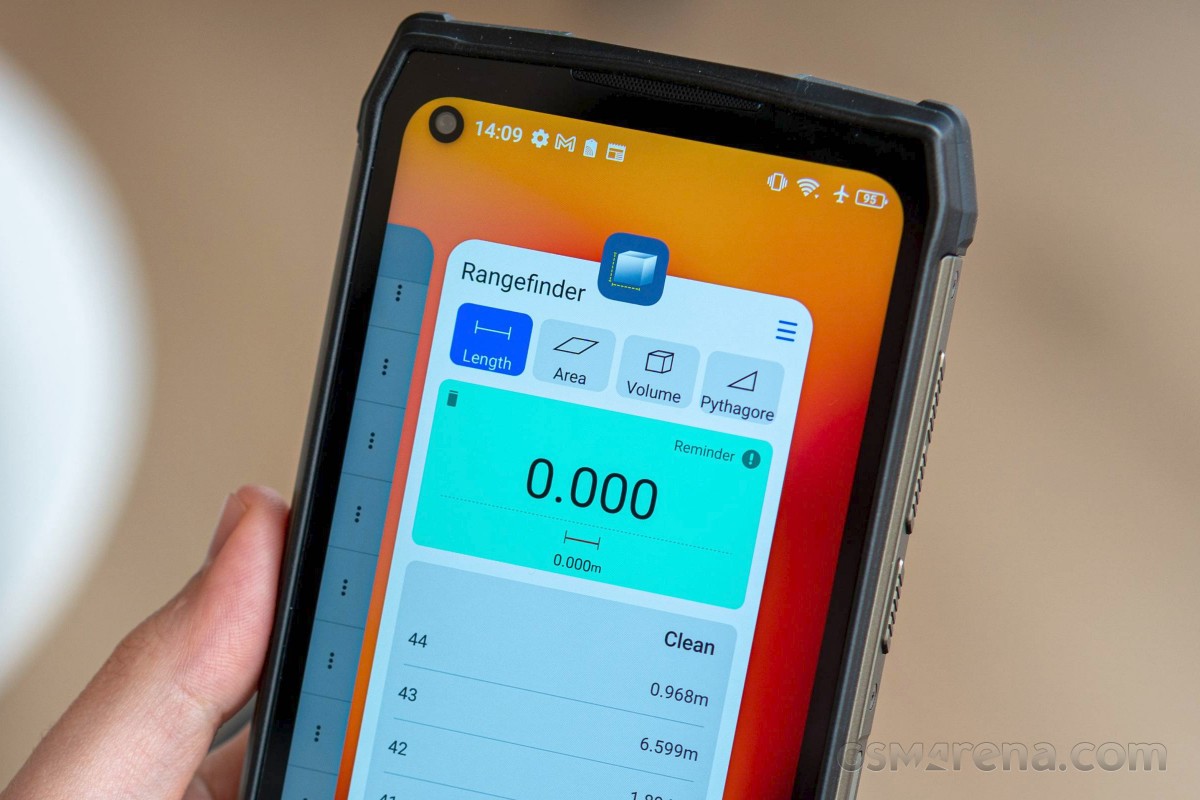 Part of the thick plastic frame is jutting out around the screen glass, and it makes for extra protection against scratches and is responsible for the shock absorption.
The back of the Ulefone Power Armor 13 is mostly thick plastic with grippy patterns. There should be a metal chassis beneath that layer of plastic. You can see many screws around the panel, a large Ulefone logo, the speaker grille, and the quad-camera with 5 large LEDs around. The latter can be used as a camera flash, of course, but their primary purpose is as a flashlight.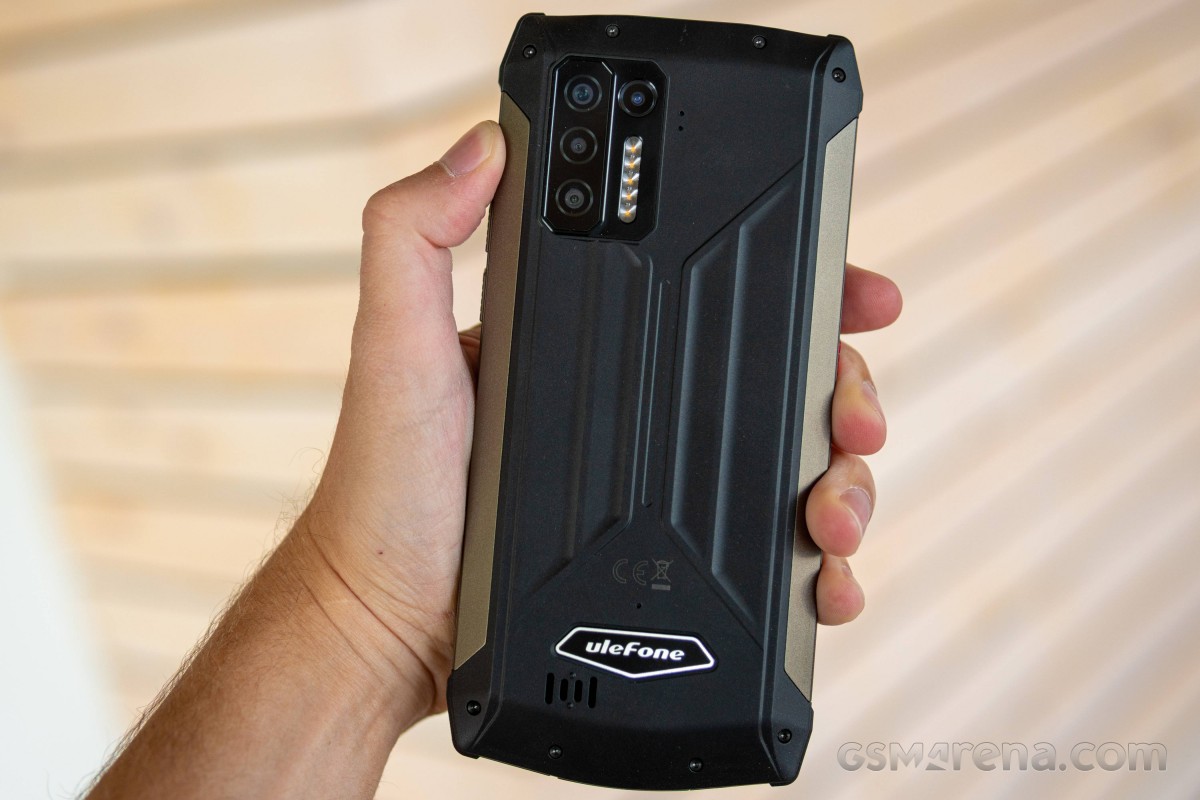 We used this Power Armor 13 as a flashlight, and we have to say we are a bit disappointed - only one of these LEDs is powerful enough, the other four seem to offer only a fraction of the primary intensity, and they don't matter. Yes, we surely did not expect that!
The thick sides of the Power Amor 13 are thoroughly interesting!
The top houses the laser distance measure sensors - there is a laser emitter and a receiver. Ulefone offers a proper app to utilize these capabilities (Rangefinder), and just like on professional laser measures, the height of the phone can be included or excluded from the measuring, and you can do more advanced stuff like area and volume calculations.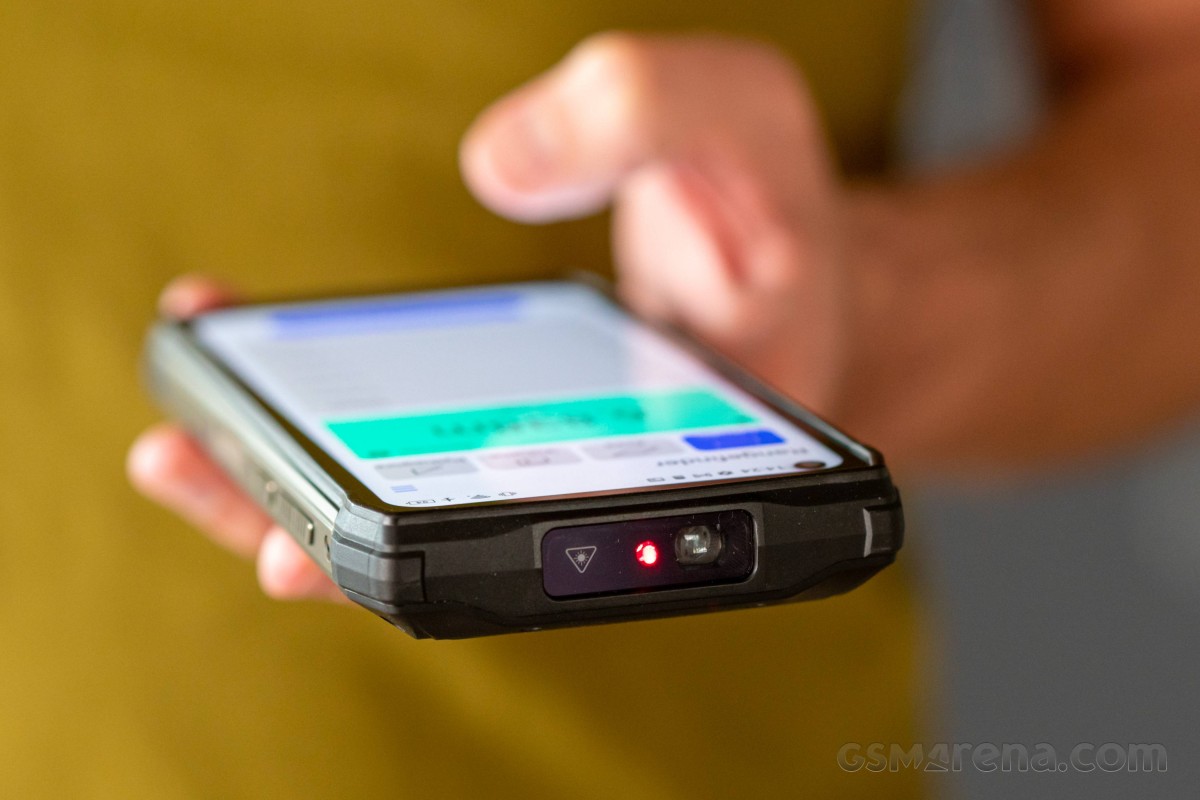 This is also where we encountered a major design failure on the Ulefone Power Armor 13. If you want the phone to be included in the measurements (that's the most common use case, of course), you will need to put the phone's bottom firmly on the floor, or against a wall. But its bottom side is curved, making that an impossible task and leading to not as accurate measurements. We can't see any reason for the bottom curve to exist.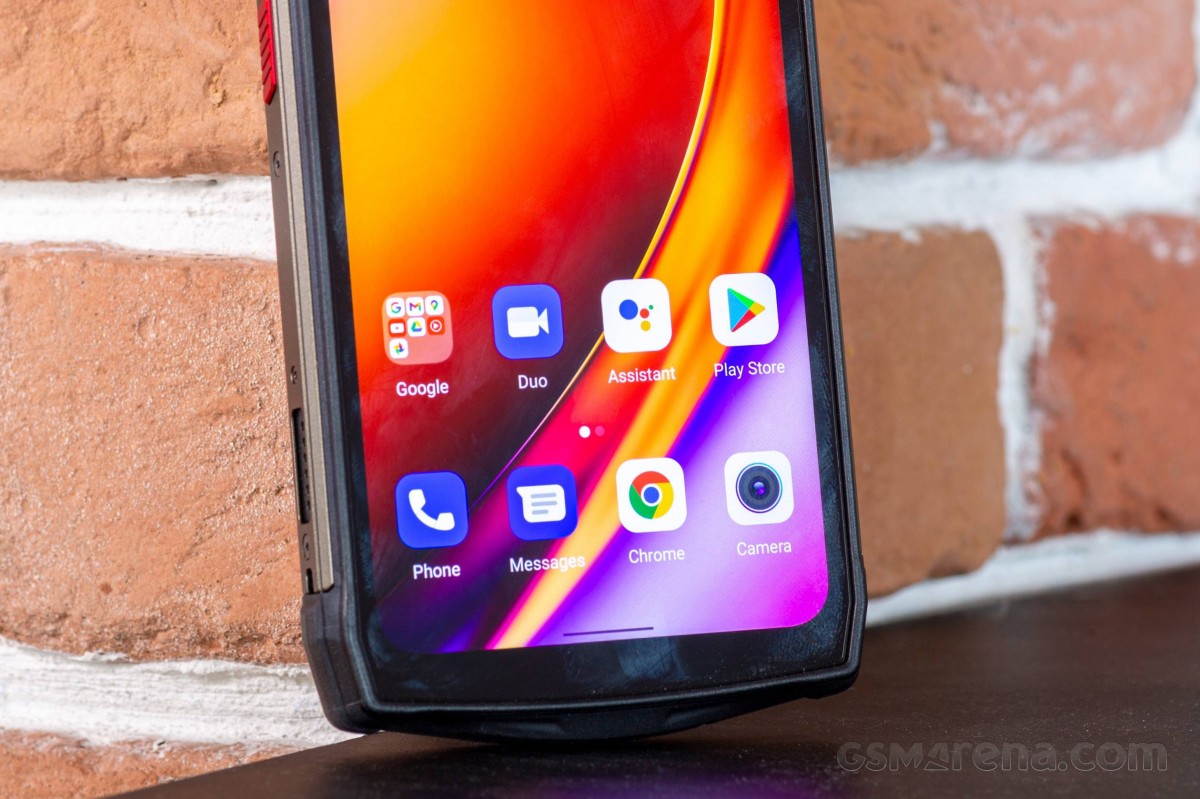 The unnecessary curved bottom contains the 3.5mm audio jack and the USB-C port, which are protected by a rubber lid. The mouthpiece is also around.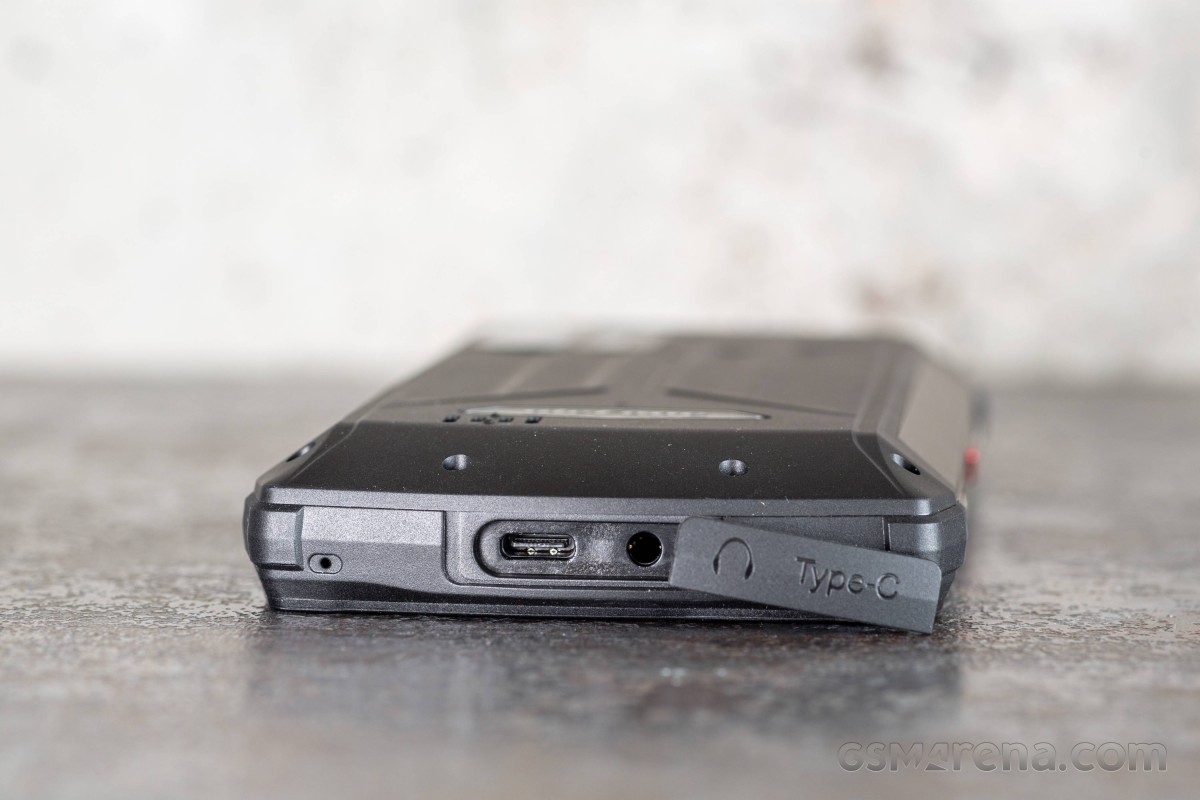 Despite having some holes on the back, the Ulefone Power Armor 13 seems to be lacking a second microphone for noise-canceling during calls and/or stereo audio during video capturing.
The long sides of the Ulefone Power Armor 13 don't try to hide the metal frame. That's because the top and bottom parts are enhanced with additional rubber and plastic for shock resistance, but there is no need for additional bulkiness on the sides.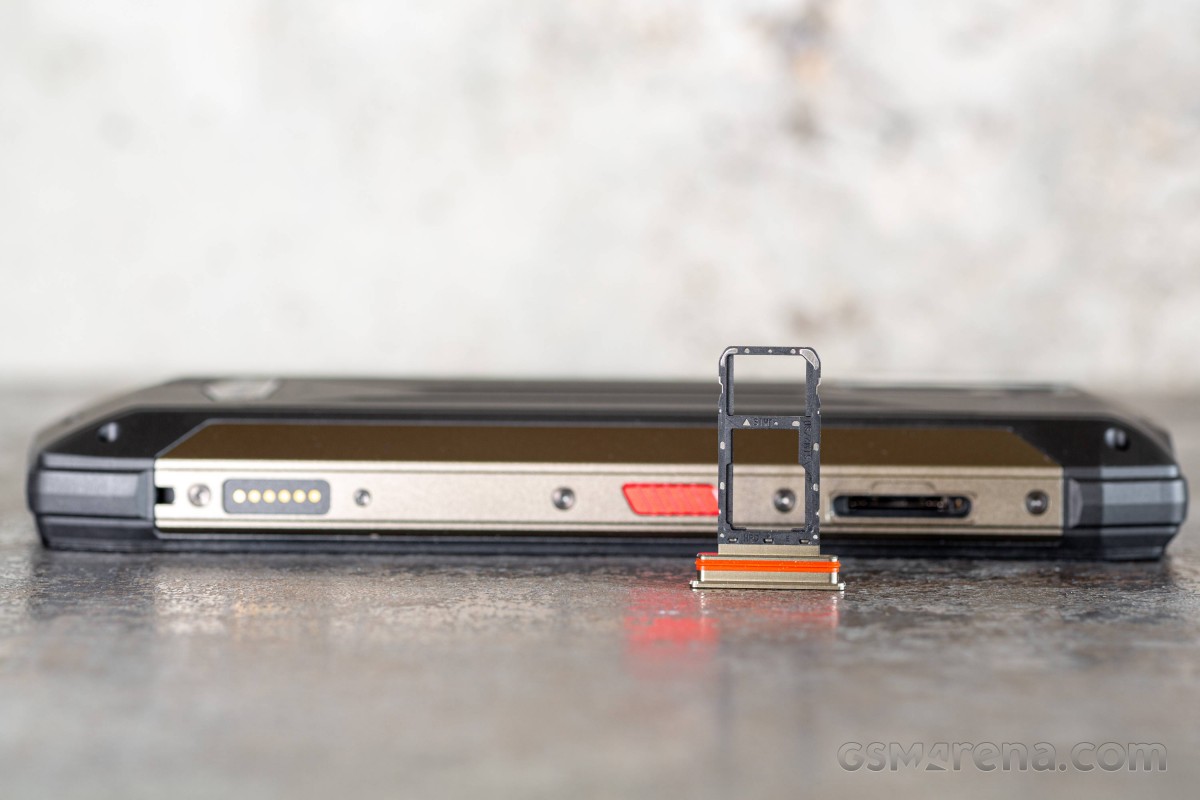 So, the left side is home to the hybrid-SIM tray, the PTT (custom) key, and the endoscope connector. Should you opt for the endoscope accessory, it clicks here nicely, and you can secure it with a supplied screw.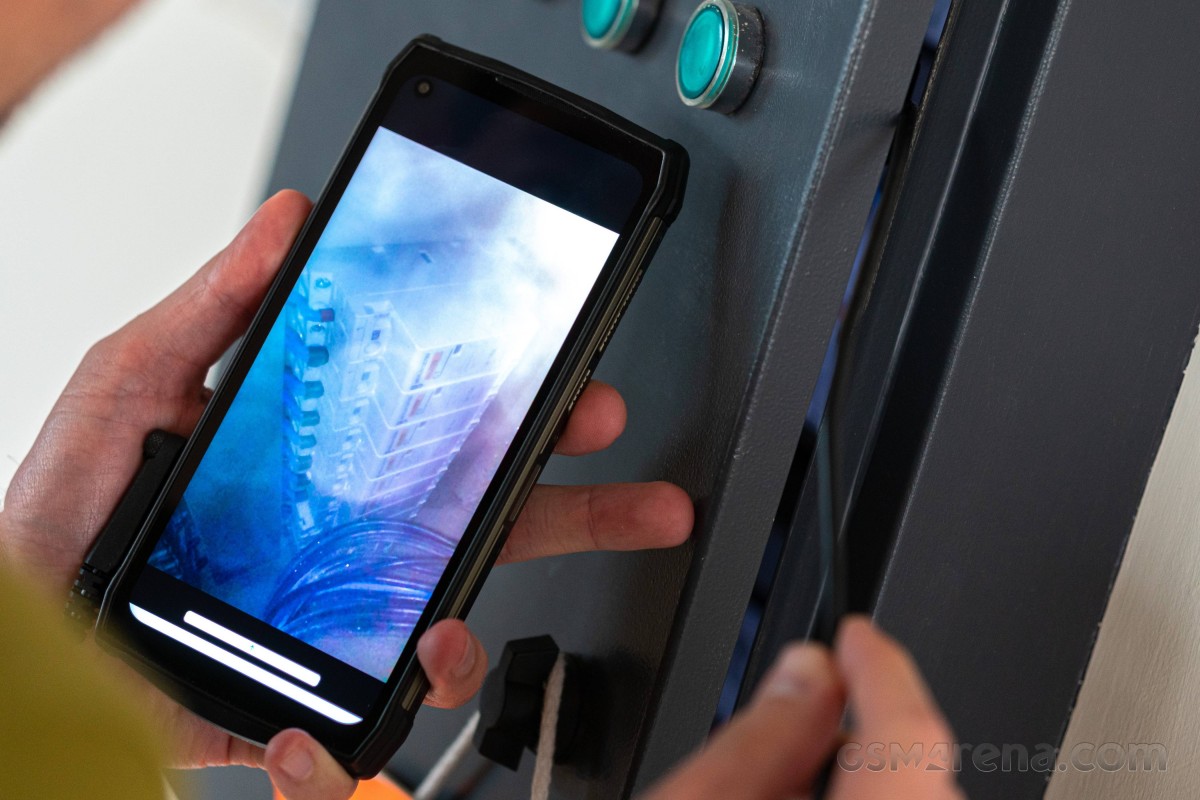 The PTT shortcut can be reconfigured, thankfully. It supports single and double click gestures, as well as a long press. You can choose between the following shortcuts for each gesture: Start Voice recording, Torch, Screenshot, Underwater camera, SOS, PTT app (Zello), or open any application.
The right side has the volume and power/lock keys, as well as a standalone fingerprint scanner. It's always-on, accurate and fast, and we did not find its separation from the Lock key inconvenient.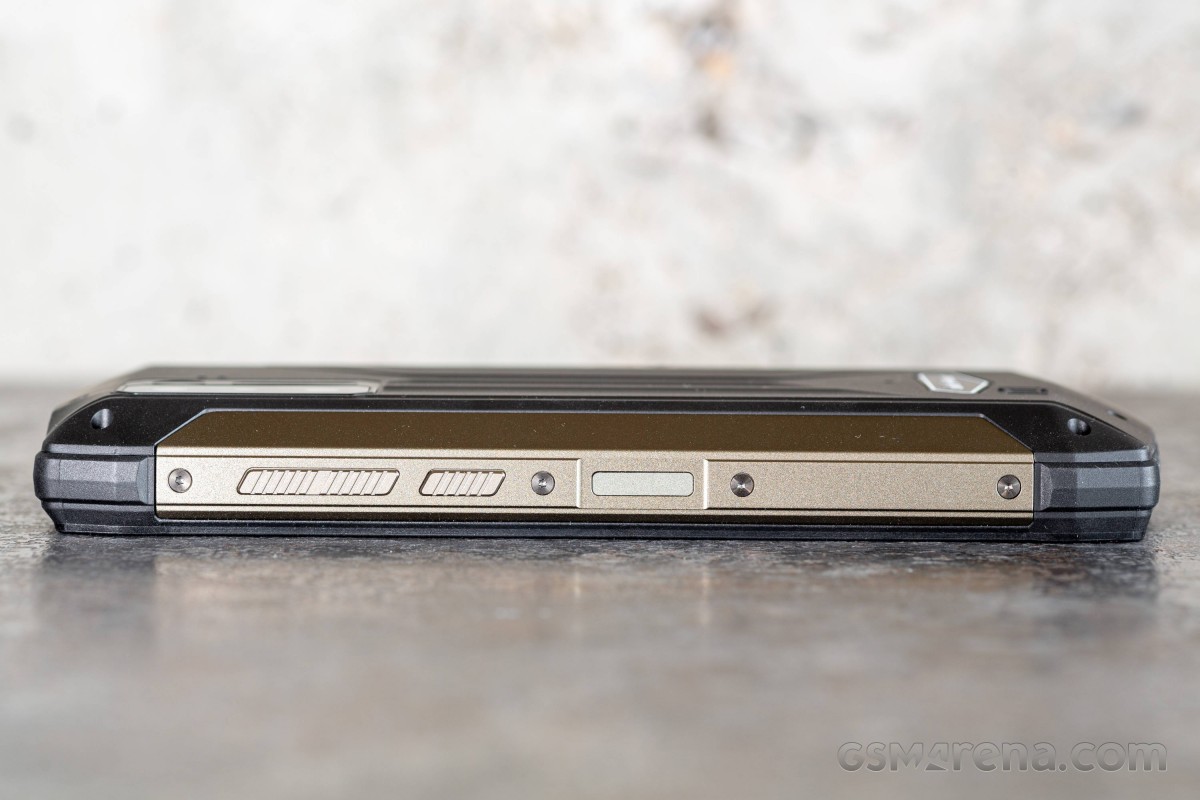 The Ulefone Power Armor 13 is bulky, one of the thickest and heaviest smartphones we've handled in years. It measures 183.7 x 85.4 x 20.8 mm and weighs 492 grams. Naturally, it is not comfortable for single-handed operations and is far from pocket-friendly. It should fit in most cargo pants, but it will be best if carried on a belt clip.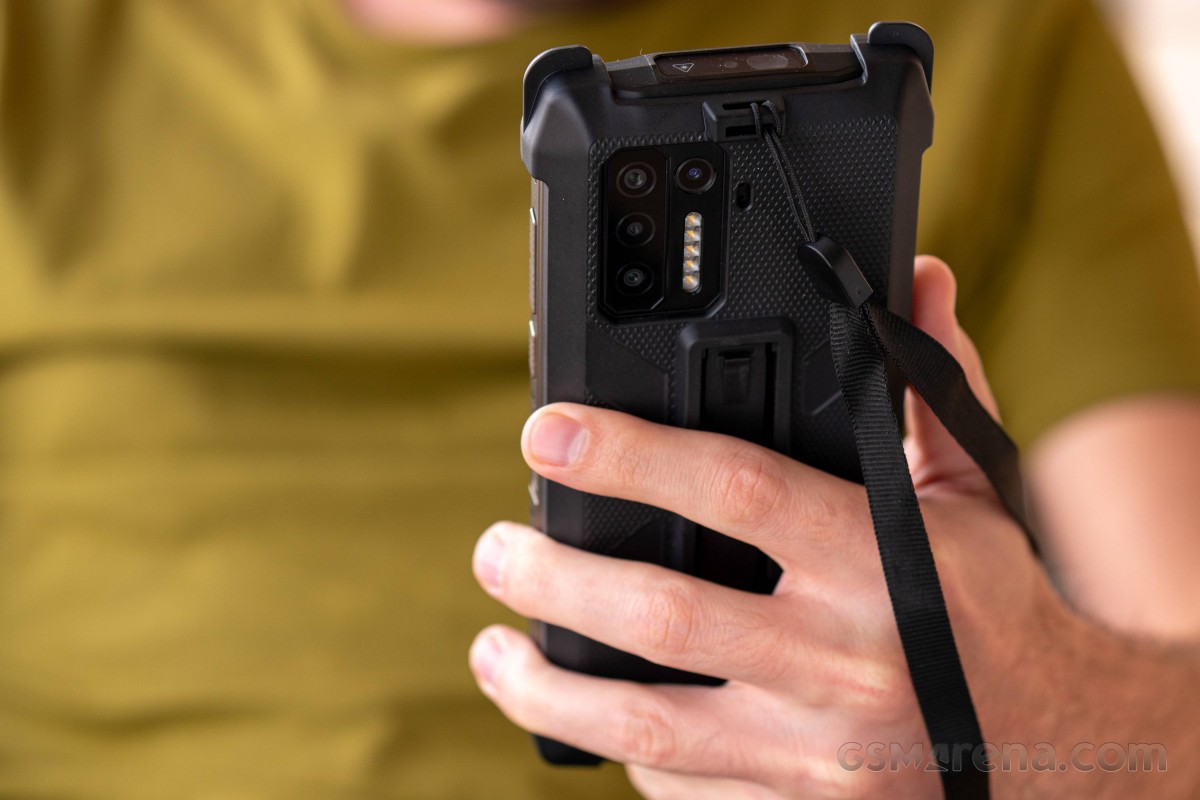 Handling the Power Armor 13 is a good experience if you are into this type of rugged phones. It has excellent grip and an obviously solid, rugged build. We liked this phone, though the unnecessary screen punch-hole and the curved bottom left us with a bitter taste.