UBI Research: 97.5% of OLED phones released in H1 2021 had a 6 to 7 inch display
Almost all smartphones with an OLED display released in the first half of 2021 had a diagonal of 6 inches or higher, according to UBI Research. More specifically, 6 to 7 inch OLED phones have a 97.5% share in the market, compared to 78% in 2018.
That is 119 models out of 122 released in the first six months of 2021. The Asus Zenfone 8 is the only one to go below 6" (just below, it has a 5.9" display), the Sony Xperia 10 III is exactly at 6.0". On the other end of the scale are the Xiaomi Mi Mix Fold and Huawei Mate X2, which are the only models with 8.0" OLED panels. There were no 7" models (the Z Fold3 will get into that category for the H2 statistics).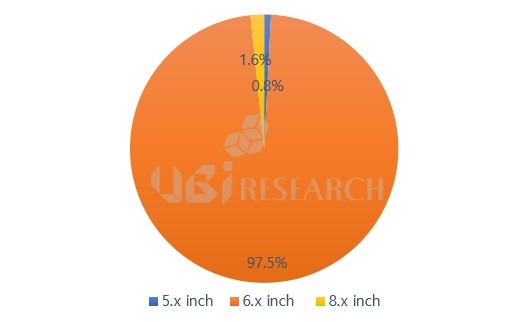 The majority of phones (64 models or 52.5% share) had a pixel density in the 400-500 ppi range, followed by 48 models with sub-400 ppi displays. Only 10 dared venture above 500 ppi and the Sony Xperia 1 II topped the charts with the 643 ppi density of its 4K-class display (technically, the 1 II was released last year, so we're not sure why it is included in the stats).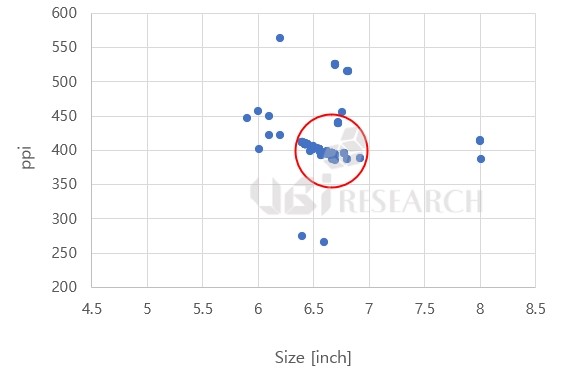 Most models (88.5%) had a screen-to-body ratio of 80-90%, with a few (11.5%) going above 90% StB. There were no phones where the OLED display took less than 80% of the front. The phone with the highest StB ratio – 94.1% – was the Huawei Mate 40 Pro 4G.
Finally, selfie cameras. The majority of models (103) feature a punch hole, a few (13) have a notch and fewer still (6) place the camera on the bezel. There are no Under Display cameras in this list as the only one so far (Axon 20 5G) launched last year and the new one (Axon 30 5G) is coming later this month.
A
It depends a lot on what kind of user you are. Some people only play games, others just text, other people like me like to root our phones and get the most out of it, while others just use it to talk or check out the weather. Also, it matters a LOT i...
?
More like the youth are poor and oppressed because of the older gen
?
That's disgusting. Phones are way too big, it's like those parody memes
ADVERTISEMENT