It's the end of the year, we are all feeling a bit nostalgic. Having gone throught the most popular reviews of Q1 and Q2 it's now time to recap what phones of the third quarter got your interest.
If there is one thing that you, our audience, has made abundantly clear is that you really like the Xiaomi Redmi Note 10 family and particularly the Redmi Note 10 Pro, or Max, as it is known on some markets. Not only did its review top our Q1 chart and indeed the 2021 yearly popularity chart as a whole, but our long-term review coverage of the phone managed to snag the second spot in this quarter as well.
And not to pat ourselves on the back too much, but we have to say that you guys like the long-term review format as a whole. More evidence is the fact that the S21 Ultra long-term article made it to the charts.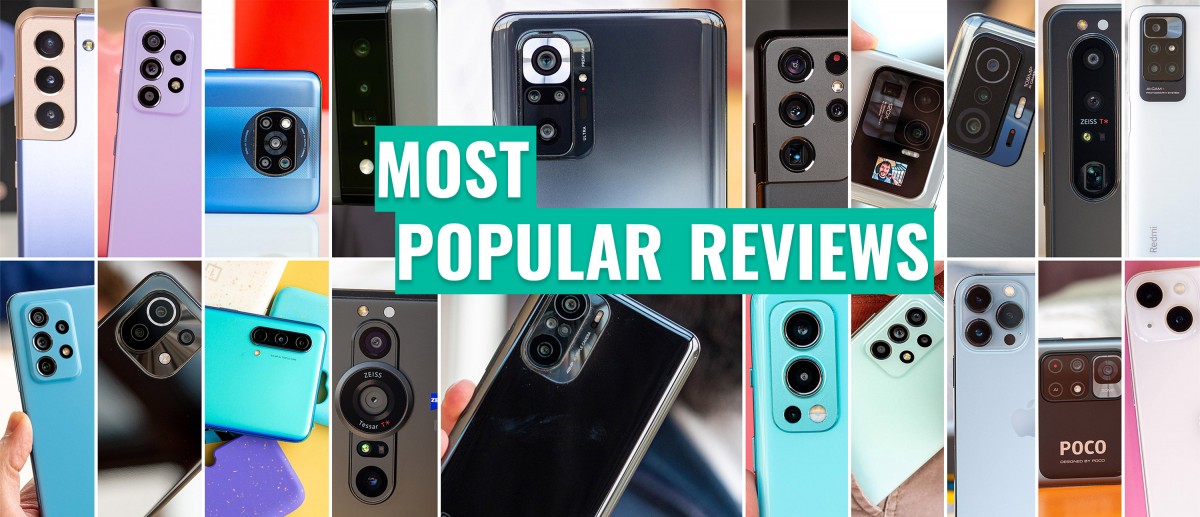 Since we are already on the topic of Xiaomi, we have to note the company's strong overall presence. The mainstream flagship Xiaomi 11T Pro understandably soaked up a lot of the spotlight even if not always for the right reasons. Xiaomi tried to deliver a slightly cut-down, but still, flagship spin on the Mi 11 Pro, but might have gone a bit overboard with changes. And we're not even talking about the axed "Mi" moniker. A smaller and flat display, IP53 instead of IP68, no OIS and a rather average battery life are just some of the contentious points. Don't get us wrong, though the Xiaomi 11T Pro is still an excellent device.
Xiaomi's real forte still lies in the mid-range and budget segments, though. The Redmi 10 manages to really stretch the dime while still offering things like a 90Hz LCD display, stereo speakers, a pretty solid quad-camera setup and stellar battery life. And it seems that there must always be at least one Poco in the quarterly top 10 review charts. To be fair, as solid as the X3 GT is, it doens't quite live up to the massive hype of its Poco X3 Pro sibling.
We also can't fail to mention that a tablet managed to squeeze itself into the top ten chart for Q3 - a great achievement in itself. The Xiaomi Pad 5 went after Apple's "budget" base 9th gen iPad 10.2 (2021) and held back no punches in the process vastly outdelivering in the hardware department. And while that won't be enough to dethrone Apple in this particular tablet niche, we are happy to see that others are starting to challenge Cupertino's frankly outdated specs proposition and that readers are taking notice.
Samsung's really been investing hard in its most popular Galaxy A lineup and not just in a limited burst at the beginning of the year. You can actually see an impressive and steady increase in value. From the very get-go, the Galaxy A52 seemed to represent the best value proposition out of its close A32 and A72 siblings. Its original 5G variant proved to be popular among fans, too, even though the Korean giant went against the popular industry approach and actually improved its specs compared to the 4G version, which meant a notable increase in price too.
Then that was quite impressively addressed with the introduction of the Galaxy A52s 5G just a few short months later - a device that is arguably better than its 5G predecessor in every way, yet is also cheaper, making it the go-to choice of the bunch.
Finally, we can't ignore the surprise star of the Q3 lineup - the Nord 2 5G, which secured the first sport with a hefty lead on the competition, no less. It's a bit pricier than the original Nord but does offer more than a few tangible improvements. Plus, there are now more than a few excellent Nord phones to get on a budget as well. Just barely missing the top ten cut this time are the reviews of the Xiaomi Redmi Note 8 2021 and the Sony Xperia 5 III.
M
I watched all the above video reviews along with many others and finally decided on the poco x3 gt to replace my Huawei p20 pro. It ticked all the boxes, like camera, weight, screen, specs, having 7 5G bands, and gorilla glass victus. I am particul...
Y
Bought A52 5G, now I'm thinking of getting a second one for my wife (maybe A52s, if I can find 256gb variant... do they make these? I couldn't find one). I wanted A72 5G but there isn't one. No A72s either. No A82 as well (not in EU, a...
?
Bought samsung A52s. It's been more than 2 months. And it's doing great.
ADVERTISEMENT