T-Mobile UnCarrier X announced - 24 video streaming services that won't eat your data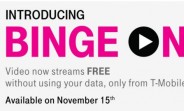 T-Mobile does it again. This afternoon, T-Mobile's CEO John Legere announced that 24 video streaming services will no longer count against your data allotment.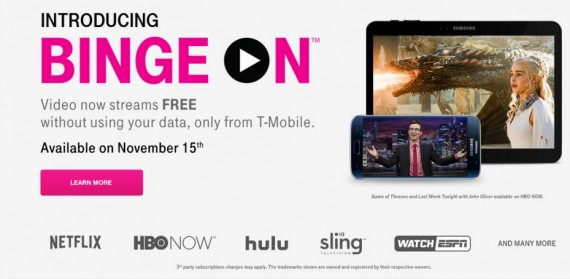 During the Q&A at the event, Legere was asked what this meant for the integrity of Net Neutrality, to which Legere responded that T-Mobile abides by and follows the principles of Net Neutrality and that T-Mobile was not receiving money from these video companies nor sponsorships.
Legere said the reason T-Mobile did this is because "this is what customers want.".
The resolution for these streaming services will be limited to 480p for network optimization purposes. If the customer does not want to sacrifice the high quality of the content, he/she is welcome to turn the feature off and stream away in high quality.
Legere also mentioned that this feature will not be enabled by default, rather, the customer is required to turn this feature on before binging away.
The list of streaming services available at launch was released on T-Mobile's website and include the following:
Netflix
HBO NOW
HBO GO
Hulu
Sling TV
Sling Box
ESPN
Showtime
Starz
Movieplex
Encore
T-Mobile TV
Vevo
Vessel
Univision Deportes
Major League Baseball
Go90
DirecTV
Fox Sports
Fox Sports GO
NBC Sports
Crackle
VUDU
Ustream
T-Mobile's Binge On will be available to US Simple Choice Plan subscribers starting on November 15.
G
HAHAHA.. he wanted to transfer to US and dont even Know that crap About the data in US. He is even luckier than people who leaves in US. for 2$ got 1gb and 15$ for unlimited data, no throttled???
m
No Youtube? so thats it then, the start of non net neutrality..........
D
thank your god here the 1gb is 10 $ so u can imagine . i would consider myself very lucky if i get with your country prices . have a nice day .
ADVERTISEMENT