Performance throttling based on app name may be more prevalent than we know – John Poole (co-founder of Primate Labs, maker of Geekbench) discovered that the Xiaomi Mi 11 scores noticeably lower with a tweaked version of the benchmark.
The tweak is simple, it just disguises Geekbench as Fortnite. The same results were achieved when the benchmark was dressed up as Genshin Impact and other titles.
The results show 30% lower single-core CPU performance and 16% lower multi-core performance. It looks like that Cortex-X1 based core is having trouble with under sustained load (either with heat or battery drain).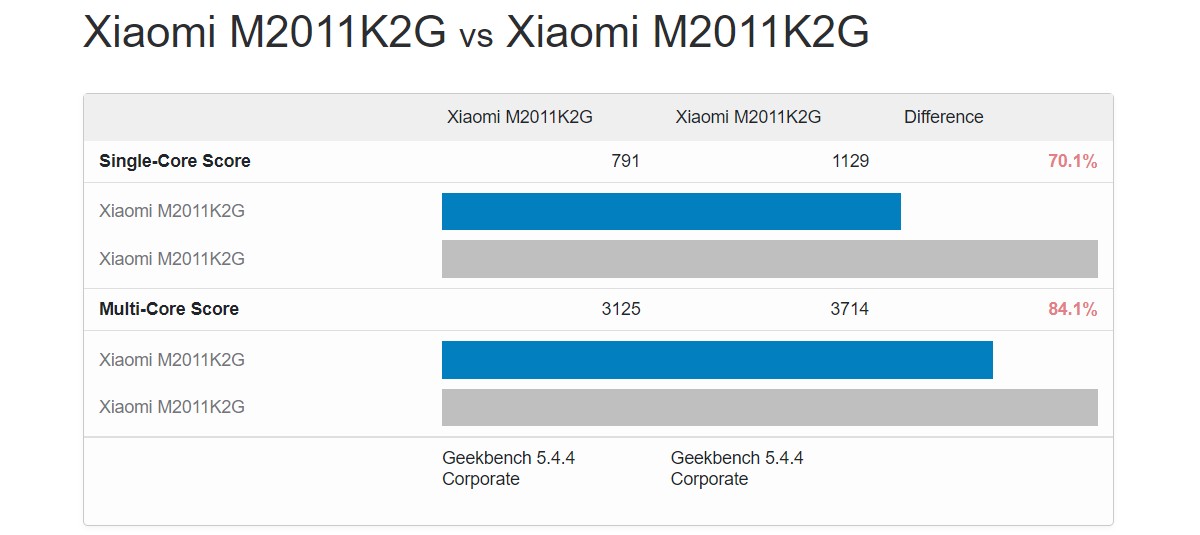 Xiaomi Mi 11 results: Geekbench disguised as Fortnite (top) and unmodified benchmark (bottom)
The Mi 11 came out on January 1 of last year, making over a year old at this point. It's not clear if the phone was doing this from the get-go or if this is a change brought in with one of the updates since launch.
Also unknown right now is whether the Mi 11 Pro, Mi 11 Ultra and Mi 11i/Mi 11X Pro exhibit the same behavior (they are also powered by the Snapdragon 888). Our own benchmarks show nearly identical single-core performance for the 11, 11i and 11 Ultra, so it's possible. Of course, these are different phones with different cooling solutions, so we'll wait for Primate Labs to investigate.
Recently, Samsung got in hot water for gaming the results in a similar way on the Galaxy S22 series. The company apologized and started rolling out an update that allows users to disable the throttling.
D
Any phone with SD888 may throttling apps regardless of brand. its not failure fo brand bt failure of Qualcomm making bad CPU.
?
Maybe Geekbench is the problematic one, not Samsung or Xiaomi.
ADVERTISEMENTS