The Bill of Materials (BoM) for the base Samsung Galaxy S23 Ultra is just $469, according to Counterpoint's latest research. This is for a unit with 8GB of RAM, 256GB storage and sub-6GHz 5G. The BoM for the 2022 model is unknown, but an S21 Ultra (Snapdragon 888, 128GB, mmWave) was $533 and before that the Galaxy Note20 Ultra (Snapdragon 865+, 128GB, mmWave) was $550.
Qualcomm's share of the BoM is at "an all-time high", sitting at 34% – one percentage point higher than Samsung. A lot of that is the chipset, of course, plus the various components for wireless connectivity, but Qualcomm also designs the ultrasonic fingerprint readers found in the S23 series, as well as audio electronics and power management ICs.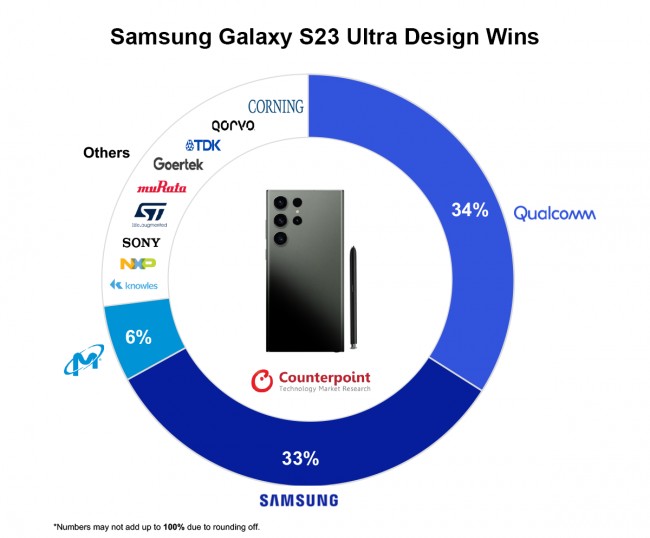 Qualcomm and Samsung take the lion's share of Galaxy S23 Ultra's BoM
The most expensive components are the custom Snapdragon 8 Gen 2 for Galaxy chipset and the parts for cellular connectivity. The display and camera also eat a big chunk of the budget, but combined they are less than the chipset+cellular parts.
Samsung supplies the LTPO display, the NAND flash and the battery package (with a cell by ATL), as well as two of the five cameras: the 200MP HP2 sensor and the 12MP selfie camera (S5K3LU). The two 10MP IMX754 sensors for the tele and periscope cameras as well as the IMX564 for the ultra wide are supplied by Sony.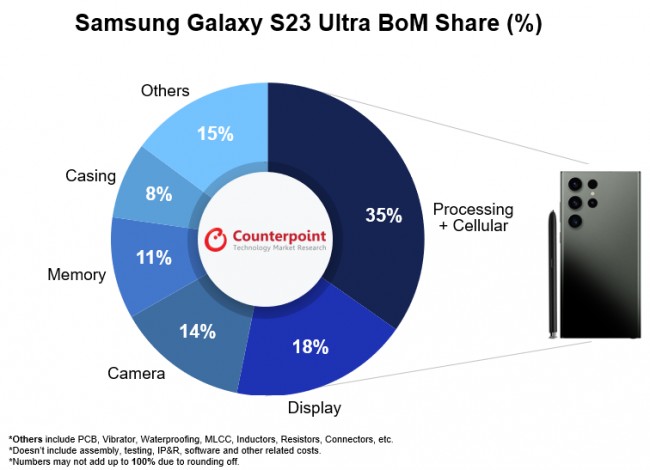 The chipset and cellular connectivity are by far the most expensive components of the S23 Ultra
You can see why Samsung was clinging to Exynos for so long – a Samsung designed and fabbed chipset with a Samsung modem. The chart above would look quite different if the in-house chip was competitive.
Anyway, a few other companies take their share. STM makes the laser AF module and the touch panel controller, plus various sensors (accelerometer, gyroscope, barometer). NXP made the wired charging IC, Convenient Power brought the wireless charging IC.
Note that the bill of materials doesn't include other costs like R&D, marketing shipping, warranty and customer support and so on. Also, most regions get versions with 12GB of RAM, some also include mmWave connectivity, those variants will be pricier.
A
This fairy tale could have been better. But you literally showed your knowledge level. Because lighting port is even worse than micro usb b
A
Obviously that's the magic from Sammy to get the best battery life for a flagship. And optimization in shown while using the UI. Get educated
G
Obviously that's the magic from Sammy to get the best battery life for a flagship. And optimization in shown while using the UI. Get informed
ADVERTISEMENT