Dual punch-hole, curved, 90Hz OLED
The Phantom X has quite the display to brag about in the €300-350 price range. It's elegantly curved, it supports 90Hz refresh rate, it features an OLED panel and it sports a tall 19.5:9 aspect ratio (1080 x 2340px resolution). However, there are two major issues we had with the display. The most obvious one is the rather big cutout for the two front-facing cameras. It takes quite a bit of space and crams up the status bar icons. We feel that the spacing between the two sensors is too big.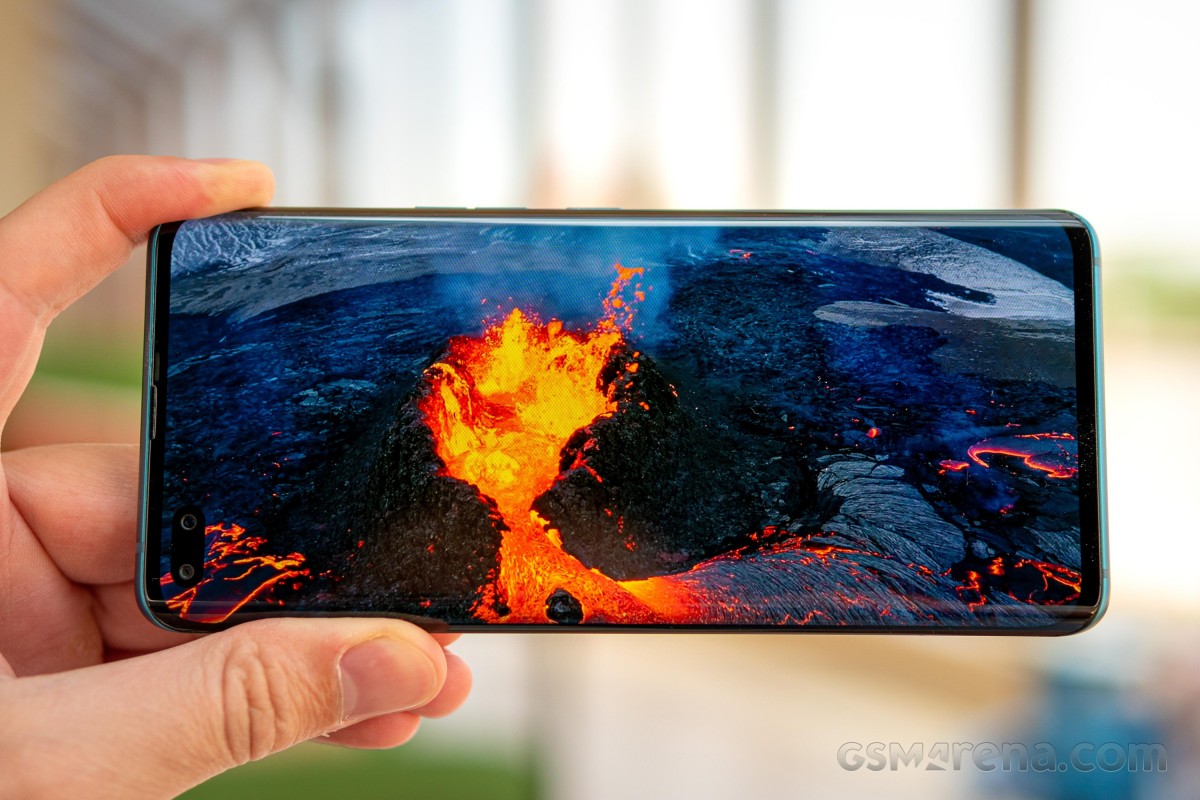 And arguably, the bigger issue is the maximum brightness. We ran the usual tests only to find out that in manual mode, the display boosts up to 405 nits while a Max Auto mode is not available. This is the brightest the panel could get, and quite frankly, it might not be enough in certain outdoor conditions.
Color accuracy isn't great either, and even without having to consult the color meter, it's evident that the whites and grays are downright blue. Perhaps, this wouldn't bother most of you, but it's still worth noting.
Display test
100% brightness
Black,cd/m2
White,cd/m2
Contrast ratio
Xiaomi Redmi Note 10 Pro
0
457
∞
Xiaomi Redmi Note 10 Pro (Max Auto)
0
725
∞
OnePlus Nord CE 5G
0
429
∞
OnePlus Nord CE 5G (Max Auto)
0
607
∞
Poco F3
0
511
∞
Poco F3 (Max Auto)
0
716
∞
Tecno Camon 17 Pro
0.438
342
781:1
Samsung Galaxy A52
0
386
∞
Samsung Galaxy A52 (Max Auto)
0
794
∞
Realme 8 Pro
0
454
∞
Realme 8 Pro (Max Auto)
0
627
∞
Tecno Camon 17 Pro
0.438
342
781:1
Tecno Camon 17 Pro (Max Auto)
0.446
538
1206:1
Now, when it comes to HRR control, we think it needs a small fix. Leaving the system to decide when to switch between 60Hz and 90Hz isn't ideal as it's too aggressive on power saving. Pretty much every app we've opened resulted in a refresh rate drop to 60Hz. While this is great when watching Netflix or YouTube videos, it's pointless to have an HRR display and not being able to benefit from the smoothness in Chrome, for example. On the other hand, the refresh rate remains 90Hz for all system menus, even if you are not interacting with the screen.
Opting for the 90Hz preset would ensure smooth operation even in apps, so it's clear that it's not a limitation but rather a "feature". So it's up to you to decide if you want HRR in your apps or you prefer to save on some juice.
Battery life
Carrying a 4,700 mAh battery, the Phantom X seems to be on top of the list when it comes to endurance. Sure, the handset overtakes most of its competitors by just a couple of hours, but it is something. An overall endurance score of 122h is more than respectable.
However, comparing just screen-on results from the web and video playback tests, the Tecno Phantom X is about average, meaning the standby and call test results are the main driving factors for the excellent score.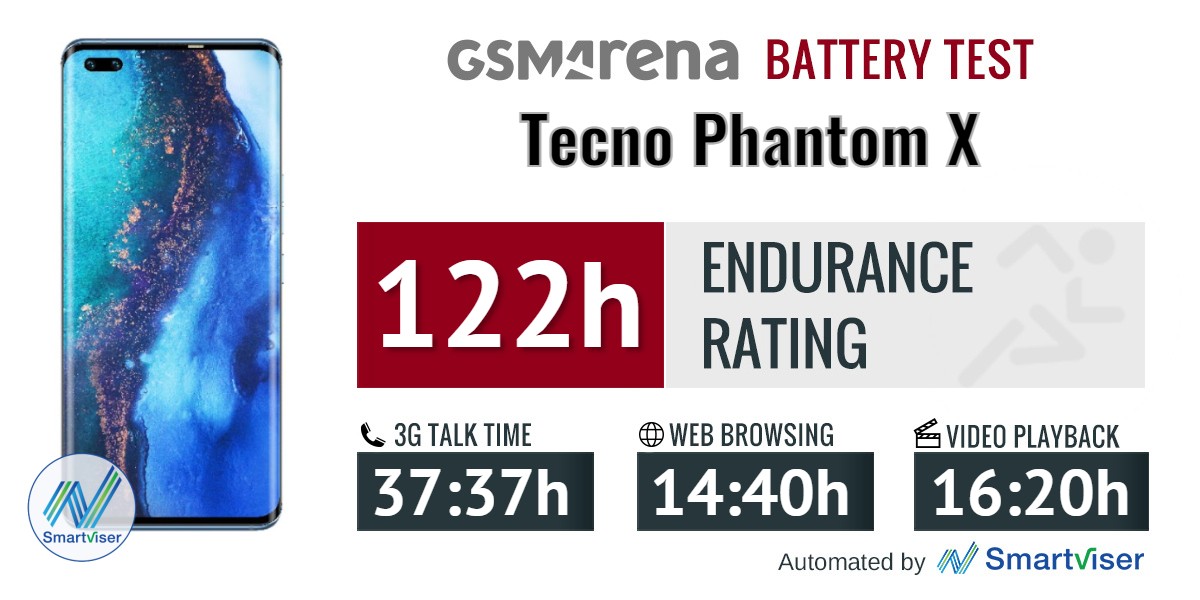 Our battery tests were automated thanks to SmartViser, using its viSerDevice app. The endurance rating denotes how long the battery charge will last you if you use the device for an hour of telephony, web browsing, and video playback daily. More details can be found here.
Video test carried out in 60Hz refresh rate mode. Web browsing test done at the display's highest refresh rate whenever possible. Refer to the respective reviews for specifics. To adjust the endurance rating formula to match your own usage patterns check out our all-time battery test results chart where you can also find all phones we've tested.
Charging speed
We can't say the fast charging tech is as fast as we'd expect from a 33W brick, but it's about average or even competitive. As you can see from the charts below, it sits comfortably in the middle between most of its competitors in the price segment. A full charge would take you almost an hour and a half, while 30 minutes take you from flat to 56%. That's pretty far from the advertised 70% in 30 minutes.
30min charging test (from 0%)
Higher is better
Realme 8 Pro
88%
Poco F3
67%
OnePlus Nord CE 5G
67%
Tecno Phantom X
56%
Samsung Galaxy A52 (25W)
52%
Xiaomi Redmi Note 10 Pro
50%
Tecno Camon 17 Pro
47%
Samsung Galaxy A52
34%
Time to full charge (from 0%)
Lower is better
Realme 8 Pro
0:38h
Poco F3
0:56h
OnePlus Nord CE 5G
1:03h
Xiaomi Redmi Note 10 Pro
1:21h
Tecno Phantom X
1:28h
Samsung Galaxy A52 (25W)
1:30h
Tecno Camon 17 Pro
1:40h
Samsung Galaxy A52
2:03h
Speaker
Unlike some of its competitors, the Phantom X misses on the dual speaker action and offers just a single, bottom-facing loudspeaker. For all it's worth, it's one of the loud ones achieving a "Very Good" score, but don't expect much when it comes to quality and fullness. The bass fades, and distortion appears at higher volumes. And yet, distortions and the lack of bass are common issues in mid-range, single-firing speakers.
Use the Playback controls to listen to the phone sample recordings (best use headphones). We measure the average loudness of the speakers in LUFS. A lower absolute value means a louder sound. A look at the frequency response chart will tell you how far off the ideal "0db" flat line is the reproduction of the bass, treble, and mid frequencies. You can add more phones to compare how they differ. The scores and ratings are not comparable with our older loudspeaker test. Learn more about how we test here.