Tecno introduces color-changing Chameleon Coloring Technology at MWC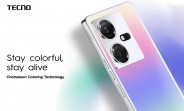 Tecno is starting off its debut Mobile World Congress appearance in style with the introduction of its new Chameleon Coloring Technology. When embedded in a device such as the back of a smartphone, it can produce a wide variety of color patterns at a touch of a button.
The Chameleon Coloring Technology is a full-spectrum electrically-controller prism coloring technology, which uses a grid of sub-micron prism material that changes direction when an electric field is applied. By precisely controlling the direction of the prism, the material can scatter light in multiple different wavelengths, giving the appearance of a wide range of iridescent colors.
To be clear, the material is not a display and does not produce any light. Instead, it scatters light off its surface, coloring it in the process.
The arrangement of the sub-micron prism can be controlled manually through the device software, letting you either manually pick from a total of 1600 different colors or potentially change automatically based on battery status, music or notifications. This can be done up to 2 million times, making it quite durable even with multiple changes through the course of a day.
The material can change colors in 0.03 seconds. It also has negligible power consumption, with a 100 changes over the course of a day requiring as much power as watching a 5-minute video.
Tecno is no stranger to color changing backs. Last year, the company launched the Techno Camon 19 Pro Mondrian Edition, which used polychromatic photoisomer technology for the back panel that changed colors when exposed to the UV radiation of sunlight.
While the new Chameleon Coloring Technology doesn't yet have a home in a planned device, it's likely we should see a smartphone from the company incorporating the tech sooner rather than later.
M
It looks like garbage i prefer the camon 19 Mondrian edition it was dope despite having ips Lcd screen
0
Okay but the reno series has solid colors with a bit of an aura on them, while this changes the actual color of the back
ADVERTISEMENT