Display
The Tecno Camon 18 Premier packs a 6.7-inch AMOLED screen of the usual 1,080 x 2,400 pixels (395ppi). It has a small punch-hole centered around the top and is protected with an AGC-made glass.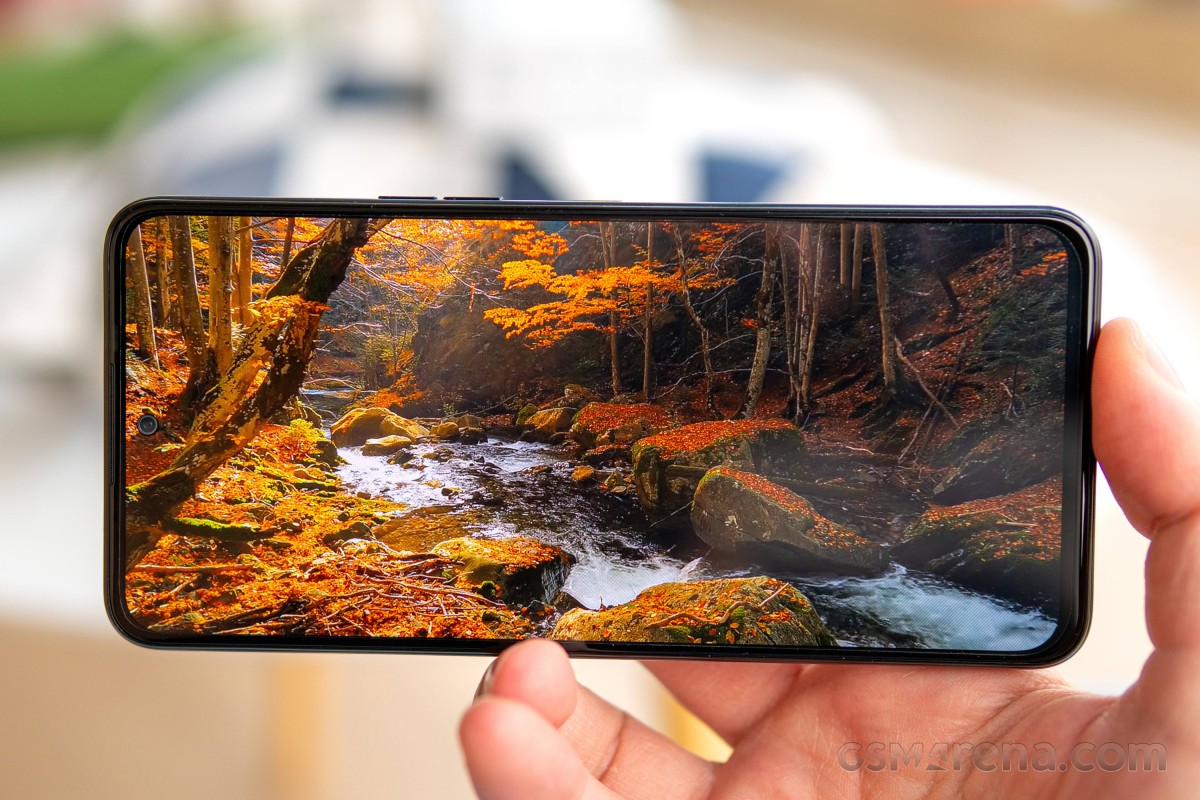 The display supports an adaptive refresh rate up to 120Hz. There is no HDR support, unfortunately, but even if there were - the lowest Widevine L3 DRM support won't allow you to enjoy it.
There are three Refresh Rate modes - 120Hz, Auto, and 60Hz. The 60Hz is self-explanatory, while Auto uses 120Hz throughout the UI and 60Hz in apps and games.
The highest 120Hz mode pushes all apps to use their maximum supported mode - 120Hz in most cases, 90Hz in some apps like Play Store, and 60Hz in video apps.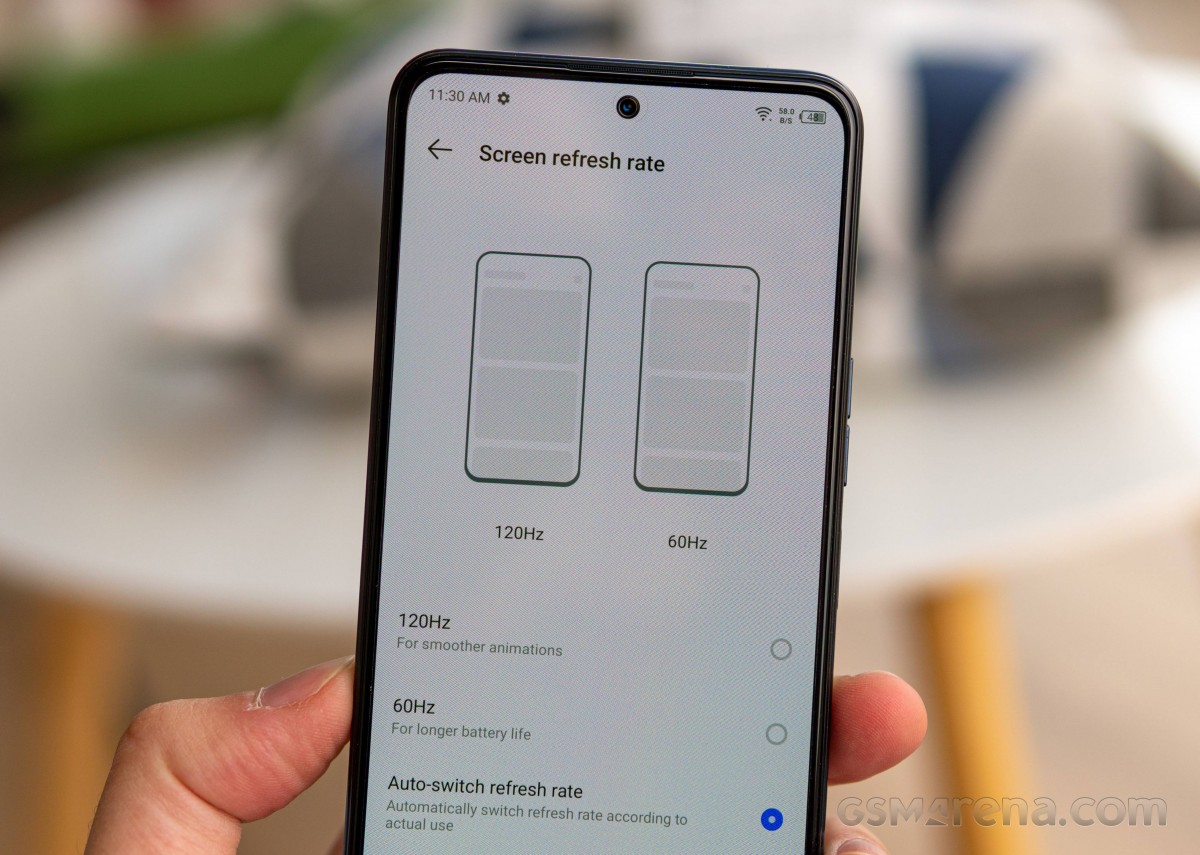 We also did our usual display measurements and found out the Tecno Camon 18 Premier has a bright enough screen with a maximum brightness of 425 nits. We were able to capture 450 nits at one occasion, but it happened only once, and we couldn't repeat this result.
There is no Auto-Brightness boost, which is a bit disappointing. On the other hand, the minimum brightness at point white is just 3.2nits - an excellent one.
Display test
100% brightness
Black,cd/m2
White,cd/m2
Contrast ratio
Tecno Camon 18 Premier
0
422
∞
Tecno Camon 17 Pro
0.438
342
781:1
Tecno Camon 17 Pro (Max Auto)
0.446
538
1206:1
TECNO Camon 16 Premier
0.211
400
1896:1
Tecno Phantom X
0
405
∞
Infinix Note 11 Pro
0.292
470
1610:1
Infinix Note 10 Pro
0.337
447
1326:1
Infinix Zero X Pro
0
515
∞
Poco X3 Pro
0.327
458
1401:1
Poco X3 Pro (Max Auto)
0.4
534
1335:1
Poco X3 GT
0.301
429
1425:1
Poco X3 GT (Max Auto)
0.38
537
1413:1
Samsung Galaxy A32
0
393
∞
Samsung Galaxy A32 (Max Auto)
0
814
∞
Samsung Galaxy A52s 5G
0
383
∞
Samsung Galaxy A52s 5G (Max Auto)
0
800
∞
Xiaomi Redmi Note 10 Pro
0
457
∞
Xiaomi Redmi Note 10 Pro (Max Auto)
0
725
∞
Realme 8 Pro
0
454
∞
Realme 8 Pro (Max Auto)
0
627
∞
The Tecno Camon 18 Premier's display supports a wide color gamut, but the accuracy towards the DCI-P3 isn't that good with prominently bluish-white and gray hues.
Battery life
The Tecno Camon 18 Premier is powered by a 4,750 mAh battery, and it supports fast 33W charging.
This Camon 18 Premier model scored an excellent 112-hour Endurance rating in our battery. It did a commendable job across all test scenarios - video playback, calls, web browsing, and demonstrated long-lasting standby performance.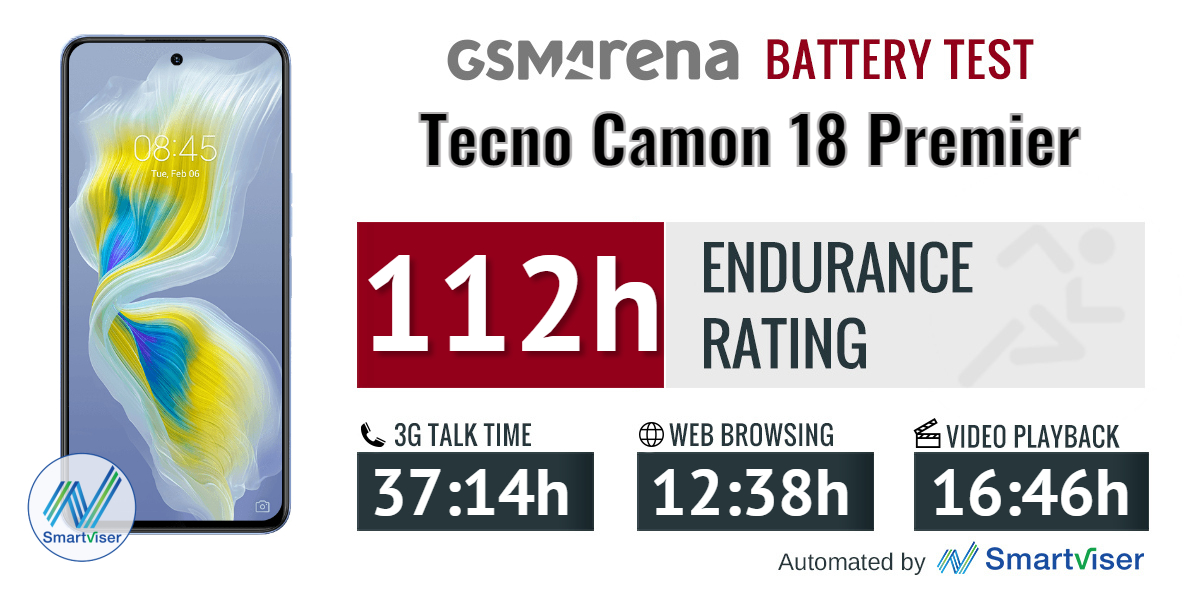 Our battery tests were automated thanks to SmartViser, using its viSerDevice app. The endurance rating denotes how long the battery charge will last you if you use the device for an hour of telephony, web browsing, and video playback daily. More details can be found here.
Charging speed
The Tecno Camon 18 Premier ships with a 33W power adapter, and you don't need to buy anything to enjoy the maximum possible fast charging. It's a 5V/3A, 10V/3.3A charger, not the most versatile one, obviously, but still - a fast one.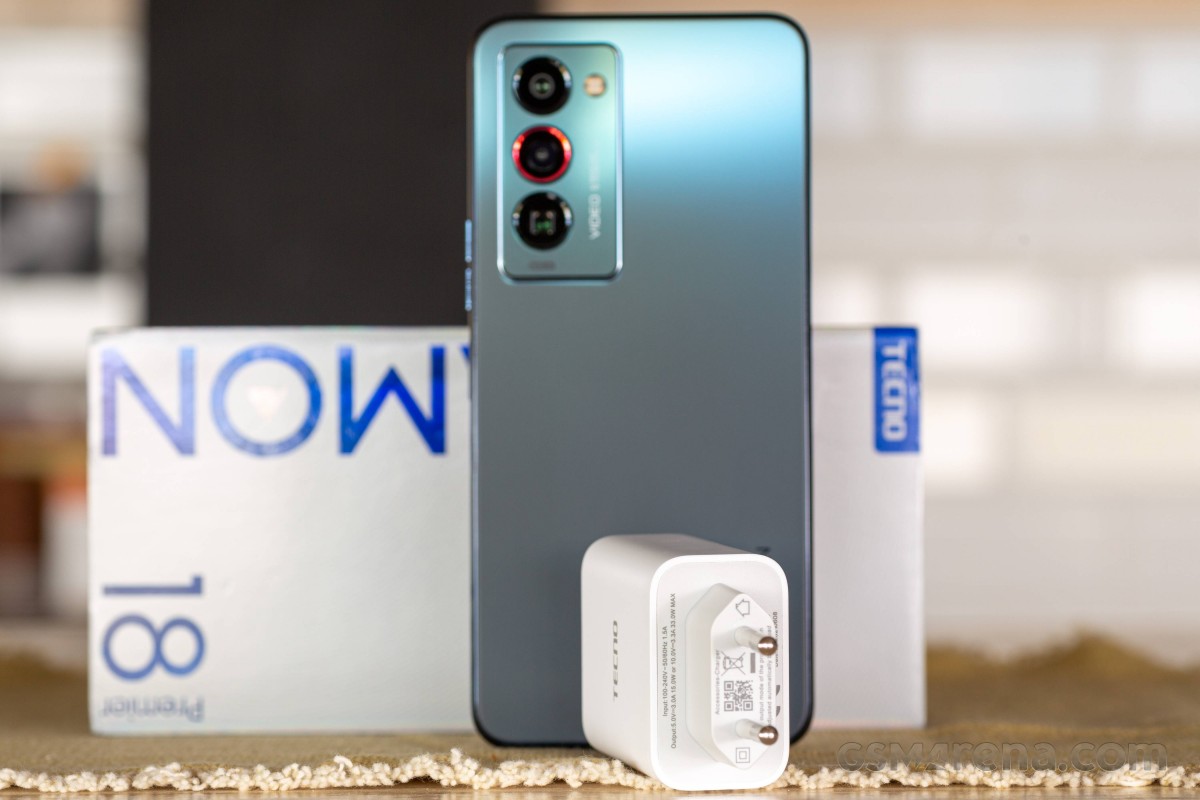 We've completed our charging test, and the bundled 33W adapter takes the Camon 18 Premier's 4,750mAh battery from 0% to 60% in 30 minutes.
30min charging test (from 0%)
Higher is better
Realme 7 Pro
94%
Realme 8 Pro
88%
Infinix Zero X Pro
76%
Poco X3 GT
75%
Tecno Camon 18 Premier
60%
TECNO Camon 16 Premier
59%
Tecno Phantom X
56%
Poco X3 Pro
50%
Xiaomi Redmi Note 10 Pro
50%
Tecno Camon 17 Pro
47%
Realme 8i
30%
Infinix Note 11 Pro
25%
A full charge takes 65 minutes - that's plenty fast!
Time to full charge (from 0%)
Lower is better
Realme 7 Pro
0:37h
Realme 8 Pro
0:38h
Poco X3 GT
0:48h
Infinix Zero X Pro
0:58h
Tecno Camon 18 Premier
1:05h
Poco X3 Pro
1:08h
Xiaomi Redmi Note 10 Pro
1:21h
TECNO Camon 16 Premier
1:25h
Tecno Phantom X
1:28h
Tecno Camon 17 Pro
1:40h
Infinix Note 11 Pro
2:07h
Realme 8i
2:21h
The Tecno Camon 18 Premier doesn't support wireless charging. There is also no support for reverse wired charging and cannot be used as a power bank for other devices.
Speaker quality
The Tecno Camon 18 Premier, just like many other Tecno phones, has one bottom-firing speaker. It scored a Good mark on our loudness test, but that's the best we can say about it.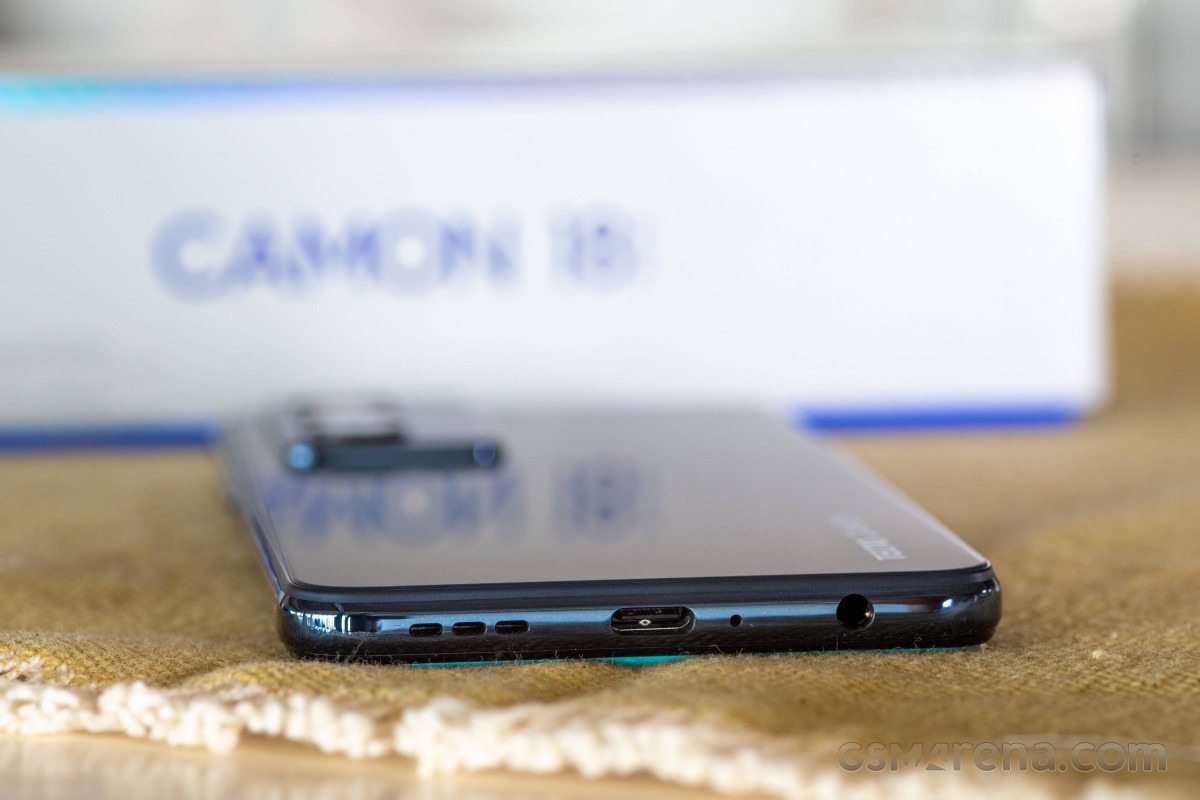 The audio quality of the speaker is thoroughly unimpressive - there is no bass, the mid-tones are somewhat suppressed, but we can hear some good high notes. If you use our tool here, you can clearly hear the Camon 18 Premier speaker is lacking range and sounds, well, cheap.
Use the Playback controls to listen to the phone sample recordings (best use headphones). We measure the average loudness of the speakers in LUFS. A lower absolute value means a louder sound. A look at the frequency response chart will tell you how far off the ideal "0db" flat line is the reproduction of the bass, treble, and mid frequencies. You can add more phones to compare how they differ. The scores and ratings are not comparable with our older loudspeaker test. Learn more about how we test here.